The Templeman Library is open to visitors with a range of services available.
Opening times and access
We are open to day visitors 08:00 - 21:00 Monday to Friday; and 08:00 - 17:00 at weekends. Borrower members can use the Library during full opening hours.
You need one of the following to enter:
a borrower member KentOne Card (apply here for Library borrower membership)
a Visitor Card from the Welcome Desk at the Main Entrance. You must be 18 or older and have photo ID with you.
a Day Card (also available from the Welcome Desk).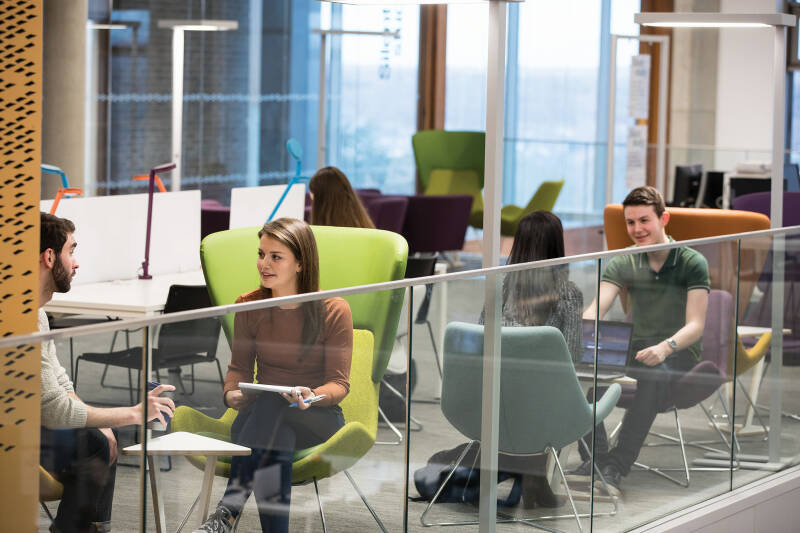 Using books and resources
Borrowing
Academic visitors: if you belong to another Higher Education Institution you may be able to borrow from the Templeman Library via the SCONUL Access scheme. Check with your own institution's library for information on access to other libraries.

If the SCONUL scheme is not relevant to you, you could choose one of our Templeman Library borrower membership options.
The best membership option for you will depend on how many books you want to borrow and how long you want to be a member. Depending on your circumstances, it could be free!
Get a visitor card
If you're a regular visitor and don't want borrower membership you can get a visitor card. It lets you swipe in and out at all entrances, and print from the visitor PC.
It's valid for a year and can be renewed thereafter.

To get your card
Ask at the Welcome Desk near the Main Entrance.
You need to be 18 or older, and bring photo ID with you.
Special Collections and Archives
Our Special Collections and Archives hold unique collections on a wide range of subjects, including rare books, political cartoons, theatre, stand-up comedy, wind and water mills, the history of science and Kent local history.
Anyone is welcome to access the collections. If you wish to view material, please email specialcollections@kent.ac.uk.
Visitor PC
Members of the public can use the visitor PC in Block C, Floor 1 in the Templeman Library to:
use the internet
use Microsoft Office
Kent IT Accounts for academic and overnight visitors
A Kent IT Account for academic visitors, conference guests and those staying overnight on campus provides the following services:
Other Library facilities
Library Café
The Library Café on Block B, Ground Floor, is a relaxed social space with plenty of room to study and work together. Refreshments are also available.
Templeman Exhibitions
The Templeman Gallery showcases different exhibitions throughout the year, including material curated by Special Collections & Archives. These exhibitions are open to the public and free.
Reading spaces
Comfortable reading spaces with a variety of furniture are available all around the library. Many spaces have sockets to charge your devices or plug in your own laptop.
Help
Find out all the ways you can get in touch:
More about library and IT services