Our vision
We aspire to be recognised internationally as:
• a leader in sustainable innovation research
• an innovator in education delivering transformative learning
• a hub for entrepreneurs in academia, business and society seeking to effect positive change
Our mission
We champion sustainable innovation through high-quality research and education impacting business and society. We are committed to developing employable, ethical graduates who can make a difference.
State-of-the-art facilities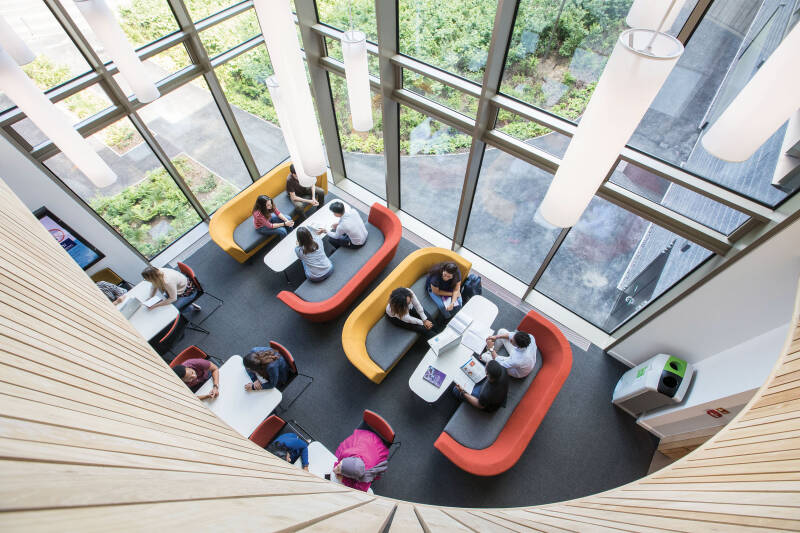 Inspirational teaching
You learn from teachers who are experts in their field, many of whom draw on their own practical experience in their teaching. Most are active researchers and enjoy sharing their knowledge and discoveries with you. Our teaching methods are varied; you take part in workshops, individual and team presentations, and use case studies to apply the theory to actual companies.

Alongside your academic study, you can see if you have what it to takes to start your own business at ASPIRE, or take part in Pitch it! – a chance to work as part of a team to solve a business challenge.
Research excellence
Kent Business School has an international reputation for the quality of its research, 80% of which was deemed 'world leading' and 'internationally excellent' in the REF2021. Our academics work to address the issues facing the global business community and have collaborated with leading companies and institutions including Parker Steel, Priority Freight, Port of Dover, Defence Science and Technology Laboratory (DSTL).
Our staff publish frequently in leading international journals and write text-books used by undergraduate and postgraduate students.
As experts in business, management, accounting and finance, we are excited to introduce you to our 21st century approach to enterprise and entrepreneurship.
Impressive prospects
We are proud of the success of our graduates and to ensure this continues we offer targeted support to our students.

We have an experienced employability team who have developed a programme of seminars on employability, workshops and opportunities to meet with employers and gain work experience.
We can help you develop your great idea into a real business proposition and advise you on setting up your own business. We also run Dragon's Den-style events to give you experience of pitching your ideas in a realistic environment.
Our links with business locally, nationally and internationally provide excellent year in industry opportunities. We also hold events within the School where you can meet potential employers.
Whatever your aspirations, our dedicated team of specialist staff are here to offer you support and advice on career options and ways to improve your employability.

Locations
Kent Business School has sites on our Canterbury and Medway campuses. Both campuses have first-class academic and leisure facilities.

At Canterbury, we are based in the Sibson building. Recently built, Sibson provides first-class resources in a beautiful setting, with plenty of spaces to study and relax. Everything you need on campus is within walking distance, including a general store, a bookshop, bank, a medical centre and a pharmacy. You can go off campus to explore the city's medieval buildings, historic pubs and an array of shops. London is just an hour away by train.
We are currently based on the Historic Dockside at the Sail and Colour Loft, but our Medway home is moving to the Pembroke site on the Medway campus as of September 2022. This move puts Kent Business School at the heart of the Medway Campus, a former Royal Naval base combining historic and new buildings. Whilst keeping the integrity of the rich history our campus offers, our students will benefit from being closer to the Drill Hall Library, the Deep End and our student accommodation Pier Quays. Off campus, there is lots to do in the historic town of Rochester and nearby Chatham, with cinemas, theatres and good shopping. London is just an hour away by train.
See our virtual tours of both campuses.