What is it?
We believe that skills training is an essential element of any PhD or research career and an important aspect of career progression for all researchers. Our RDP has been developed to deliver these skills, and in response to national policy.
Following Sir Gareth Roberts' review of higher education in 2001, the UK research councils (RCUK) issued a joint skills statement to all universities, identifying seven areas in which UK doctoral and early career researchers should develop further skills while pursuing their research. This statement became the Researcher Development Framework (RDF).
All of our training falls under the four headings of the RDF:
Knowledge and intellectual abilities
Personal effectiveness
Research governance and organisation
Engagement, influence and impact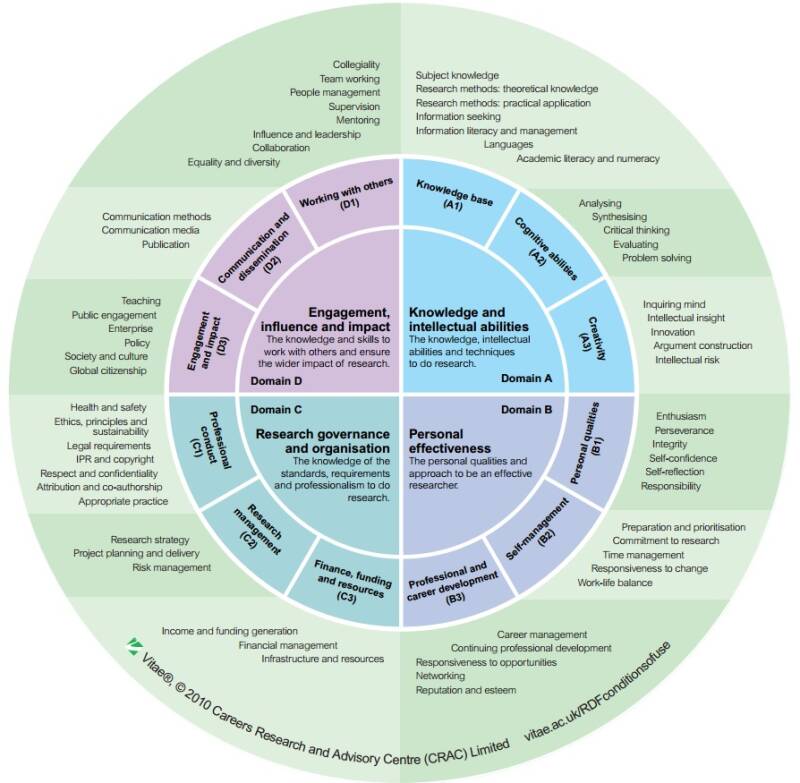 Who is it for?
The RDP is for all postgraduate research students. This includes full-time and part-time students and those studying a Master's, MPhil or PhD. It is also pertinent for Early Career Researchers.
Are any workshops compulsory?
All new PhD students must attend the Kickstart your PhD: Guidance, Skills and the RDA workshop and complete a Researcher Development Assessment (RDA). This online self-assessment encourages you to consider your existing portfolio of skills, as well as any skills you hope to gain while doing your doctoral research.
You can book for the workshop and complete the assessment via our online booking system.
Why should I do it?
A PhD is an outstanding academic qualification but having a doctorate alone will not prepare you for your chosen career, whether in academia or beyond.
At Kent, we are committed to producing doctoral students and researchers who are experienced, highly skilled and employable. That's why it is important that while you are progressing your research, you also develop the skills you will need to succeed in your chosen career.
Which workshops can I attend?
A full range of workshops are available including writing workshops, negotiation skills, presentation skills, library workshops and many more. Please see the RDP handbooks for an overview of the types of workshops organised by the Graduate and Researcher College. To register and for full details of the workshops on offer, including times, dates and locations as well as target participants, see the online booking system.
Once you are registered on the online booking system you will also be able to:
search and view workshop information
book places on workshops or use the waiting list facility for workshops which are currently full
use your own profile to manage your bookings and view your progress
complete and update your RDA.
Once you have successfully booked on to a workshop you receive an automatic email confirming your booking. There is a high demand for many of our workshops so, if you know that you are no longer able to attend a workshop onto which you are either booked or on the waiting list for, please cancel your place so that one of your fellow researchers on the waiting list can benefit from the training. You can cancel your booking via the online booking system 48 hours in advance of the workshop. Current students can read our cancellation policy on the online booking system.
What other support is available?
Alternative Guide to Postgraduate Funding
The Alternative Guide to Postgraduate Funding Online is all about alternative sources of funding - especially charities - which can make awards (fees, maintenance, research costs) to any student regardless of subject, or nationality.

The Alternative Guide Online contains a huge database of funding opportunities, comprehensive guidance, and numerous tools to help you prepare a winning grant application. The University of Kent has purchased a licence to the Guide, so it's free for all students and staff to use!
Login to the Alternative Guide
If you are a prospective student and you have applied to the University, please email skills@kent.ac.uk for an access PIN.
Associate Fellowship Scheme (AFS)

The University offers the Associate Fellowship Scheme (AFS) which is a formal qualification intended for Graduate Teaching Assistants, part-time and sessional teachers, capacity permitting. It aims to help you develop your knowledge and skills as a practitioner, in your role as a teacher or as someone who supports student learning. Find out more about the Associate Fellowship Scheme.
IT online learning guides
Information Services offer a variety of learning guides that can be used for self-paced learning or reference material. Topics include IT security, presentations, spreadsheets and ECDL (Word, Excel, PowerPoint). Find out more about the IT online learning guides.
Statistics Consultancy Desk
The Statistics Consultancy Desk is run by the School of Mathematics, Statistics and Actuarial Science (SMSAS). It is free for postgraduate students and covers all aspects of the quantitative analysis of research problems in a wide variety of fields. For more information, contact the School of Mathematics, Statistics and Actuarial Science.