All continuing students must complete returning registration via KentVision every year. Failure to complete Returning Registration may result in you being unable to continue your studies.
When registering you will be required to check your personal details and update them if they have changed. Please see the below step-by-step guidance on how to complete Returning Registration.

If you are funded by Student Finance England, completing Returning Registration will usually trigger your funding payments.
If you are unable to register due to an outstanding debt or finance flag on your record, you should contact the Income Office for assistance.
Please note that fee payment does not mean you are registered.

When is the Returning Registration deadline?
The Returning Registration deadline for the academic year 2022/2023 is 10am Monday 17 October 2022. You will receive an email in mid September 2022 when you can begin the process. In order to receive your student loan by the start of term, please complete Returning Registration before 4pm on Tuesday 20 September 2022.
When and how do I complete Returning Registration?
You will be contacted via email to advise when you can complete Returning Registration. You will be directed to KentVision where there will be a banner message on the dashboard instructing you to complete registration as a continuing student.
Click Start registraton to proceed. A series of tasks are displayed and all of these must be completed to fulfill the requirements of the returning registration process. As you complete each section, a green tick is displayed next to the section.
Once each task is completed, you cannot return to edit the details further.

Personal details
No details can be amended on this screen. If your legal name is incorrect, please email csao@kent.ac.uk as instructed on the top of the page. Click Continue to complete this section.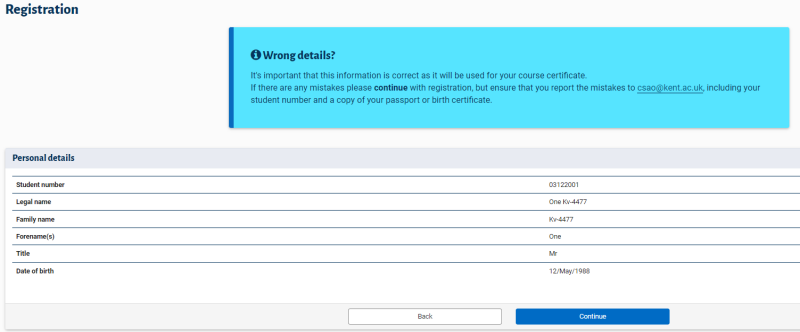 Contact details
Term time address
From the dropdown list, select the appropriate option and click Continue.

To input your term time address, select the country from the dropdown list. If it is a UK address, you can use the postcode finder to add the address details. Please ensure that you input the full details of your address. You can add or edit your mobile/contact number and personal email address. Once complete, click Continue.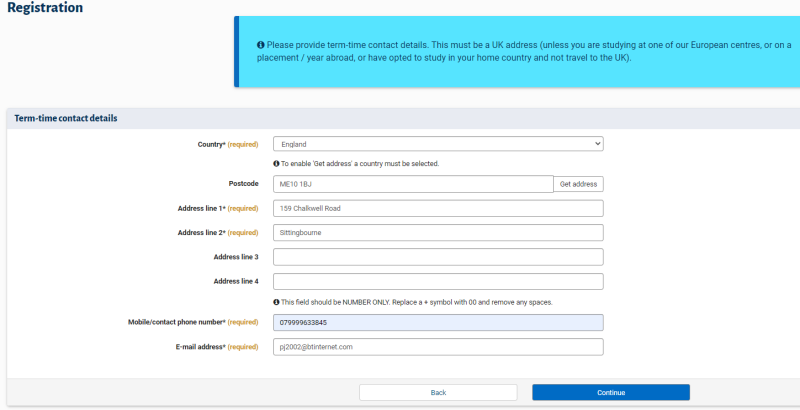 Emergency contact details
Add or edit details of your emergency contact and click Continue. Please note that you can amend the details or the contact throughout the year on KentVision.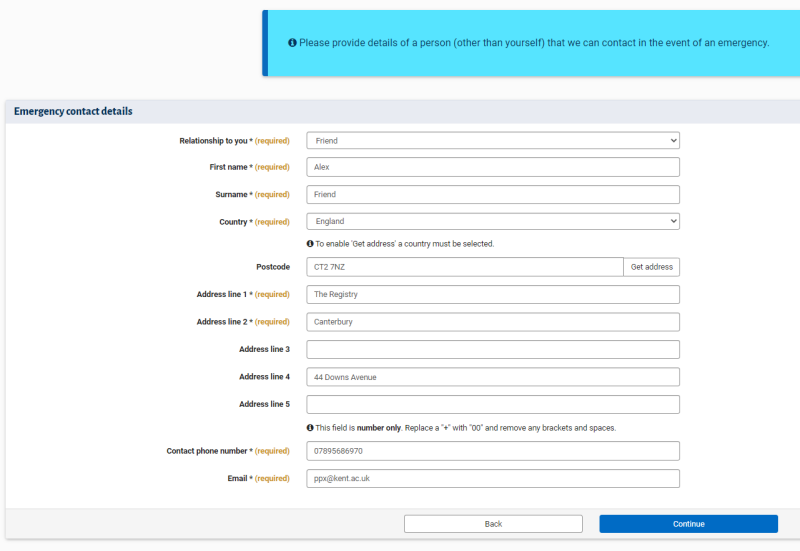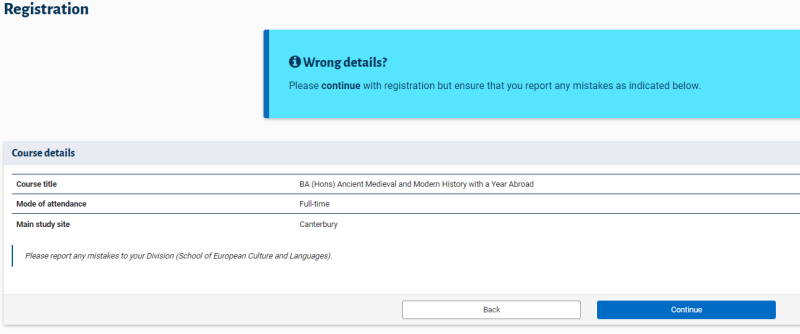 Right to study in UK
Click Continue.
The passport details held on your student record will be displayed. Below is guidance on how to edit your passport record or add a new passport record. If all details are correct, click Confirm and continue.
Edit your passport record
To edit the passport record (if not previously verified by the University) and/or to upload an accompanying image, select the circle next to Your passport records and click Edit selected passport.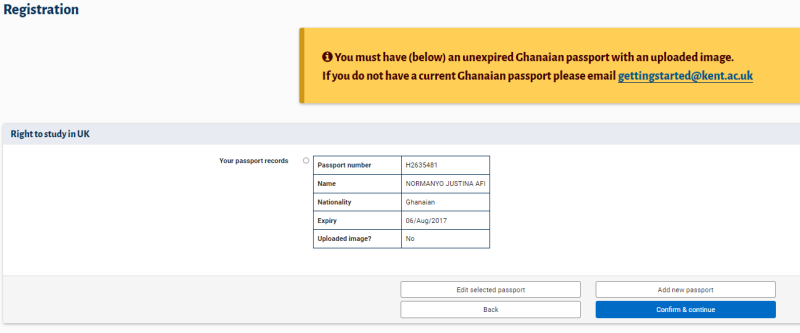 If you have opted to edit your passport details, you will see the below page. A passport image can be added using the Browse function at the bottom of the screen. Click Save passport when complete.
Add a new passport record
If you need to add a new passport record, click Add new passport, input details into the required fields and use the Browse function at the bottom of the screen to upload an image. Please ensure that the picture page of your passport can be seen in full.
You are then prompted to provide documentation relating you your immigration documentation.
If you have documentation, select Yes - I have my immigration permission document and use the Browse function to upload an image from the list provided. Please ensure that all documentation is provided in full (ie not cropped) and if you have a BRP card, please upload copies of both sides of the card. Click Continue.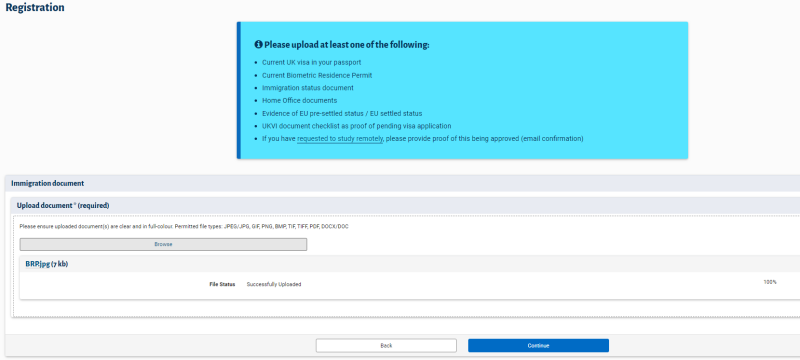 Terms and conditions
Please read the information in the highlighted links and click I accept the terms and conditions above.
The terms and conditions read as follows:
I agree to read, understand and abide by University regulations.
I accept responsibility for the payment of tuition fees (in the absence of a sponsorship or other award).
I agree that my information may be provided to private sponsors, potential/prospective employers and/or other educational institutions, in accordance with the University's registration under the Data Protection Act 1998 & 2003.

Voter registration
If you wish to opt out of reminders for the voter registration, tick the box. Leave blank if you wish to receive updates about voter registration.
Select Complete registration to complete the process. You will see a message to confirm that your registration is complete.