This page is a guide to our compliance with the People & Planet requirements.
People & Planet's University League is a comprehensive and independent league table of UK universities ranked by environmental and ethical performance. It is compiled annually by the UK's largest student campaigning network, People & Planet.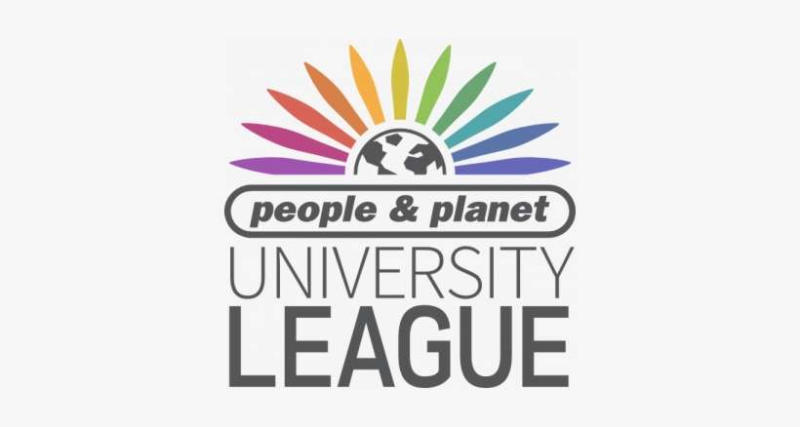 P&P Sections
The University of Kent has a publicly available Sustainability Policy which is signed by the Vice-Chancellor, and the Chair of Council.
This Policy is reviewed annually as part of the Management Review of our ISO 14001:2015 Environmental Management System (EMS). Policy review usually takes place in September and the most recent Policy was signed off in October 2021.
Our EMS sets out time-bound targets for our significant environmental aspects. The Sustainability Policy outlines our commitments to the areas specified. Most areas have their own strategy documents that highlight the targets and timescales. The targets are reported and reviewed through the EMS Team, and reported upwards through the Sustainability Steering Group to council.
As a university, we have an externally verified Environmental Management System (EMS), which covers the whole University estate. We have maintained the ISO14001 standard since 2012 and recently successfully recertified to ISO 14001:2015 in December 2021.
Sustainability is included within the portfolio of a member of the University's Executive Group; Professor Richard Reece, Deputy Vice Chancellor for Education and Student Experience.
The Sustainability Team, Dr Catherine Morris, Sustainability Manager, and Emily Mason, Sustainability Coordinator are supported by colleagues across the University with specific responsibilities in supporting this work.
See the Who's Who of Sustainability at Kent
All staff are encouraged to get involved with supporting sustainability. Our staff engagement programme FutureProof empowers staff to take action and is supported by our network of sustainability champions.
The University includes its Ethical Investment commitments within the Investment Policy. The current Policy was signed and published in June 2019.
We have also published a list of our investment holdings which details how our investments held with Cazenove Capital are in their Responsible Multi-Asset fund, this is a highly ethically sound investment fund designed to also monitor the carbon footprint of investments.
We are committed to not investing either directly, or in pooled investment funds a major part of whose business is pornography, gambling, tobacco, fossil fuels or armaments.
Our aim is to publish information about the University's investment practices and procedures in such a way that facilitates greater transparency and access to information for students, staff and the general public. All of the information above can be found on our Investment Policy webpages
The University includes sustainability and ethical standards, particularly with regards to high risk sectors such as fossil fuel, arms, mining and tobacco, in its vacancy handling policy which is updated annually.
Information about the careers service structure and staff can be found on the careers and employability webpages
The University of Kent Careers and Employability Service is not part of any combined Careers Service but uses the resources and support provided by a number of third parties as set out in our Code of Practice
The University is commitment to improving the terms and conditions for its own workers as well as for those involved within the University's supply chains.
We are a member of the Southern Universities Purchasing Consortium (SUPC) which is affiliated to Electronics Watch on behalf of its members.
The University has also signed up to the Can't Buy My Silence universities pledge
We have a publicly available Sustainable Food Action Plan which is reviewed annually by the Sustainable Food Steering Group and reported to the EMS Team and SSG.
The Sustainable Food Steering Group includes representatives from Commercial Services, Procurement and Sustainability as well as student and staff representatives.
Staff, students and the local community are provided with the opportunity to be part of the Kent Community Oasis Garden (COG), a sustainability hub centred around growing food. This year, food grown at Kent COG will be purchased by our catering outlets to produce food served on site.
2021 Results
The University of Kent maintained its 2:1 class in the 2021 People and Planet University League published in the Guardian (9th December 2021) achieving 41st place overall out of 154.
2021 Successes
Despite the significant challenges faced over the last 2 years both from the covid-19 pandemic and from changes within the University we have seen some significant score increases in many areas of the league this year which reflect our new whole-institutional approach to sustainability.
Areas where we have improved the most are our Sustainability Policy and institutional targets, and our commitments to embedding sustainability into the curriculum. We scored 100% for both the Environmental Policy and Environmental Auditing & Management sections which recognises the university's ongoing demonstration of its commitments through the operation of an externally certified Environmental Management System.
The University placed 13th in the UK for staff and student engagement on sustainability reflecting the hard work of the sustainability team during the last 2 years in successfully switching to online and digital communication and engagement activities.
Our new Net Zero carbon target and plans in place to deliver this have also seen an increase in score for Carbon Management, to 60% compared to a sector average of 30%, and we plan to focus on this area in the coming months which will hopefully further increase our score in future years.
Unfortunately, many of the scoring gains described were offset by our operational performance which scored relatively poorly compared to the sector. This was due largely to the fact that the University remained partly open during lockdown to house and cater for our International students and to allow staff (such as the award winning Kent Technical Services Covid-19 PPE Response Team) to remain in labs and workshops contributing to the UKs vaccine research and development of PPE.
Find out more
If you have any questions about our performance in this league then please contact sustainability@kent.ac.uk
You can find the full league table and details of the scoring methodology here
Opportunities for Improvement
There are some areas of the league where the University has seen either reductions in scores compared to previous years or has failed to make sufficient progress against the criteria set by People and Planet.
Sustainable Food
The University's previous Sustainable Food Strategy and targets expired in 2020 and as catering outlets have been closed due to the pandemic we were unable to work on a new strategy. Now that things are getting back to normal we are working to develop our priorities for the next year including looking at different options to reduce the carbon footprint of the food that we serve as well as focusing on reducing food waste from student accommodation.
Workers' Rights
The biggest scoring section in this category requires Universities to be directly affiliated with Electronics Watch who work to improve workers' rights in ITC supply chains. The University of Kent purchases its IT through the SUPC (Southern Universities Purchasing Consortium) who are members of Electronics Watch. Over 93% of our IT spend is covered by the SUPC affiliation with Electronics watch and so we do not feel that direct affiliation is necessary.
Ethical Investment
The University of Kent has a robust ethical investment policy and does not directly invest in the fossil fuel industry. While there is room for improvement in this section the University scored 57% compared to a sector average of 31%. We will work with the Finance and Resources committee over the next year to ensure that the University of Kent is as transparent as possible regarding its investments and work towards improving our scoring in this area.