Here's a summary of what's available on our Canterbury and Medway campuses over the winter break.
Christmas goody bag
If you're staying on campus over the winter break, don't forget to pick up your free Christmas goody bag. Available to collect from Nexus in Templeman Library (Canterbury) 19-20 December and the Oasis Lounge in Rochester Building (Medway) from 19 December. Enjoy!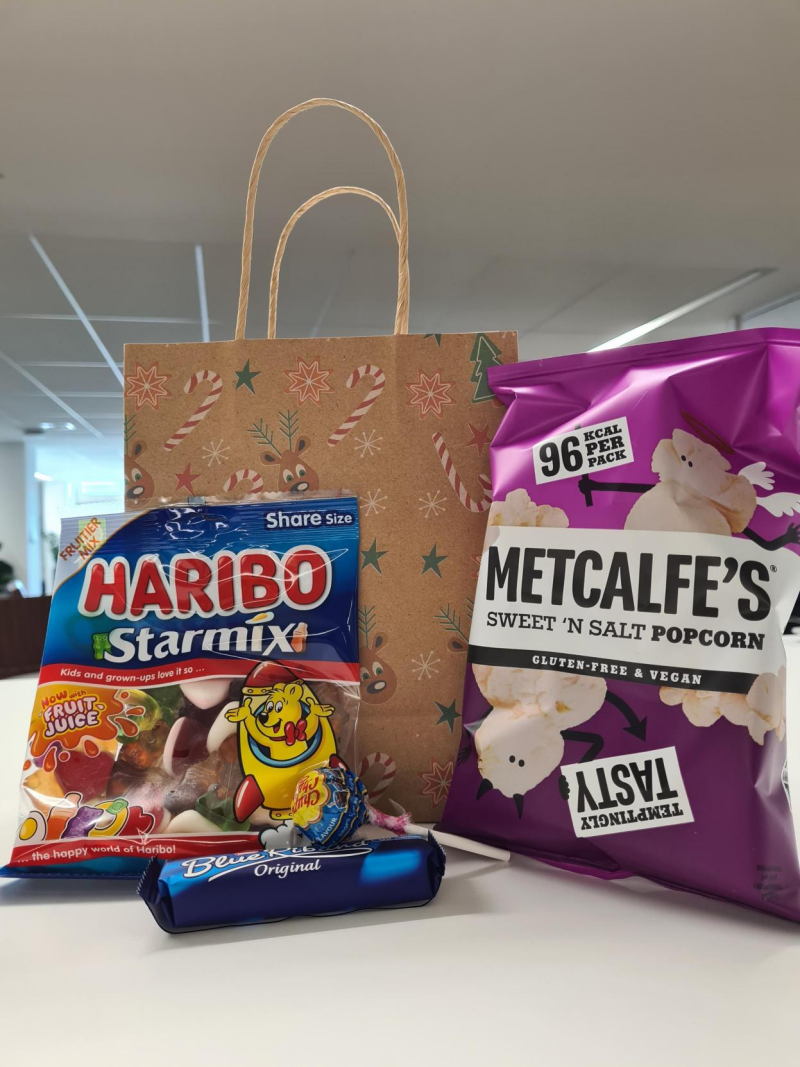 Campus Security
Campus Security are on duty 24 hours a day, 365 days a year. Find them in the Security and Transport Centre (Canterbury) or Medway Building (Medway).
Or you can always get in touch with them by calling 01227 82 3300 (non-emergency) or 01227 82 3333 (emergency) or via the SafeZone app.
Safety/emergency contacts off campus
Police non-emergencies: 101
Police emergencies: 999
Student Support and Wellbeing
The Student Support and Wellbeing (SSW) reception is open after the end of term until Tuesday 20 December. It will then be closed from Wednesday 21 December and re-open Tuesday 3 January.
During this closure, there are lots of contacts available to support you wherever you are during vacation:
Partner organisations – free services for Kent students
Phone and text support from Spectrum Life: If you are experiencing a mental health crisis, need emergency wellbeing help or just need someone to talk to, our external partners Spectrum Life can offer you online, text, and telephone support from qualified counsellors and therapists. Spectrum Life is available 24/7:
o Telephone 0800 0318227 and press option 1, or Text/WhatApp 'Hi' to +44 (0)7418 360780
o Search for the Spectrum Life app from your app store and follow the log in instructions (organisation code: ud3Z2brH).
Online peer support from Togetherall: For 24/7 online peer support, courses and discussion groups supervised by trained professionals, all Kent students can access Togetherall free.
External organisations – free services available to all
For expert information tailored to students from Student Minds, check out the Student Space website which provides advice, as well as telephone, email, webchat and text support.
If you're having a difficult time and want to talk to someone, you can call the Samaritans free on 116 123, or email jo@samaritans.org.
If you would prefer to receive support via text message, Shout is a free, confidential, 24/7 text messaging support service for anyone who is struggling to cope, simply text 85258.
More information, advice and resources will be posted throughout the vacation on the Student Support and Wellbeing Instagram (@UniKentSSW).
Places to eat
Check the catering webpages to find out which outlets are open on campus over the winter break.
Follow @unikentfood on Instagram for stay updated.
For Woody's and Library Cafe opening times, please see the Kent Union website.
The Deep End at Medway will be closed from 16 December and will reopen on 4 January 2023.
Campus shops
Check out the Kent Union website for the opening times of the Co-op campus shops (Plaza and Park Wood).
Kent Sport
Gym and sports facilities
Kent Sport facilities will operate on reduced opening hours (7:00-19:00 for the Sports Centre, and 9:00-19:00 for the Pavilion) on Monday 19 and Tuesday 20 December. All facilities will close on Wednesday 21 December. They will reopen on usual vacation hours on Tuesday 3 January 2023. See Kent Sport opening hours.
You can also follow Kent Sport on social media @UniKentSports for the latest updates.
Kent Sports Clinic
Kent Sports Clinic services within the Sports Centre, including physiotherapy and massage, will be available until Tuesday 20 December. The clinic will close on Wednesday 21 December, and reopen on Tuesday 3 January 2023.
Student-led services within the Chipperfield building will be available until Thursday 15 December. The clinic will close on Friday 16 December, and will reopen on Monday 23 January.
The Accommodation Office
If you're staying on campus over the winter break, check out the Accommodation Office winter break service update for key information such how to get access if you are locked out, and how to report any defects.
The Accommodation Office will be closed between 21 December (afternoon) and 3 January. For urgent assistance outside of these times, please contact Campus Security.
Rochester Building - Medway campus
Oasis Lounge
The lounge will be open every day, 9:00 to 17:00,
except for 25-27 December, and
2 January.
This includes the kitchen, pool table (free of charge)
and PC room. There will be free breakfast items
available in the lounge throughout the break.
The Deep End
The building (not cafe) is open from the 24
December to 2 January, 12:00 to 20:00, except for
the 30 December.