ResLife Ambassadors (RLAs) are students who host events and opportunities for residential students to spend time together on campus.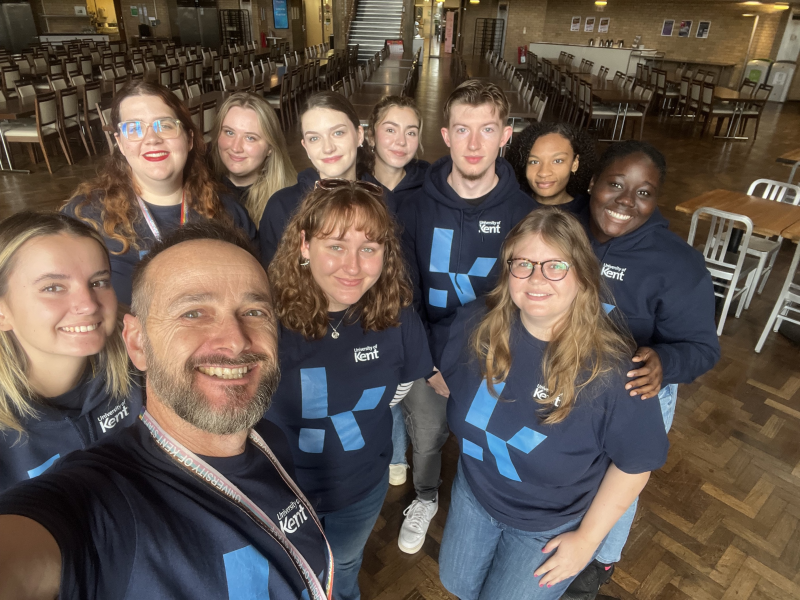 ResLife Ambassadors (RLAs) are the heart of our Residential Life Team (ResLife for short) at Kent and are there to help you enjoy your experience of living in accommodation at Kent, and can signpost you to support and advice.
ResLife are here to help students living on campus make the most of their time living with us, from support with settling in, to getting stuck in with lots of fun events with other residents on campus. Our ResLife Ambassadors help shape your residential community into a fun, welcoming and active one that you feel proud to be a part of, where every student is welcome no matter what their background.
Each College and their associated accommodation buildings have dedicated ResLife Ambassadors focussing on their accommodation's community, events and experience in addition to cross and multi college events. You can find your College's ResLife Ambassadors below.
2023-24 ResLife Ambassadors
Meet your ResLife Ambassadors
Hi, I am in the Masters of Development Economics program (coming from Canada). In my free time I love reading, listening to music (at moment Burna Boy has been on repeat) and playing soccer. Feel free to reach out, I love meeting new people :)
I'm Jhanay a final-year Digital Arts student who wants to help build an inclusive environment for all students on campus.
I'm originally from America but love to travel and seek new experiences! I'm currently a doctoral student and research intern for the Student Success department.
Hi! My name is Kimberly and I'm a third year, international student finishing the Law programme. I'm looking forward to creating and enjoying exciting events with our Kent community this year!
I am Ben and am a 3rd year student studying International Business. I'm aiming to host events that will bring people together.
I'm a Master's student studying Law. I'm looking forward to running mental health and mindfulness themed events, such as colouring and coffee mornings.
I'm Sarah a 1st year PhD student studying Psychology and second year RLA! I look forward to building student community and organising art, sustainability, and food-science events.
I'm Lois and I will be starting a Master's in Forensic Science this year. I have just graduated in Forensics and have been at the uni since 2019. My hobby is music which I love and I play the cello in the UKC orchestra!
My name is Lissy. I studied English Literature with a Year in Journalism for my undergrad and graduated last September. I have returned this year to start my Master's in English and American Literature!
My name is Megan and I am going into my 4th year at Kent studying Law and English Literature. I like to read, plan events and bake.
My name is Courtney, and I am from The Bahamas. Currently, I am a second year Law student and I am excited to start the school year with you.
Hi, I'm studying my Master's in Infectious Disease. I'm interested in establishing a community through interactive activities like escape rooms and holiday themed events.
My name is Caroline and I am a second-year Classical and Archaeological Studies PhD student here at the University of Kent. I am enthusiastic, goal-orientated and hard-working.
Meet the team
Headed up by Ewen, the ResLife Team work closely with the Accommodation and Student Welfare and Community Teams and are always looking for new ideas and events to run throughout the year.
Along with my dedicated and passionate team of ambassadors we will be hosting events and creating opportunities throughout the year for residents to socialise, spend time together and most importantly, have fun!
I am a final year PhD student in social anthropology. I am looking forward to helping students get the most out of their time at Kent, to make new friends and to have new experiences. I like all things outdoors and a good adventure.