Living in Pier Quays, Medway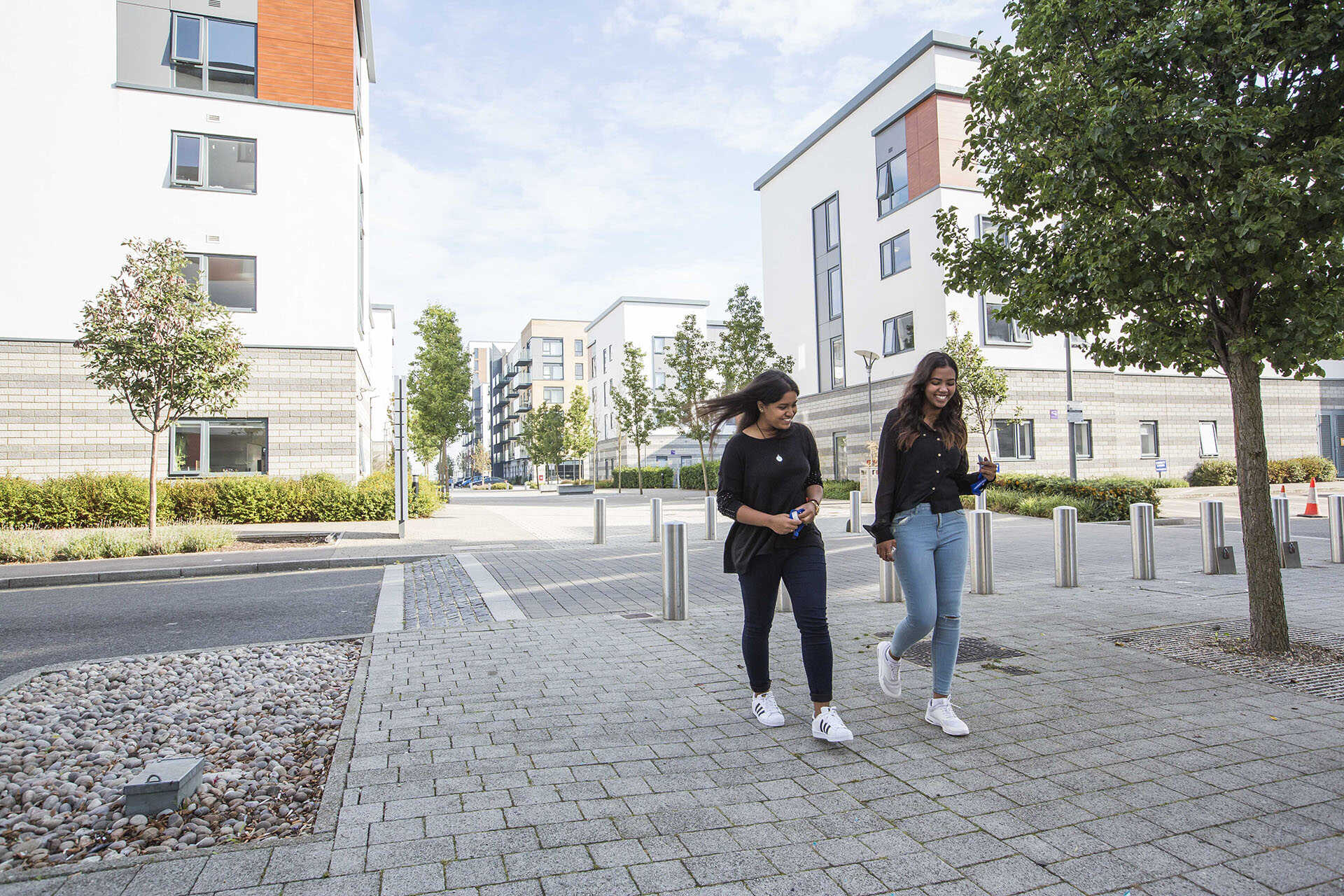 Living in Pier Quays
Make the most of your time with us at our Medway campus and beyond.
Medway life
University is all about new experiences, discovering more about yourself, what you're good at and what you enjoy. You'll be working hard but it's important to relax too so we've made sure Pier Quays has lots of on-site facilities to make your life easier.

So enjoy yourself, join societies, go to events, grab a meal with friends, discover new interests and gain skills that set you up for the future.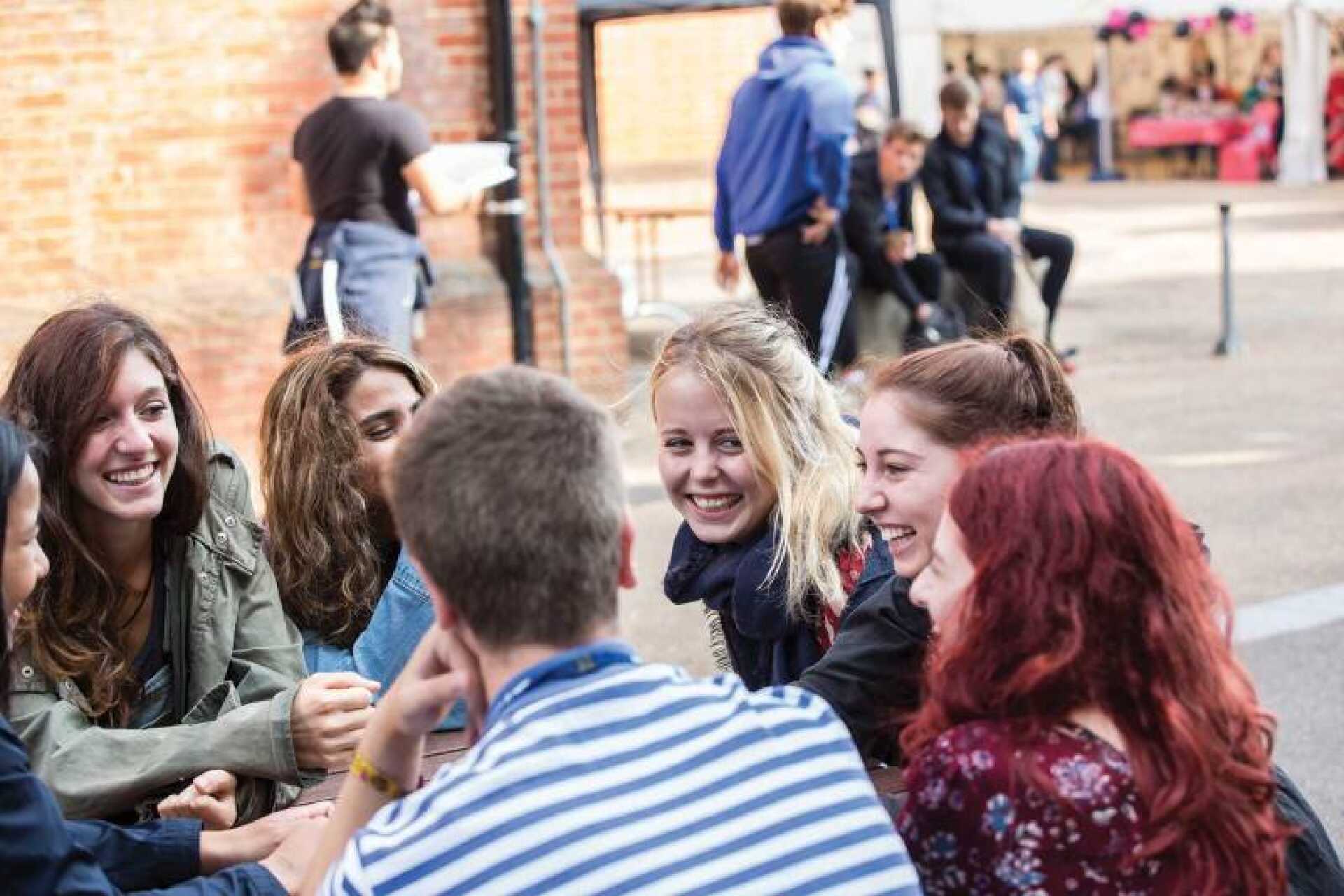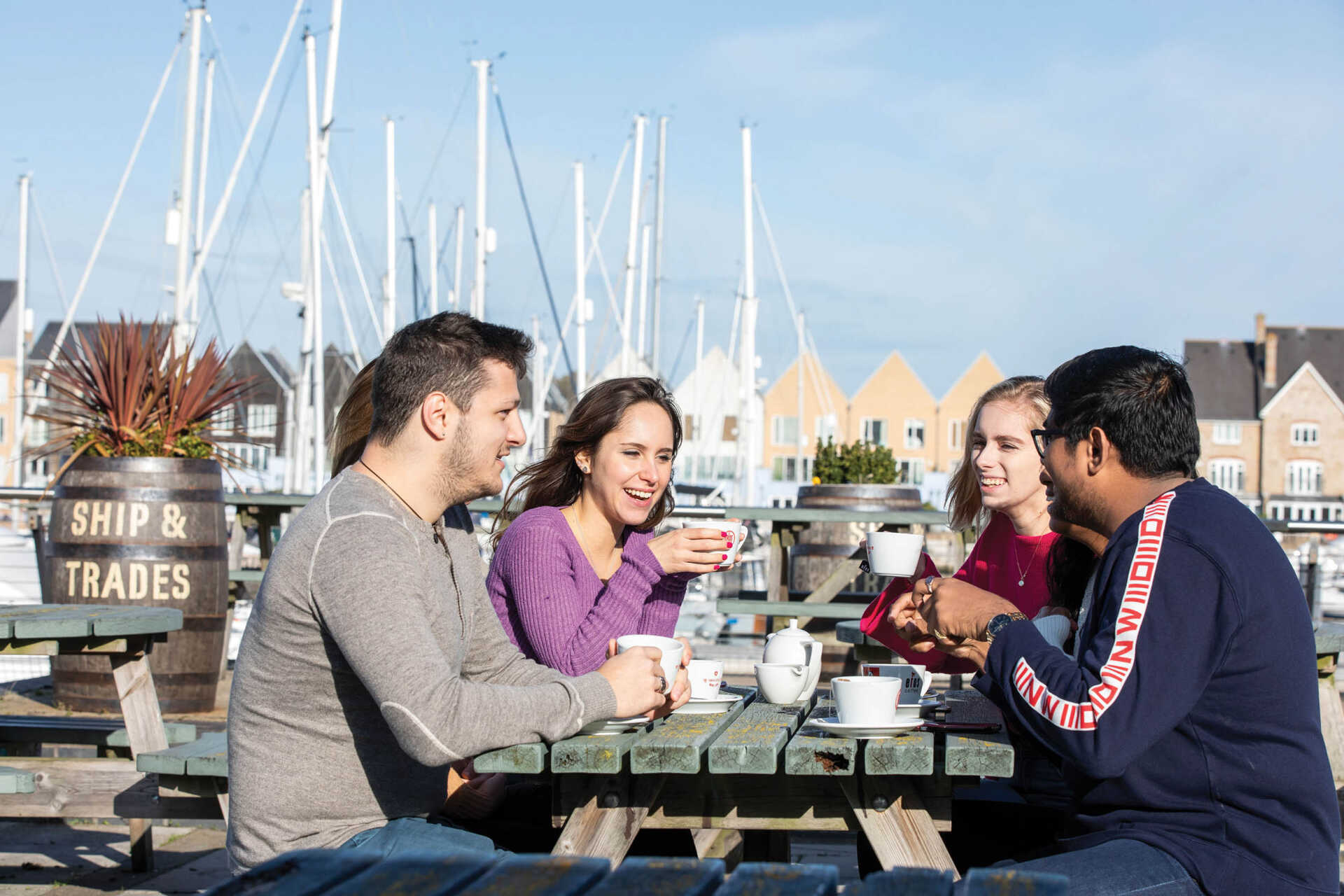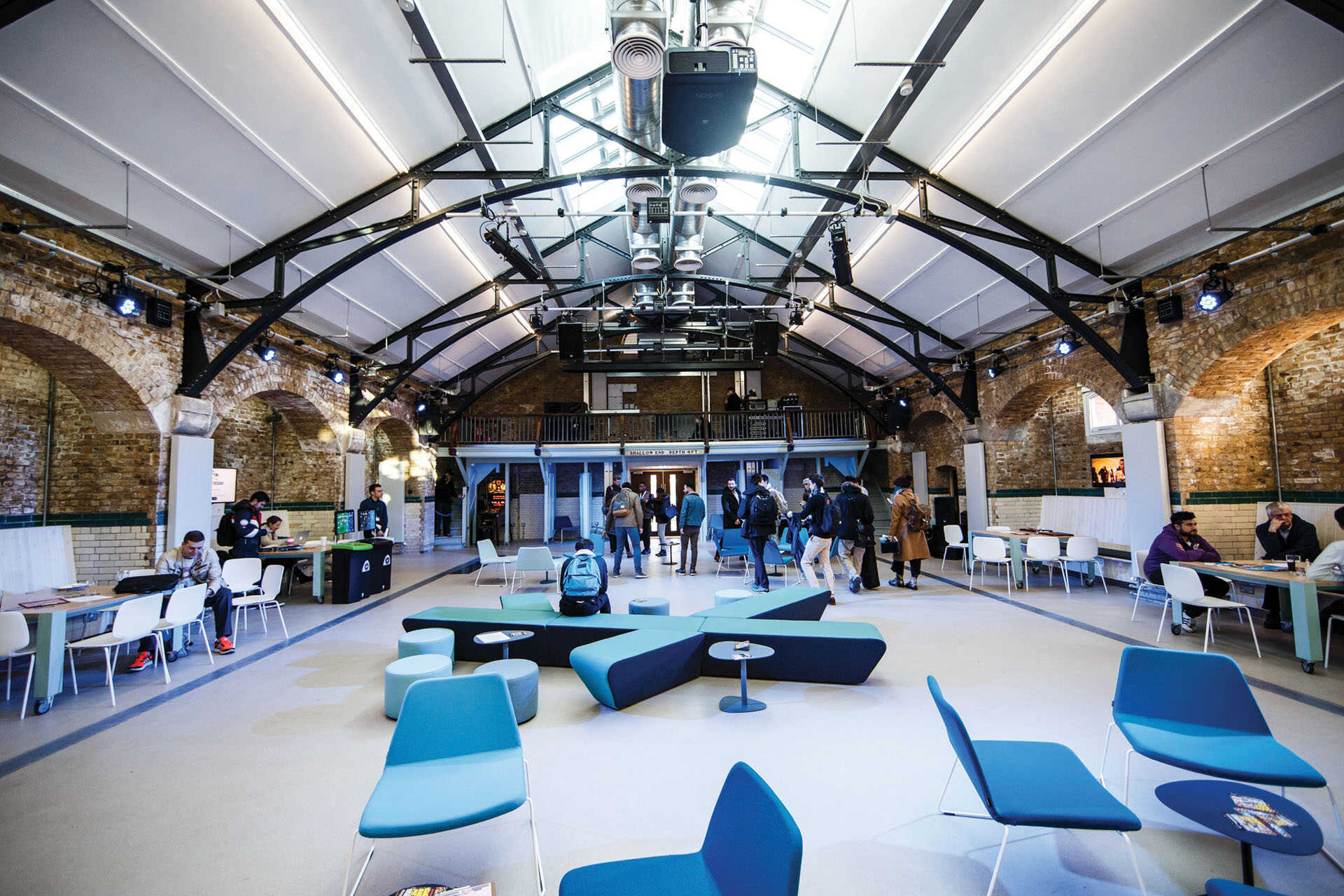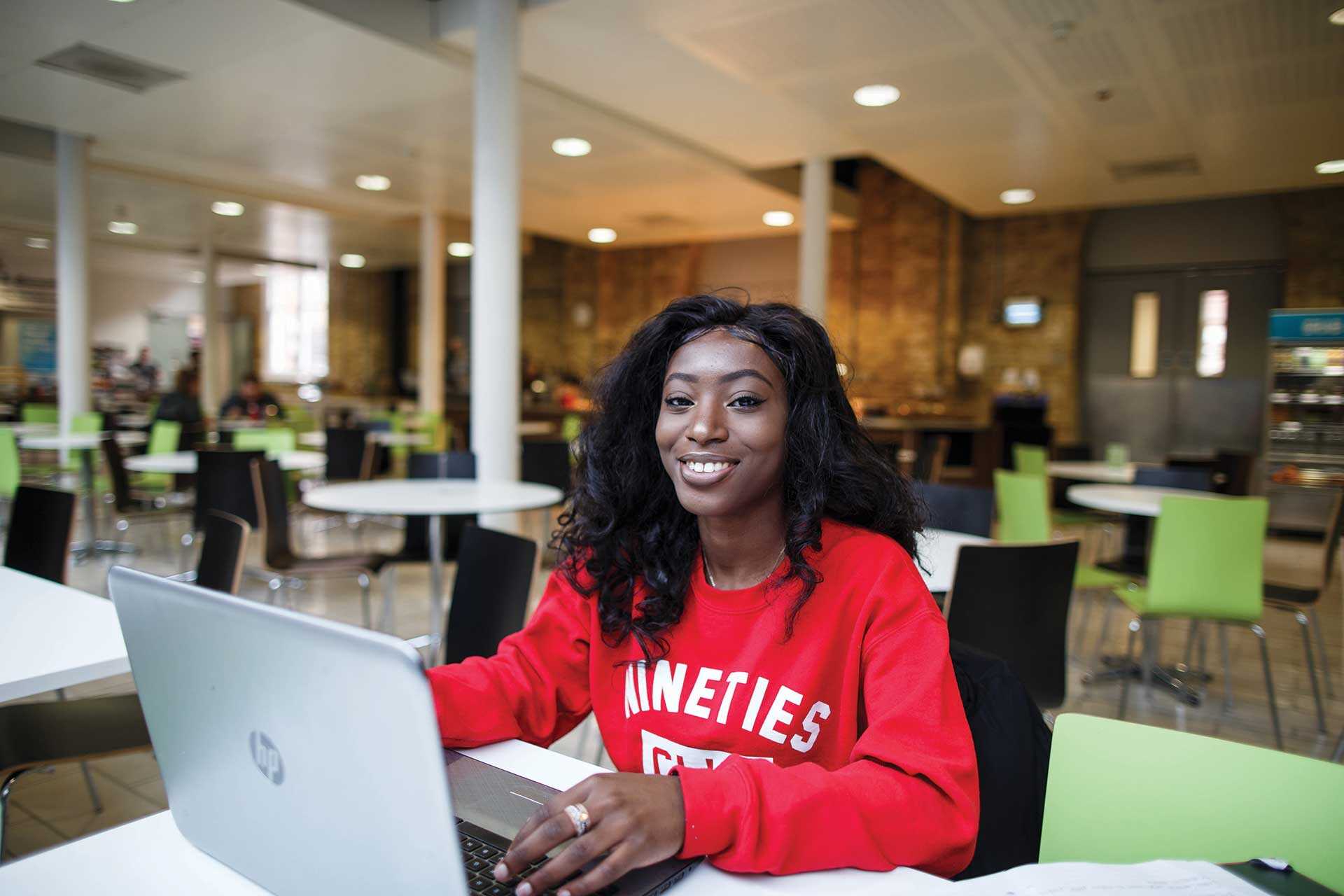 I'm definitely glad I chose to live at Pier Quays
Everyone's in close proximity so if you want to meet your friends they're only a two-minute walk away. I think you make friends quite easily in the first week anyway because everyone is in the same position.
Evangeline Agyeman, lived in Pier Quays
Social Sciences BSc student
(Pier Quays was previously known as Liberty Quays)
On-site facilities
Pier Quays has a dedicated reception open 24 hours a day, which can help you with a number of day to day queries as well as keep any deliveries secure for you to collect at your convenience during opening hours. From 07:00 - 22:00 reception is staffed by the Student Experience team and from 22:00 onwards by the Night Safety team.
Additional on-site facilities include:

Laundry room
Cycle Storage

Recreational areas including an outdoor courtyard and two social/study spaces
A Dominos Pizza, Subway and Tesco Express.
Included Sport Membership
If you live in Pier Quays and booked your accommodation directly through the University of Kent or are a first-year student studying at the Medway campus, you will also receive a free sports membership (worth up to £479). This means you'll have access to the gym, exercise classes, a pool (only at Medway Park) and more.
As a Medway student you'll also have the choice of a Premium Plus membership at Kent Sport (located on the Canterbury campus) or a Premier Medway Park Sports Membership (local to Pier Quays).
Security and maintenance
We want your time with us to be as safe and comfortable as possible which is why Pier Quays has electronic entry systems, 24/7 CCTV as well as it's own security team you can contact at any time. You can also download the SafeZone App.
To help keep our accommodation in top condition, we schedule a couple of maintenance checks every year where we visit your accommodation to note down any repairs we need to carry out for you.

However, should you discover any faults, maintenance issues or damage in your room at Pier Quays you should report them to reception or via the MyUnite App so that they can be fixed.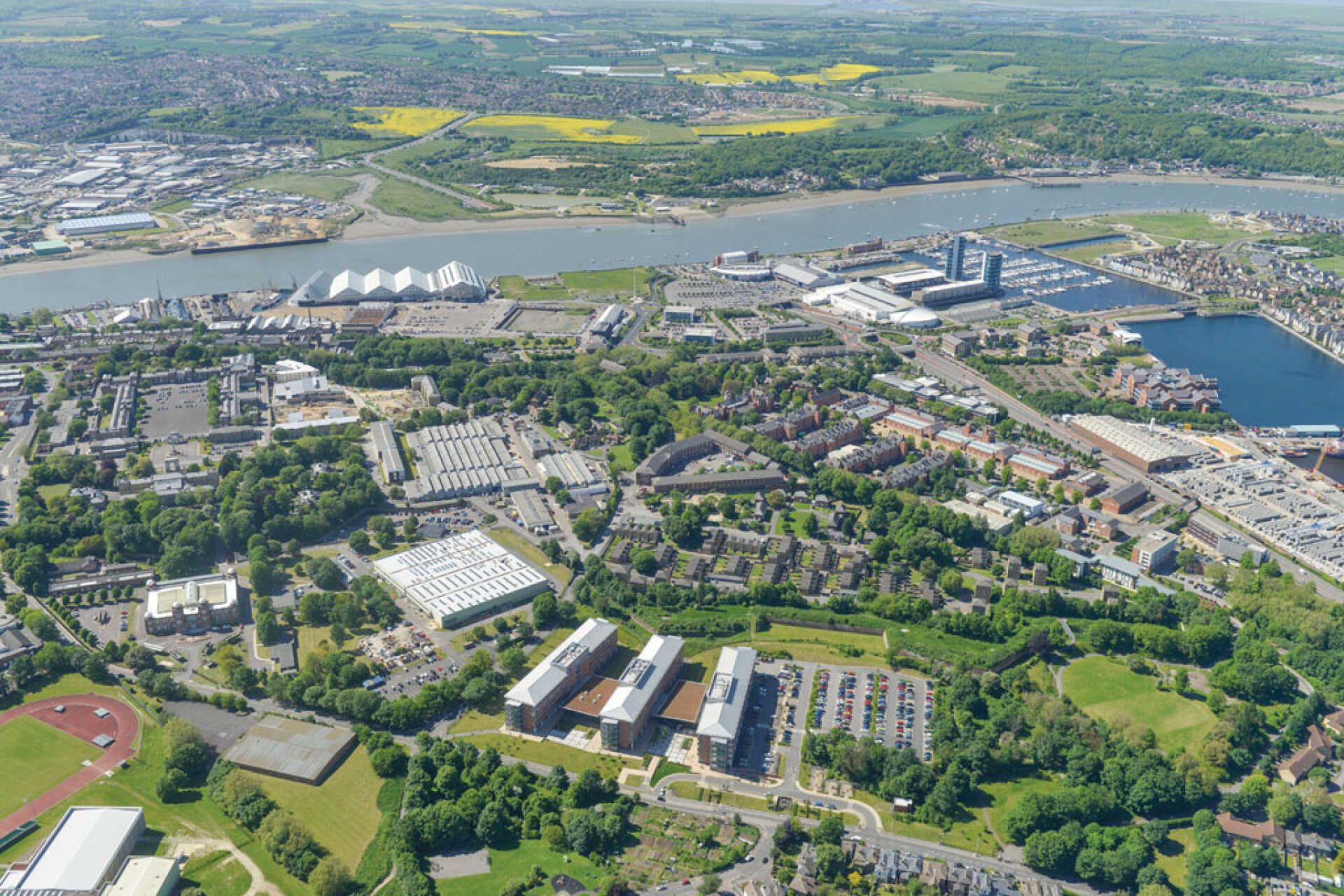 Medway campus
Join us at the Medway campus to meet new people, focus on your studies and get the complete student experience. You'll become more independent, make lifelong friends and be close to what's happening on campus and in the local area.
Spaced across two sites Pembroke and The Historic Dockyard Chatham (located a 10 minute walk apart) the Medway Campus has a lot to offer. The redeveloped historic dockyard which once built Nelson's famous ship, HMS Victory, and is since the filming location for numerous Hollywood films.
Our Medway campus page has information on catering, nightlife, library, support and more.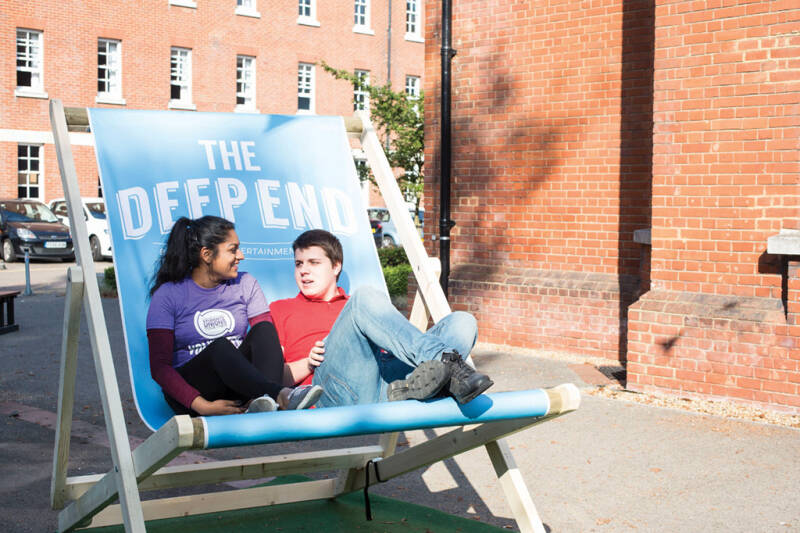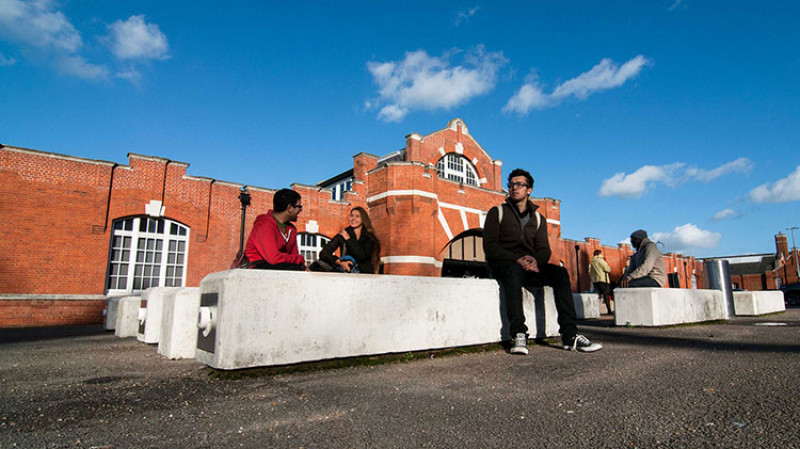 You're part of Medway College
All our University accommodation belongs to one of seven colleges with Pier Quays part of the Medway College.
Colleges are looked after by the Colleges and Community Life Team who can offer you advice, help and support on a variety of topics on University life and run a regular programme of activities you can join.
The University also has an award-winning Student Support and Wellbeing Team that offers a range of services including emergency support, community events, counselling, support groups, accessibility and learning support and much more.
Best of both campuses
In partnership with Kings Ferry the University runs a free shuttle bus that regularly runs between Pier Quays, Medway campus, Chatham Dockyard site and the Canterbury campus seven days a week.

This service allows easy access to both campuses meaning you can take advantage of everything the University of Kent has to offer via a free, 50 minute ride. All you need to do is book your seat online and show your KentOne card when boarding.
Kent Union at the Hub
Kent Union is part of the Hub partnership of student Unions located in Medway (along with Christ Church and Greenwich Universities). They run a host of activities throughout the year with around 40 different societies and sports clubs alone which you can join so there's always something happening.
They're also on hand to offer you support and advice throughout your time at university and manage the popular bar and social space The Deep End.
Local area
There's lots to do off-campus as well, with the nearby Dockside Shopping Outlet, Odeon cinema (with student discounts available) and more all within walking distance, or take the popular walking/cycle path along the River Medway which will lead you to the Historic Dockyard.

We're also close to the towns of Rochester, Chatham and Gillingham which are full of surprising literary, and historic connections including a source of inspiration for Charles Dickens. So hop on a bus and follow in famous footsteps as you stroll around the ever-popular independent shops on Rochester high street and beyond.
You're also under an hour away from London by train for even more adventures.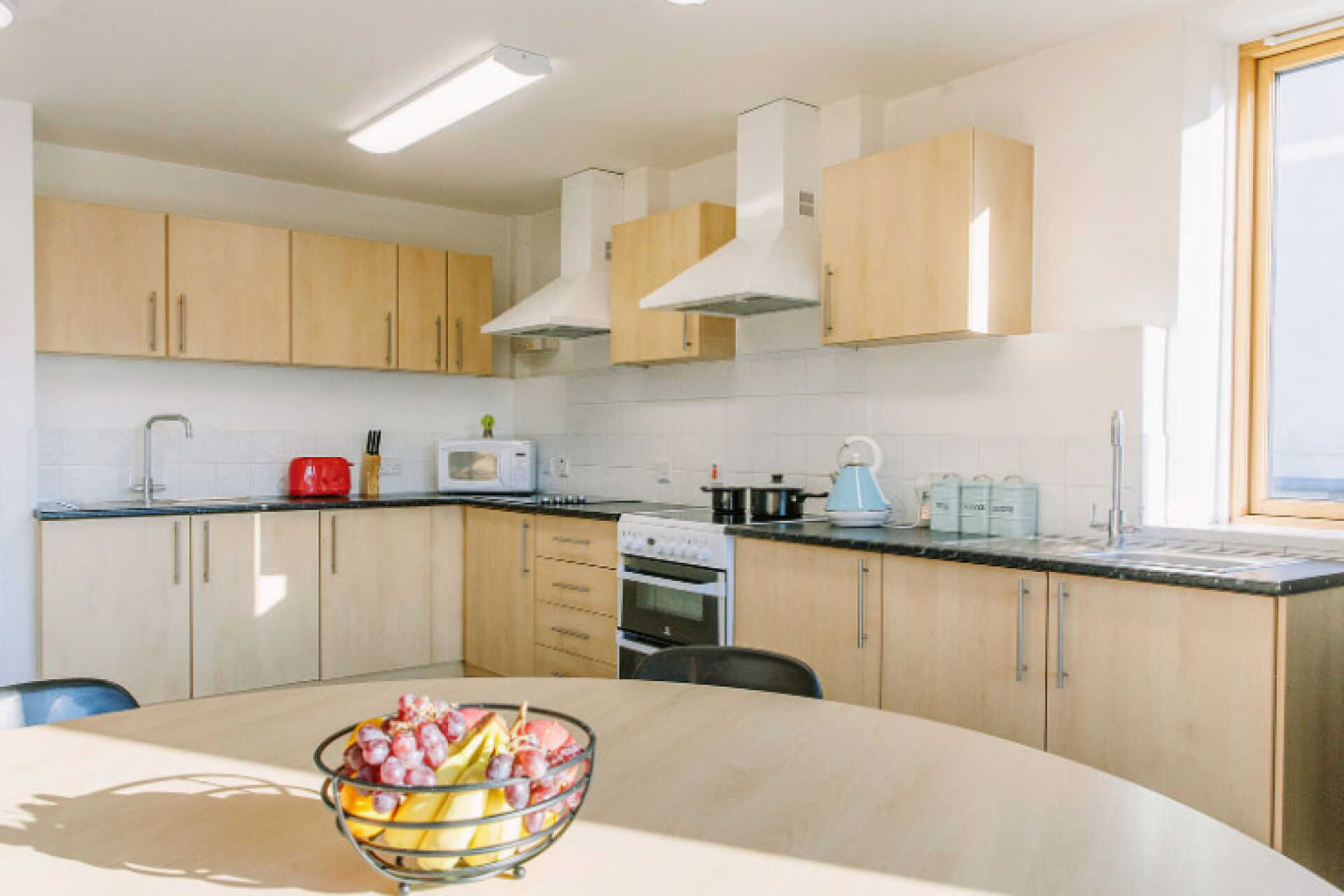 Short term stays
Commuting to the Medway campus from home or only need student accommodation for a short period? From December you can book short term accommodation in Pier Quays with no minimum stay requirement.
All rooms are en-suite room with access to a fully fitted kitchen, and you can book a single room or a whole flat (up to 5 rooms). Bed linen, towels and kitchen equipment provided.
It's easy, just book the nights you need online and show up!

See more...
Medway Welcome Fair
Nothing shows you the variety of activities that go on across campus quite like the Welcome Fair thrown during Arrivals Week.
Living in Pier Quays
Two of our students living in Pier Quays share their reasons for why they chose to come back for another year.
Liberty Living Guide to Medway
Before it was called Pier Quays it was Liberty Quays, and these students show you some of their top local tips.
Explore and Eat on campus
A handy guide from the Union of some of the catering outlets and social spaces you can enjoy on the Medway Campus.