Pier Quays, Medway student accommodation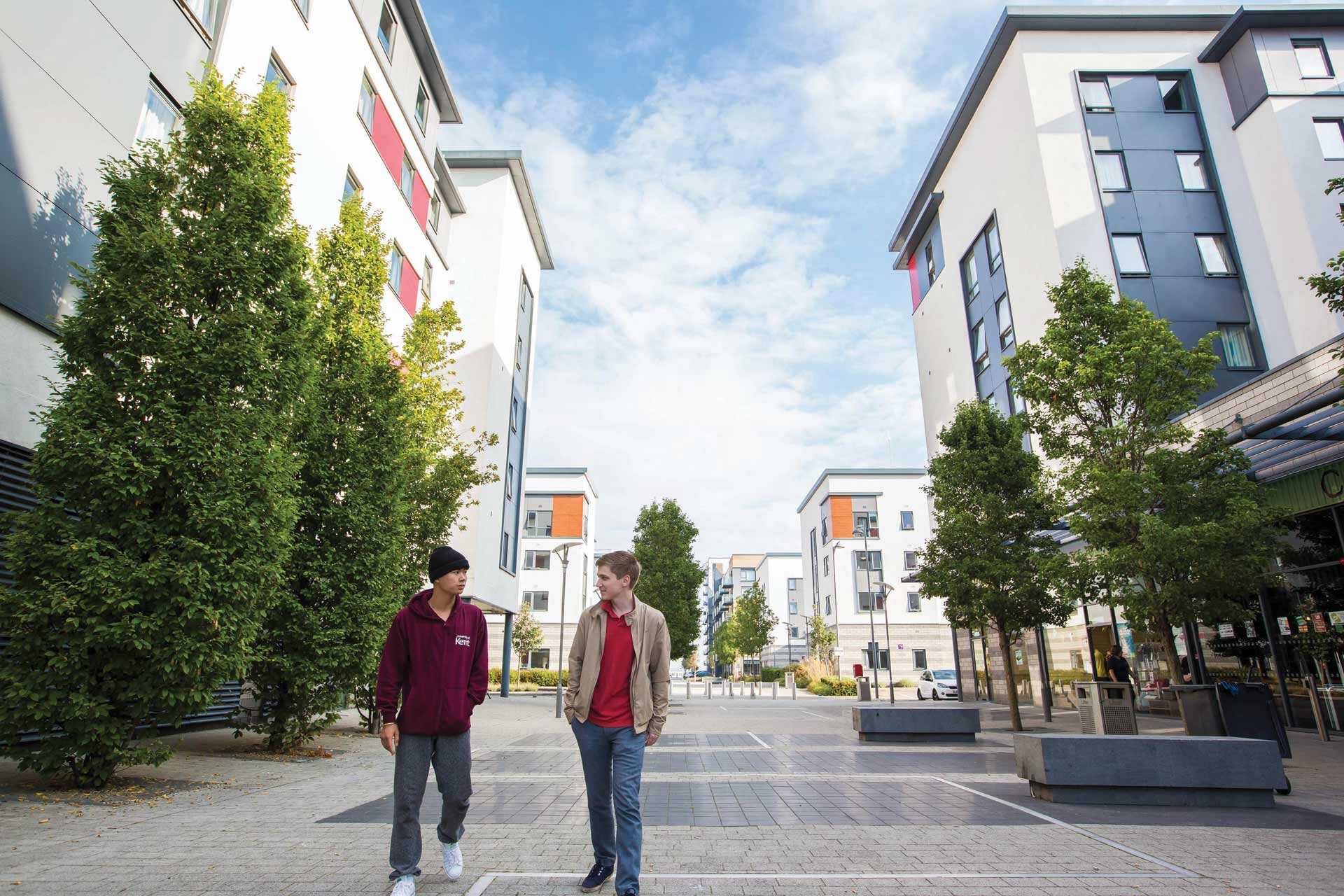 Welcome to Pier Quays, Medway
Key links and information
Four to ten students per flat

Self-catered with spacious fitted kitchen
Located just a short walk from the Medway campus, Pier Quays offers lots of opportunities to meet new people and socialise with your friends. Cook together in your flat's spacious kitchen, go for a swim or take a class at Medway Park with your included sport membership, or relax in one of the two large social spaces for residents.
Pier Quays, which is owned and managed by Unite Students, is also home to lots of useful facilities including a reception for all your deliveries, a launderette, cycle storage, a Tesco Express store, Subway's and Domino's Pizza. Plus with it's own stop for the free campus shuttle bus it's easy to reach either campus for socials or classes from your new home.
With its riverside location, modern en-suite facilities, free shuttle bus, and 24/7 security and maintenance teams, Pier Quays offers convenient, secure accommodation for all our Medway students at great value.
What's included
Your bedroom includes a 4ft double bed, wardrobe, desk and chair, noticeboard and lots of storage space and private shower room/toilet
Exclusive offer of your choice of Kent Sport Premium Plus membership or Medway Park Premier membership. Only included when booking with us and worth up to £479 purchased separately.
Access to a fully-fitted kitchen which is shared with your 4 -10 flatmates. The kitchen includes an oven and grill, hob, microwave, fridge-freezer and storage space.
No utility bill costs as Wi-Fi, heating, water, electricity and personal possessions insurance are all included

Your 39 or 51-week contract includes the winter and spring vacations meaning you (and your belongings) don't need to move out.
Enjoy Medway life
Housed with fellow undergraduate or postgraduate Kent students you'll be part of the Medway College community and can look forward to getting involved with any of the events your Kent Union at the Hub or College and Community Life Team regularly host.
Lots of students choose to return to Pier Quays for their second and third years as well to live with the friends they met in their accommodation or on their course during their first year. So while returning students live separately from first-year students there is always familiar and friendly faces around.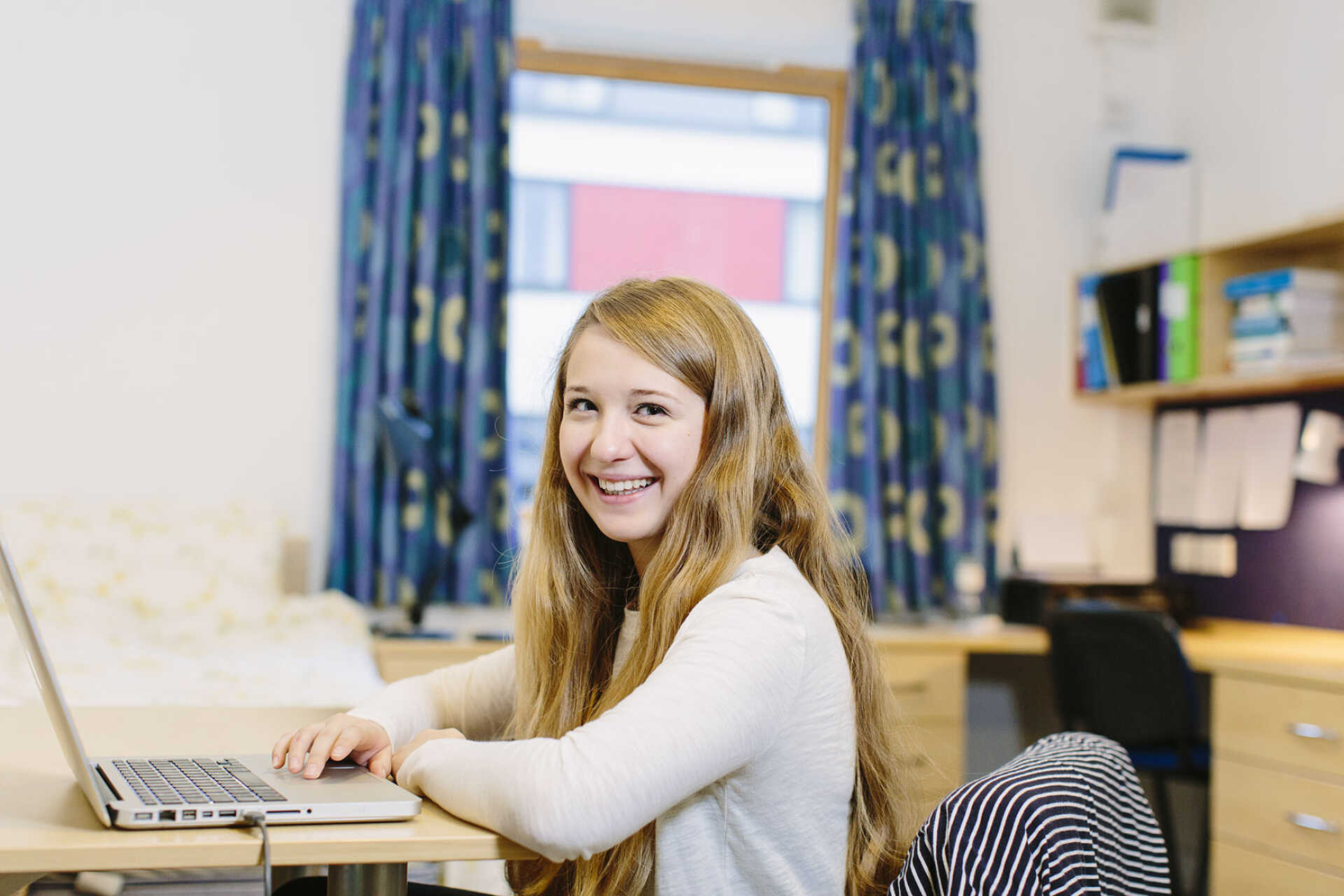 2023/24 Prices
A single classic en-suite room for September to June (39 weeks) is £5,460 (weekly equivalent £140).
If you want to stay throughout the summer term, or are a postgraduate, we also have a 51 week contract running from September to September for £6,939 (weekly equivalent £136).
Accommodation costs include sport membership, utility bills, internet, and personal contents insurance when you apply through the University's MyAccommodation portal.

When accepting a room offer you will need to pay an Advanced Rent Payment of £250. This amount is then deducted from your first rent instalment when it is due.
Live with friends
If you're coming to University as a first-year student with a friend, or are a group of returning students you can apply to live together in Pier Quays.
All you need to do is include the full names of your friends and their Kent student/applicant number in the 'other comments' of your application. That's it - as long as they've done the same we'll house you together in the same flat.
Sound good? Just follow our advice and apply early, especially if there is a big group of you! We do our best to ensure all preferences are met, but this is subject to availability so the earlier you apply the better!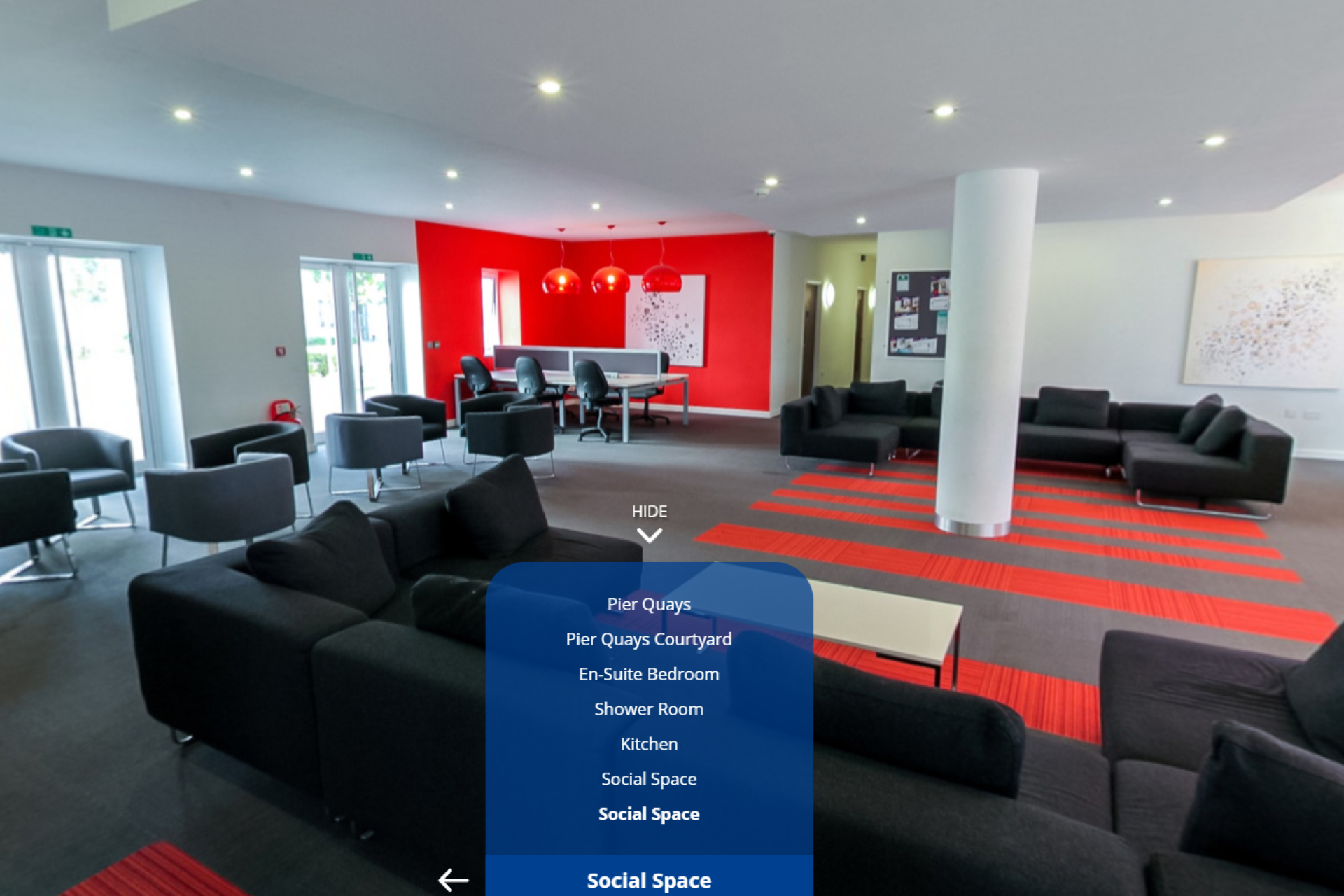 Come visit us
Get a real feel for the Medway campus and living in Pier Quays at one of our Open or Applicant Days.
Pier Quays and the Medway campus has excellent transport links and is easy to get to from London, just take a look at our Maps and Directions.
Of course for when an in-person visit isn't possible we have the next best thing with 360 degree virtual tours available online or you could catch one of our virtual open days!