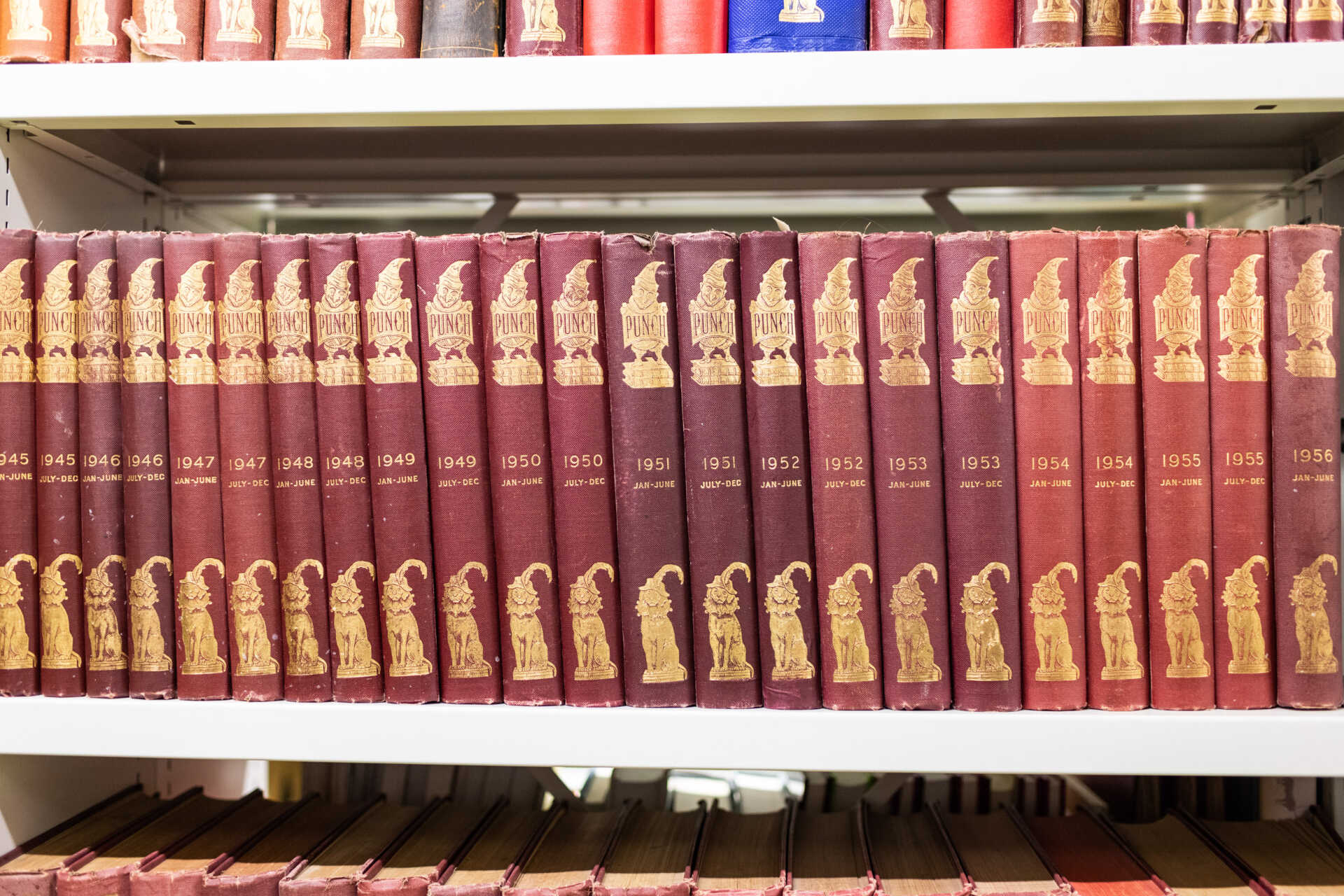 ​
Punch Collection, Univeristy of Kent.
A large collection of cartoons featured in Punch Magazine created by various cartoonists. The artworks were deposited with the BCA by Punch on behalf of the artists in 1981.
The BCA also holds a complete run of bound and individual copies of Punch magazine, from 1841 through to 2002.
Collection in brief
Contents: Artwork, journals
Period: 1840s-2000s


Artists included:
Harold Frank Hoar Acanthus
Ann
Anton (Harold Underwood Thompson)
Vincenzo Apicella
Ionicus (J.C. Armitage)
Sally Artz
Michael Atchison
Nicholas Baker
M.H. Ball
Andre-Francois Barbe
P. Barbour
Baxter
Albert Edgar Beard
Fritz Behrendt
Margaret Belsky
Abe Berry
Birkett
Hans Bishoff
Blanchard
Bratby
Hector Breeze
Russell Partridge Brockbank
Ray (Ray Chesterton)
M. Clark
Claude
Clive Collins
Bernard Cookson
Ffolkes (Brian Davis)
Roy Davis
ChonPunch Day
Robt. Day
Alan Nightingale de la Nougerede
Richard Decker
Geoffrey Dickinson
Boris Drucker
Roland Fiddy
Finbon
Ed Fisher
Edward Frascino
Gantriis

Dosh (Kariel Gardosh)
Toni Goffe
Fred Basset (Alex Graham)
Hans Haen
John Bernard Handelsman
M.E.S. Handley
Harry Hargreaves
David G. Hawker
Michael Heath
Hitchin
Tony (John Anthony Holland)
Hod (Albert Bernard Hollowood)
Martin Honeysett
Roger Honorat
Arthur Horner
Leslie Gilbert Illingworth
Chic (Cyril Alfred Jacob)
Keeping
John Kent
Vernon Kirby
Barry Knowles
Leon
H. Lime
John Vernon Lord
Raymond Lowry
Humph (Humphrey Richard Adeane Lyttelton)
Peter Maddocks
Kenneth Mahood
Norman Mansbridge
Robert McDougall
McKee
Edward McLachlan
Mac (Stan McMurtry)
Micklewright
John Miles
Doug Murray
Roy Nixon
Jarzy (G. Osmolski)
William Papas

Larry (Terence Parkes)
Bruce Leslie Petty
Brian Platt
J.W. Pountney
Ken Pyne
Quanda
Roy Stewart Raymonde
Bryan Lawrence Reading
Rees
Arthur Reid
Jim Russell
A.R. Saunders
Gerald Scarfe
Scherzo
Peter Scott
William Scully
Lawrence Siggs
Richard Smith
Len Spencer
George Napier Sprod
Leslie Starke
Ralph Steadman
Stringer
Jim Taylor
Ken Taylor
Teich
Norman Thelwell
Ross (Ross Thomson)
Michael Trevithick
Brian Walker
P. Ward
Keith Waterhouse
Wegner
Arnold Wiles
Zelio