Our collections cover a wide range of subjects, materials and media. From British Stand Up to early photography, Victorian theatre to modern political cartoons, the collections can support diverse teaching areas and needs.
We gladly welcome group visits to our collections; our material can be used to support learning and teaching through a wide range of activities.
We also have a page of digital resources for you to use including introductions to special collections, films of items and recordings of events.
We can support visits of up to 15 people in our seminar and reading rooms. We encourage sessions to be booked as early as possible, particularly during the Autumn and Spring Terms due to high demand.
We expect all staff and students to follow our guidelines for handling material. Special Collections and Archives materials can't be removed from the reading room.
Please see the FAQs about group visits below, and if you have any other queries do contact us at specialcollections@kent.ac.uk.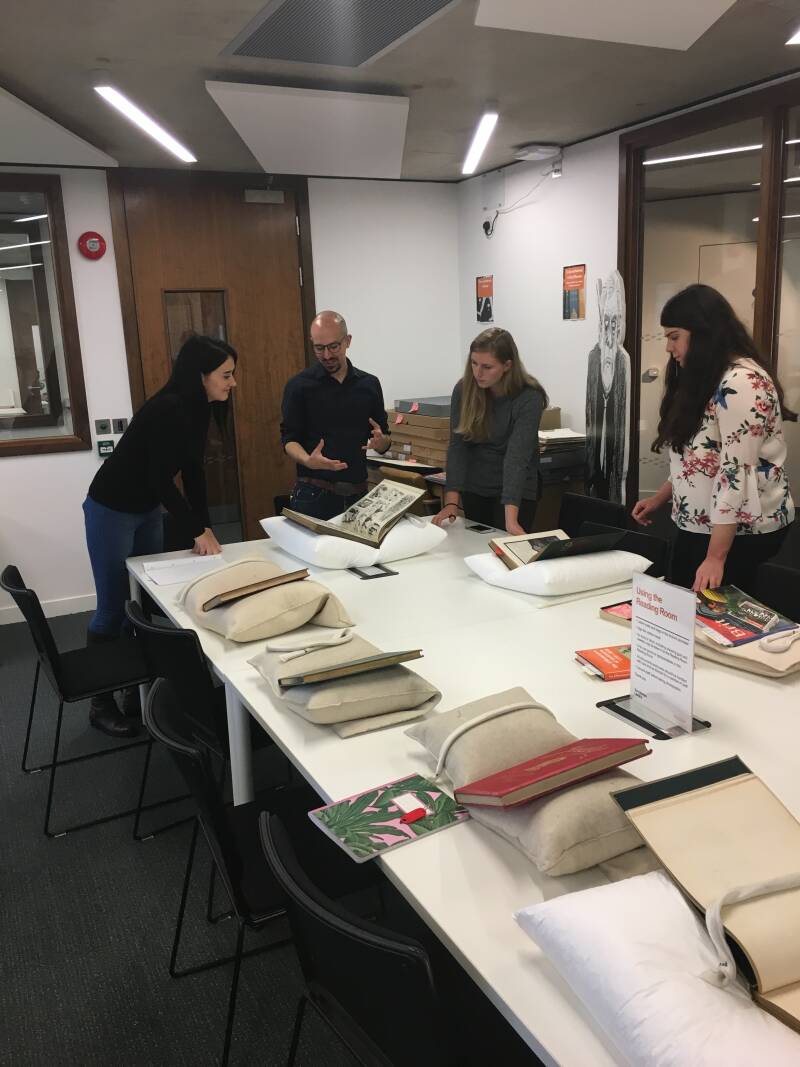 Group visit questions for teachers and academics
Special Collections and Archives staff are experienced in facilitating a range of education support led by tutors. Examples of sessions can include:

Single 1 hour introduction to using Special Collections and Archives material, including an overview of material we hold (and how to access it) with hands-on time for students to look at collection items
Single 1 hour introduction in Special Collections and Archives as above, but focusing on a particular theme or topic in your teaching
Extended workshops exploring a particular theme or topic in depth, with scheduled discussions and tailored activities
Introductory talks in your teaching space or lecture theatre
Subject-specific presentations and talks, delivered either online or in person
Q&A sessions with staff (either online or in person) around a particular collection, topic or theme
We're really happy to talk to you if you have any other ideas - just contact us at specialcollections@kent.ac.uk.
Group sessions can be tailored to your pupils' needs. We welcome everybody to Special Collections and Archives, from secondary school students through to postgraduate researchers. We work with both local schools and classes from other Universities, as well as community groups.
Group visits are often many people's first experience with using Special Collections & Archives material, and we think sessions can really enhance your teaching and learning offer. Some of the benefits (to both you and your students) include:
Developing research skills: group visit attendees learn how to critically assess and evaluate historic items in their own assignments and studies
Accessing and handling historic material: group visits teach people how to physically handle archival material safely in a friendly, safe environment - skills which are useful throughout their studies and beyond
Enhanced insight into topics: using Special Collections & Archives material encourages different views of topics and awareness of resources that attendees may not have considered before
Unique learning experience: many of the items held in Special Collections & Archives are completely unique. Introducing groups to material creates a one-off experience that they'll remember.
You can access a number of our collections online, including the British Cartoon Archive and the Muggeridge Collections of photographs. Please see our Collections A-Z for more information.
We also provide presentations, videos of items and recordings of talks that you are welcome to use in your teaching; see our Digital Resources page for links.
To request other digital material to support your teaching please contact us at specialcollections@kent.ac.uk well in advance. This will ensure we have time to assess your request and confirm if it is possible to make the material available digitally.
We're committed to making our collections accessible to everyone, so please do contact us at specialcollections@kent.ac.uks if we can help you in this area.
This is by no means a complete list of topics Special Collections and Archives material can be used for - but we hope it gives you an idea of the range of our collections and sessions:
Twentieth century history: First and Second World Wars, the Holocaust, Canterbury and Kent people and events
Victorian Britain: the Great Exhibition, the supernatural, popular performance and entertainment, toy theatres, melodrama, pantomime, race and society
History of print: scientific communication, printing press from Gutenberg - zines, small press publications, Victorian serials
Media and adaptations: popular engagement with Frankenstein, influence of Alice in Wonderland on cartooning
Stand-Up Comedy: origins of Alternative Comedy, the DIY movement, role of archives in recording live performance, comedy and politics
History of art: photography as media, development of cartooning, theatrical advertising
Our group sessions take place in the A 1 08 meeting room which is next to the Special Collections and Archives Reading Room and staff offices in the Templeman Library. This room has a PC and projector (with sound), mobile power points and flexible seating.

Occasionally group visits take place in our Reading Room, which does not currently have a PC or projector - if you need these facilities during your session please let us know in advance so we can liaise with Templeman Library staff accordingly.
Group visit questions for students
Special Collections and Archives is based on Floor 1 of the Templeman Library. We're in the A block (the newer extension with the Lecture Theatre beneath) but you'll need to come up through the stairs or lifts in the main Library entrance to get to us. We are right next to the Templeman Gallery space on the first floor so if you find display cases (and an exhibition) you're in the right place.
If you're not sure where to go please ask staff on either the Welcome Desk or the Library & IT helpdesks who can point you in the right direction.

It's also worth checking with your tutor where you're going to meet your class before you visit, as some groups prefer to meet downstairs in the atrium before coming up to us all together.
If you have a group visit in our spaces the standard Reading Room regulations apply. These guidelines are similar to those you'll find in other archives but they're a bit different to the rest of the Templeman Library. The main points to be aware of are:
Bags in lockers - for security reasons bags aren't allowed in spaces with archive material, so you'll need to pop your things into one of our lockers by the Reading Room. There's no charge for the lockers but we only have a limited number, so if you're carrying particularly large things have a chat to us or your tutor first.
No food or drink - this is to keep archive material safe, as much of what we hold is completely unique and easily damaged.
No pens - pen ink can permenantly damage archive material, so please bring a pencil and a notebook (or laptop) with you
If you're not sure about any of this advice please talk to us or your tutor.
You are permitted to take photographs of our collections, and we encourage you to do so as long as the flash on your camera is turned off. However, we'll need either you or your tutor to sign a form before you take any photos of specific items.
If you plan on posting any photos taken during your visit to social media, please do tag us in them - we love to see what you think! (@unikentarchives)
If you are unable to attend a group visit with your class, this doesn't mean you miss out on the experience. We're happy to book you in for a research visit so you can view the material shown during your session, and we always encourage people to come back and use our collections. See our Reading Room visiting pages for more information.