Walking home
Best way to stay safe at night is to stick with your friends. But if you find yourself on your own, here are some tips:
If on campus, use our night-time walking taxi service by contacting Campus Security
Get a registered taxi – save some money for the end of the night, so you can be brought straight home – it's much safer and easier
Get the night bus, the Uni2. Stagecoach provides a night bus until 04.35 and the route includes campus colleges and the local area.
Get a free personal safety alarm from Campus Security
Keep your valuables hidden – cover-up expensive looking jewellery, mobiles, keys, cash and cards
Stick to well-lit and busy areas. Avoid car parks and underpasses
Stay alert - don't walk home on the phone or listening to music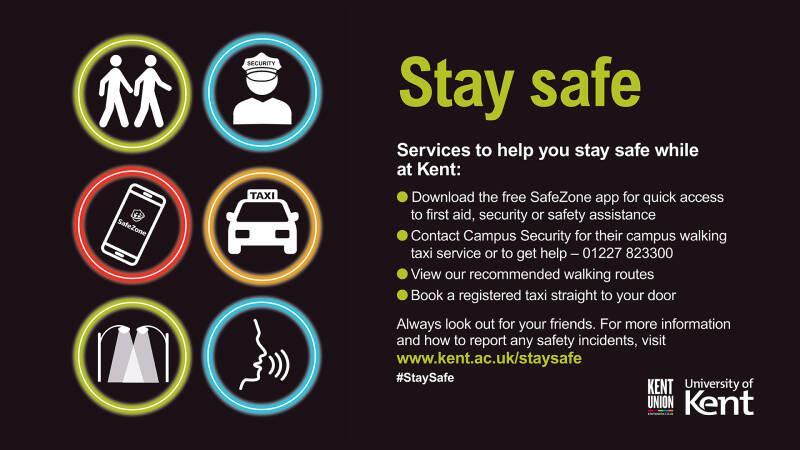 Image description:
Services to help you stay safe while at Kent:
Download the free SafeZone app for quick access to first aid, security or safety assistance.
Contact Campus Security for their campus walking taxi service or to get help - 01227 823300.
View our recommended walking routes.
Book a registered taxi straight to your door.
Always look out for your friends. For more information on how to report any safety incidents visit www.kent.ac.uk/staysafe #StaySafe
Drink spiking – what to look out for
To spike a drink means to put alcohol or drugs into someone's drink without their knowledge or permission. Spiking someone's drink is a crime. The responsibility and fault is always with the person spiking a drink.
It is never your fault if your drink has been spiked. Drink spiking can be reported to the police and through the University's online reporting tool – Report and Support. It is important to recognise that for a variety of reasons, you (or a friend) might not want the police informed of the incident. Please note that reporting an incident will not get you (or your friend who has been spiked) in any trouble, even if recreational drug use has taken place.
Did you know… the most common way to spike someone's drink is by adding alcohol to a non-alcoholic drink or adding extra to an alcoholic drink. However certain drugs can also be used - these are added to alcohol and act as a powerful sedative.
Recognising a spiked drink - A drink might have been spiked if:
There are excessive bubbles

It is cloudy

It tastes strange or different (especially if it's unusually bitter or salty, don't finish it)

The colour has changed (if it's lighter, darker or even blue, pour it out immediately)

It looks like it has been mixed

The ice sinks
Symptoms usually take effect within 15-30 minutes, lasting for several hours. If you, or one of your friends, has any of the following symptoms, you/they might have been spiked:

Feeling that any drinks consumed have had more of an effect than they should have
Feeling dizzy, faint or confused
Passing out, nausea or vomiting
Feeling sleepy or unwell
Impaired vision or speech
Feel a sharp or sudden pain (check the affected area for an injection site)
'I think my drink has been spiked' - what to do:
We recognise that if your drink has been spiked you might not be capable of following the steps below.
Get help straight away: Tell someone you trust and get to a safe space
Go to the bar staff and alert them. You can do this by asking for 'Angela'. They will know you need help and will call you a taxi or help you out discreetly – without drawing attention to it.
Do not leave the venue alone or with someone you don't know or trust
Avoid consuming more alcohol
Call 999 (Emergency Services) or 01227 823333 (Campus Security, if on campus).
How do I help a friend whose drink has been spiked?
There are certain things that are worth knowing in case any of your friends ever find themselves in a difficult situation. In this section, we provide some tips on how you can help your friend if their drink has been spiked.
If your friend tells you that they feel strange, drunker than they expected to be, or suspect that their drink might have been spiked, try to not jump to conclusions as this might cause extra panic and stress for them.
You can still take some steps to keep them safe:
Go to the bar staff and alert them. You can do this by asking for 'Angela'. They will ask you about your situation and will call you and your friend a taxi or help you discreetly – without drawing attention to it
Prevent your friend from consuming more alcohol
Do not let them leave the venue alone or with someone you don't know or trust
Get them to a safe space and keep them talking
Take note of the time and areas where you and your friend have been in the last 30 minutes. This will help in getting evidence from CCTV
If you can, take them to the nearest A&E department and tell the medical staff that you think they have been spiked
Stay with them until the drugs or alcohol have fully left their system. It's likely that this will be the following day, but it is important to stay with them should they be unable to look after themselves in case their symptoms get worse
Call 999 (Emergency Services) or 01223 823333 (Campus Security, if on campus).
We emphasise that the fault is never with the person whose drink is spiked. As a university, we do not tolerate drink spiking or any other incident of Sexual Misconduct.
You can find out more about the active steps the University is taking against sexual misconduct and assault via our Consent. Get it. Full stop. page.
Things to be mindful of with regard to going to the police:
After a spiking incident people are advised to have blood and urine samples taken by the police as soon as possible. Most drugs leave the body 12 to 72 hours after being taken.
Make sure you wait until your friend is conscious and able to make the decision of getting their blood and urine samples tested. Consent matters here too.

If you still have some of the spiked drink left, keep hold of it if possible. It might be used as evidence. Give it to someone you trust until it can be given to the police.

The police are aware that memory can be affected by some of the drugs used to spike drinks, but they'll need as much detail as possible to investigate the incident. That might involve asking the person whose drink was spiked to try and remember some of the below details:
Do you know who spiked your drink?
If you don't know who spiked your drink, do you remember what they looked like, or any other details about them?
What happened throughout the evening, and after your drink was spiked?
Was anything taken from you?
Were you physically attacked?
Find out more about drink spiking on the Drinkaware website.

Safety in the home
Check you've got smoke alarms and test them regularly
Keep exits clear
Be careful cooking – more than half of fires start in the kitchen
Stub cigarettes out properly and dispose of carefully
Close your doors at night
Switch off electrical appliances when you're not using them
Make sure you have a gas safety certificate. Your landlord is legally obliged to make sure all the appliances in the house are safe
Fire safety advice from Kent Fire and Rescue Service
Protect against crime
Take out contents insurance on all your belongings
Keep valuables out of sight
Don't keep spare keys hidden anywhere obvious
Security mark your valuables
When you go on holiday take your valuables with you and tell your neighbours
Report incidents to the police. You will need the crime reference number to make an insurance claim
Online safety
Use strong online passwords, don't share them and regularly update software
Be aware that people you meet online may not be who they say they are
Protect your devices: get free anti-virus software and advice about keeping your PC, laptop and mobile devices secure
Email safety: how to spot clever fakes out to defraud you
Sextortion is when someone is persuaded to perform an act in front of a webcam, which is recorded by criminals, who then threaten to share the images online unless the victim pays. Find out more information and how to protect yourself on the National Crime Agency website.