See our safety tips to help keep you and your friends safe.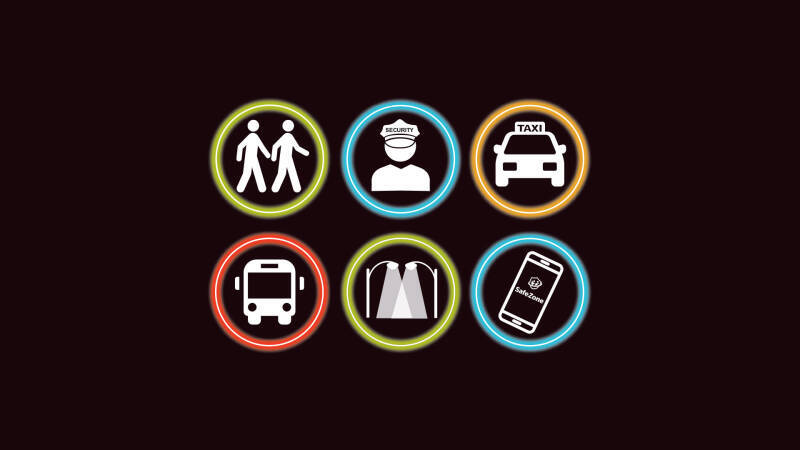 Walking home
The best way to stay safe at night is to stick with your friends. But if you find yourself on your own, here are some tips:
If on campus, use our night-time walking taxi service by contacting Campus Security on 01227 823300.
Get a registered taxi – You can tell if a taxi is licensed by checking if there is a licence plate on the front and back of the vehicle. They are usually positioned under or next to the vehicle registration plate. Drivers of licensed taxis will also be wearing an ID badge and you can ask to see this if it is not immediately visible.

Get the night bus, the Uni2. Stagecoach provides a night bus until 04:35 and the route includes campus colleges and the local area
Carry a personal safety alarm. You can pick one up from Campus Security
Keep your valuables hidden – cover-up expensive looking jewellery, mobiles, keys, cash and cards
Stick to well-lit and busy areas. Avoid car parks and underpasses
Stay alert - don't walk home on the phone or listening to music
Alcohol and drugs
Whatever your attitude is towards alcohol and drugs, we want you to be aware of the risks. This includes risks to your health and wellbeing, as well as legal consequences. Here are some things to bear in mind:
Everyone's tolerance to drugs is different
Mixing substances (including alcohol) can be unpredictable and dangerous
You can never be sure of an illegal drug's strength or content
Tell your friends if you have taken drugs in case of any difficulties. Also, if you know one of your friends has taken drugs, look out for them to help keep them safe.
For straightforward facts about drugs visit the Talk to Frank website. If you have concerns about alcohol or drug use or addiction and would like to talk to someone, you can use the Forward Trust's Reach Out service, or have a look at support available from other external organisations.
Drink spiking
Drink spiking involves drugs or alcohol being put into someone's drink without them knowing.
Anyone can be a victim of spiking and it is not always connected to sexual assault. Drink spiking is a crime.

Find out more about drink spiking, including information on how to report it, and how to support a friend who you think may have been spiked.
Safety in the home
Here are some steps you can take to stay safe at home in your private rented accommodation:
Check you've got smoke alarms (and, where necessary, a carbon monoxide alarm) and test them regularly
Keep exits clear
Be careful cooking – more than half of fires start in the kitchen
Stub cigarettes out properly and dispose of carefully
Close your doors at night
Switch off electrical appliances when you're not using them
Make sure you have a gas safety certificate. Your landlord is legally obliged to make sure all the appliances in the house are safe
Fire safety advice from Kent Fire and Rescue Service
Protect against crime
Safety tips to protect against crime;
Take out contents insurance on all your belongings
Keep valuables out of sight
Don't keep spare keys hidden anywhere obvious
Security mark your valuables
When you go on holiday take your valuables with you and tell your neighbours
Report incidents to the police. You will need the crime reference number to make an insurance claim
Online safety
Your safety online is also important. Find out more about how you can protect yourself online and how to get support if you are experiencing problems online, for example images being shared without your consent.