Log into student PCs on Canterbury and Medway using your Kent IT Account.
Software on the PCs
Student PCs run Windows 10 with Microsoft Office and this student PC software.
If you don't find what you need try searching for it - sometimes not all software shows in the All apps list.
Save your work regularly
Especially before leaving the PC inactive
If a PC in the Templeman Library hasn't been used for 10 minutes, you are warned on screen that Take a break will automatically start and you will lose any unsaved work.
The PC is locked for 20 minutes. Only you can unlock it
Others can't use the PC in your name or access your content
After 20 minutes it logs you out so that others can log in
If you left unsaved work open, it will be lost
Lock the PC - use Take a break
Before you leave your desk and PC unattended, go to the desktop and click Take a break. This stops someone else using the PC under your login: you will be held responsible for all activity on your account.
Save your work
Click Take a break on the Desktop
Log back in within 20 minutes, or unsaved work is lost. The PC logs out
How to project the screen
Hold the Windows key (Windows icon in the bottom left on the keyboard) and press the P key
Click Duplicate
Use your storage on the Kent network
How to log off (it's not obvious!)
Right-click on the Windows start icon
Select Shut down or sign out
Then Sign out (please don't choose Shut down as this delays the next user)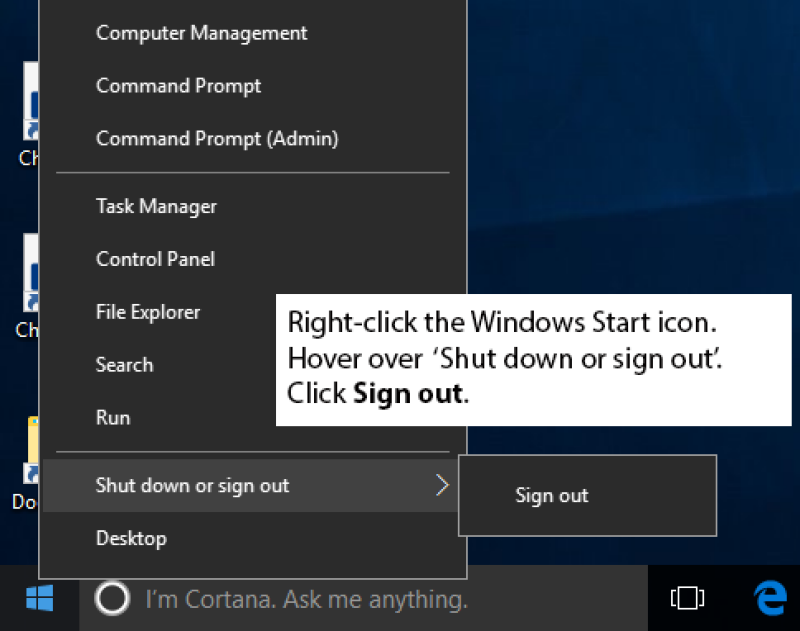 Help
Find out all the ways you can get in touch:
More IT and Library services