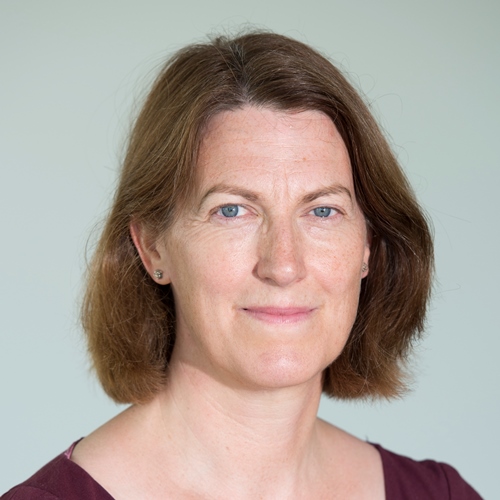 Dr Beth Breeze
Director of the Centre for Philanthropy
Director of Studies, MA Philanthropic Studies
Senior Lecturer in Social Policy
About
Beth Breeze is Director of the Centre for Philanthropy, which she co-founded in 2008. Beth began her career as a fundraiser for a youth homelessness charity, and spent a decade working in a variety of fundraising, research and charity management roles, including as deputy director at the Institute for Philanthropy. Motivated by the lack of substantive research underpinning practice, Beth completed a PhD on contemporary philanthropy at Kent in 2011, and has been working here ever since.

Beth has written and edited four books. Her latest book, The New Fundraisers: who organises charitable giving in contemporary society?(2017), won the AFP Skystone Research Partners book prize. She has also written a wide range of research reports including ten editions of the annual 'Coutts Million Pound Donors Report'.

At Kent, in 2016, she launched the first Masters degree in Philanthropic Studies outside North America. Taught by distance learning to meet the needs of busy professionals, Beth is now Director of Studies.

Beth has served as trustee for the Cardinal Hume Centre for young homeless people, as a Commissioner on the Commission for the Donor Experience, as publications editor of Philanthropy UK, as a member of the President's advisory council at NCVO; and is currently a member of the Advisory Group of the Charity Tax Commission.
Research interests
Beth's research interests focus on philanthropy, charitable giving and the charity sector.

She works within the Centre for Philanthropy, which explores philanthropic activities, social patterns of giving and the redistributive impact of transfers from private wealth to the public good. She also has an interest in the impact of philanthropy on social policy and political processes, and vice versa.

Beth's main focus is on major donors, completing the 10th edition of the Coutts & Co bank-funded annual Million Pound Donor report in 2017, but she maintains an interest in collective giving, especially giving circles, and the broader topic of the science of fundraising.  She has worked on studies of fundraising for 'unpopular' causes, philanthropy across the life-course and corporate philanthropy on the shop floor. 

From 2008-2013, Beth was part of the ESRC centre on Giving and Philanthropy. From 2013-2016, she held a Leverhulme Early Career Fellowship to undertake a project called 'The Formation of Fundraisers: the role of social skills in asking for money'. This study explored the art of fundraising and the personality traits of successful fundraiser and the findings appeared in her prizewinning book 'The New Fundraisers: who organises charitable giving in contemporary society?' published in 2017. 

She also received funding from the European Commission to undertake a study of the role of philanthropic fundraising in universities across the European Union. 

Beth's doctoral thesis, completed in 2009, investigates the meaning and purpose of philanthropy in contemporary UK society. Based on secondary analysis of the public statements and giving patterns of 170 of the most significant philanthropists operating in the UK today, it argues that philanthropy is primarily a social relationship between givers and receivers, rather than merely a financial transaction, and that the philanthropic acts of the wealthy are part of a strategy - conscious or otherwise - to find meaning and purpose in their lives whilst creating and communicating a positive identity to themselves, their loved ones and the wider community. 
Teaching
Beth is Director of Studies for the MA Philanthropic Studies and convenes modules on the programme.
Supervision
Beth supervises undergraduate and Master's dissertations on a range of topics, often related to charities, philanthropy and the voluntary sector. 

Beth is qualified to lead PhD supervisory teams and is currently supervising PhD students writing theses on philanthropy in Higher Education and the everyday practices of fundraisers. 

Professional
Professional activities
Think Kent lecture videos
Media
Beth is keen to take ideas and research findings to a wide audience. She frequently speaks at charity sector events, contributes to discussions and writes regularly for national and charity sector media.
In addition to the charity sector press, her research has featured on: Radio 4 (including the Today programme, The World at One, You and Yours); Channel 4 News; Regional BBC radio (Kent, Devon, Leeds, London and Scotland); The Financial Times; Daily Telegraph; The Guardian; BBC Online; Guardian Online; New Statesman; Prospect magazine
Recent media
Publications
Article
Breeze, B. and Wiepking, P. (2018). Different Drivers: Exploring employee involvement in corporate philanthropy. Journal of Business Ethics [Online]. Available at: https://doi.org/10.1007/s10551-018-4093-x.

Corporate Philanthropy (CP) is multi-dimensional, differs between sectors and involves both individual and organizational decision-making to achieve business and social goals. However, the CP literature characteristically focuses on strategic decisions made by business leaders and ignores the role of employees, especially those in lower status and lower paid positions. To redress this imbalance, we conducted a qualitative study of employees' involvement in CP processes in ten workplaces in the South East of England to identify whether and how they are involved in CP decision-making and to capture their perspective on the nature of CP and the benefits generated by such activities. We specifically chose to study workplaces where employees are involved in the actual execution of the CP strategy, prioritising companies with a visible presence on the high street. The results illustrate the benefits of involving employees in CP decision-making, which we argue derives in part from the 'liminal-like states' that typify CP activities organised by shop floor staff, involving the temporary overturning of hierarchies, humanising of workplaces and opportunities for lower-level staff to prioritise their personal philanthropic preferences and signal their charitable identity to colleagues and customers. Whilst the data also suggests that CP decision-making remains predominantly top-down and driven by profit-oriented goals, we conclude that employees should be involved in choosing charitable causes as well as in designing and implementing workplace fundraising, in order to maximise the advantages of CP for the company and for wider society.

Eikenberry, A. and Breeze, B. (2018). Growing Philanthropy through Giving Circles: collective giving and the logic of charity. Social Policy and Society [Online] 17:349-364. Available at: https://doi.org/10.1017/S1474746417000124.

Whilst philanthropy has long helped fund private initiatives for public good, governments are becoming more interested in expanding this income source as pressures on public spending increase. One outcome of multiple efforts to enhance philanthropy is the growth of giving circles, which involve individual donors collaborating to support causes of mutual interest. This research examines the degree to which giving circles are a good mechanism for enhancing philanthropy. Our overarching interest is to understand if giving circles in the U.K. and Ireland might serve to grow philanthropy as well as shift the logic of charity to meet the expectations of policy-makers.

Breeze, B. and Jollymore, G. (2017). Understanding Solicitation: beyond the binary variable of being asked or not being asked. International Journal of Nonprofit and Voluntary Sector Marketing [Online] 22. Available at: http://dx.doi.org/10.1002/nvsm.1607.

The identity, motivation and experiences of philanthropists have become increasingly popular topics of study in a wide range of disciplines, yet no equivalent attention has been paid to the 'askers', despite research showing that almost all donations are solicited in some way (Bryant et al 2003; Bekkers 2005, Gunstone and Ellison, 2017, p 4). The propensity to be asked for contributions has been found to be positively related to the propensity to give (Bekkers and Wiepking 2007:24) but despite the usefulness of this finding, it reinforces the suggestion that solicitation is a binary variable, such that people are either asked or they are not asked. This paper, drawing on data from in-depth interviews with 73 successful fundraisers in the UK and Canada, highlights the importance of the quality, as opposed to simply the quantity, of solicitation. Three important factors that lie behind successful 'asks' are identified and discussed: Firstly, they are made within relationships of trust rather than as a result of a transactional approach. Secondly, they occur as a result of fundraisers' ability to be an 'honest broker' between donors and the organisations they might support. And thirdly, they rely on the fundraisers' skills in reframing complex issues and finding alignment between the recipient organisation's needs and the philanthropic aspirations of the donor. The paper concludes with implications for practice.

Body, A. and Breeze, B. (2016). What are 'unpopular causes' and how can they achieve fundraising success?. International Journal of Nonprofit and Voluntary Sector Marketing [Online] 21:57-70. Available at: http://dx.doi.org/10.1002/nvsm.1547.

Recent efforts to grow and strengthen the culture of philanthropy in the UK have largely focused on two dimensions: the total amount of money donated and the effectiveness of philanthropic spending. This paper explores a third dimension: the destination and distribution of donations. A defining characteristic of charitable giving is that it is voluntary rather than coerced, and the resulting respect for donor autonomy makes people wary of promoting one cause above another or implying that any beneficiary group is more or less 'worthy' of support. However, the absence of much comment on, or significant research into, the destination of donations does not alter the fact that some groups succeed in attracting significant philanthropic funds whilst others struggle to secure many—or any—donations. This paper explores the concept of 'unpopularity' in the charity sector, especially in relation to its impact on fundraising. We unpack what this loaded phrase means, identify good practice by those seeking support and present case studies of charities that have overcome perceived unpopularity to achieve success in raising voluntary income. We suggest that by investing organisational resources and effort in fundraising, by framing the cause to maximise the arousal of sympathy and minimise concerns about beneficiary culpability and by avoiding the unintended negative consequences of self-labelling as 'unpopular' no charity need assume it is their destiny to languish at the bottom of the fundraising league tables.

Hogg, E., Kendall, J. and Breeze, B. (2015). The Third Sector and the State in England. Sociologia e Politiche Sociali [Online] 18:27-50. Available at: http://dx.doi.org/10.3280/SP2015-003003.

Third sector organisations and the state have sought to work together in England since the inception of the welfare state, yet rarely has there been greater debate about this relationship than at present. Successive governments have sought to redefine the dominant pattern, with the policy focus moving from more ad hoc relationships to an (expressed) commitment to partnership and, more recently, to a push towards relatively passive delivery of state contracts. This paper maps the sector, charts this changing relationship and explores key areas of debate: the role of charitable organisations in the English policy environment, the importance of scale with regards to relations between state and sector; and the impact of commissioning in recent years. We conclude by considering the potential implication of change for the distinctiveness of the third sector.

Eikenberry, A. and Breeze, B. (2015). Growing philanthropy through collaboration: The landscape of giving circles in the United Kingdom and Ireland. Voluntary Sector Review [Online] 6:41-59. Available at: http://dx.doi.org/10.1332/204080515X14241771107299.

Recent efforts to grow philanthropy in the United Kingdom (UK) and Ireland have focused on increasing the number of donors and size of donations, rather than on developing new methods of giving, despite this latter approach sharing the same objective. This article explores the rise of one such new vehicle - giving circles - defined as groups of individuals who donate money and/or time and have a say in the distribution of these resources. Scholarship on giving circles has largely focused on the United States (US), yet they are found increasingly in other parts of the world. This article focuses on how giving circles in the UK and Ireland are structured and administered; how and why they are formed; their key activities; typical characteristics of members; and why people join. It concludes by noting distinctive characteristics of giving circles in the UK and Ireland and setting out a future programme to further understanding in this area.

Breeze, B. (2013). How donors choose charities: the role of personal taste and experiences in giving decisions. Voluntary Sector Review [Online] 4:165-183. Available at: http://dx.doi.org/10.1332/204080513X667792.

The question of how donors decide which charities to support, as opposed to questions about whether to give and how much to give, has been under-researched. This article presents findings from a qualitative study of 60 committed donors in the United Kingdom and concludes that charitable decision making is primarily driven by donors' tastes and personal background, and that inertia and path dependency also account for many of their current donation decisions. Despite subscribing to popular beliefs that charitable giving should be directed primarily to the needy, donors often support organisations that promote their own preferences, that help people with whom they feel some affinity and that support causes that relate to their own life experiences.

Breeze, B. and Dean, J. (2012). Pictures of Me: User views on the representation of need in homelessness fundraising appeals. International Journal of Nonprofit and Voluntary Sector Marketing [Online] 17:132-143. Available at: http://dx.doi.org/10.1002/nvsm.1417.

There is a long-standing ethical debate regarding the 'right' representation of recipients in charity marketing materials that are intended to accurately define and represent social problems whilst also prompting the maximum response in voluntary income. The study presented in this article makes a contribution to that debate by highlighting the views of charity beneficiaries regarding their representation in fundraising campaigns. Drawing on data from five focus groups conducted in cities across England, we explore the views of young homeless people regarding the images of homelessness that appeared in major charity campaigns aimed at raising money to fund homelessness services. Participants displayed a high level of reflexivity, demonstrating that they understood the issues involved with homelessness and the perceptions of people like themselves that exist in the public sphere and in the consciousness of potential donors. Although the participants held the view that maximising revenues through the use of simple, eye-catching images is the prime goal of fundraising, they also expressed a desire for more nuanced campaigns that tell the dynamic stories of how people become homeless and the use of imagery that elicits empathy rather than merely arouses sympathy.

Wiepking, P. and Breeze, B. (2012). Feeling Poor, Acting Stingy: the effect of money perception on charitable giving. International Journal of Nonprofit and Voluntary Sector Marketing [Online] 17:13-24. Available at: http://dx.doi.org/10.1002/nvsm.415.

In research on philanthropy, much attention has been given to the impact of the actual economic costs of giving. This paper argues that the perceived psychological costs of giving should also be taken into consideration when seeking to understand donations to charitable organizations. It is already known that people differ in their attitudes towards money, and that money attitudes are mostly independent from income, but these findings have been largely overlooked in the study of philanthropy and altruism. This paper seeks to rectify that omission by investigating the relationship between charitable giving and money perceptions. The analyses show that, regardless of the actual financial resources held by a donor, the size of their donations is negatively affected by feelings of retention (a careful approach to money) and inadequacy (people who worry about their financial situation). We conclude that an understanding of money perceptions is an additional important factor in the understanding of charitable behaviour. Fundraising professionals should not only select potential donors based on their absolute financial capacities but also take the potential donor's own financial perceptions into account when asking for donations.

Breeze, B., Gouwenberg, B., Schuyt, T. and Wilkinson, I. (2011). What Role for Public policy in Promoting Philanthropy?. Public Management Review [Online] 13:1179-1195. Available at: http://dx.doi.org/10.1080/14719037.2011.619069.

This article presents and discusses the findings of a survey conducted among Higher Educational Institutions (HEIs) in most of the twenty-seven countries within the European Union, which studied the extent and success of fundraising from philanthropic sources for research. Our data demonstrate that success in fundraising is related to institutional privilege (in terms of the universities' reputation, wealth and networks) as well as factors relating to the internal organization, activities and cultures of universities (such as the extent of investment in fundraising activities) and factors relating to the external social, economic and political environments (such as national cultural attitudes towards philanthropy and the existence of tax breaks for charitable giving). Our findings identify the existence of a 'Matthew effect', such that privilege begets privilege, when it comes to successful fundraising for university research. We argue that, despite the existence of some untapped philanthropic potential, not all universities are equally endowed with the same fundraising capacities. The article concludes by suggesting that policy-makers pay more heed to the structural constraints within which fundraising takes place, to ensure that policies that seek to promote philanthropy are realistic.
Book
Breeze, B. (2017). The New Fundraisers: Who Organises Charitable Giving in Contemporary Society?. [Online]. Bristol, UK: Policy Press. Available at: https://policypress.co.uk/the-new-fundraisers.

Charitable fundraising has become ever more urgent in a time of extensive public spending cuts. However, while the identity and motivation of those who donate comes under increasingly close scrutiny, little is known about the motivation and characteristics of the 'askers', despite almost every donation being solicited or prompted in some way. This is the first empirically-grounded and theorised account of the identity, characteristics and motivation of fundraisers in the UK. Based on original data collected during a 3-year study of over 1,200 fundraisers, the book argues that it is not possible to understand charitable giving without accounting for the role of fundraising.

Moody, M. and Breeze, B. (2016). The Philanthropy Reader. London: Routledge.

Philanthropy is both timeless and timely. Ancient Romans, Medieval aristocrats, and Victorian industrialists engaged in philanthropy, as do modern-day Chinese billionaires, South African activists, and Brazilian nuns. Today, philanthropic practice is evolving faster than ever before, with donors giving their time, talents, and social capital in creative new ways and in combination with their financial resources. These developments are generating complex new debates and adding new twists to enduring questions, from "why be philanthropic?" to "what does it mean to do philanthropy 'better'?" Addressing such questions requires greater understanding of the contested purpose and diverse practice of philanthropy.

Mohan, J. and Breeze, B. (2015). The Logic of Charity: Great Expectations in Hard Times. [Online]. Basingstoke, UK: Palgrave MacMillan. Available at: http://dx.doi.org/10.1057/9781137522658.

Charity is a consistent and important feature of life in the UK, yet there is no clear understanding of what charity is, how it operates, who it benefits, and what it can and cannot be expected to do. The logic guiding charitable activity is not well understood by politicians, who nonetheless seek to encourage charity, and harness it in support of their political programmes.

This book presents extensive new data from over a dozen studies, including public attitudes to giving, large datasets on the geography and funding patterns of third sector organisations, and interviews with a wide range of donors, charity leaders, fundraisers and philanthropy advisers. These studies enable us to explore the logic of charity in terms of the distribution of resources across causes and communities in the UK, and the processes behind philanthropic decision-making. Our data reveals a picture of charitable activity at odds with widespread assumptions.

Lloyd, T. and Breeze, B. (2013). Richer Lives: Why Rich People Give. [Online]. London: Directory of Social Change. Available at: http://www.dsc.org.uk/Publications/Fundraisingtechniques/@171690.

'Richer Lives provides further evidence of what charities need to do to be much more effective at raising money from the rich.' Sir Thomas Hughes-Hallett, chair of The Philanthropy Review 'This book makes an important contribution to the enduring issue of philanthropy and its role in building a better society.' Sir Stuart Etherington, Chief Executive, National Council for Voluntary Organisations 'Theresa Lloyd and Beth Breeze bring their wealth of expertise to produce a work that is invaluable to those asking for money for good causes and to those trying to give it away effectively. It should also be of great interest to anyone seeking to encourage a stronger philanthropic culture in the UK.' Trevor Pears CMG, Pears Foundation 'I am confident that this book will inform, intrigue, infuriate and inspire in equal measure. Everyone who cares about strengthening social engagement by the wealthy should read Richer Lives.' Lord Joel Joffe, Chair, Giving Campaign (2001-04); Chair, The Joffe Charitable Trust 'Theresa Lloyd and Beth Breeze provide invaluable insights into UK philanthropy. Charity and university fundraisers could benefit enormously by absorbing its key messages.' Sir Peter Lampl, chairman, Sutton Trust
Book section
Breeze, B. and Scaife, W. (2015). Encouraging Generosity. In: Handbok of Global Philanthropy. Basingstoke, Great Britain: Palgrave.

Breeze, B., Halfpenny, P. and Wilding, K. (2015). Giving in the UK: Philanthropy Embedded in a Welfare State Society. In: Wiepking, P. and Handy, F. eds. The Palgrave Handbook of Global Philanthropy. Basingstoke, UK: Palgrave, pp. 285-306. Available at: http://dx.doi.org/10.1057/9781137341532.

Breeze, B. (2011). Philanthropy. In: Southerton, D. ed. Encyclopaedia of Consumer Culture. SAGE Publications Inc.

Breeze, B. (2011). Is there a 'New Philanthropy?'. In: Rochester, C., Gosling, G. C., Penn, A. and Zimmeck, M. eds. Understanding Roots of Voluntary Action; Historical Perspectives on Current Social Policy. Sussex Academic Press.

The current debate on the growing role of the voluntary and community or –third– sector in delivering public and social policy is impoverished by its lack of understanding of the historical events which have shaped the sector and its relationship with the state. This widely anticipated book draws on a range of empirical studies of aspects of the history of voluntary action to illuminate and inform this debate. Chapter contributions range across two centuries and a variety of fields of activity, geographical areas and organisational forms. Four key themes are addressed:

The 'moving frontier' between the state and voluntary action; the distribution of roles and functions between them; and the nature of their inter-relationship.

The 'springs' of voluntary action – what makes people get involved in voluntary organisations or support them financially.

Organisational challenges for voluntary agencies, including growth, cleaving to their missions and values, and survival.

Issues of continuity and change: how and to what extent has the nature of voluntary action and its role in society remained essentially the same despite the changing context?


This book is essential reading for all practitioners involved in charities and voluntary and non-profit organisations, for those who work at the interface between government and the third sector and for those who are involved in making and implementing public and social policy.

Breeze, B. (2009). 'Andrew Carnegie' and 'Marcel Mauss'. In: Anheier, H. K. and Toepler, S. eds. International Encyclopedia of Civil Society. Springer-Verlag New York Inc.

Breeze, B. (2008). The problem of riches: is philanthropy a solution or part of the problem?. In: Maltby, T., Kennett, P. and Rummery, K. eds. Social Policy Review 20: Analysis and Debate in Social Policy. Oxford University Press. Available at: http://dx.doi.org/10.1332/policypress/9781847420763.003.0009.

This chapter is a response to the call for research agenda focusing on the 'problem of riches'. It suggests that the topic of philanthropy fits within this agenda yet is under-researched in the social sciences. In this chapter, original research into the distinctive features of contemporary UK philanthropists is presented, based on a secondary analysis of the governing documents, annual reports and other documentary evidence relating to the philanthropic acts of 150 of the most significant major UK donors in the 2006. Drawing on the literature, the chapter then discusses the ways in which philanthropy can both solve and contribute to the problem of riches. Both the data and literature review are used to evaluate the extent to which significant charitable gifts made by wealthy people can tackle the 'problem of the riches' such as inequality, the tension between private affluence and public squalor and the promotion of happiness. The chapter ends by concluding that philanthropy is often perceived to be part of the problem of the riches, but at the same time, it also has the potential to become a viable solution.

Breeze, B. (2001). 'Annie Besant'. In: Rosen, G. ed. Dictionary of Labour Biography. Methuen Publishing Ltd.
Edited book
Moody, M. and Breeze, B. eds. (2016). The Philanthropy Reader. [Online]. London, UK: Routledge. Available at: https://www.routledge.com/The-Philanthropy-Reader/Moody-Breeze/p/book/9781138903593.

With an international and interdisciplinary focus, The Philanthropy Reader serves as a one-stop resource that brings together essential and engaging extracts from key texts and major thinkers, and frames these in a way that captures the historical development, core concepts, perennial debates, global reach, and recent trends of this field. The book includes almost 100 seminal and illuminating writings about philanthropy, equipping readers with the guiding material they need to better grasp such a crucial yet complex and evolving topic. A companion website offers resources such as additional readings and discussion questions.
This text will be essential reading for students on philanthropy courses worldwide, and will also be of interest to anyone active in the philanthropic and nonprofit sectors — from donors and grantmakers, to advisers and fundraisers.
Internet publication
Breeze, B. (2015). Coutts Million Pound Donors Report 2015 [Web report]. Available at: http://philanthropy.coutts.com/en/reports/2015/united-kingdom/findings.html.
Monograph
Breeze, B. and Flaxman, K. (2017). Coutts Million Pound Donor Report 2017. Coutts & Co. Available at: http://philanthropy.coutts.com/en/reports/2017/united-kingdom/findings.html.

The 10th edition of an annual report tracking all donations made by UK donors or given to UK charities, worth £1m or more.

Breeze, B. (2017). Good Asking: The Role of Research in Efficient, Effective and Enjoyable Fundraising. Institute of Fundraising. Available at: https://www.institute-of-fundraising.org.uk/guidance/research/good-asking/.

Fundraising is necessary to pay for the good work of charities, but the processes by which funds are raised are not well known or widely understood. This report shines a spotlight on one important aspect of the job that has recently received significant attention from the media and policymakers, to explain how and why fundraisers conduct research.

Body, A. and Breeze, B. (2015). Rising to the Challenge: Fundraising for Unpopular Causes. University of Kent. Available at: https://www.kent.ac.uk/sspssr/philanthropy/documents/Rising_to_the_Challenge.pdf.

This report makes a contribution to understanding the distribution of philanthropic support, alongside whether and how it can be altered in favour of causes that are perceived to be less popular. The introduction sets the scene by describing the current distribution of voluntary income to different charitable beneficiaries in the UK. This is followed by a review of insights from research into charitable giving and how it helps us to better understand the distributional pattern of donations. Chapters 4 and 5 identify barriers that affect the positioning of causes and their ability to attract voluntary donations, with ten case studies illustrating how they have succeeded in surmounting those barriers and countered prevailing trends. The final section summarises what can be done to increase the flow of donated funds to charities that feel themselves to be 'unpopular causes', and the report ends with a useful tool to help charities understand which barriers may be preventing them from maximising their philanthropic income.

Breeze, B. (2014). Great British Philanthropy: Growing a Fellowship of Donors to Support Local Communities. UK Community Foundations. Available at: https://www.kent.ac.uk/sspssr/philanthropy/publications/documents/Great_British_Philanthropy_Report_Dec_2014.pdf.

This report documents the result of the Esmée Fairbairn Foundation's decision to celebrate their 50th anniversary in 2011 by making a significant investment in UK Community Foundations. The funding enabled community foundations in nine parts of Britain1 to focus additional time and resources on philanthropy development work. By building a unique network of established and emerging donors, 'The Philanthropy Fellowship' had the twin goals of encouraging a stronger culture of philanthropy, whilst strengthening local communities. Over 200 people seized the opportunity to become 'Philanthropy Fellows', and a further 1,500 engaged as 'friends', by joining in aspects of the stimulating programme that appealed to them. As a result of this three-year investment, community foundation staff were able to work more closely with their donors to help them become more generous and more effective philanthropists; it is estimated that over £25 million of new funding was subsequently unlocked to benefit local communities across Britain.

Breeze, B. (2014). Philanthropic Journeys: New Insights into the Triggers and Barriers for Long-Term Giving and Volunteering. Pilotlight. Available at: http://www.kent.ac.uk/sspssr/philanthropy/documents/Philanthropic%20Journeys.pdf.

The UK is a generous country: the giving of time and money to help good causes is a normal part of everyday life. But much of that giving is superficial, involving spare change rather than strategic major donations and sporadic 'helping out' rather than sustained volunteering. Our charity sector is therefore reliant on the collective impact of intermittent gifts, rather than the sustained commitment of life-long givers.

This report explores how people's philanthropic journeys – defined as their lifetime voluntary contribution of time, treasure and talent - can be extended and deepened to the benefit of both recipients and the donors. We take this approach because most research takes a 'snapshot' of giving at a moment in time, rather than trying to understand philanthropy as a dynamic, life-long activity. Our concern is with how people start and scale up their giving - or indeed how they start and then stop, or never get started in the first place.

Breeze, B. (2013). Corporate Philanthropy on the Shop Floor: What Drives Employee Fundraising?. Charitable Giving and Philanthropy.

This paper presents findings from a research project exploring the 'shop floor'
experience of participating in corporate philanthropy. Observation methods and
interviews were used to explore employees' views on the selection of charity partners
and the experience of participating in fundraising activities in ten workplaces in the
south east of England.
The project reveals the distinct processes by which lower-paid and lower-status staff
engage in philanthropic activity in the workplace. The findings show that, whereas
the board and senior managers emphasise the business case for corporate
philanthropy, such as reputational benefits and strategic alignments with suitable
charity brands, 'shop floor' staff prioritise charitable causes with which they have a
personal connection, which provide enjoyable fundraising experiences that break the
monotony of the working day.
This paper provides a new perspective on corporate philanthropic activities, and
sheds original and much-needed light on the attitudes of non-wealthy people towards
beneficiaries. Findings should be useful to fundraisers in their efforts to attract and
maintain relationship with corporate supporters.

Breeze, B. (2012). Donor and Governmental Perceptions of Philanthropy. Alliance Publishing Trust. Available at: http://www.cgap.org.uk/uploads/PHILANTHROPY__A_BETTER_SOC.pdf.

Philanthropy is, and always has been, supply led rather than demand driven:
the freedom to distribute as much as one wants, to whom one chooses, is
what distinguishes giving from paying tax. Yet the depiction of philanthropy in
governmental documents often underestimates its subjectivity and complexity.
Take, for example, this statement from the Giving White Paper:
We believe that everyone can make a difference. So we want to empower
and encourage more people to get involved, support each other and
create the change they want to see. (HM Government, 2011: 8)
Such a statement raises many questions: Who wants to make a difference, and
to what? Who wants to get involved, and in what? Which people are interested
in supporting which other types of people? Do all donors want to create change,
or are some indifferent to change, or indeed seeking to resist change?

Breeze, B. and Dean, J. (2012). User Views of Fundraising: A Study of Charitable beneficiaries' Opinions of Their Representation in Appeals. Alliance Publishing Trust. Available at: http://www.cgap.org.uk/uploads/reports/USER_VIEWS_OF_FUNDRAISING.pdf.

This paper presents the findings of a study exploring the views of charitable beneficiaries on literature that is designed to appeal to donors. Ethical questions raised by using images of beneficiaries in fundraising materials have been a matter of debate for some time, but such debates normally only include the opinions of 'powerful' voices such as charity leaders, moral philosophers and media commentators. This research extends the parameters of the debate by
canvassing the opinions of those depicted, to ask: what do users think of the images of themselves found in fundraising appeals?
The study is based on five focus groups attended by a total of 38 young people living in, or attending services at, homeless hostels in four English cities. Focus group participants were asked their opinion of an array of images
of homelessness that had recently been used in fundraising campaigns run by major charities working in this field.
The findings demonstrate that this group of beneficiaries are visually literate, familiar with how marketing works and largely supportive of methods that maximize income. They understood why charity marketing often makes
use of contrived and simplified images to depict homelessness, and showed appreciation for the skills of fundraisers in balancing the accurate depiction of social problems with the need to generate enough donations to – literally, in most
cases – provide a roof over their heads.

Breeze, B. (2010). How Donors Choose Charities: Findings of a Study of Donor Perceptions of the nature and Distribution of Charitable Benefit. Alliance Publishing Trust. Available at: http://www.alliancemagazine.org/members/pdfs/howdonorschoosecharities.pdf.

This paper is concerned with the question of how donors select charitable
beneficiaries, and the extent to which assessments of need are a factor in
giving decisions. The study is based on interviews with 60 committed donors,
representing a spread of gender, age and income levels.
There is a widespread belief that charities exist primarily to help needy
people and that the desire to meet needs is a key criterion in the selection of
charitable beneficiaries. However, this study finds that people do not give to
the most urgent needs, but rather they support causes that mean something to
them. In particular, the study finds four non?needs?based criteria that commonly
influence donors' decision?making:
Donors' tastes, preferences and passions, acquired ?? as a result of an
individual's social experiences. These motivate many giving decisions,
even among donors who perceive themselves to be motivated by
meeting needs.
?? Donors' personal and professional backgrounds, which shape their
'philanthropic autobiographies' and influence their choice of beneficiaries.
?? Donors' perceptions of charity competence, notably the efficiency with
which they are believed to use their money, often judged on the basis of
the quality and quantity of direct mail.
?? Donors' desire to have a personal impact, such that their contribution
makes a difference and is not 'drowned out' by other donors and
government funding.
Given the voluntary nature of charitable activity, these are not surprising
conclusions. Giving and philanthropy have always been supply-led rather than
demand-driven: the freedom to distribute as much as one wants, to whom one
chooses, is what distinguishes giving from paying tax. Yet the methods used to
encourage donations tend to assume that philanthropy depends on objective
assessments of need rather than on donors' enthusiasms. The tendency
to overestimate the extent to which people act as rational agents results in
fundraising literature that often focuses on the dimensions and urgency of the
problem for which funding is sought. The assumption underlying this approach is
that donations are distributed in relation to evidence of neediness, when in fact
much giving could be described as 'taste-based' rather than 'needs-based'.

Breeze, B. (2010). The Coutts Million Pound Donors Report. Coutts and Co, London. Available at: http://www.coutts.com.

Breeze, B. and Morgan, G. (2009). Philanthropy in a Recession: An Analysis of UK Media Representations and Implications for Charitable Giving. Sheffield Hallam University/University of Kent.

The recent economic downturn experienced in the UK and other major economies has led to intense speculation about the impact on non-profit organisations. In particular, there has been an assumption that charities will suffer significantly as a result of decreased donations and increased demand.
However, drawing on an analysis of UK media coverage of philanthropy and charitable giving during a six month period, this paper seeks to re-appraise existing research on charitable giving in order to consider the impact of a recession. We show that much of the media comment fails to take account of existing theory regarding the non-economic basis of most philanthropic motivations, nor of the varied nature of charitable beneficiaries, which extends well beyond the financially disadvantaged. The paper also explores known features of recessionary impacts such as variability across the sector; time lags between economic conditions and changes in donor behaviours; and factors that affect resilience, such as the possession of reserves and investment in fundraising activities. The paper concludes by discussing implications for donor fundraising strategies.

Breeze, B. (2009). Natural Philanthropists: Findings of the Family Business Philanthropy and Social Responsibility Inquiry. Institute for Family Business (UK).

Family businesses are more likely to support charitable activities than non-family businesses, and their
commitment to being philanthropic, socially responsible and good members of the community is
genuinely felt, deeply held and more robust. Clearly, family businesses have no monopoly on being
philanthropic or socially responsible, but their characteristic commitment to long-term stewardship,
stability and continuity means that a philanthropic and responsible outlook is frequently embedded in
their business. However, being "naturally philanthropic" involves both advantages and disadvantages:
these activities are more likely to be resilient if they are innate, but a lack of conscious cultivation can
sometimes mean they are not undertaken in a very structured or strategic way.

Breeze, B. (2009). "I can't Afford to Support Every Worthy cause": The Role of Donor Taste, Beneficiary Need and Nonprofit Competence in Selection of Recipients for Charitable Donations. Economic and Social Research Council, UK. Available at: http://www.cgap.org.uk.

This panel session is predicated on the assumption that a distinctive feature of the third sector is that it is values-driven, that values motivating philanthropic action are held by individuals, organisations and society at large, and that when these values clash it challenges the legitimacy of both motivations and actions.
My paper is concerned with the role that values play as a driver of personalised philanthropy and it focuses on the complex issues involved in choosing one type of charitable beneficiary over another. The data discussed in this paper comes from a larger research programme that explores donor perceptions of the nature and distribution of charitable benefit, and it should be stressed that the findings presented here are interim as they are based on analysis of only half of the data gathered for this study.

Breeze, B. (2008). Investment Matters: In Search of Better Charity Asset Management. Institute for Philanthropy: London.

Breeze, B. and Thornton, A. (2006). Raising a Giving Nation: A Report on 3 Years of Research and Activity With Young People and Schools by the Giving Nation Programme. The Citizenship Foundation. Available at: http://www.citizenshipfoundation.org.uk/lib_res_pdf/0422.pdf.

Breeze, B. (2006). Robin Hood in Reverse: Exploring the Relationship Between Income and Charitable Giving Papers,Voluntary Sector Working 3. Centre for Civil Society, London School of Economics and Political Science. Centre for Civil Society, London School of Economics and Political Science. Available at: http://www.lse.ac.uk/collections/CCS/publications/.

This paper describes and analyses the relationship between income and donations to charity. The hypothesis is that the 'U-shaped curve', said to describe the relationship between income and percentage of income given to charity, takes a different shape if redrawn with the focus on specific socio-demographic, attitudinal and behavioural characteristics of donors. Survey data on over 1000 current charity donors is used to explore and analyse giving to different charitable sub-sectors in relation to a number of different independent variables including age, gender, household size and attitudes. The analysis demonstrates that individuals on lower incomes consistently give a higher percentage of their income to charity than those on higher incomes. A negative correlation between income and percentage given to charity has previously been demonstrated and is discussed in the literature. This paper adds to that knowledge by demonstrating that this relationship still exists amongst UK donors in the late twentieth century even when a variety of other factors are controlled, including a wide range of demographic characteristics and personal explanations of giving behaviour and donating to different charitable sub-sectors. Whilst the findings are remarkably consistent, caution is required. Potential definitional problems in what survey respondents understand by 'charity' and 'charitable giving' has implications for reliability and validity of the data. In other words, do the figures measure what they intended to? Also, the key variables in the survey data upon which this analysis rests are responses to two questions regarding annual income and amount given to charity each year; the accuracy of both these self-reported figures may be affected by error, memory or social desirability bias. However, as the literature supports most of the findings and as the experts interviewed for this paper were generally positive about the findings of this research, some final conclusions and policy recommendations are offered in order to add to our understanding of charitable giving.
Research report (external)
Breeze, B., Wilkinson, I., Gouwenberg, B. and Schuyt, T. (2011). Giving in Evidence: Fundraising from Philanthropy in European Universities. [Online]. European Commission. Available at: http://dx.doi.org/10.2777/4143.

This report is a continuation of the themes and ideas explored in two previous European
Commission reports, 'Giving More for Research' (2006) and 'Engaging Philanthropy for
University Research' (2008). It is the first report to provide data gathered from universities
across the European Union regarding the efforts made, and successes achieved, in
fundraising from philanthropy for research. An additional output of the research is a new
database of contacts responsible for fundraising in almost 500 European universities.
We find that philanthropic fundraising is not, on the whole, taken seriously in European
universities. Only a very small number of institutions are raising significant sums of money
from this source, and even fewer are accessing philanthropic funding to pay for research
and research-related activities. Whilst this may be disappointing for those hoping that
private donors can represent an important source of funding for university-based research,
it may also be interpreted in a more positive light as indicative of potentially significant
untapped potential.
There are many different types of university, which affects their likelihood of realising
philanthropic income as a result of investment in fundraising activities. Our data
demonstrates that success in fundraising is related to institutional privilege (what kind of a
university it is, in terms of wealth, reputation and pre-existing relationships with different
types of donors), as well as to the efforts made by universities (what the university does, in
terms of fundraising activities), and environmental factors (where the university is located,
in terms of the geo-political context). For this reason, we suggest that the concept of
'accumulative advantage' should be understood as an important factor, alongside 'efforts'
and 'context' which have so far featured more prominently as key levers in the policymaking literature.

Breeze, B. (2011). The Coutts, Million Pound Donors Report 2011. Coutts & Co.

This publication is the fourth edition of the Million Pound Donors Report,which collates and analyses data on all
identifiable UK charitable donations of £1 million or more. It describes and discusses 174 donations worth at least £1 million, made by UK donors or to UK charities in 2009/10,with a combined value of £1.312 billion.
As in previous years, this edition of the report also assesses the scale and impact of these gifts, analyses trends in major giving at this level and presents case studies of both 'million pound donors' and 'million pound recipients'.We are aware that our data is likely to under-estimate the true value of this largest level of philanthropy. This is due to donations that are either made anonymously, or for other reasons have
not appeared in an identifiable form on the public record. It also doesn't include very big donations
that fall below our lower threshold of £1 million. This means the data in this report does not represent all significant giving, as it does not capture gifts of £10,000 - £999,999 that are still of great
importance to the causes they benefit.We believe, however, that 'million pound donations' are a useful unit of
analysis, because it is economically and psychologically significant to both donors and recipients.
Forthcoming
Breeze, B. ed. (2017). Understanding Fundraising: Special edition of the International Journal of Nonprofit and Voluntary Sector Marketing. International Journal of Nonprofit and Voluntary Sector Marketing [Online] 22. Available at: http://onlinelibrary.wiley.com/journal/10.1002/(ISSN)1479-103X/earlyview.

This Editorial sets out the rationale for the special edition and introduces each of the ten papers.
Last updated