Lean Library is a free browser extension that makes it quicker and easier to access journals, ebooks and newspapers. It provides instant access to all Library subscription resources and free-to-read Open Access content - without getting stuck behind paywalls or multiple login screens.
Install Lean Library on your device
Lean Library is supported on the following browsers: Chrome, Firefox, Opera, Safari and Microsoft Edge.

Go to the Lean Library download page and select the appropriate download for your browser.
Set up Lean Library Access
When you've installed Lean Library Access:
select "University of Kent" from the "Select your library" dropdown menu.
Check the "Automate my authentication and skip associated pop-ups".

You can also customise where and when you use Lean Library with the Advanced Extension settings.

Check the Lean Library support page for more details.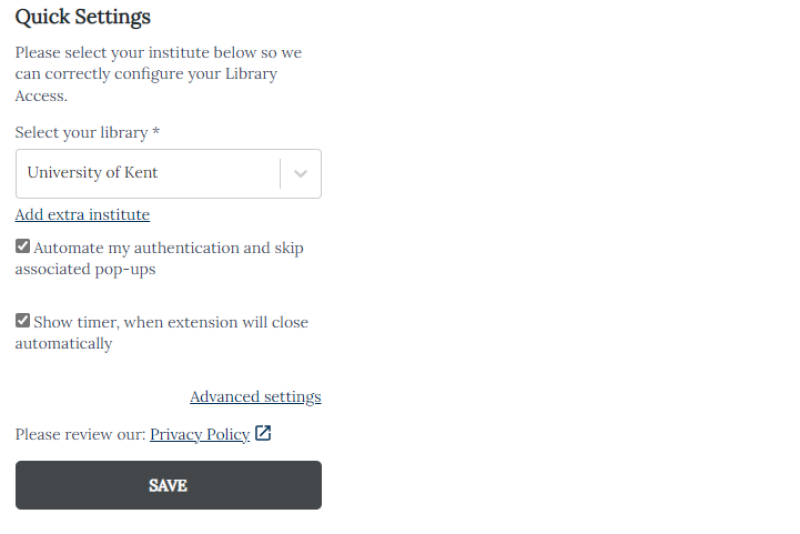 Using Lean Library Access
Lean Library Access works in the background whenever you are on a search provider or publishers page. If it detects that the particular article or piece of content is available as part of the Universities' holdings or subscriptions, it will provide a link to it on the right hand side of the search window.
If the content is not available through the the Universities' subscriptions an Open Access version may be presented.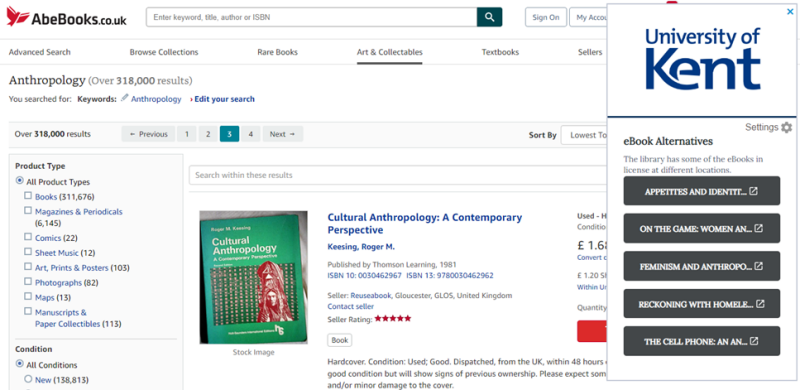 Search @ LibrarySearch
Lean Library Access also provides a contextual right click option. If you highlight a piece of text on a web web page then right click and select "Search @ LibrarySearch", you can search the term directly in LibrarySearch.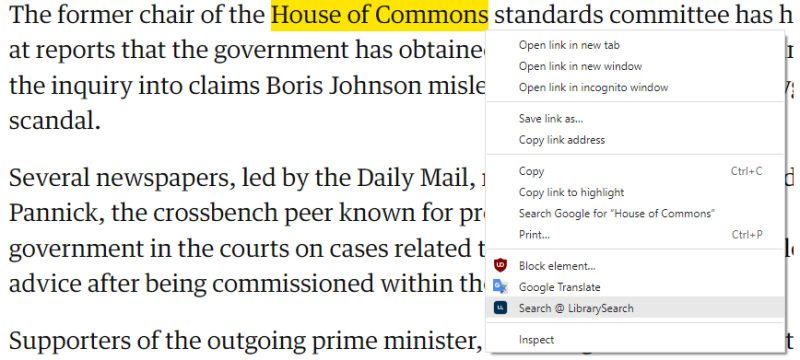 What about my privacy?
Lean Library Access works by scraping the webpage for academic material IDs (like ISBN and DOI), and based on this information you get redirected to a full-text location. Highly advanced regular expressions are utilised when scraping the pages to make sure the extension only picks up DOIs and ISBNs.
Lean Library B.V. state that by using the Lean Library extension you will remain completely anonymous. The Lean Library browser extension doesn't collect any personal information, unless you actively share it. And it doesn't collect your IP address or your device's unique device IDs.

Please see the Lean Library Privacy Policy for more details.
It is possible to restrict the websites on which Lean Library Access can read and change via the "Site Access" option in the extension configuration menu in the browser where Lean Library Access is installed. So for instance you could specify site access just for google scholar if desired.