Students at Kent can access a free confidential counselling service at any time during their studies.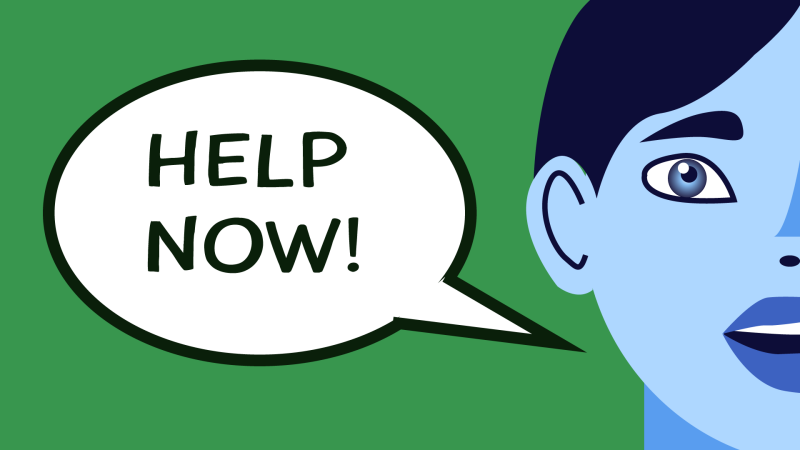 Counselling is not a crisis service, so if you need urgent mental health support, please take a look at our Emergency Support page for appropriate services.

What is counselling?
Short term counselling of up to 5 sessions is available for students who are experiencing problems such as anxiety, depressed feelings, and emotional difficulties that may or may not be connected to student life.

Counselling offers you a safe space to address issues concerning you and can help get thoughts, feelings, behaviour and perspective on life back in balance again. Talking and thinking collaboratively with a trained counsellor often allows for more clarity and new perspectives which can lead to viewing and dealing with things differently.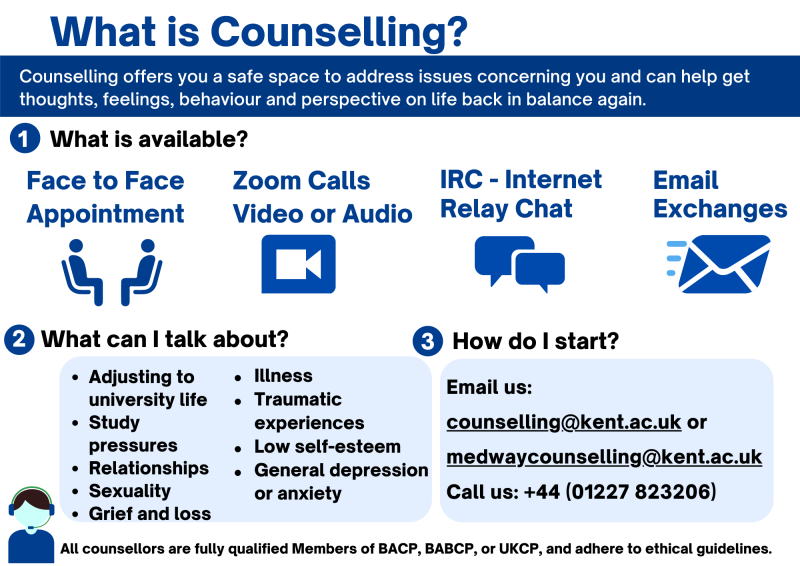 Alternative Text for image above:
What is Counselling?
Counselling offers you a safe space to address issues concerning you and can help get thoughts, feelings, behaviour and perspective on life back in balance again.
1) What is available?
Face to Face Appointment
Zoom Calls – Video or Audio
IRC – Internet Relay Chat
Email Exchanges
2) What can I talk about?
Adjusting to University life
Study pressures
Relationships
Sexuality
Grief and loss
Illness
Traumatic experiences
Low self-esteem
General depression or anxiety
3) How do I start?
Email us: counselling@kent.ac.uk or medwaycounselling@kent.ac.uk
Call us: +44 (01227 823206)
All counsellors are fully qualified members of BACP, BABCP, or UKCP, and adhere to ethical guidelines.
Our Counsellors
All counsellors are fully qualified Members of BACP, BABCP, or UKCP, and adhere to ethical guidelines.
All counsellors are committed to practising counselling in ways that are inclusive, accessible and affirming to students from all backgrounds, cultures, races, beliefs, sexualities, abilities and gender identities. See the counsellors.
Who can access this service?
This service is for all registered students, including students living away from university, back at home, on placement or studying abroad.
Please note that we work within the UK judicial system and as such we are unable to provide therapy to those who are living in countries where there might be a judicial conflict, such as the USA and some parts of Canada.
What sort of issues can I contact you about?
You can be supported on a range of psychological, emotional or mental health issues, such as adjusting to life, study pressures, relationships, sexuality, grief and loss, illness, traumatic experiences, low self-esteem, general depression or anxiety.
What types of counselling are offered?
Our stepped care model allows you to access help efficiently and get the most effective support for your specific needs.

We offer a range of counselling models:
Single Session Therapy offers a single session designed to address your immediate issues within one session with a follow up session available if needed to review how things are going. This option will ensure that you are seen quickly. For many students this may be all that is needed to get back on track.
Brief counselling or Cognitive Behavioural Therapy is available for those students who require further support.
Starting counselling: what to expect
If you would like to explore having counselling at Kent, you can:

call us +44 (01227 823206)
You will then be emailed a link to complete some forms online to provide us with some basic details and to understand your history and circumstances. Answering the questions in the assessment form as fully as possible will help us to find you the right support.

Once we have your information, you will be put on our waiting list or invited to attend an assessment with one of our counsellors. You will receive an email letting you know what happens next. 
Most sessions are carried out on a weekly basis unless agreed otherwise.  If we do not hear from you in any one week, we will email you once to enquire about your wellbeing and your wish to continue with therapy.  If we do not hear back from you, we will assume you no longer wish to continue and you will not be contacted again.  Of course if you decide to stop your therapy, it would be preferable to explore this with your therapist first if you feel you can. 
At the end of your therapy we will ask you to complete a simple evaluation form online.  Your feedback is valuable to us, helping us to monitor and improve our service to students.
Platforms available for counselling
Face-to-face appointments 
These are in-person, 50 minutes sessions where you will report at our Reception in Keynes College and be greeted by your counsellor from the waiting room to accompany you to their offices.
Zoom Calls
These remote sessions are also 50 minutes and conducted via Zoom.  An invitation to this session will be sent to you via your Kent email, in which there is a link to connect you to the meeting for the pre-arranged day and time.   
Email exchanges 
This will be conducted via a dedicated email account – etherapy@kent.ac.uk.  Thoughts, feelings and comments are expressed in password-protected Word documents to be attached to emails we send to each other.  You may send as many emails as you wish during the week, as putting down your thoughts and feelings may be releasing in themselves.  However, please email documents in manageable chunks of around 500 words each time (roughly one page in size 12 font).  Your emails will be automatically acknowledged once they are received, but your therapist will only reply to them collectively on a weekly basis, on Thursdays.  In order to confirm your slot and receive a reply on Thursday, emails need to be received by 5pm on Tuesday.  Up to an hour is spent on replying to your emails each week and they will be referenced with TE (therapeutic emails) and sequentially numbered.  If your therapist finds themselves unable to respond within this time frame, you will be contacted with an alternative day to expect a reply. 
IRC (instant messaging)
This service if offered between 9am and 4pm GMT, except for Wednesdays.  An invitation to this IRC session using Zoom's chat function will be sent to you via email, in which there is a link to connect you to the meeting for the pre-arranged day and time. 
If you have chosen a remote form of support, additional considerations need to be made in order to assess whether you can be adequately supported during this difficult time when reflective work is being carried out.  Should we feel that this form of support is insufficient or counter-productive for your needs, we will suggest an alternative.
Confidentiality
All email exchanges and records will be kept confidential within the Counselling Team, which includes the administrator and external supervisors.  Video sessions are not recorded.  It is also normal practice for counsellors to liaise with the Medical Centre staff if concerns are noted for shared clients.  We normally do not disclose verbal or written information about you to others unless we have your permission to do so.  In rare cases, disclosure may occur without your consent if there is good reason to believe that you or others are at risk, or that disclosure is required by the English judicial system.
Computers used are password accessed and protected by anti-viral software.  However, although every care is taken to ensure confidentiality, intrusions such as hacking means that total security cannot be guaranteed.  Zoom is a third party tool, so we do not have control over the end-to-end service.  Please ensure that you are not using the service over an unsecure public network connection.
We would also encourage you to protect your own privacy such as considering access to your computer by others, installing appropriate anti-viral software, and not conducting video/audio sessions in a public place, especially if sensitive issues are being discussed.
Do you keep copies of our communication?
Basic registration and statistical information is recorded about each contact made and this general information is collated onto our database anonymously. This data is used for an Annual Report.  We comply with the Data Protection Act (2018) which requires us to obtain your consent for such records to be kept at the point of registration.
Video/Audio sessions are not recorded/kept.  All records, transcripts and case notes are destroyed after seven years, the recommended length of time to keep records.
Concession letters, references or other letters requested by you regarding contact with the Service are only provided after consultation with you.
We ask that you also take responsibility for safe-keeping of any correspondence received.  No information about the content of your sessions, either directly from transcripts or re-told in your own words, are to be posted in the public domain, such as social networking sites.  Similarly, the relationship you and your counsellor share is of a professional nature, and therefore any communications outside of pre-arranged sessions or via social networking sites will not be accepted by your counsellor.
What can I do if I want to complain?
Should you have any complaint, we ask that you contact the Counselling Team Lead in the first instance via counselling@kent.ac.uk.  Should the matter be unresolved, formal complaints may be made via the University's complaints procedure.