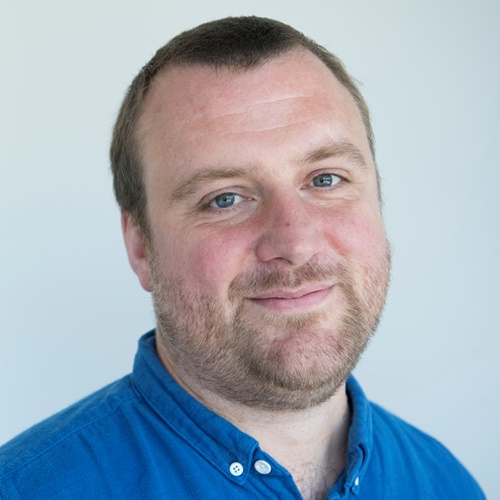 Jack Cunliffe
Lecturer in Quantitative Methods and Criminology
Director of Studies, Q-Step and Methods
About
Jack Cunliffe joined the University of Kent in September 2015, after completing his PhD at the London School of Economics, which used structural equation modelling to look at how area characteristics act as an offending risk factor.  His undergraduate degree was in Mathematics.

Before moving into academia, Jack was a Civil Servant and member of the Government Statistical Service, working predominantly in the Home Office and the Ministry of Justice, but also with a period in the Government Equalities Office and the Department for Energy and Climate Change. 
Research interests
Jack has broad research interests both within criminology and social policy more generally. These include methodologies to make best use of existing data through theoretically informed structural equation modelling, with a particular focus on criminological enquiry.

Jack is an associate investigator on a project that aims to gain understanding of the online drug cryptomarkets.

Jack has also worked extensively on inequality research, predominantly focused on wealth and income distributional analysis.
Teaching
Jack teaches on youth and crime, quantitative criminological modules and on a range of statistical modules from regression through to multivariate analysis. 
Publications
Article
Cunliffe, J., Décary-Hêtu, D. and Pollak, T. (2019). Nonmedical prescription psychiatric drug use and the darknet: A cryptomarket analysis. International Journal of Drug Policy [Online]. Available at: https://doi.org/10.1016/j.drugpo.2019.01.016.

Nonmedical prescription psychiatric drug use (NMPDU) is an increasing global health problem, with recent concern focusing on darknet cryptomarkets as sources of procurement. There is a shortage of evidence regarding comparative worldwide NMPDU trends, due in part to data collection difficulties. This problem is particularly marked for non-opioid drugs, particularly those psychiatric drugs which act on the central nervous system (CNS) and have high misuse potential and are associated with high levels of dependency and fatal overdose. This paper therefore has two goals: 1) to report on the kinds of psychiatric prescription drugs available on cryptomarkets, and 2) to use this data to uncover temporal and geographical trends in sales of these products, potentially informing policy regarding NMPDU more generally.

Method
Digital trace data collected from 31 cryptomarkets in operation between September 2013 and July 2016 was analysed by country of origin descriptively and for trends in the sales for 7 psychiatric drug groupings, based on their main indication or intended use in psychiatric practice.

Results
Sedatives (such as diazepam and alprazolam) and CNS stimulants (mainly Adderall, modafinil and methylphenidate) had the greatest share of sales, but usage and trends varied by location. The UK has high and rising levels of sedative sales, whilst the USA has the greatest stimulant sales and increasing sedative rates. Sales of drugs used in the treatment of opioid dependency are also substantial in the USA. The picture is less clear in mainland Europe with high sales levels reported in unexpected Central and Northern European countries. There is evidence of a move towards the more potent sedative alprazolam – already implicated as a source of problematic NMPDU in the USA – in Australia and the UK. Sales of drugs such as antidepressants, antipsychotics, mood stabilisers and antidementia drugs – all drugs with limited abuse potential – were negligible, indicating minimal levels of online cryptomarket procurement for self-medicating mental health problems.

Conclusion
Predominantly, psychiatric drugs with potent sedative, stimulant or euphoriant effects are sold on cryptomarkets and this varies by country. With some caveats regarding the limitations of cryptomarket digital trace data taken into account, the study of trends of these products sold online over time may offer a novel and increasingly important window onto wider drug purchasing habits.

Martin, J., Cunliffe, J., Décary-Hétu, D. and Aldridge, J. (2018). Effect of restricting the legal supply of prescription opioids on buying through online illicit marketplaces: interrupted time series analysis. BMJ [Online] 361. Available at: https://doi.org/10.1136/bmj.k2270.

Objective: To examine the effect on the trade in opioids through online illicit markets ("cryptomarkets") of the US Drug Enforcement Administration's ruling in 2014 to reschedule hydrocodone combination products.

Design: Interrupted time series analysis.

Setting: 31 of the world's largest cryptomarkets operating from October 2013 to July 2016.

Main outcome measures: The proportion of total transactions, advertised and active listings for prescription opioids, prescription sedatives, prescription steroids, prescription stimulants, and illicit opioids, and the composition of the prescription opioid market between the US and elsewhere.

Results: The sale of prescription opioids through US cryptomarkets increased after the schedule change, with no statistically significant changes in sales of prescription sedatives, prescription steroids, prescription stimulants, or illicit opioids. In July 2016 sales of opioids through US cryptomarkets represented 13.7% of all drug sales (95% confidence interval 11.5% to 16.0%) compared with a modelled estimate of 6.7% of all sales (3.7% to 9.6%) had the new schedule not been introduced. This corresponds to a 4 percentage point yearly increase in the amount of trade that prescription opioids represent in the US market, set against no corresponding changes for comparable products or for prescription opioids sold outside the US. This change was first observed for sales, and later observed for product availability. There was also a change in the composition of the prescription opioid market: fentanyl was the least purchased product during July to September 2014, then the second most frequently purchased by July 2016.

Conclusions: The scheduling change in hydrocodone combination products coincided with a statistically significant, sustained increase in illicit trading of opioids through online US cryptomarkets. These changes were not observed for other drug groups or in other countries. A subsequent move was observed towards the purchase of more potent forms of prescription opioids, particularly oxycodone and fentanyl.

Cottee, S. and Cunliffe, J. (2018). Watching ISIS: How young adults engage with official English-language ISIS videos. Studies in Conflict & Terrorism [Online]. Available at: https://doi.org/10.1080/1057610X.2018.1444955.

Research on jihadist online propaganda (henceforth JOP) tends to focus on the production, content and dissemination of jihadist online messages. Correspondingly, the target of JOP – that is, the audience – has thus far attracted little scholarly attention. This article seeks to redress this neglect by focusing on how audiences respond to jihadist online messaging. It presents the findings of an online pilot survey testing audience responses to clips from English-language ISIS videos. The survey was beset at every stage by ethical, legal and practical restrictions, and we discuss how these compromised our results and what this means for those attempting to do research in this highly sensitive area.

Cunliffe, J., Martin, J., Décary-Hétu, D. and Aldridge, J. (2017). An island apart? Risks and prices in the Australian cryptomarket drug trade. International Journal of Drug Policy [Online] 50:64-73. Available at: https://doi.org/10.1016/j.drugpo.2017.09.005.

Background: Australia has a reputation as an anomaly with regard to cryptomarket drug trading, with seemingly disproportionately high levels of activity given its relatively small size, high prices and anecdotal accounts of it being a destination where many foreign-based vendors will not sell. This paper aims to investigate these claims from a risk and prices perspective.
Methods: By analysing data for over 60,000 drug products available for purchase from eight cryptomarkets in January 2016 this work builds a descriptive picture of the Australian online market in comparison to the rest of the world, before moving onto analyse the prices of drugs available to Australian consumers, both online and though conventional drug supply routes.
Results: Results show that the Australian online illicit drugs market is of considerable size, internally isolated and with methamphetamine sales being particularly large by comparison to other countries. Australian cryptomarket vendors sell drugs at significantly higher prices than those listed by their foreign counterparts. Online prices are however broadly comparable to street prices, with the exception of methamphetamine where prices appear to be much lower online.
Conclusions: These findings indicate that the perceived stringency of Australian border protection inadvertently increases the competitiveness and local market share of domestic cryptomarket vendors via a consumer side 'risk tariff', challenging the traditionally vendor-oriented drugs risk and prices framework.
Book
Martin, J., Cunliffe, J. and Munksgaard, R. (2019). Cryptomarkets: A Research Companion. Bingley, UK: Emerald.

Since the launch of the infamous Silk Road, the use of cryptomarkets - illicit markets for drugs on the dark web - has expanded rapidly around the world. Cryptomarkets: A Research Companion is an accessible, detailed guidebook which offers all the tools necessary to begin researching cryptomarket phenomena and the dark web trade in illicit drugs. Offering an in-depth historical account of the development of cryptomarkets up until the present day, the book goes on to examine key trends and findings regarding the contemporary operations of cryptomarkets. The principal methodologies used to conduct cryptomarket research, as well as questions regarding research ethics, are further explored. Finally, the authors outline underdeveloped areas of the field and pose key questions for future cryptomarket research. Whether an academic researcher, post-graduate student, law enforcement officer, or public health professional, this book is essential reading for those researching and working in the realm of cryptomarkets.
Book section
Martin, J., Cunliffe, J., Décary-Hétu, D. and Aldridge, J. (2018). The international darknet drugs trade - a regional analysis of cryptomarkets. In: Smith, R. G. ed. Organised Crime Research in Australia 2018. Australian Institute of Criminology, pp. 95-103. Available at: https://aic.gov.au/publications/rr/rr10.

This chapter presents a descriptive analysis of illicit drug trading conducted via cryptomarkets,
'eBay' style marketplaces operating on the darknet (Martin 2014a, 2014b). Over the past seven
years, cryptomarkets have emerged as a significant new vector for the retail and delivery of
illicit drugs. One of the least understood aspects of cryptomarket-facilitated drug trading
concerns the location of vendors who use the darknet to trade illicit drugs across national
borders. While previous quantitative papers in this area have noted the locations of vendors
selling drugs on cryptomarkets (eg Christin 2013; Soska & Christin 2015), these previous studies
have not differentiated between vendors who are prepared to sell drugs to international or
domestic-only clientele. The aim of this research is to fill this gap in knowledge and determine
which countries are the most active, in terms of both domestic-only and internationally
oriented drug vendors, as well as which countries dominate the trade in particular drugs,
specifically cannabis, ecstasy-type products, cocaine, methamphetamine and opioids.

Hills, J. and Cunliffe, J. (2016). Accumulated Advantage and Disadvantage: the Role of Wealth. In: Dean, H. and Platt, L. eds. Social Advantage and Disadvantage. Oxford: Oxford University Press. Available at: http://dx.doi.org/10.1093/acprof:oso/9780198737070.003.0008.

Social advantage and disadvantage are potent catch-all terms. They have no established definition but, considered in relation to one another, they can embrace a wide variety of more specific concepts that address the ways in which human society causes, exacerbates or fails to prevent social divisions or injustices. This book captures the sense in which any conceptualisation of disadvantage is concerned with the consequences of processes by which relative advantage has been selectively conferred or attained. It considers how inequalities and social divisions are created as much by the concentration of advantage among the best-off as by the systematic disadvantage of the worst-off.

The book critically discusses - from a global and a UK perspective - a spectrum of conceptual frameworks and ideas relating to poverty, social exclusion, capability deprivation, rights violations, social immobility, and human or social capital deficiency. It addresses advantage and disadvantage from a life course perspective through discussions of family and childhood, education, work, old age, and the dynamics of income and wealth. It considers cross-cutting divides that are implicated in the social construction and maintenance of advantage and disadvantage, including divisions premised on gender, 'race', ethnicity, migration and religion, neighbourhood and the experience of crime.
Research report (external)
Hills, J., Cunliffe, J., Obolenskaya, P. and Karagiannaki, E. (2015). Falling Behind, Getting Ahead: The Changing Structure of Inequality in the UK, 2007-2013 Social Policy in a Cold Climate Research Report, SPCCRR05. [Online]. London School of Economics and Political Science. Available at: http://sticerd.lse.ac.uk/dps/case/spcc/RR05.pdf.

Vizard, P., Karagiannaki, E., Fitzgerald, A., Cunliffe, J., Grollman, C., Lupton, R., Obolenskaya, P. and Thompson, S. (2015). The Changing Anatomy of Economic Inequality in London (2007-2013) Social Policy in a Cold Climate Research Report, SPCCRR06 Centre for Analysis of Social Exclusion. [Online]. London School of Economics and Political Science. Available at: http://sticerd.lse.ac.uk/dps/case/spcc/RR06.pdf.

Lupton, R., Vizard, P., Fitzgerald, A., Fenton, A., Gambaro, L. and Cunliffe, J. (2013). Prosperity, Poverty and Inequality in London 2000/01-2010/11. Social Policy in a Cold Climate Research Report, SPCCRR03 Centre for Analysis of Social Exclusion. [Online]. London School of Economics and Political Science. Available at: http://sticerd.lse.ac.uk/dps/case/spcc/rr03.pdf.

Hills, J., Cunliffe, J., Gambaro, L. and Obolenskaya, P. (2013). Winners and Losers in the Crisis: The Changing Anatomy of Economic Inequality in the UK 2007-2010. Social Policy in a Cold Climate Research Report, SPCCRR02 . London School of Economics and Political Science.

Cunliffe, J. and Shepherd, A. (2007). Re-Offending of Adults; Results from the 2004 Cohort Home Office Statistical Bulletin 06/07. [Online]. Home Office. Available at: http://webarchive.nationalarchives.gov.uk/20110218135832/rds.homeoffice.gov.uk/rds/pdfs07/hosb0607.pdf.
Last updated