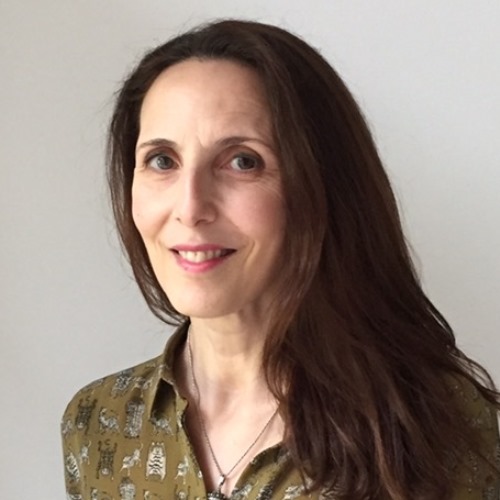 Dr Marisa Silvestri
About
Dr Marisa Silvestri's main research interests lie at the intersections of gender, crime, justice, policing and organisational cultures. Underpinned by an interest in the ways in which 'care' and 'control' are experienced, negotiated and enacted within the punitive context of the criminal justice system, she is interested in the gendered nature of organisational identities within criminal justice. More specifically, her research focuses on the gendered dimensions of policing and police leadership. 

Dr Silvestri recently published the second, revised edition of Gender and Crime (with Chris Crowther-Dowey) and is currently working on two books: Police Leadership: Changing Landscapes (edited with Pauline Ramshaw and Mark Simpson) and Police Leadership: Critical Perspectives (with Claire Davis, Policy Press). 

Research interests
Dr Silvestri's main current research interest focuses on unpacking and better understanding the various critical diversities within policing, together with driving forward more complex readings of police organisational culture(s). This focus has led her to develop work on a number of related projects including: 
Gender, career and leadership in policing

Policing organisational culture(s)

The impact of direct entry on the police career and diversity within policing

The interactive effects of gender and race amongst police officers

Impacts of religious and occupational identities on police practice and well-being

Policing Transphobic Hate Crime and the role of specialist officers.

With a strong emphasis on capturing and developing the relationship between theoretical and policy dimensions, her research is underpinned by a commitment to knowledge exchange, transfer and impact. With the clear objective to improve both 'internal' relations within policing and 'external' ones with communities served, her research has had impact in relation to improving criminal justice policy and practice.
Dr Silvestri has been adviser to a number of organisations, including the Ministry of Justice, Griffin Society; Independent Police Commission on the Future of Policing, Home Office Affairs Select Committee and the British and International Associations of Women Police.

Supervision
Dr Silvestri is currently supervising postgraduate research students across a range of areas including policing and transgender hate crime, police responses to rape, prostitution and exiting, women offenders and prison based education.

If you have a research proposal within her interest areas and wish to study at the University of Kent, please email her to discuss further. 
Professional
External Roles 
Executive Committee member of British Society of Criminology

Chair of Women, Crime and Criminal Justice Network (BSC)

Steering group member of Policing Research Network (BSC)

Member of British & International Associations of Women Police

Member of European Criminology Society

External Adviser
Adviser to British Association of Women Police

Written/ Oral submission to Independent Commission on Future of Policing led by Lord Stevens

Academic Adviser to the Griffins Society to advise on future of Research Agenda for Women Offenders

Invited member in House of Commons Select Committee Affairs on Police Leadership

Editorial Board Membership
'Policing and Society: An International Journal of Research and Policy - Policing & Society' is widely acknowledged as the leading international academic journal specialising in the study of policing institutions and their practices.
Series Editor (with Megan O'Neil and Steve Tong)
'Key Themes in Policing' with Policy Press

Peer Review Work
External Reviewer for Routledge, Sage, Palgrave and Federation Press.

External Reviewer for International Journal of Police Science and Management; Policing and Society Journal, Policing Journal, Howard Journal of Criminal Justice; Feminist Criminology; Women, Crime and Criminal Justice.

Publications
Article
Brown, J. and Silvestri, M. (2019). A police service in transformation: implications for women police officers. Police Practice and Research [Online]:1-17. Available at: https://doi.org/10.1080/15614263.2019.1611206.

This paper presents an overview of current trends besetting the police service in England and Wales, including the reduction of resources through austerity pressures, changing patterns of crime such as rises in cyber-related offences, greater victim focus, the introduction of graduate entry and changes in political accountability through the newly elected Police and Crime Commissioners. Secondary analysis of data enabled an assessment of the degree to which these impacts the employment and deployment of women in policing. As the gender ratio changes and reforms facilitate styles of policing with greater emphasis on the ethics of care it might be expected this will reflect more feminine values. The conclusion drawn is that the impacts of feminisation are somewhat overstated and remain rather fragile.

Brown, J., Fleming, J., Silvestri, M., Linton, K. and Gouseti, I. (2019). Implications of police occupational culture in discriminatory experiences of senior women in police forces in England and Wales. Policing and Society [Online] 29:121-136. Available at: https://doi.org/10.1080/10439463.2018.1540618.

Perceptions of police occupational culture were measured in a sample of senior women in policing (N?=?169) through an online survey conducted late 2017/early 2018 to explore the occurrence of sexual harassment and sex discrimination. Negative aspects of 'cop' culture are associated with greater rates of harassing and discriminatory experiences. Social Identity Theory (SIT) examined the salience of role, gender and seniority as factors relevant to those experiences. Conclusions discuss implications for reform and cultural change.

Silvestri, M. (2018). Disrupting the 'Heroic Male' within policing: A case of Direct Entry. Feminist Criminology [Online] 13:309-328. Available at: https://doi.org/10.1177/1557085118763737.

This article drives forward a more critical insight into the position of women within policing. In focusing on women as police leaders, it problematizes taken for granted representations of gender and proposes an alternative reading of their experiences. Drawing on theoretical work on gendered organizations, the article argues that greater attention needs to be paid to the cultural and structural conditions that enable the "heroic male" to emerge as the "ideal" police leader. It also considers the recent introduction of Direct Entry for senior officers in England and Wales as a disruptive tool to the gendered order within policing.

Silvestri, M. (2017). Police Culture and Gender: Revisiting the 'Cult of Masculinity'. Policing [Online] 11:289-300. Available at: https://doi.org/10.1093/police/paw052.

The 'cult of masculinity' has received much attention as a persistent and negative feature of police culture, with its impacts repeatedly being drawn upon to make sense of women's lack of progression and representation within policing. This article argues that such analyses remain locked into overly simplistic and reductionist accounts of how women and men experience gender within policing. In revisiting the 'cult of masculinity', this article assesses its utility as an explanatory tool in the 21st century. It explores alternative expressions of gender through an appreciation of the ways in which the concept of 'time' is embedded in the cultural set of understandings and belief systems about what it means to be a police officer and to do policing. In so doing, it enables a transgression of existing conceptualizations of the gendered nature of policing and of police culture.

Crowther, C. and Silvestri, M. (2017). The gendering of violent crime: towards a human rights approach. British Journal of Community Justice [Online] 14. Available at: https://www.mmuperu.co.uk/bjcj.

This article reveals the diverse threats violent masculinities pose to human rights, especially females, in view of the idea that 'all things are equal now' between the genders. In the UK the Human Rights Act (1998) has sustained existing safeguards for the mainly male perpetrators of violence, but the needs of some female victims of domestic violence remain unmet. Contemporaneously, mainly female crime victims are vulnerable to violations of their basic human rights. The analysis in this paper identifies and interrogates the negative consequences of the principles of modernisation and six drivers of crime control underpinning government approaches since the late 1990s to dealing with violence against women in the context of general approaches to victimisation. Alongside issues relating to the receding influence of the state our argument is that a human rightsinformed approach reveals not only the deficiencies and contradictions of government policy affecting change, but provides a vehicle for embedding a more comprehensive way of safeguarding human rights in practice.

Pepper, M. and Silvestri, M. (2016). 'It's Like another Family Innit': Building Police–Youth Relations through the Metropolitan Police Service Volunteer Police Cadet Programme. Policing [Online] 12:1-13. Available at: https://doi.org/10.1093/police/paw007.

Attempts to improve the relationship between police and young people are at the forefront of contemporary discourses on how best to secure greater confidence, consent, and compliance with the police. Underpinned by the work of procedural justice theorists, the assertion here is that if the public perceive the police to be fair in their actions and decision making, they are more likely to judge them worthy of respect, deference, and cooperation, and reflect positively on their encounter, regardless of the outcome. Drawing on research carried out with 210 young people, this article considers the work of the Volunteer Police Cadets within the Metropolitan Police Service. We argue that engagement with the programme provides young people with a number of important opportunities to experience positive 'personal encounters' with the police, resulting in a greater feeling of belonging and an increased stake in conformity.

Silvestri, M. (2015). Gender Diversity: a hop, skip and a jump forwards and back. Policing: A journal of Policy and Practice 9:56-64.

Silvestri, M. (2013). Gender and Police Leadership: Time for a Paradigm shift. International Journal of Police Science and Management [Online] 15:61-73. Available at: https://doi.org/10.1350/ijps.2013.15.1.303.

Despite a number of initiatives aimed at improving the representation and progression of women in the police service in England and Wales, the number of women in leadership ranks remains low. At the same time, concern over the quality of police leadership has been at the forefront of much public debate in recent years. This article focuses on recent proposals to reform the way in which senior officers are recruited through a discussion of the appointment of non-sworn/'outsider' officers through the adoption of direct and multiple entry models of recruitment as outlined by the Winsor Review (2012, Independent review of police officer and staff remuneration and conditions. Part 2. http://review.police.uk/part-two-report/). Hailed as an opportunity to secure an alternative face to police leadership, we reflect on the growing disquiet over police leaders and leadership and consider the possibilities of such a reform agenda for the representation and progression of women in policing. We propose that although a multipoint system of entry for specialisation or leadership roles may offer a number of opportunities to a service in crisis, such a reform agenda may ultimately serve to threaten and further undermine women's participation and status in policing as 'outsiders'.

Silvestri, M. (2013). Reflections on a depressing inevitability. Sociological Research Online.

Silvestri, M. (2007). Doing police leadership: enter the new smart macho. Policing and Society 17:38-58.

Silvestri, M. (2006). Doing time: Becoming a police leader. International Journal of Police Science and Management 8:266-281.

Silvestri, M. (2003). Visions of the future: the role of senior policewomen as agents of change. International Journal of Police Science and Management 1:148-161.
Book
Silvestri, M. and Crowther-Dowey, C. (2016). Gender and Crime: A Human Rights Approach. [Online]. London, UK: Sage. Available at: https://uk.sagepub.com/en-gb/eur/gender-and-crime/book243422.

Silvestri, M. and Crowther-Dowey, C. (2008). Gender and Crime. London, UK: Sage.

Silvestri, M. (2003). Women in Charge: Policing, Gender and Leadership. Cullompton: Willan.

Heidensohn, F. and Silvestri, M. (1996). Women and Crime. [Online]. London, UK: Macmillan. Available at: https://www.macmillanihe.com/page/detail/Women-and-Crime/?K=9780333642085.
Book section
Colliver, B., Coyle, A. and Silvestri, M. (2019). The Online 'othering' of transgendering and non-binary people. In: Lumsden, K. and Harmer, E. eds. Online Othering: Exploring the Dark Side of the Web. Palgrave Macmillan. Available at: https://www.palgrave.com/gp/book/9783030126322.

In this chapter we provide an exposition and critical analysis of some ways in which transgender people are 'othered' online and attempts to resist or challenge this. This is achieved through the discursive analysis of 1756 online comments made in response to ten YouTube videos concerning 'gender neutral toilets'. Three themes were developed: 'Gender neutral toilets as sites of sexual danger'; 'Claiming victimhood: Gender neutral toilets as undermining the rights of cisgender people'; and 'The delegitimisation and othering of transgender people'. The theme on delegitimisation and othering is elaborated in detail. It consists of subthemes concerning the invocation of nature and biology to construct transgender people as challenging the given order; the mobilisation of religious and moral values and norms; the delegitimisation of transgender people by constructing them as psychopathological; and the construction of transgenderism as a 'modern trend' created by media and social media. The discursive resources used in othering transgender people overlap with those that have long been used in the offline denigration of sexual minority groups. We conclude that sexual and gender non-conformity is responded to with a limited set of tropes that delegitimise and other non-conforming people in culturally recognisable ways. We note that the framing of effective resistance to anti-transgender, othering online talk is not straightforward but calls for creative, evidence-based, contextually-informed discursive labour.

Silvestri, M. (2017). Pioneering Women Chiefs: A tale of Conflict and Collaboration. In: stevenson, K., Cox, D. J. and Channing, I. eds. Leading the Police: Chiefs Constables and Their Autonomy in Britain 1835-2016. Routledge.

Silvestri, M. (2015). Women in police leadership: rising to the top. In: Police Leadership. Oxford University Press. Available at: https://global.oup.com/academic/product/police-leadership-9780198728627?q=Police%20Leadership&lang=en&cc=gb#.

Dick, P., Silvestri, M. and Westmarland, L. (2014). Women Police: Potential and Possibilities for Police Reform. In: Jennifer M. Brown, J. M. ed. The Future of Policing. London, UK: Routledge, pp. 134-148.

Silvestri, M. (2012). Managerial Masculinity: an insight into the twenty-first century police leader. In: Barrie, D. G. and Broomhall, S. eds. A History of Police and Masculinities. Routledge. Available at: https://www.routledge.com/A-History-of-Police-and-Masculinities-17002010/Barrie-Broomhall/p/book/9780415696616.

Heidensohn, F. and Silvestri, M. (2012). Gender and Crime. In: Oxford Handbook of Criminology. Oxford, UK: Oxford University Press, pp. 336-369.

Silvestri, M. (2006). Gender and crime: A human rights perspective. In: Heidensohn, F. ed. Gender and Justice: New Concepts and Approaches. Willan.

Heidensohn, F. and Silvestri, M. (1998). The conformity of Criminology. In: Emerging Themes in Criminology. Routledge.
Conference or workshop item
Silvestri, M. (2016). Gender and Policing: Narratives of Crisis, Change and Continuity. In: Nogala, D., Neidhardt, K., Görgen, T., Kersten, J., Fiquet, J.-M. and Meško, G. eds. 2013 CEPOL European Police Research and Science Conference. CEPOL, pp. 143-153. Available at: https://www.cepol.europa.eu/sites/default/files/science-research-bulletin-2013-conference.pdf.

The recruitment of a more diverse police workforce has been central to police reform agendas across time and place. Police organisations throughout the world have been subject to a number of high-profile and damning reports that have emphasised the damaging effects of a lack of diversity. Such damaging effects have been repeatedly cited in relation to both external interactions between police and citisens, and to the internal interactions between police officers themselves. This paper considers more specifically the issue of gender representation within policing. It reflects on the histories that have shaped women's entry, progression and participation in policing over the past century and considers some of the contemporary challenges faced by police organisations in maintaining and improving women's representation within a climate of economic constraint. Histories of policing have consistently demonstrated that bringing about change to the organisation is a difficult and often protracted process. Indeed much research has pointed to the long tradition of police resistance to organisational change initiatives. Through reflecting on the past and present, it engages with narratives of 'crisis' 'change' and 'continuity' in thinking about the future of gender and policing.
Edited book
Silvestri, M. and Rafter, N. eds. (2000). Encyclopaedia of Women and Crime. Oryx Press.
Research report (external)
Dick, P. and Silvestri, M. (2012). Position Paper on Women, Policing and Representation. Independent Police Commission in Future of Policing.

Easton, H., Silvestri, M., Matthews, R., Evans, K. and Walklate, S. (2010). Conditional Cautions: Evaluation of the Women Specific Condition Pilot. Ministry of Justice.
Review
Silvestri, M. (2016). Review of Accountability of Policing. Policing and Society 27.

Silvestri, M. (2014). Review of The Oxford Handbook of Gender, Sex and Crime. The Howard Journal of Criminal Justice 54:533-535.

Silvestri, M. (2012). Review of Women, Crime and Social Harm: Towards a Criminology for the Global Era. The Howard Journal of Criminal Justice.
Forthcoming
Silvestri, M. (2020). Gender and Crime: A Human Rights Approach. Sage.

Silvestri, M. (2019). Leadership and Diversity. In: Police Leadership: Changing Landscapes. Palgrave Macmillan.

Davis, C. and Silvestri, M. (2019). Critical Perspectives in Police Leadership. Policy Press.

Ramshaw, P., Simpson, M. and Silvestri, M. (2018). Police Leadership: Changing Landscapes. Palgrave Macmillan.

Brown, J. and Silvestri, M. (2018). Women Police in the UK: Transforming Leadership. In: Rabe-Hemp, C. and Garcia, V. eds. Women Policing the World: Shared Challenges and Successes in the Integration of Women Police Worldwide. Rowman & Littlefield.
Last updated