Take a look at previous and forthcoming events and initiatives to promote the University of Kent's sex-positive consent campaign.
Previous Events
16 Days against gender-based violence - 25 November 2021
For sixteen days, starting on the 25th November 2021, various teams and departments at the University of Kent came together to declare our university-wide commitment to tackling sexual assault and misconduct as well as increase transparency and embed a culture of consent. From the our team at the Library, Student Support and Wellbeing, College and Community Life, to our Transport team, we all worked together to display statements about consent, the behavioural expectations and range of support available at Kent around campus and on social media channels.
Celebrating Consent Day - 9 February 2022
On 9 February, students and staff came together to celebrate consent for Kent's "Celebrating Consent Day". The afternoon consisted in three different sessions where attendees had the chance to learn, discuss and reflect on sex-positivity and consent. From listening to expert's insights and advice to collaborative crafting, the "Celebrating Consent Day" created a heart-warming, vibrant and fun atmosphere throughout. Here's what people who joined have to say about "Celebrating Consent Day":


Kent's encouragement of an event such as the Celebrating Consent Day shows their support for their student's wellbeing and personal engagement as well as their education."
It helped me think about some prevailing attitudes and the need for change and greater openness and positivity for people of all ages."
Click below, if you want to read more of what our students had to say about their experience at our Celebrating Consent Day event.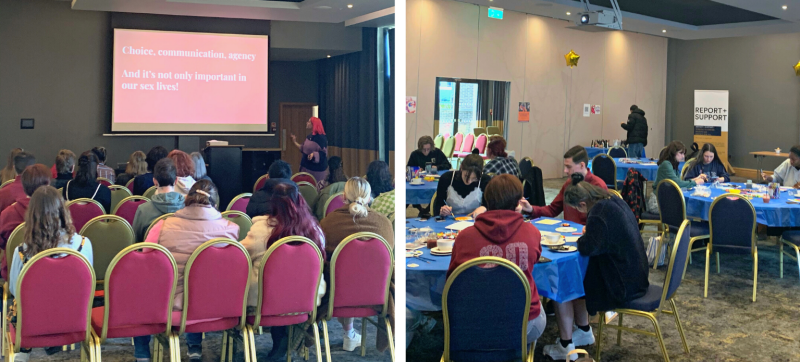 The Human Experience Vol. II (Art Exhibition) - 20 March 2022
On 20 March the Afro-Diasporic Legal Network and the People of Colour Arts Society at Kent organised an evening of music, poetry, and visual arts to foster a sense of community amongst people, especially those from differing backgrounds. We had the opportunity to exhibit some of the great community artwork the students and staff members who attended our Celebrating Consent Day created to represent the need for a collaborative response in tackling sexual violence - a principle that stands at the heart of the University's sex-positive consent campaign.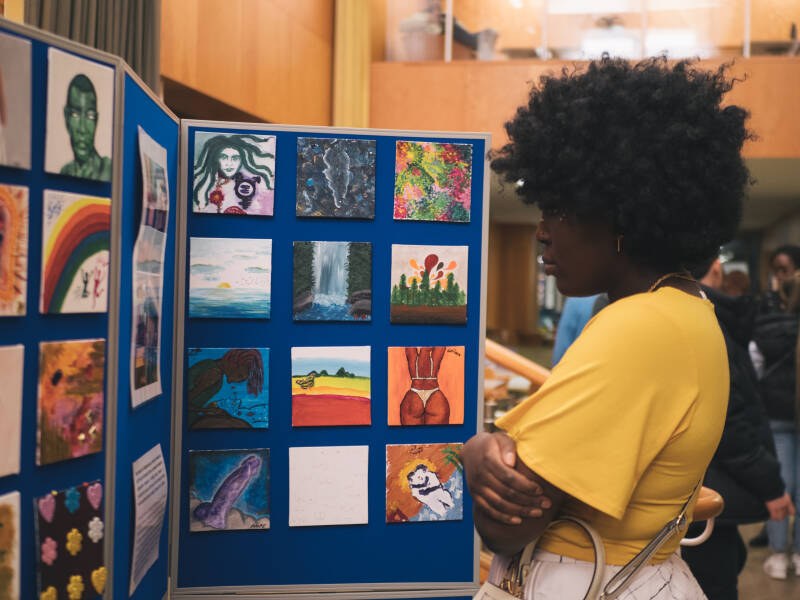 Consent, Get it: Panel Discussion - 16 November 2022
On 16 November the LSSJ division (Law, Sociology, Criminology and Journalism) lead an interesting and important panel discussion on 'Consent' with SSPSSR Academics, University of Kent Welfare staff, Respect the No and Kent Police.
Celebrate Consent – Craft, Books and Action! - 25 November 2022
On 25 November 2022, the University of Kent launched its second sex-positive consent event: Celebrate Consent – Craft, Books and Action! It was a chance for students and staff to meet in the new Nexus space in Templeman Library for an afternoon filled with arts and crafts and opportunities to learn and discuss consent in an open and safe environment with representatives present from the Consent Campaign, Metro, Respect the No and Kent Union. Resources around consent and sex-positivity were available for individuals to take away or reflect on, such as a sex-positive booklist, bookmarks, torches, condoms, and informative leaflets.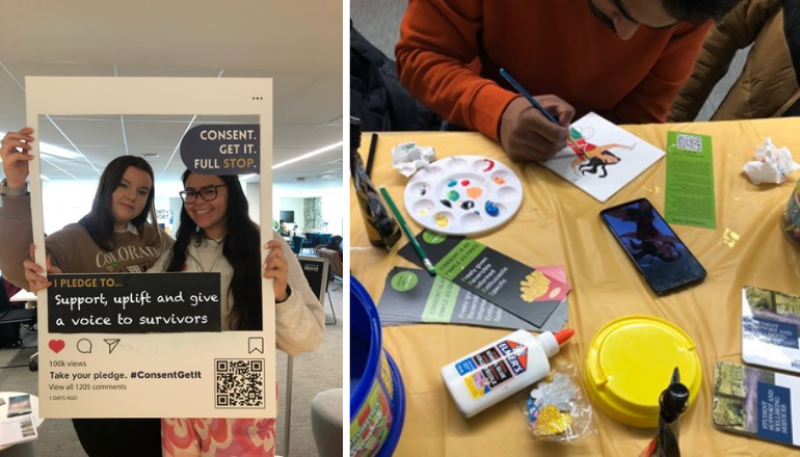 Social Media and Blog Articles
We have taken a proactive approach to raising awareness on topics such as consent, sexual misconduct and the support available to students through the university, by posting regularly on social media about these topics and on our Student Services blog.
Visit #ConsentGetIt for more!