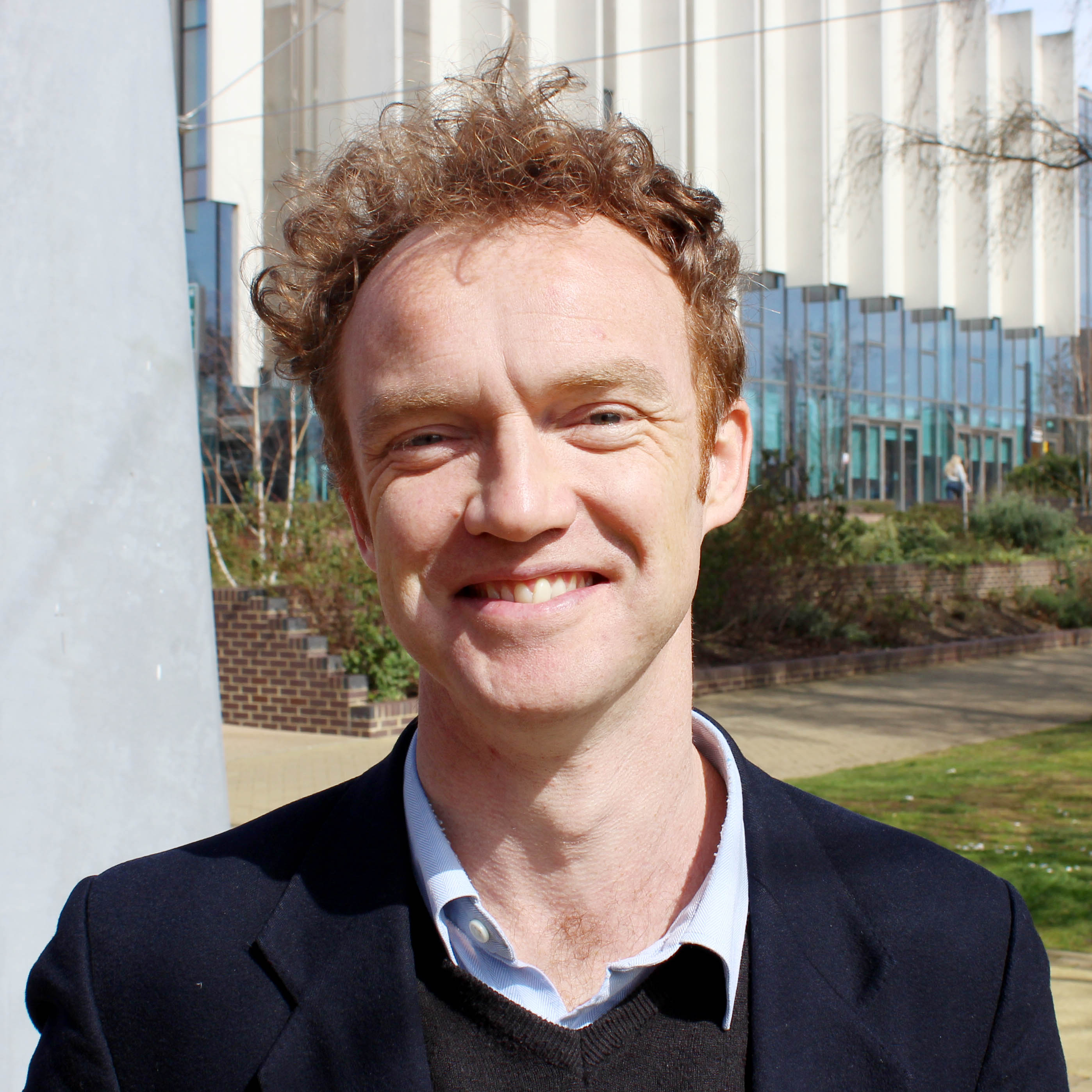 Dr Ambrose Gillick
Lecturer
BA (Hons) Architecture Stage 3 Coordinator
About
Qualifications: BA B.Arch, M.Arch, PhD

Ambrose Gillick is a designer and researcher. He studied architecture at the University of Manchester (1998-2001) and at University of Sheffield (2003-2006). In between, Ambrose worked for three London practices, focused social, civic and cultural buildings and housing.

During his Master's Ambrose developed an interest in participatory and community-led architecture through a collaborative project with a self-organising women's co-op in Dakar, Senegal – and the theory of scared space through a thesis in medieval church architecture. The former, he further developed through a PhD at the University of Manchester, supervised by Professor Diana Mitlin and Professor Simon Guy, in which he examined the coproduction of indigenous knowledge in post-disaster reconstruction work in Gujarat, India. Whilst doing the doctorate, Ambrose worked at a firm whose work largely focused on ecclesiastical restoration. This led to a post-doc at the Glasgow School of Art, supporting Dr Bob Proctor develop his AHRC-funded project on modernist Roman Catholic churches which was published and exhibited nationally. Ambrose then helped secure Leverhulme Trust funding for a history of late modern urban housing in northern Europe, a project he guided and supported dutifully for the duration. Ambrose continues to write with Bob on the architecture of religious space and he consults as a designer for others who work in the field of ecclesiastical architecture. He has developed a strong research interest in postmodern urban and built culture, particularly housing, and the role of grassroots and non-professional people in shaping the post-industrial city.

Over the years, Ambrose has developed undergraduate courses on various aspects of informality, marginalized voices, grassroots action and resistance movements in/ around architecture. This led to the formation of a practice, Baxendale with Lee Ivett, a former colleague at the School of Art. The practice has become a vehicle for developing and exploring situated design practices, specifically working with marginalised groups on issues of representation, recognition and rights, but also exploring issues of live-build and its relationship to community agency and capacity and its potential as an instrument of pedagogy. Baxendale has garnered international recognition for its work and was selected (as part of a bigger team) to represent Scotland at the 16th International Architecture Exhibition, La Biennale di Venezia 2018. Lee and Ambrose continue to write, talk, exhibit and plot on themes of making, mindfulness, pedagogy and power.
Research interests
Live Build
Capacity building
Pedagogy
Prototyping space
Situated practice[s]
Informality in the built environment
Informal settlements
Suburbia
Grassroots activism and architecture
Marginal voices in architectural production
'Coproduced' vernacular architectures
Architecture and representation
Participation in design
Coproduction in design
Live build and capacity building
Postmodern urban culture
Housing and consumerism
The role of non-professionals in urban change
The politics of engagement in a postmodern urban context
Sacred Space
Modern pilgramage
Postwar suburban churches
Ritual, liturgy and representation
Teaching
| Module Code | Module Title | Information |
| --- | --- | --- |
| AR538 | Cultural Context | Tutor |
Publications
Article
Gillick, A. (2017).

Stitching the city: continuity, urban renewal and grassroots action in late-twentieth century Glasgow

.

The Journal of Architecture

[Online]

22

:188-224

.

Available at

:

http://dx.doi.org/10.1080/13602365.2017.1297959

.

The renewal of Woodlands, Glasgow, between the 1970s and 2000s was characterised by historicist architecture, seemingly in line with the post-modernist spirit of the age. However, the programme of renewal, which employed neo-historical aesthetics and traditional housing typologies together with a sense of ?putting back? what had been lost through dereliction and demolition, can be better understood as an example of a more consciously collaborative development agenda which had its roots in a new, consumer-led democratisation of an architectural ?product? towards social development. This agenda was embodied by the Woodlands Residents Association, which reacted to urban decline by organising neighbourhood renewal through the restoration of historic urban fabric, by adapting state policy to local needs and by instigating collaboration with professionals. In this context the renewal of Woodlands typifies the emergence of an ?ordinariness? in architectural design that deployed historical pastiche to stitch both new buildings into the urban fabric and the urban fabric back together, thereby generating meaning, social inclusion, sense of place and continuity, projecting cultural narratives that located the neighbourhood within both the broader Glaswegian identity, and within a European story of urban life.
Book section
Gillick, A. and Ivett, L. (2017). Constructing Community: Synthesizing Lay and Professional Knowledge in Architecture.

in:

Wroot, I. ed.

AMPS Publication Series 8: Government and Housing in a Time of Crisis: Policy, Planning, Design and Delivery

.

Libri Publishing

,

pp.

75-86

.

Available at

:

http://architecturemps.com/wp-content/uploads/2017/07/AMPS-Proceedings-8-Government-and-Housing-in-a-Time-of-Crisis.pdf

.

The synthesis of lay and professional knowledge in building and urban renewal works can operate to 'construct community', and make strong, vibrant, integrated urban space, by establishing reciprocal bonds within communities and between institutional, enterprise, community and individual actors and actor groups. In this paper I'll describe how architectural interventions and buildings can do this, through the work of Baxendale, a practice that explores an interdisciplinary approach to regeneration through the simultaneous development of both programme and place. Baxendale's practice is concerned with the intersection of agency and design - work is orientated towards enhancing communities by building capacity, utilising active making as a tool for developing local empowerment and transferring knowledge and skills. Principally working in marginal communities, on interventions, buildings and processes, the work relates closely to, and builds on the long-standing discourse on participatory and marginal design practices, as found in the writing of Henry Sanoff, Colin Ward, John Turner and Nabeel Hamdi amongst many others, and latterly in the building work of practices like Peter Hübner, Ralph Erskine and Lucien Kroll and to a certain extent, self-build pioneers such as Walter Segal and activist organisations like Habitat for Humanity. Baxendale's engagement, however, challenges aspects of such prominent participatory work by focusing on the processes of spatial practice, presuming collaborative learning between institutional, private and community actors towards synergistic outcomes. Work of the kind described is an important component of a thoughtful approach to urban renewal relevant to contemporary conditions, particularly renewal orientated towards making more just urban environments, which is of particular importance to the debate on housing provision. A community that is empowered in the public realm will generate for itself urban space which is creative, delightful and secure. This can only be beneficial for those tasked with providing sustainable housing in the future.
Conference or workshop item
Gillick, A. (2018). Common knowledge: Architecture, co-production and agency.

in:

Frame:Works – Social Innovation in Planning for the Built Environment

.

.

Available at

:

https://www.thersa.org/events/fellowship-events/2018/5/frameworks---social-innovation-in-planning-for-the-built-environment

.

Gillick, A. (2018). Making, Participation and Empowerment.

in:

Generosity Conference

.

.

Available at

:

https://www.cardiff.ac.uk/conferences/generosity

.

Gillick, A. and Ivett, L. (2018). Just Architecture: Making, Participation and Empowerment.

in:

Generosity Conference

.

In the fifty years since the Skeffington Committee was formed to investigate how planning might respond to the broad trend towards community engagement in civic life, participation in the built environment has been stripped of its radicalism and left as little more than a tool for the manipulation of affected communities, serving to soften the blow of mediocre architecture by implicating laypeople in its development.

In contrast to earlier examples of participatory practice and theory, much contemporary praxis locates the value of participants in their ability to reflect upon lost glories and future dreams. Little engagement with the present beyond its relationship to this binary is undertaken, thereby situating the participant's experience within a framework of values which explicitly excludes their everyday experiences. At best, then, the participatory process is reduced to a game which serves little purpose beyond the harvesting of 'local flavour' for the benefit of institutional actors imposing pre-defined agendas. At worst, participation acts as another tool in an already exploitative toolkit designed to distance participants from the value of their own knowledge and day-to-day experience. In any case, participation has largely lost sight of its original intention of giving the city back to the people.

Situated within broader sociological discussions on agency and constructivism in the urban environment, in this paper we discuss how participatory practice can regain its transformative, radical and justice-orientated agenda through collaborative and disruptive acts of making. We discuss how acts of architectural making can locate both the community and institutional actors in 'the present' through their inherently discursive, negotiated, situated and bodily nature. Making as participatory technique, we suggest, reveals and embraces community and individual values, knowledges and transformation. As such, it operates as both a mechanism for empowerment and also an informative analytical and design tool towards better architectural environments.

Gillick, A. (2018). Cooperative City Development.

in:

Test Unit Symposium

.

.

Available at

:

https://agile-city.com/events/opening-symposium/

.

Gillick, A. (2018). Culture in Scotland: Who's missing?

in:

Imagination - Scotland's Festival of Ideas: Culture in Challenging Times

.

Gillick, A. and Ivett, L. (2017). Building culture: co-production, context and justice.

in:

Anderson, J. ed.

AAE Conference 2017: Architecture Connects

.

Oxford Brookes University

,

pp.

183-190

.

Available at

:

tinyurl.com/yazvyn4s

.

As scholars have demonstrated mainstream architectural practice is characterised by collaborative and contingent activities, rather than by the autonomous vision of independent geniuses. Coproduction also functions throughout the global south as a normative mechanism of urban development, throughout the conception, design, construction and maintenance of buildings and the urban realm, both within the formal and informal sectors. The long history of coproduction likewise demonstrates not only its normativity but also its benefits to processes of urban, economic and social development and its centrality to considerations of justice within democratic society. As theorists demonstrate, coproduction's central quality as a mechanism for empowerment derives from the collective making and curation of common goods and satisfies the often competing values of lay, institutional and professional actors. Coproductive 'making' results in both improved products but also increased capacity and empowerment and critically, reveals insights about common needs and capacities to designers within development contexts. Through citizen-led making, creative practices and building, a more sensitive description of existing and future context is revealed. However, the reality and imperative of coproductivity is largely absent from architectural education in the UK, both in project conception and in design and realisation processes. This renders student architects not only less prepared for the reality of practice, but also with a skill-set less reliably applicable within other industries and less able to influence the urban environment towards the common good. As such, increasing coproduction within academic practice is essential if architectural education is to enable graduates to operate fruitfully, collaboratively and with agility in fluctuating social and urban contexts. Focusing on the work of two practices in India and Scotland, this paper describes coproductive architectural approaches and output and how common components of coproduction between institutional, educational and community actors can be seen to not only to generate better urban space but for the designer operates to generate improved understanding of social, environmental and economic contexts and therefore better architecture. The paper then describes how such approaches can be fruitfully integrated into learning environments, both academic and 'in the field', towards architectural education more closely aligned to social context, enabling new practitioners to engage more broadly in urban culture towards socially just ends.

Gillick, A. (2017). Dorothy Henderson, Tenements and Grassroots Action in Glasgow.

in:

Society of Architectural Historians 2017 Annual International Conference

.

Gillick, A. (2016). Dreams of Docklands: Housing and the rebirth of London Docklands 1971-1998.

in:

Back to the City: Urbanism, density and housing 1976 - 2016

.

.

Available at

:

https://www.festivalofarchitecture.scot/files//2016/03/21/25B789A1-8CBC-C5D4-E288-C7E26C15113E.pdf

.

Gillick, A. and Proctor, R. (2016). The Architecture of Twentieth-Century Pilgrimage in Scotland.

in:

SCHA 2016 CONFERENCE

.

.

Available at

:

https://callsforpapers.ihbc.org.uk/?p=371

.

Ivett, L. and Gillick, A. (2016). Constructing Community: Synthesizing Lay and Professional Knowledge in Architecture.

in:

Wroot, I. ed.

AMPS Liverpool 2016. Government and Housing in a Time of Crisis: Policy, Planning, Design and Delivery

.

AMPS

,

pp.

75-86

.

Available at

:

http://radar.gsa.ac.uk/5547/

.

Architectural development practices for marginal communities have, in recent decades, sought to mediate conflicts between donors and recipients through participatory design exercises. These have been undertaken with the intention of developing greater reciprocity between parties and within communities, better "fit" between product and user needs, as well as the promotion of broader democratic concerns, in pursuit of a more responsive built environment, in line with pluralist agendas. In short, participation is seen to promote political representation and further to concretize it in the built fabric of settlements, building in local identities and establishing physical spaces for communal discourse. The value of participation as a strategy has, however, been challenged in recent years with the suggestion that, in contrast to the rhetoric, "there is little evidence of the long-term effectiveness of participation in materially improving the conditions of the most vulnerable people" (Cleaver 1999). This constitutes a real issue for architecture, which has had until recently few alternative tools to ensure meaningful "user" representation in the design and construction of housing. This paper describes the work of Baxendale, a multi-disciplinary architecture and design company based in Glasgow, Scotland, which practises alternative models of urban development towards addressing this problem, engaging community, local and state actors in iterative and needs-centred design and production processes. Looking at case study projects, this paper describes how synergistic processes of design and production can be used to mediate between competing interests in urban development towards producing inherently pluralistic, networked and empowering urban environments.
Edited book
Gillick, A. and Ivett, L. eds. (2018).

Test Unit

.

[Online]

.

Glasgow, UK

:

Glasgow Urban Lab, dpr-barcelona

.

Available at

:

http://agile-city.com/agile-city-research/test-unit-2018-publication/

.

A book exploring the development of Test Unit, a summer school in Glasgow, UK which explores cross-disciplinary approaches to city development, initiated and run by Agile City, A Feral Studio
and Baxendale.
Show / exhibition
Gillick, A. and Proctor, R. (2012).

Churches in the Modern World: Roman Catholic Church Architecture in Britain, 1955 to 1975. Exhibition

.

[Mixed media]

.

Available at

:

http://radar.gsa.ac.uk/3017/

.

This exhibition on catholic church architecture between 1955 and 1975, which Dr Ambrose Gillick co-curated with Dr Robert Proctor, presented nine significant case study buildings using new archival research, new and archive photography, new drawings, original architects? sketches and quotations, alongside important quotations from documents of the period, including the Second Vatican Council. The case studies were selected to illustrate three key themes in the research: Tradition and Modernity; Devotion and Liturgy; Church and City. The exhibition was designed by Collective Architecture to be freestanding for placement in non-traditional venues such as churches. It was shown at seven venues ranging from major cathedrals of the period to the Lighthouse centre for Architecture and Design in Glasgow. It is the first time that this period of church architecture has been comprehensively researched and the exhibition venues have brought new knowledge to a wide set of new audiences. The exhibition was one of the outputs from a research project funded by the AHRC and the Paul Mellon Centre (Proctor is the Principal Investigator and grant-holder), other outputs of which include conference papers and a book, to be published in 2014. Dr Gillick's contribution to this output included primary research in archives and architectural practices, discovering significant new material on the subject, making and preparting plan drawings and photographs, collaboration in exhibition design, and organising venues for the exhibition. It is estimated that the exhibition was viewed by 15,000 visitors, often coinciding with major events at these venues, including, for example, the Liverpool Biennale and Heritage Open Days.
Thesis
Gillick, A. (2013).

Synthetic Vernacular: The Coproduction of Architecture

.

Available at

:

https://www.escholar.manchester.ac.uk/uk-ac-man-scw:208191

.

The Gujarat earthquake of 2001 caused widespread devastation to livelihoods and the built environment, demolishing or badly damaging in excess of 400,000 buildings in the Kutch region as well as killing upwards of 15,000 people. This research examines the work of Hunnarsh?l?, an urban development and architecture firm based in Bhuj, Gujarat, India who, in response to the immediate and long-term needs apparent in the aftermath of the earthquake, proposed an owner-driven redevelopment strategy which sought to promote the socio-cultural needs of the ?users? as embodied in the artefacts and processes of the vernacular traditions common to the communities, as essentially empowering and therefore critical to the long-term sustainability of any reconstruction work. Hunnarsh?l??s approach is an illustration of the coproduction of housing, leading to what is termed here as ?synthetic vernacular architecture?. The thesis explores the potential of the coproduction of housing as an alternative model for architectural development for disadvantaged individuals and groups, with the potential for broader application in other contexts. Using three settlements on which Hunnarsh?l? worked as case studies, this research examines the efficacy of such an approach through both artefacts and processes of production as found in the field through a qualitative methodological approach based on ethnographic and design analysis methods. The research indicates that whilst there are distinct and problematic issues raised by an approach such as that used by Hunnarsh?l? in the context of Kutch, their approach is an illustration of the coproduction of housing, Such an approach has not been investigated to any significant degree in terms of its potential as a means of making culturally resonant architecture and therefore as a strategy of empowerment. This it is felt is an oversight which this research seeks to remedy.
Forthcoming
Gillick, A. and Ivett, L. (2019). The Parliament Sits in the Land.

in:

Hassan, G. ed.

Restless Nation: 20 years of the Scottish Parliament, Politics and Power

.

Edinburgh University Press

.

Proctor, R. and Gillick, A. (2018).

Pilgrimage and Visual Genre: The Architecture of Twentieth-Century Roman Catholic Pilgrimage in Scotland

.

Material Religion: The Journal of Objects, Art, and Belief

.

As Roman Catholics gained confidence in twentieth-century Scotland, they revived pre-Reformation shrines and pilgrimages and created new shrines with transnational connections to the modern Catholic world. Three sites in this campaign were Carfin, a new pilgrimage center based on Lourdes; Whithorn, site of medieval pilgrimages to Saint Ninian; and Dunfermline, associated with the canonized Queen Margaret of Scotland. Each had different meanings for Scottish Catholicism. The landscapes of these shrines included proposed new buildings, completed buildings, including shrines and churches, and existing features, notably caves or grottoes and medieval ruins. Whether found, professionally designed, or made by the clergy and their congregations, these sites framed and ordered pilgrimage rituals and lent them meaning. Seeing common architectural, visual features across these pilgrimages, and drawing on new archival research, we suggest that the employment of recognizable visual genres was a key way of creating a consensus amongst the faithful. International symbols of saintly presence were remade for the local context, with intertwined religious and political intentions, giving tangible expression to a revived Catholicism in Scotland, and promoting a new vision of Scotland as a Catholic nation.
Last updated