Our vision
Kent School of Architecture and Planning has a forward-thinking philosophy. We combine contemporary research with an educational framework that prepares you for the academic and professional world.
Our students in both Architecture and in Graphic Design and Spatial & Interior Design benefit from one of the most advanced learning environments in the UK. As well as a creative studio culture, you gain experience in using the latest facilities and equipment, which prepares you for work in the industry or further study.
We have developed and maintain strong links with local businesses, regional communities and built environment professionals. This has led to our students and graduates working alongside each other on projects directly affecting the local region, as well as many of our students going on to work at professionally respected architectural practices across the world.
State-of-the-art facilities
Kent School of Architecture and Planning is equipped with the latest resources including modern design studios, a dedicated model workshop featuring laser-cutting facilities and 3D printing, and a computer studio with the latest technology.

Our state-of-the-art digital crit space has eight high-tech, 75" Clevertouch screens with HD resolution. These give our students and tutors the chance to interact and contribute to presentations and tutorials.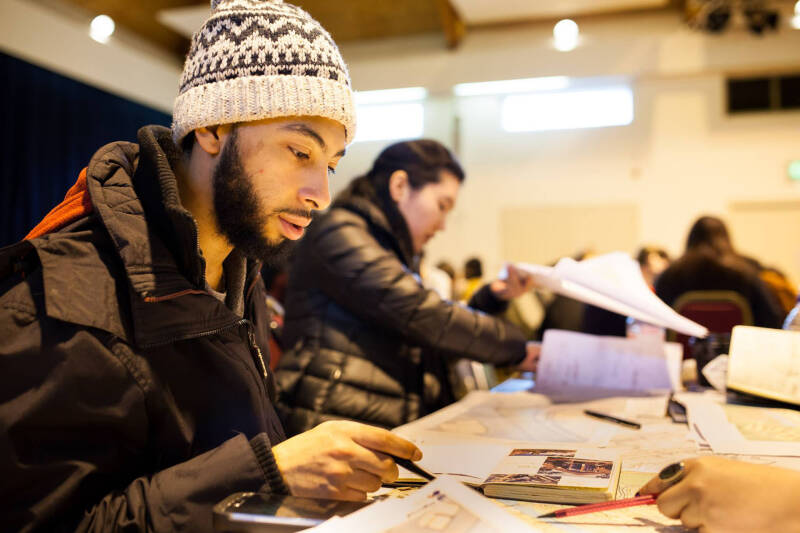 Inspirational teaching
Our enthusiastic academic staff have many years of teaching experience at degree level and particular strengths in historical, environmental, technical and digital aspects of the subject. We take an innovative approach to teaching that develops your design confidence through experimentation and project work.

Your academic study is complemented by a mentoring scheme with the Royal Institute of British Architects (RIBA). You also benefit from practical involvement with local architects and projects, as well as learning experiences available outside Kent School of Architecture and Planning such as field trips and study tours.
Research excellence
Kent School of Architecture and Planning has an international reputation for the quality of its research. Our research staff are active at academic and professional conferences, both nationally and internationally, and appear and publish in local and national media.

We promote innovative and interdisciplinary research, emphasising sustainable design. We host three research centres: the Centre for Research in European Architecture (CREAte), the Centre for Architecture and Sustainable Environment (CASE) and Digital Architecture Research Centre (DARC).
Computing has grown from something a minority of draughtspeople engage with to being inherent in everything we do.
Impressive prospects
Studying with Kent School of Architecture and Planning equips you for a successful career. As well as enhancing your professional skills, we also develop your transferable skills such as communication, team working, problem-solving and computer literacy.
Many of our students go on to work at professionally respected architectural practices across the world, such as Grimshaw Architects, Farrells, HLM Architects, HOK, Jestico + Whiles, and Herzog & de Meuron. Our graduates have also followed careers in professions related to design, graphics and visualisation.
Professional recognition
Our programmes are validated by RIBA, and the awards are prescribed by the Architects Registration Board (ARB). This allows you to work towards full accreditation as a professional architect.

Successful completion of the Architecture BA (Hons) provides exemption from Part 1 of the ARB/RIBA exams, while the two-year MArch programme provides exemption from Part 2 of the ARB/RIBA exams.
Location
Kent School of Architecture and Planning is based on our Canterbury campus with its first-class academic and leisure facilities. We are equipped with the latest resources and our beautiful setting offers plenty of tranquil spaces to study and relax.
Everything you need on campus is within walking distance, including a general store, a bookshop, bank, a medical centre and a pharmacy. You can go off campus to explore the city's medieval buildings, historic pubs and an array of shops, and London is just an hour away by train.