Key facts
En-suite bathroom
Shared kitchen facilities
5-8 students per flat
39 week contract (primarily for UG students): £7,897.89 pa (£202.51 per week)

52 week contract (for PG students): £8,386.03 pa (£162.61 per week) for a standard room - £9,479.86 pa (£183.82 per week) for a large room
Woolf College Studio 52 week contract (for PG students): £9,985.26 (£193.62 per week)
Virtual tour | Image gallery | Prices 2022/23 | Living in Woolf
Our accommodation
Woolf College is located on central campus and is home to both undergraduate and postgraduate students with three en-suite room types available. However, students from different levels of study are not housed together meaning your flat will be solely UG or PG occupancy with contract lengths offered which match your term dates.

Standard and large en-suite rooms
Standard en-suite are rooms are available to both undergraduates and postgraduates. Large en-suite rooms are also available only for postgraduate students and include a double bed instead of single with extra study space.
With all en-suite rooms students live with between 5-8 people in their flat, and share a large kitchen and dining area.
Undergraduate and postgraduate student accommodation is available on a 39 week fixed term contract running from September to June. This includes the winter and spring vacations meaning you can stay in your rooms during these vacation periods if you wish.
Postgraduate student accommodation is also offered on a 52 week fixed term contact, running from September to September, which includes the summer term and vacation periods.
Woolf College Studios
We also have a number of Woolf College Studios available for postgraduate students. Here your accommodation is self-contained with a kitchen included within your en-suite room.
Studios are suitable for single occupancy on a 52 week contract costing £193.62 a week. Your contract runs from September to September and includes the summer term and vacation periods. We also have accessible studio flats available.
Applying for accommodation
If you are completing a shorter academic course that is under 39 weeks you will need to apply for Darwin Houses, where contracts are available for shorter period to match your registration dates.
Postgraduate student? Become an RLA for discounted accommodation fees
We want to support all students whilst they are living with us on campus, and some of the best people our undergraduate students can ask for advice is you so you can share your experience with them and be part of a student community.
Our College and Community Life team hire postgraduate students to become Resident Life Assistants (RLA's) every year. In return for you supporting your fellow students, RLA's can live in a standard en-suite room in Woolf College for just £3,250.85 on a 52 week contract (rather than the full £8,010.59).
90.1% of Woolf respondents were satisfied or very satisfied with their rooms.
Come and see us
The Canterbury campus has excellent transport links and is easy to get to from London. Visit our Maps and Directions page and make sure you have a look at our Open Day information to find out more about how you can visit our campus.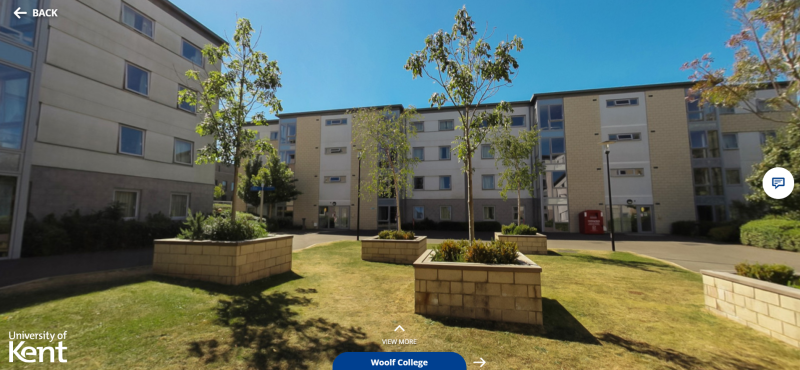 Get connected
Did you know we're on social media? If you have any questions about accommodation at the University of Kent, before you arrive or at any time throughout your studies, we're only a call or email away. You can also contact us on Twitter or Facebook.
Living in Woolf College
Whether you are an undergraduate of a postgraduate there are a few things you should know about Woolf College for before you arrive. It's your home for a year, so do everything you can to make the most of your time here.
Bedding sizes and information
The bed sizes in Woolf College vary depending on the room type. Make sure you know which bed size you have by checking on our bedding guide.
You can bring your own bedding, or purchase a bedding pack plus other essentials at our partner site UniKitOut once you have been allocated to your room.
Catering packages
The Flex Catering Package is open to all students living on or off campus. It offers an enormous amount of flexibility as well as a huge discount by paying in advance. See the Catering website for full information.

The KentOne card can be used in a number of catering outlets and shops on the Canterbury and Medway campuses. It allows you to claim an exclusive 10% discount at a selection of outlets or can simply be used as a cashless payment card. Find out where you can use your KentOne card.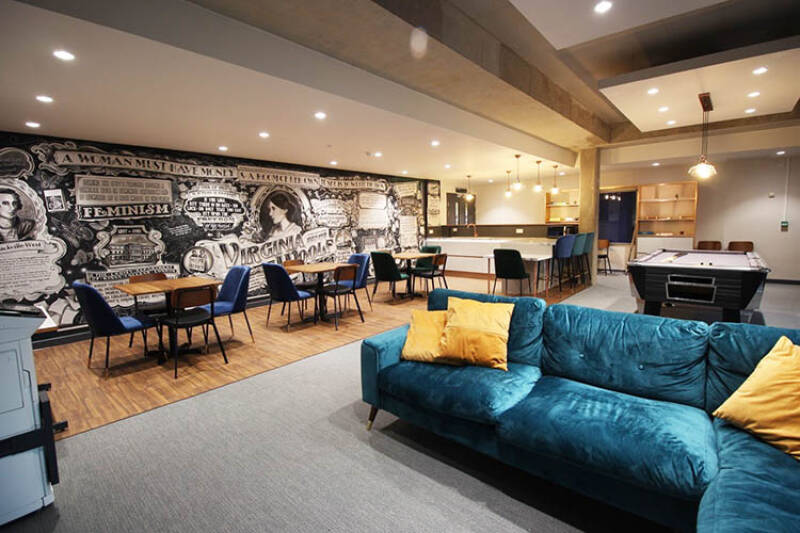 Support services
Each accommodation area is part of a College with Woolf being part of Woolf College.
Colleges are looked after by the Colleges and Community Life Team who can offer you advice, help and support on a variety of topics on University life. They also oversee the College Life Assistants (CLA) on campus who are typically postgraduate students available to offer advice and support.
The University also has an award-winning Student Support and Wellbeing Team that offers a range of services including emergency support, community events, counselling, support groups, accessibility and learning support and much more.
For day to day enquiries, such as mail and parcels, receptions are located in each college. Our reception teams offer a wealth of knowledge about student accommodation and the University campus. They also provide a photocopying and general information service. See the Woolf College reception hours and contact details.

Home at Halls app
The Home at Halls app is available for Woolf College students to download for free on Android and Apple devices. The app allows you to:

Complete your inventory
Log a maintenance issue
Receive updates on what's happening in Woolf College
Sign up to events
Give feedback
Where to eat
Your nearest catering outlet is Origins Bar & Grill in Darwin College. It is the only restaurant on campus offering a menu filled with classic American smokehouse dishes. Think ribs, pulled meats, skewers and burgers, followed by tasty classic American desserts for those with a sweet tooth. For opening times and menus, see the Catering website.
Laundry facilities
Woolf College has its own launderette, open 24 hours a day, with laundry facilities run by Circuit Laundry. One washing machine cycle costs £2.70 and one tumble dryer cycle costs £1.30. This can be paid via a top-up card.