When you move into university accommodation, it's important to take a few essentials to get you started. We have partnered with UniKitOut, specialist suppliers of student essentials and university packs, to provide a one-stop-shop for all the things you may need when moving away from home.
UniKitOut offers a wide range of products, from essentials like crockery and clothes hangers to items which make your room more homely.

To help you out a little more, UniKitOut has grouped some of the essentials into bedroom, kitchen and bathroom packs. For example, your bedroom pack would contain a duvet, bedsheets/linen and a pillow.
These can all be delivered direct to the University of Kent, so that's one less thing to worry about.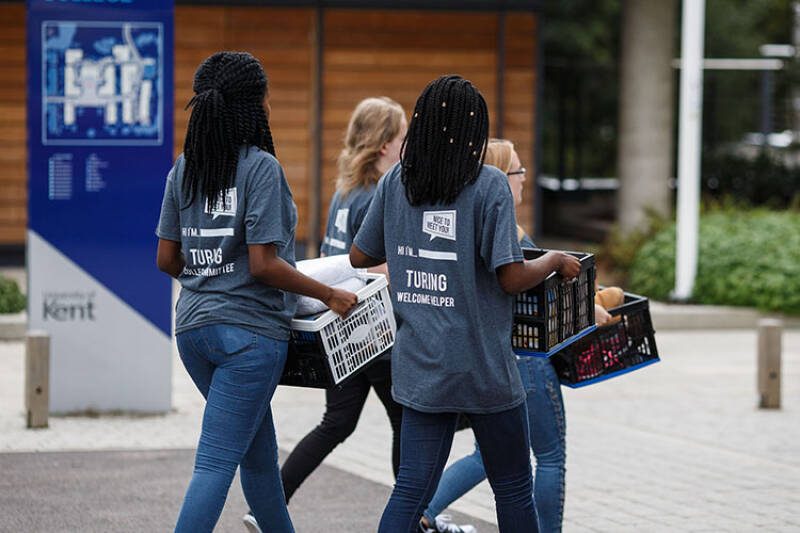 Direct delivery
September 2020 Arrivals.
If you order your items before 5pm on Tuesday 1 September for our earlier arrivals dates of 5 September, UniKitOut will deliver them directly to the University of Kent campus and our housekeeping teams will put your orders directly into your bedroom for you.
This means that on the day, after you have checked in at reception for your room keys, unloaded and moved your car to your designated car park, you will find your box/es in your bedroom.
If you are ordering after the 1 September, or at any other point during the year, you must fill in your address manually and it will be delivered in the same way as all your other mail - either direct to your door or held at your college reception. When entering your address it is important to include your full address including your room information as well as the college.
Top tips
Along with UniKitOut we have helped produce this handy online packing checklist (PDF 226KB) of things you may need when moving in to University to get you started.
We also recommend that you check what's already included with your room on our what to bring page, and don't forget that you won't need some items (such as a kitchen pack) in part-catered accommodation!

Don't forget to always double check your room's bed size before buying any bedding with UniKitOut or independently.
FAQs
Can I buy items offline?
No, you can only purchase UniKitOut items through their website.
When is the deadline for my order to be delivered for Arrivals Weekend?
If you want your items to be delivered direct to the University for your arrival, will need to have completed your UniKitOut order by 17.00 on Tuesday 1 September.
What do I do if I entered the wrong details when purchasing my item(s)?
You need to contact UniKitOut directly to update your information as soon as possible.
Does the bed come with a mattress protector and pillows?

Each bed will come with a mattress protector, one pillow for single beds and two pillows for double beds.
What if I am arriving after 5 September?

If you are arriving after 5 September), UniKitOut will arrange for delivery and the package will be treated the same as any other postal delivery sent to you while living on campus - either delivered directly to your accommodation or to your college reception (who will notify you of its arrival) for you to promptly sign and collect. If you are arriving in January please see the below question.
What do I do if I am arriving in January 2021?
You can still order items through UniKitOut for delivery, however there will be a deadline set to ensure your package will be delivered to campus and placed in your room for your arrival - further details and the deadline date will be posted closer to the time. If you order after this date then items will be delivered to your nearest accommodation reception and available for collection during reception opening hours once you have arrived.