Every October, Black History Month is celebrated across the world, with all being invited to explore the rich culture, origins, histories, and achievements of African and Caribbean communities and their diaspora.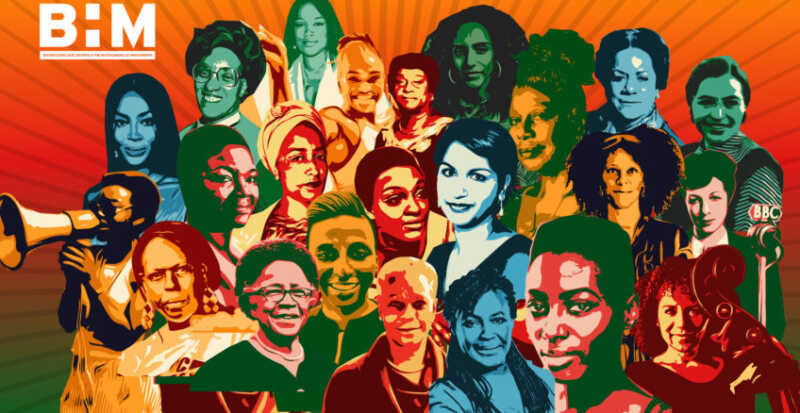 This year the theme is Saluting Our Sisters; celebrating and recognising the achievements of Black, trans and non-binary women have played in shaping the cultural, economic, political, and scientific landscapes of Britain - and globally.
There are dozens of events students and staff can get involved in this month, organised by the Black History Month Working Group and the #Black365 group. These groups represent Black staff and students at Kent and also includes Allies. Some key highlights include the Ẹwà : Beauty exhibition by Nigerian artist Abolore Sobayo and the Black Student Market, but do check the planner out for the full calendar.
In addition there are national events taking place - full information on the National Black History Month webpages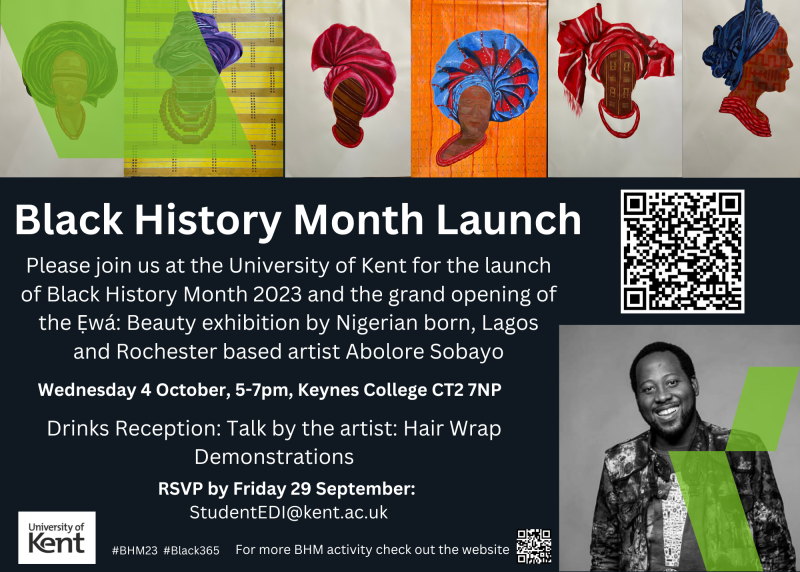 Living Black at University
In 2022 Unite Students, alongside Halpin Partnership, investigated and released a report that shone a light on the experiences of Black university students in UK student accommodation.
At Kent, the Accommodation Team read that Living Black at University report and decided we needed to do better too.
As one of Kent's first projects a new 'Living Black at Kent' booklet has been produced to act on one of the report's recommendations. Collaborating with current Black students and staff for recommendations, the 'Living Black at Kent' booklet aims to highlight local services and businesses close to our campuses that may help give new Black students a head start in getting settled into their new surroundings and finding their feet in their new home at university.
Black History Month Resources
The University of Kent, Information Services and Kent Union are working together to celebrate 2023's Black History Month.
Check out our resources list, featuring 120 books, films, websites, and classic and modern fiction and non-fiction, from all over the world which explore what it means to be Black both historically and in the world today.
The theme this year is 'Saluting Our Sisters' and we have added a whole new exciting section called 'Sisterhood' for you to check out.
Some of these books are available to borrow from the Templeman or the Drill Hall Libraries and will be on display throughout October, whilst others you will need to source yourself.
Black History Month and your wellbeing
Black History Month can be a time of celebration, but also highlights injustices, past and present. The increased awareness of racism during Black History Month can be challenging. For some, this month may:
Reinforce awareness about inequality.
Surface painful memories about encountering racism.
You're not alone. Joining a society or network could give you a safe space to be heard and reminds you that you are not alone.
It's not your responsibility to fix racism. Do not put too much pressure on yourself – this is a problem you cannot solve on your own.
The people around you all have a responsibility to make changes to their behaviour.
Report and Support
Use our online reporting tool 'Report and Support' to be part of a culture shift and get the support you need.
Student Support and Wellbeing have a free confidential counselling service.