Find out information about allergens, vegan options and other dietary requirements.
We are proud of the range of food and drink we offer. Each of our bars and bistros has its own identity and uniqueness, meaning there is something on campus to suit everyone. However there are things which remain consistent across all our outlets on campus - our commitment to ensuring that our services meet the needs of our diverse community. In each place you will find:
Vegetarian options and a range of healthy, nutritious food
Allergen information for every dish available on request
Quality local produce used wherever possible.
We cater for special diets – please have a chat to our team wherever you go who will be happy to help.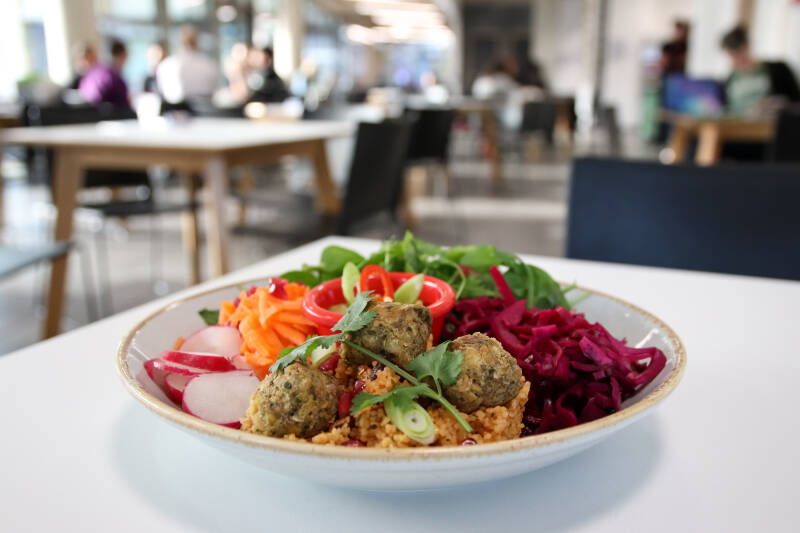 Allergies
If you wish to raise awareness of food allergies with your housemates then this Allergy Awareness poster can be downloaded and displayed in your accommodation.

Additionally if you wish to notify our Food Safety Advisor about your allergy you can complete our online Student Allergy Awareness Form (PDF 601KB) and email this to him direct (although please be aware that if you do not consent to be contacted by our Food Safety Advisor on the form we cannot get in touch with you to discuss your needs further). Even after completing this form it is important to always speak to a member of the catering team regarding any requirements when ordering from an outlet on campus.
If you have any questions regarding dietary requirements, food allergies and living on campus, or wish to discuss your needs with our Safety and Compliance Advisor please contact us at catering@kent.ac.uk