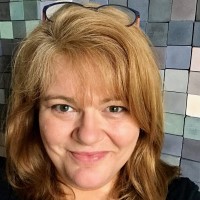 Lisa Dickson
Reader in Law
Co-Deputy Head of School
Director of Internationalisation
About
Qualifications: LLB, LLM, PGCHE

Lisa Dickson is a graduate of the University of Southampton.

Lisa teaches on Criminal Law modules and specialises in cybercrime and the use scientific evidence in criminal trials.  This is linked to her broader interest in privacy and data protection.

She is a member of the Kent Centre for Cyber Security, a GCHQ-recognised Academic Centre of Excellence in Cyber Security Research (ACE-CSR) and also of the research funded NeCS CESTN – Cyber Security Training Network at the University.
Research interests
Lisa is interested in cybercrime and privacy.  Her recent writing addresses the concept of privacy through legal objects and she is currently part of an EPSRC funded interdisciplinary project investigating PRIvacy-aware personal data management and Value Enhancement for Leisure Travellers (PriVELT).  

https://privelt.ac.uk/Main/HomePage
Teaching
Lisa's teaching responsibilities span across Privacy, Data Protection and Cybersecurity Law, Forensic Evidence in Criminal Trials and Criminal Law.
Supervision
Supervision

Lisa is happy to supervise in the areas of Privacy, Data Protection, Cyber Crime and Forensic Evidence within a legal context.
Publications
Article
Dickson, L. (2017).

Privacy & the Mashrabiya Screen: Knowledge is Sweeter than Honey

.

Northern Ireland Legal Quarterly

68

:341-352

.

This paper is offered to demonstrate the value of legal objects in the consideration of key legal concepts. In it I indicate the opportunities presented by an encounter with Susan Hefuna's large Mashrabiya Screen artwork in the British Museum to supplement, criticise and disrupt current thinking and attitudes towards the concept of privacy. In contrast to the increasingly contested and transactional nature of contemporary understandings of this concept, in which privacy is sometimes imagined just as one more complex function in the reasonable management of dataflows, Hefuna's screen can help to articulate and support a different approach to privacy. This approach is Privacy by Design, and through a consideration of the physicality of Hefuna's work, together with her own artistic ambition, my claim is that her art object helps to make the alternative approach to privacy manifest and tangible, prompting a reappraisal of the proper scope and nature of privacy protection.

Dickson, L. and Pethick, S. (2013).

Square Peg in a Round Hole: the inability of the courts effectively to substitute further procedural rules for due process in the assessment of expert scientific testimony in criminal trials

.

Durham Law Review

3

:50-102

.

Dickson, L. (2010).

Police access to NHS confidential medical records - a question of public interest.

Web Journal of Current Legal Issues

[Online]

2010

.

Available at

:

http://webjcli.ncl.ac.uk/2010/contents4.html

.

Thomson, S., Stancich, L. and Dickson, L. (1998).

Gun control and snowdrop

.

Parliamentary Affairs

51

:329-344

.

Cheney, D. and Dickson, L. (1997).

Children: Seen But Not Heard

.

Child and Family Law Quarterly

9

:421-424

.
Book
Uglow, S.

et al.

(2002).

Criminal Justice

.

London

:

Sweet & Maxwell

.

The second edition of Criminal Justice sets out to show the wider, socio-legal context of criminal law by explaining all parts of the criminal justice system. The reader will find comprehensive coverage of the institutions, the procedures and the decision-making processes which make up the criminal justice system, including the police, the prosecution and court processes, and the prison system. Recent developments are thoroughly analysed, including the proposals for the reorganisation of the criminal courts, changes in sentencing policy and reform of the youth justice system.
Book section
Dickson, L. and Pethick, S. (2001). Release.

in:

Leech, M. and Cheney, D. eds.

The Prisons Handbook

.

Waterside Press

,

pp.

354-363

.