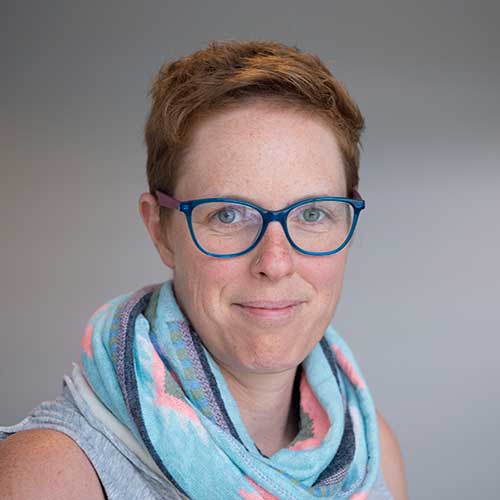 Professor Emily Grabham
Professor of Law
Co-director of Research
About
BA (Law) University of Cambridge; LLM Queen's University, Canada; MSc (Gender, Society & Culture) Birkbeck College, London; MFA (Creative Writing) University of British Columbia; PhD (Law) University of Kent. Qualified Solicitor. 

Emily is a socio-legal scholar with research interests in labour and employment law, law and time, and feminist legal theory. Her research draws on methods and perspectives from sociology and social anthropology.
Teaching
Emily teaches undergraduates in the area of Public Law.
Supervision
Emily would be happy to consider PGR supervision in her research areas.
Professional
Member of the ESRC Peer Review College

Member of the AHRC Peer Review College 2012-2015

Member of ESRC Doctoral Training Centre Assessment Panel 2016-2018

Member of the Socio-Legal Studies Association

Member of the Society of Legal Scholars

Member of University of Kent Peer Review College

Editorial board member, Feminist Legal Studies 2005-2018

Publications
Article
Grabham, E.

et al.

(2018).

Exploring Relationships between Time, Law and Social Ordering: A Curated Conversation

.

feminists@law

[Online]

8

.

Available at

:

http://journals.kent.ac.uk/index.php/feministsatlaw/article/view/652

.

This interdisciplinary and international 'curated conversation' focuses on the relationship between time, law and social ordering. Participants were drawn from law, sociology and anthropology in the UK, Canada and the Netherlands. Their research is inspired by, and engaged with, feminist theory, post- or anti-colonial perspectives and/or critical race theory. In an extended written conversation lasting several days (and later edited), participants reflected on how questions of time have emerged in their research, the ways in which they have struggled with conceptual or methodological dilemmas to do with analysing time in relation to law or social ordering. The conversation focused in particular on how constructions of race are co-imbricated with dominant temporal idioms and practices and the challenges this poses for researchers interesting in unpicking the knotted relationships between race, colonialism, and specific legal technicalities or approaches.

Grabham, E. (2018).

On Moving the Table: Reflections on an Author-Meets-Reader Session

.

Feminist Legal Studies

[Online]

.

Available at

:

https://doi.org/10.1007/s10691-018-9394-z

.

Through a commentary on the enriching experience of receiving feedback through the Brewing Legal Times author-meets-reader session in February 2018, this piece reflects on the intellectual generosity and scholarly labour that makes such sessions an important form of academic social reproduction.

Fletcher, R.

et al.

(2017).

Wench Tactics? Openings in Conditions of Closure

.

Feminist Legal Studies

[Online]

25

:1-23

.

Available at

:

https://doi.org/10.1007/s10691-017-9355-y

.

Picking up the question of what FLaK might be, this editorial considers the relationship between openness and closure in feminist legal studies. How do we draw on feminist struggles for openness in common resources, from security to knowledge, as we inhabit a compromised space in commercial publishing? We think about this first in relation to the content of this issue: on image-based abuse continuums, asylum struggles, trials of protestors, customary justice, and not-so-timely reparations. Our thoughts take us through the different ways that openness and closure work in struggles against violence, cruel welcomes, and re-arrangements of code and custom. Secondly, we share some reflections on methodological openness and closure as the roundtable conversation on asylum, and the interview with Riles, remind us of #FLaK2016 and its method of scattering sources as we think about how best to mix knowledges. Thirdly, prompted by the FLaK kitchen table conversations on openness, publishing and 'getting the word out', we respond to Kember's call to 'open up open access'. We explain the different current arrangements for opening up FLS content and how green open access, the sharedit initiative, author request and publisher discretion present alternatives to gold open access. Finally drawing on Franklin and Spade, we show how there are a range of 'wench tactics'—adapting gifts, stalling and resting—which we deploy as academic editors who are trying to have an impact on the access, use and circulation of our journal, even though we do not own the journal we edit. These wench tactics are alternatives to the more obvious or reported tactic of resignation, or withdrawing academic labour from editing and reviewing altogether. They help us think about brewing editorial time, what ambivalence over our 25th birthday might mean, and how to inhabit painful places. In this, we respond in our own impure, compromised way to da Silva's call not to forget the native and slave as we do FLaK, and repurpose shrapnel, in our common commitments.

Grabham, E. (2017).

Time and technique: the legal lives of the 26-week qualifying period

.

Economy and Society

[Online]

45

:379-406

.

Available at

:

http://dx.doi.org/10.1080/03085147.2016.1257257

.

This paper aims to bring an appreciation of legal form, technicalities, and legislative drafting to growing interdisciplinary literatures on time and governance. Scholarship across politics, geography, science studies and anthropology continues to trace the productive force and specific qualities of diverse temporal horizons. At the same time socio-legal scholars increasingly focus on the work of making and negotiating law, engaging with the dogged, everyday work of legal experts and bureaucrats. Yet little attention has been paid, to date, to the work of legislative drafters. This paper follows the 'legal lives' of qualifying periods on family-friendly employment rights. As examples of legal technicalities that work with time, qualifying periods form an important part of the regulatory structure that separates precarious workers from 'regular' employees in UK law. Drawing on documentary research and interviews with policy experts, union activists and legislative drafters, this paper focuses on the formal qualities of qualifying periods, arguing that these legal technicalities conjure time and legal form as inextricable. Whenever law becomes relevant to conversations about time and governance, we could usefully pay attention to the idiosyncrasies and controversies occupying legal form and legislative drafting.

Grabham, E. (2014).

The Strange Temporalities of Work-Life Balance Law

.

feminists@law

[Online]

4

.

Available at

:

http://journals.kent.ac.uk/index.php/feministsatlaw/article/view/101

.

Grabham, E. (2014).

Legal Form and Temporal Rationalities in UK Work-Life Balance Law

.

Australian Feminist Studies

29

:67-84

.

Grabham, E. (2012).

Bodily Integrity and the Surgical Management of Intersex

.

Body and Society

[Online]

18

:1-26

.

Available at

:

http://dx.doi.org/10.1177/1357034X12440825

.

Surgeries inevitably raise questions of bodily integrity: how the post-surgical body reframes (or does not reframe) its experiences of functionality to incorporate new features. Nevertheless, when we try to define or delimit the concept of bodily integrity, it becomes increasingly important to think about how the physical and social unease caused by some forms of surgeries sits alongside the more transformative potential of surgical bodily modification. This article focuses on aesthetic genital surgeries on infants with disorders of sex development (DSD, previously termed 'intersex' conditions). Using the work of Pierre Bourdieu and Elizabeth Freeman on time, bodies and 'chrononormativity', this article excavates not only the temporalities that produce what I would term 'chrono-abnormalities' of sex development, but also the temporalized medical responses, including surgeries, which retrieve 'abnormal' bodies into more normative time-lines. My conclusion is that when DSD-affected individuals experience aesthetic genital surgeries as painful and full of social unease this is not necessarily because the pre-surgical body was the 'natural', 'whole' or 'intact' body prior to surgery. Instead, it is because these surgeries interrupt what Bourdieu would term a sense of corporeal 'immersion into the forthcoming'; an immersion which, in his theory of time as social action, is intimately linked with social power and possibilities.

Grabham, E. (2011).

Doing Things with Time: Flexibility, Adaptability, and Elasticity in UK Equality Cases

.

Canadian Journal of Law and Society

[Online]

26

:485-508

.

Available at

:

http://dx.doi.org/10.3138/cjls.26.3.485

.

This paper focuses on the increasing significance of flexibility arguments to UK employment equality law. It makes use of the well-evidenced legal and governmental preoccupation with working time to investigate the production and circulation of concepts of flexibility through equality law case reports from the period 2001–2010. With case reports as my main focus, I trace how flexibility emerges through legal documental networks, so as to work out the contours of our collectively imagined "efficient" and "well-balanced" working practices. Human actors and significant non-human actors combine within and across case reports to produce and support a general set of understandings about legal flexibility. These understandings, as we have seen, suggest that flexibility is just as much a matter of organic or physical capabilities as it is of time. Concepts of elasticity, adaptability, and balance, therefore, force us to reconsider the meanings and motivations of governmental and oppositional constructions of work–life dilemmas. -----
Cet article s'intéresse à l'importance grandissante de la souplesse dans les lois britanniques sur l'égalité en matière d'emploi. En tenant compte de la préoccupation du temps de travail des systèmes légaux et gouvernementaux, nous examinons l'élaboration et la propagation des concepts de souplesse à l'aide de rapports d'enquête légaux en matière d'égalité durant les années 2001 à 2010. En portant une attention particulière sur des rapports d'enquête, nous soulignons la présence de la souplesse dans les réseaux de documents légaux, afin de circonscrire les notions collectives et imaginaires que sont les conditions de travail « efficaces » et « équilibées ». Dans ces documents ainsi qu'ailleurs, des facteurs importants, de nature humaine et non humaine, influencent notre compréhension de la souplesse légale. Comme nous l'avons vu, la souplesse semble résulter tant d'aptitudes organiques ou physiques que de la notion du temps. Par conséquent, les concepts d'élasticité, d'adaptabilité et d'équilibre viennent souligner les significations ainsi que les motivations présentes dans les constructions gouvernementales et contestataires des dilemmes travail-vie.

Grabham, E. (2010).

Governing Permanence: Trans Subjects, Time, and the Gender Recognition Act

.

Social and Legal Studies

[Online]

19

:107-126

.

Available at

:

http://dx.doi.org/10.1177/0964663909346200

.

The UK Gender Recognition Act 2004 contains a provision requiring that transgender applicants intend to remain in their acquired gender 'until death'. While apparently a straightforward administrative demand within a piece of archetypal New Labour legislation, this article argues that the requirement is unnecessary on the legislation's own terms. Focusing instead on the temporal work that the provision performs in relation to gender recognition, I situate it in relation to New Labour's 'social cohesion' rhetoric in the areas of immigration and race relations and argue that the permanence requirement is a temporal mechanism that links the supposedly linear development of trans bodies with racialized cultural and national integration.

Grabham, E. (2010).

Dilemmas of Value in Post Industrial Economies: Retrieving Clock Time through the Four Day Working Week?

Connecticut Law Review

42

:1285-1297

.

Grabham, E. (2010).

From Social Security to Individual Responsibility (Part Two) : Writing Off Poor Women's Work in the Welfare Reform Act 2009

.

Journal of Social Welfare and Family Law

32

:81-93

.

Grabham, E. (2009).

Shaking Mr Jones: Law and Touch

.

International Journal of Law in Context

5

:343-353

.

Grabham, E. (2009).

"Flagging" the Skin: Corporeal Nationalism and the Politics of Belonging

.

Body and Society

.

Grabham, E. and Hunter, R. (2008).

Encountering Human Rights: Gender/Sexuality, Activism and the Promise of Law

.

Feminist Legal Studies

[Online]

16 Spe

:1-7

.

Available at

:

http://dx.doi.org/10.1007/s10691-007-9070-1

.

Grabham, E. and Hunter, R. (2008).

"It's another way of making a really big fuss" Human Rights and Women's activisim in the United Kingdom: An Interview with Tania Pouwhare'

.

Feminist Legal Studies

[Online]

16

:97-112

.

Available at

:

http://dx.doi.org/10.1007/s10691-007-9081-y

.

Grabham, E. (2007).

Review of 'Feminism, Law, Inclusion: Intersectionality in Action' by Gayle MacDonald, Rachel L. Osbourne & Charles C. Smith (Toronto: Sumach Press, 2005)

.

Osgoode Hall Law Journal

44

:641-661

.

Grabham, E. and Conaghan, J. (2007).

Sexuality and the Citizen-Carer: The "Good Gay" and the Third Way

.

Northern Ireland Legal Quarterly

58

:325-342

.

Grabham, E. (2007).

Citizen Bodies, Intersex Citizenship

.

Sexualities

[Online]

10

:29-48

.

Available at

:

http://sex.sagepub.com/content/vol10/issue1/

.

The aim of this article is to assess the use of sexual citizenship and intimate citizenship in articulating a concept of 'intersex citizenship'. Intersex activism diverges in important ways from feminist, queer, lesbian and gay, and trans activism. Nevertheless, concepts of sexual and intimate citizenship help in thinking about the effects of family and kin structures on intersex corporeality, the impact of new technologies on intersex activism, and the advantages and disadvantages of consumer citizenship models for intersex claims, amongst other factors. As long as intersex issues are defined by medically disciplining techniques, there remains a need to think critically about how citizenship norms are constructed though responses to corporeality. Carol Lee Bacchi and Chris Beasley's concept of 'citizen bodies' provides a useful starting point both in attempting to theorize the norms underlying the hyper-embodiment of intersexual subjects, and in relating this hyper-embodiment to the construction of intersexual people as non-citizens.

Grabham, E. (2006).

Review of Carl F. Stychin 'Governing Sexuality: The Changing Politics of Citizenship and Law Reform' (Oxford: Hart Publishing, 2003)

.

European Public Law

12

:155-158

.

Grabham, E. (2006).

Taxonomies of Inequality: Lawyers, Maps and the Challenge of Hybridity

.

Social and Legal Studies

[Online]

15

:5-23

.

Available at

:

http://sls.sagepub.com/content/vol15/issue1/

.

Intersectional discrimination challenges not only the structure of equality law, but also the techniques that lawyers employ in assessing and arguing discrimination cases. Client forms, akin to questionnaires, assist lawyers in obtaining a full picture of the client's circumstances and in avoiding the omission of any potential legal remedies. Chronologies of events assist lawyers in mapping discriminatory events and establishing that the client is within the time limit for submitting a claim to the Employment Tribunal. These techniques reflect discrimination law's defensiveness against lived complexities, which in itself restricts possible intersectional analyses. For example, through chronologies, each discriminatory event is defined by reference to only one 'ground'. Discrimination law therefore links the passing of time itself to the categories it has produced. In this context, Homi Bhabha's concept of hybridity provides a useful way of describing how intersectional subjects relate to their categorization through law. It shows how legal subjects simultaneously adopt and resist the grounds that lawyers use to describe their experiences. If discrimination law is based on enabling legal subjects to speak for themselves, then we should investigate these possibilities for resistance.

Grabham, E. (2002).

Law v Canada: New Directions for Equality under the Canadian Charter?

Oxford Journal of Legal Studies

[Online]

22

:641-661

.

Available at

:

http://ojls.oxfordjournals.org.chain.kent.ac.uk/content/vol22/issue4/index.dtl

.

The equality provision in section 15 of the Canadian Charter of Rights and Freedoms 1982 was drafted with a vision of promoting substantive equality. Following challenges to this vision during the 1990s by a group of conservative Supreme Court judges, the recent judgment of Iacobucci J in Law v Canada (1999) has been welcomed for reasserting section 15's substantive ideal. But despite the effective manner in which the provision was drafted, and despite the recent guidelines set out in Law, interpretations of section 15 must continue to explore the complexities of intersectional inequalities and clarify any reliance on the ambiguous call to 'human dignity' if they are to maintain Canada's position near the forefront of progressive approaches to equality law.
Book
Grabham, E. (2016).

Brewing Legal Times: Things, Form and the Enactment of Law

.

Toronto

:

University of Toronto Press

.
Book section
Grabham, E. and Beynon-Jones, S. (2018). Introduction.

in:

Grabham, E. and Beynon-Jones, S. M. eds.

Law and Time

.

Routledge

.

Available at

:

https://www.routledge.com/Law-and-Time/Beynon-Jones-Grabham/p/book/9780415792219

.

Grabham, E. (2014). A likely story: HIV and the definition of disability in UK employment equality law, 1996-2005.

in:

Cloatre, E. and Pickersgill, M. eds.

Knowledge, Technology and Law: At the Intersection of Socio-Legal and Science and Technology Studies

.

Routledge

,

pp.

206-222

.

Grabham, E. (2011). Transgender Temporalities and the United Kingdom Gender Recognition Act'.

in:

Davies, B. and Funke, J. eds.

Sex, Gender and Time in Fiction & Culture,

.

Palgrave Macmillian

.

Grabham, E. (2009). Intersectionality: Traumatic Impressions.

in:

Grabham, E. et al. eds.

Intersectionality and Beyond: Law, Power and the Politics of Location

.

Routledge

,

pp.

183-201

.
Edited book
Grabham, E. and Beynon-Jones, S. eds. (2017).

Regulating Time

.

Abingdon

:

Routledge

.

Grabham, E.

et al.

eds. (2009).

Intersectionality and Beyond: Law, Power, and the Politics of Location

.

United Kingdom

:

Routledge-Cavendish

.
Other
Barker, N.

et al.

(2008).

Response to the DWP consultation paper: No one written off: reforming welfare to reward responsibility

.

[internet]

.

Available at

:

http://www.kent.ac.uk/clgs/centre-files/consultation_responses.html

.
Forthcoming
Grabham, E. and Beynon-Jones, S. eds. (2018).

Law and Time

.

[Online]

.

Routledge

.

Available at

:

https://www.routledge.com/Law-and-Time/Beynon-Jones-Grabham/p/book/9780415792219

.
Last updated