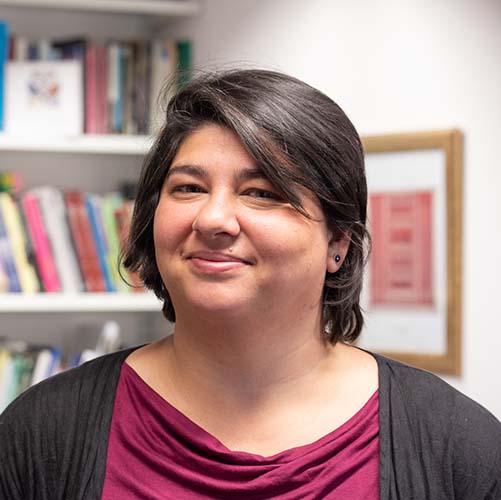 Dr Suhraiya Jivraj
Reader in Law
Deputy Director of Education (Decolonizing the Curriculum)
Co-Director of the Centre for Sexuality, Race and Gender Justice
Module Convener
About
PhD (University of Kent), PGCHE (Oxford Brookes University), LLM (University of London), Postgraduate Diploma in Law (CPE) and Legal Practice (LPC) (BPP Law School), MA Arabic & Persian (University of Edinburgh). 

Dr Jivraj is a Senior Lecturer in Kent Law School. Her work draws on critical race/religion theories and feminist/queer of colour de-colonial perspectives to explore contemporary socio-legal problematics in the fields of law and religion, equalities, anti-discrimination and human rights law, gender and sexuality and Islamic family law. 

Her monograph 'The Religion of Law: Race, Citizenship and Children's belonging' (Social and Legal Studies Series, Palgrave Macmillan, 2013) examines juridical conceptualisations of religion and its relationship with 'race', firstly, in child welfare law involving parents of minority faith; and secondly, faith schools law and policy. Her subsequent journal publications explore these issues in relation to British/universal values and their regulatory impact on minoritised people. Dr Jivraj has also been Principal Investigator of a British Academy and Leverhulme funded project exploring gross national happiness and sustainable development in Bhutan and wellbeing policy making in the UK. Her focus is to interrogate the co-imbrications of terms such as 'religion' and 'secularity' and their regulatory impact through government law and policy (see publications below). Her current work in this area is primarily focused on collaborating with Muslim women-led initiatives on gender and race/religion (in)equalities from an intersectional and decolonial approach that goes 'beyond the promise of secularism'.  

Dr Jivraj is also the Co-ordinator and Principle Investigator of the previously AHRC funded Decolonizing Sexualities Network which brings together a transnational network of scholars and civil society activists working across issues of race, religion, sexuality and gender. You can read more about here and see its current work here including archive of the decolonial cafés. The project produced a collection of academic and creative/fiction pieces co-edited by Dr Jivraj entitled: 'Decolonizing Sexualities: Transnational Perspectives, Critical Interventions' (2016). As the project is committed to being accessible as possible the book is available via open access on a 'pay what you can' basis here. 

Her current work brings together her ethical commitment to critical and inclusive pedagogy and decolonizing work. She was awarded a UoK Teaching Enhancement Small Support Award (TESSA) in 2018/19 to collaborate with her Race, Religion and Law Module students on decolonizing the curriculum (DtC). The project soon extended across the university resulting in the DecoloniseUKC Manifesto. The DtC is now continuing through Suhraiya's role as Deputy Director of Education for Decolonising the Curriculum and under her Directorship of the Centre SeRGJ. In particular, she is co-ordinating the student-led Kaleidoscope Hub activities and the Kaleidoscope Network for staff and students. This project constitutes part of her broader work on decolonising knowledge production. 

Dr Jivraj's research in this area includes a Social and Legal Studies Association (SLSA) funded empirical study entitled: 'Embracing and Reflecting increasing BME Diversity in Law School Curricula: Why and How?'. The 'Decolonising Law Schools' project aims to improve understanding of the 'inclusivity' of contemporary law curricula to highlight instances of failure and success and to begin to co-develop an agenda for change supported by the legal profession. More information as well as the survey for law school teachers can be found here.
Research interests
Critical Law and Race/Religion perspectives; Anti-discrimination and Human Rights Law; Post/de-colonial (Queer) Studies; Intersectionality – Race/Religion, Gender & Sexuality; Muslim feminisms and Islamic Family law; Critical Happiness Studies; Decolonizing Sexualities. 
Teaching
Suhraiya's undergraduate teaching responsibilities span
across Public Law and Race/Religion, Gender/Sexuality Justice and Law and she is also Deputy Director of Education with a decolonising the curriculum portfolio. 
Supervision
Dr Jivraj has supervised students to completion working in the areas of
critical race/religion studies; intersectional, feminist/queer post/de-colonial approaches to of race/religion, gender and sexuality including on (Muslim) family law. She particularly welcomes (queer) students of colour wanting to draw on epistemologies/perspectives from the global south.
Professional
Socio-Legal Studies Association

Society of Legal Scholars

Constitutional Law Association

Publications
Article
Alessandrini, D. and Jivraj, S. (2017). Conceptualising the Economy-Society Nexus in Well-Being and Happiness Initiatives: Gross National Happiness in Business in Bhutan and Social Impact Bonds in the United Kingdom. International Critical Thought [Online] 7:526-546. Available at: https://dx.doi.org/10.1080/21598282.2017.1357482.

This article explores how well-being and happiness (WBH) is conceptualised in different geographical contexts, and how this understanding is able to affect policymaking and engender socio-economic and legal change. Whilst WBH initiatives seemingly stem from a critique of gross domestic product as a measure of societal "progress," we show how, in itself, such critique cannot be the basis for understanding WBH as a unitary transnational phenomenon that offers a radical re-thinking of the relationship between economy and society. By focusing on two concrete instances and specific sites, that of the Social Impact Bond in the United Kingdom and the "Gross National Happiness in Business" project in Bhutan, we argue that individual contexts and initiatives must be closely studied, and suggest that conflations between different well-being agendas need to be avoided to pay closer attention to the ways in which well-being can be co-opted or fashioned through policymaking and government initiatives.

Alessandrini, D., Jivraj, S. and Zokaityte, A. (2015). Exploring Well-Being and Gross National Happiness in Sustainable Development Policy Making. Indian Journal of International Economic Law [Online] 7:52-88. Available at: https://www.nls.ac.in/resources/ijiel2015.pdf.

Jivraj, S. (2013). Interrogating Religion: Christian/secular values, citizenship and racial upliftment in governmental education policy. International Journal of Law in Context [Online] 9:318-342. Available at: http://dx.doi.org/10.1017/S1744552313000165.

Douglas, S., Jivraj, S. and Lamble, S. (2011). Liabilities of Queer Anti-Racist Critique. Feminist Legal Studies [Online] 19:107-118. Available at: http://dx.doi.org/10.1007/s10691-011-9181-6.

Jivraj, S. and de Jong, A. (2011). The Dutch Homo-Emancipation Policy and its Silencing Effects on Queer Muslims. Feminist Legal Studies [Online] 19:143-158. Available at: http://dx.doi.org/10.1007/s10691-011-9182-5.

The recent Dutch homo-emancipation policy has identified religious communities, particularly within migrant populations, as a core target group in which to make homosexuality more 'speakable'. In this article we examine the paradoxical silencing tendencies of this 'speaking out' policy on queer Muslim organisations in the Netherlands. We undertake this analysis as the Dutch government is perhaps unique in developing an explicit 'homo-emancipation' policy and is often looked to as the model for sexuality politics and legal redress in relation to inequalities on the basis of sexual orientation. We highlight how the 'speakability' imperative in the Dutch homo-emancipation policy reproduces a paradigmatic, 'homonormative' model of an 'out' and 'visible' queer sexuality that has also come to be embedded in an anti-immigrant and specifically anti-Muslim discourse in the Netherlands. Drawing on the concept of habitus, particularly in the work of Gloria Wekker, we suggest that rather than relying on a 'speakability' policy model, queer Muslim sexualities need to be understood in a more nuanced and intersecting way that attends to their lived realities.

Jivraj, S. and Herman, D. (2009). 'It's difficult for a white judge to understand': Orientalism, Racialisation, and Christianity in English child welfare cases. Child & Family Law Quarterly 21:283-308.
Book
Jivraj, S. (2013). The Religion of Law: Race, Citizenship and Children's Belonging. Palgrave Macmillan.

How is religion, particularly non-Christianness, conceptualised and represented in English law? What is the relationship between religion, race, ethnicity and culture in these conceptualisations? What might be the socio-political effects of conceptualising religion in particular ways? This book addresses these key questions in two areas of law relating to children.

The first case study focuses on child welfare cases and reveals how the boundaries between race and theological notions of religion as belief and practice are blurred. Non-Christians are also often perceived as uncivilized but also, at times, racial otherness can be erased and assimilated. The second examines religion in education and the increasing focus on 'common values'. It demonstrates how non-Christian faith schools are deemed as in need of regulation, while Christian schools are the benchmark of good citizenship. In addition, values discourse and citizenship education provide a means to 'de-racialise' non-Christian children in the ongoing construction of the nation.

Central to this analysis is a focus on religion as a socio-political, contingent, fluid and invented concept.
Book section
Jivraj, S. (2016). Stopping a Racist March—Activism Beyond the Incommensurability of (Homo)Sexuality and Religion. In: Jivraj, S., Bakshi, S. and Posocco, S. eds. Decolonizing Sexualities: Trans-National Perspectives, and Critical Interventions. Counter Press. Available at: http://counterpress.org.uk/publications/decolonizing-sexualities/.

Jivraj, S. (2016). Decolonizing Understandings of Race, Religion and Sexuality. In: Bakshi, S., Jivraj, S. and Posocco, S. eds. Decolonizing Sexualities: Transnational Perspectives, Critical Interventions. Counterpress. Available at: http://counterpress.org.uk/publications/decolonizing-sexualities/.

Jivraj, S. (2008). Secularism. In: Cane, P. and Conaghan, J. eds. The New Oxford Companion to Law. Oxford University Press, p. 1063.

Jivraj, S. and de Jong, A. (2004). Muslim Moral Instruction on Homosexuality. In: Sears, J. ed. Youth, Education, and Sexualities. Greenwood, pp. 574-579.
Confidential report
Jivraj, S., de Jong, A. and Tauqir, T. (2003). The Safra Project: Initial Findings. Safra Project.
Edited book
Jivraj, S. (2016). Decolonizing Sexualities: Transnational Perspectives, and Critical Interventions. [Online]. Jivraj, S., Bakshi, S. and Posocco, S. eds. Counter Press. Available at: http://counterpress.org.uk/publications/decolonizing-sexualities/.
Research report (external)
Jivraj, S. and de Jong, A. (2003). A Resource on Sexuality, Gender and Islam. Safra Project.

Jivraj, S. (2003). Knowing Our Rights: Women, Family, Laws and Customs in the Muslim World. Women Living Under Muslim Laws.

Jivraj, S., de Jong, A. and Tauquir, T. (2002). Report of Initial Findings: Identifying the Difficulties Experienced by Muslim Lesbian, Bisexual and Transgender Women in Accessing Social and Legal Services. [Online]. Safra Project. Available at: http://www.safraproject.org.
Review
Jivraj, S. (2007). Book Review of 'Politics of Piety; The Islamic revival and the Feminist Subject. Feminist Legal Studies 15:247-249.
Last updated