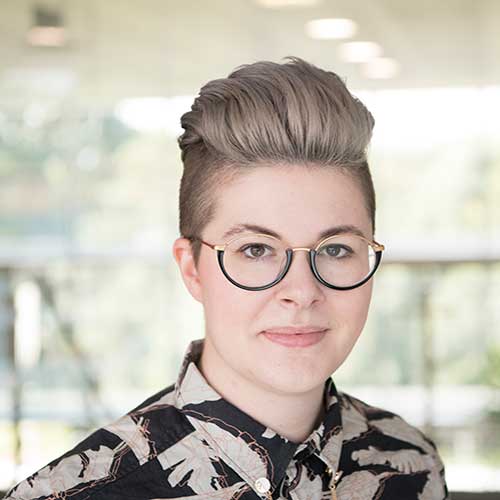 Dr Flora Renz
Lecturer in Law
Co-ordinator LLM Criminal Justice Pathway
About
Flora joined Kent Law School in 2017 as a Lecturer. Flora was previously a Lecturer in the Law School at City, University of London. Flora's research interests lie broadly in the area of gender, sexuality and law and the legal regulation of identities.

From 2012 to 2017 Flora undertook a University of Kent funded PhD at KLS. Flora's thesis was entitled 'The Gender Recognition Act 2004 and Transgender People's Legal Consciousness' and was an interdisciplinary examination of the regulation of gender identity in England and Wales. This research drew on empirical data, feminist and queer theory, and socio-legal methods. Prior to this Flora completed an M.Res in Social Science Research Methods (in Law) at Keele University and an LLB at the University of Leeds.
Research interests
Flora's research is concerned with the legal regulation of (trans)gender identities and sexuality in society and broader questions focusing on the interface between structural inequalities, law, gender, sexuality, and emotion. Flora is a member of the Centre for Law, Gender and Sexuality in the Law School.

Flora is currently a Co-I with Professors Davina Cooper (PI), Emily Grabham and Elizabeth Peel on the ESRC funded socio-legal project The Future of Legal Gender. This projects asks whether government should retain the current system of a legal gender assigned at birth.
Teaching
Flora teaches Undergraduate's in issues associated with Criminal Law, The European Union, Gender, and Sexuality. 
Supervision
Flora is happy to supervise students interested in pursuing work in the areas indicated in her research interests.
Professional
Flora is an Editorial Board Member of Feminist Legal Studies. 

Flora is a member of the SLSA Executive Committee.
Publications
Article
Boukli, A. and Renz, F. (2018).

Deconstructing the lesbian, gay, bisexual, transgender victim of sex trafficking: Harm, exceptionality and religion–sexuality tensions

.

International Review of Victimology

[Online]

.

Available at

:

https://doi.org/10.1177/0269758018772670

.

Contrary to widespread belief, sex trafficking also targets lesbian, gay, bisexual, transgender (LGBT) communities. Contemporary social and political constructions of victimhood lie at the heart of regulatory policies on sex trafficking. Led by the US Department of State, knowledge about LGBT victims of trafficking constitutes the newest frontier in the expansion of criminalization measures. These measures represent a crucial shift. From a burgeoning range of pre-emptive measures enacted to protect an amorphous class of 'all potential victims', now policies are heavily premised on the risk posed by traffickers to 'victims of special interest'. These constructed identities, however, are at odds with established structures. Drawing on a range of literatures, the core task of this article is to confront some of the complexities and tensions surrounding constructions of LGBT trafficking victims. Specifically, the article argues that discourses of 'exceptional vulnerability' and the polarized notions of 'innocence' and 'guilt' inform hierarchies of victimhood. Based on these insights, the article argues for the need to move beyond monolithic understandings of victims, by reframing the politics of harm accordingly.

Cooper, D. and Renz, F. (2016).

If the State Decertified Gender, What Might Happen to its Meaning and Value?

Journal of Law and Society

[Online]

43

:483-505

.

Available at

:

http://dx.doi.org/10.1111/jols.12000

.

As jurisdictions reform gender identity laws to accommodate transgender and intersex people, this article speculatively explores a more fundamental shift: eliminating state law's role in determining and assigning gender status altogether. Adopting a feminist perspective, we explore what the meaning and effects of comprehensively reforming legal gender might be in terms of gender's constitution as a socio-legal property, differentially recognised and protected by diverse but unequal bodies. Our discussion proceeds along two intersecting paths. The first concerns the different classificatory methods which could enable state law, without assigning gender, to continue to regulate gender identity decisions, thereby allowing state law to remain involved in tackling gender discrimination. The second concerns the changing form gender might take in conditions where state law withdraws its allocative function. These paths converge in a final discussion which considers what legal and political effects might follow from gender becoming a property that is individually and collectively cultivated.
Book section
Renz, F. (2015). Consenting to Gender? Trans Spouses after Same-Sex Marriage.

in:

Barker, N. J. and Monk, D. eds.

From Civil Partnership to Same-Sex Marriage 2004-2014: Interdisciplinary Reflections

.

Routledge

,

pp.

79-94

.

Available at

:

https://www.routledge.com/From-Civil-Partnership-to-Same-Sex-Marriage-Interdisciplinary-Reflections/Barker-Monk/p/book/9781138797536

.
Review
Renz, F. (2014).

Book Review: Homosexuality and the European Court of Human Rights

.

Social & Legal Studies

[Online]

23

:275-277

.

Available at

:

https://doi.org/10.1177/0964663914523201

.

Renz, F. (2011).

Book Review: Policing Sexuality: Sex, Society and the State

.

In-Spire Journal of Law, Politics and Societies

[Online]

6

:46-47

.

Available at

:

https://inspirejournal.files.wordpress.com/2012/02/renz62.pdf

.
Forthcoming
Boukli, A. and Renz, F. (2018). Gender Murder: anti-trans rhetoric, zemia and telemorphosis.

in:

Boukli, A. and Kotze, J. eds.

Zemiology: Reconnecting Crime and Social Harm

.

Basingstoke, UK

:

Palgrave Macmillan

.
Last updated