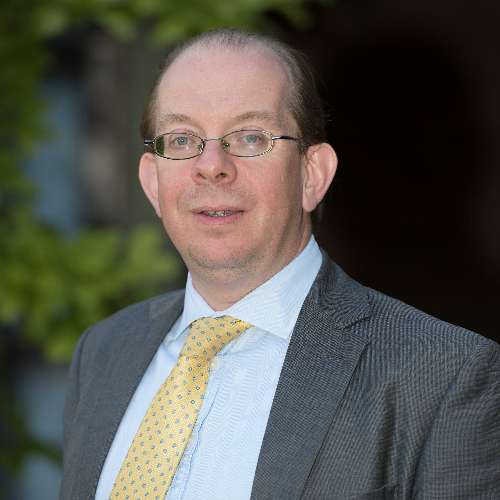 Dr David Rundle
About
Dr David Rundle joined the University of Kent in September 2018 as Lecturer in Latin and Manuscript Studies in the Centre for Medieval and Early Modern Studies. He is a Renaissance historian and a palaeographer. David took all his degrees at the University of Oxford, his college being Christ Church.
Research interests
David's research has three main elements. One is the role of books within the late medieval and early modern culture of western Europe, at a time when the majority in most societies were illiterate. Another is the movement of ideas within the shared civilisation of Western Christendom, a topic he studies by using the physical evidence of surviving manuscripts to track the availability of and responses to works. This leads to the third element: the power of ideas in politics in the period – or, more often, their lack of power. As the humanist and future pope Aeneas Sylvius Piccolomini said: 'Only a fool thinks princes are swayed by books'. David is on the side of the fools. 

David renewed his association with Christ Church, Oxford, when he was asked to complete the catalogue of the college's medieval manuscripts: this appeared as a volume, co-authored with Ralph Hanna, in 2017. He is now (again with Professor Hanna) working on the catalogue of the manuscripts of Magdalen College, Oxford. A monograph, The Renaissance Reform of the Book and Britain, was published with Cambridge University Press in 2019, as part of their Studies in Palaeography series. 

David has received grants from the British Academy's Neil Ker Fund, the British School at Rome, the Paul Mellon Centre, and Oxford University's Lyell Fund. He spent the spring of 2018 on a fellowship at Harvard University's Houghton Library. 
Teaching
David teaches on medieval and early modern history. 
Supervision
David is always happy to work with any graduate student on topics in manuscript studies and in the history of the book more generally, as well as in late medieval and Renaissance history across Europe, including the British Isles.
Professional
David is a General Editor to the Oxford Bibliographical Society, and a member of the Council of the Warburg Institute, London. He is also co-convenor (with Professor Julia Crick) of the London Manuscript Studies seminar held regularly in Senate House. 

David is a Senior Fellow of the Higher Education Academy and a Fellow of the Society of Antiquaries 
Publications
Article
Rundle, D. (2016). The circulation and use of humanist 'miscellanies' in England. Mélanges de l'École française de Rome – Moyen Âge [Online] 128. Available at: http://dx.doi.org/10.4000/mefrm.2872.

England may have been physically remote from the acknowledged centres of production of humanist texts but that did not make it peripheral to the humanist enterprise. This article highlights both the speed with which texts could travel and the vitality of English interest in these works through detailed discussion of a cluster of what are often called 'miscellanies'. It begins with one owned by Pietro del Monte (d. 1457) which was copied for William Gray, future bishop of Ely (d. 1478), and considers the influence of that copy on collections constructed in mid-fifteenth-century Oxford. In so doing, it argues that the term 'miscellany' drains these compilations of their significance as constructions providing insight into how these readers and scribes construed humanism from afar.
Book
Rundle, D. (2019). The Renaissance Reform of the Book and Britain: The English Quattrocento. [Online]. Cambridge University Press. Available at: http://dx.doi.org/10.1017/9781108147804.

Rundle, D. and Hanna, R. (2017). A Descriptive Catalogue of the Western Manuscripts to C. 1600, in Christ Church, Oxford. [Online]. Oxford Bibliographical Society. Available at: https://www.chch.ox.ac.uk/library-and-archives/descriptive-catalogue-western-manuscripts-c-1600-christ-church-oxford.
Book section
Rundle, D. (2019). La Renaissance de la littera antiqua: une entreprise cosmopolite. In: Crouzet, D., Crouzet-Pavan, E. and Revest, C. eds. L'humanisme à l'épreuve De l'Europe (XVe-XVIe siècles). Seyssel: Champ Vallon, pp. 97-111. Available at: http://www.champ-vallon.com/lhumanisme-a-lepreuve-de-leurope/.

Rundle, D. (2018). The Playpen: Reform, Experimentation and the Memory of Humfrey, Duke of Gloucester in the Registry of the University of Oxford. In: Willoughby, J. and Catto, J. eds. Books and Bookmen in Early-Modern England. PIMS. Available at: http://www.pims.ca/publications/new-and-recent-titles/publication/books-and-bookmen-in-early-modern-britain-essays-presented-to-james-p-carley.
Forthcoming
Rundle, D. (2019). Poggio Bracciolini's International Reputation and the Significance of Bryn Mawr, MS. 48. In: Ricci, R. and Pumroy, E. eds. Humanism and Poggio Bracciolini: Proceedings of the Colloquium Held at Bryn Mawr College on April 8-9, 2016. Da Una Giornata Di Studio in Ricordo Di Phyllis Walter Goodhart Gordan. Firenze UP.

Rundle, D. (2019). Corpus before Erasmus, or the English Humanist Tradition and Greek before the Trojans. In: History of Universities Series. Oxford University Press.
Last updated