Inspirational location
Paris is one of the most cosmopolitan cities in the world, renowned for its stunning architecture, museums, galleries, and literary and film cultures. It has always been a hub of creativity and still attracts writers, artists and filmmakers from across the globe, who continue to forge Paris's reputation as an intellectual and creative hub.

Studying with us, you can immerse yourself in this rich cultural life, guided by specialist academic staff and in the company of students who share your passion for art and culture.
Paris School of Arts and Culture staff will present great ways to get informed and get involved in your Welcome Week. Our Paris Office staff can share their local expertise with you: the cheapest places to do yoga, the best spaces to work or go out. They'll also make sure you know about great annual events such as the Fête de la Musique.
A multicultural city
As a world capital, Paris is home to various ethnic and immigrant communities, and as a student hub it attracts students from all over the world. All of which make it a fascinating place to live and study, intellectually stimulating and culturally fascinating.

Paris is an easy city to navigate. In fact, its 19th-century boulevards were designed with the urban explorer (known as a flâneur in French) in mind, which makes walking through the city a real pleasure. Explore new areas, discover fashion boutiques, bakeries, bookshops, pick up food from one of the many local markets or eat out at some of the excellent restaurants and relax in one of the city's beautiful gardens.
There are also lots of organised cultural and leisure activities, including open-air film screenings, festivals of art, music and food, and seasonal sporting activities such as ice-skating and beach volleyball. If you're around in the summer, head for the temporary 'beaches' along the River Seine.
History and heritage
From Roman times to the present, Paris has seen a number of political regimes rise and fall. Discovering the impact the city has had on its citizens, and they on it, is part of the pleasure of living in Paris.

Today, the city proudly accentuates its history: monuments such as Bonaparte's Arc de Triomphe, magnificently illuminated in the evening, tell the story of the French empire. On the Ile de la Cité stands Notre-Dame cathedral, built in the Middle Ages and restored in the 19th century, its bells rang to signal the liberation of Paris in 1944; it remains one of the most iconic symbols of Paris. Nearby, the Panthéon houses the remains of France's great Enlightenment thinkers Voltaire and Rousseau.
If you want to explore further afield, why not take the train to the magnificent Palace of Versailles, or visit the city of Lyon where the Lumiere brothers invented the cinematographe.
The activities outside of the classroom are endless, and we are continually enhancing these opportunities. Our students get to see some of the city's secret treasures and learn about them from staff who are experts in the field.
Food and drink
Many view Paris as the gastronomic capital of Europe and there is a huge variety of food on offer. Alongside traditional French cuisine, travel across Paris and you can find Chinese, Eastern European and North African food. Famous for its Michelin-starred restaurants, Paris also has many smaller eateries and if you venture off the main tourist routes you can eat a good French meal for a reasonable cost. Choose the 'Plat du jour' or 'Formule' to get the cheapest option. We collect student recommendations for good value meals, so just ask and we will pass on their top tips.

If you want to cook for yourself, there are wonderful markets in every Parisan neighbourhood, as well as boulangeries, fromageries and charcuteries. And, of course, you can't live in Paris and not try the mouthwatering pastries and macarons!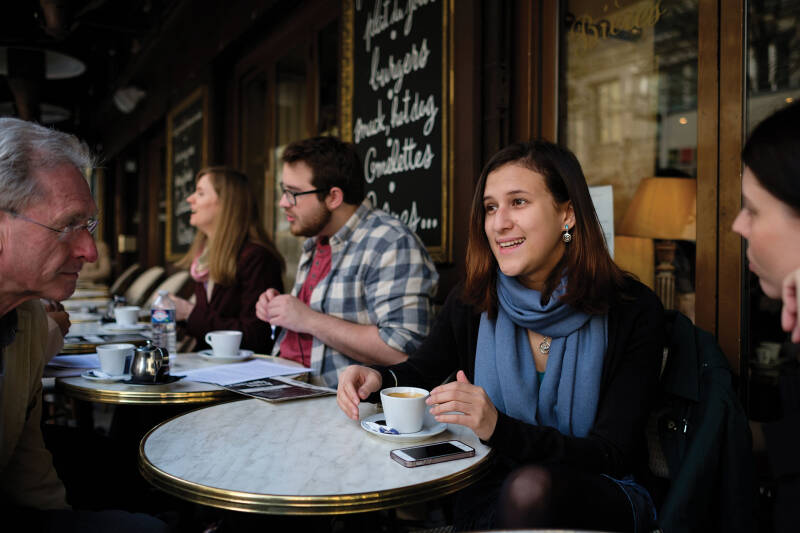 Relocating to Paris
Moving to another country is an exciting but potentially daunting experience. At the Paris School of Arts and Culture, the majority of our students come from outside France, so we are very familiar with the preparations needed to relocate for postgraduate study. We can offer advice on key practical issues such as visas, accommodation and transport to make the process as smooth as possible.

All non-EU or EEA students require a visa to study in France. The process can be fairly lengthy, but we provide simple guidelines to help you successfully obtain your visa. When you have accepted your offer of a place, the Paris Office will automatically send you a supplementary visa letter written in French (you will receive a hard copy in the post and an electronic copy via email). You need this letter to apply for your visa.
You also need to secure your own accommodation as we do not have any halls of residence. There are many different options available to you, including staying with a host family or renting privately.
Students who are starting their studies in Canterbury can live in University accommodation on campus for the autumn term.
There is lots more information on our Getting Started site to ensure your smooth arrival in Paris.
Paris gallery
One of the most beautiful cities in the world, Paris combines iconic structures with intimate cafés, designer shopping and traditional markets.