Giles' transfer to the Sunday Express in 1943, and the spread of his cartoons to the Daily Express.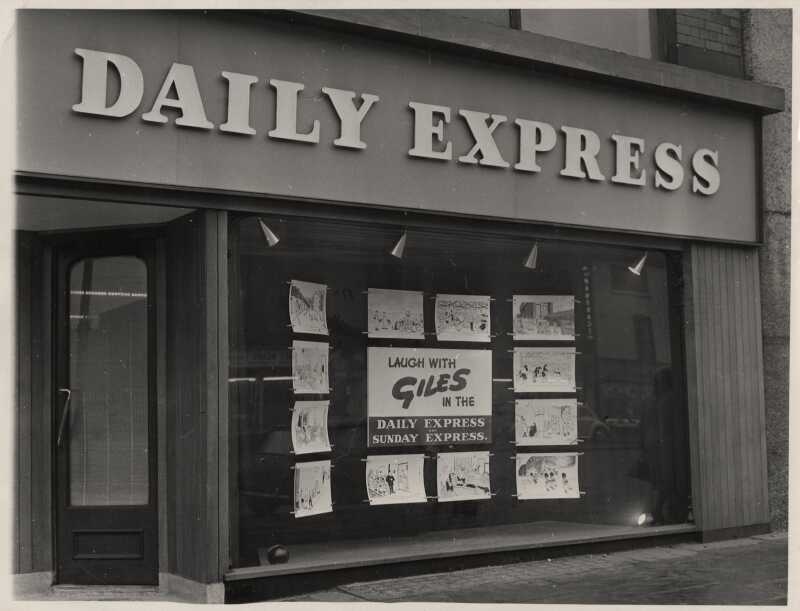 Giles was happy at Reynolds News, but by 1942 he was getting noticed, and started to get offers from other newspapers. Reynolds News sold only 500,000 copies a week, and Giles, keen to reach a wider audience, began negotiating with the left-wing Daily Herald, which had a daily circulation of 1.9 million copies - the second-largest in Fleet Street. They offered him £1,200 a year, but talks broke down when the editorial director decided that Giles could not draw faces, and became concerned that his cartoons of Hitler "would not be identifiable."
Giles was next approached by John Gordon, editor of the Sunday Express. Lord Beaverbrook's Sunday Express had a circulation of 1.7 million copies, and its sister paper the Daily Express sold 2.6 million - the largest circulation in Fleet Street. But their right-wing politics were in complete contrast to Reynolds News, and Giles' left-wing colleagues advised him to stay put. He informed Gordon that "I am very happy where I am. I would be very unhappy if I changed." But in August 1943 Giles finally relented, and agreed to join the Sunday Express for £1,560 a year, to draw both his "Young Ernie" strip and a weekly editorial cartoon, the first of which appeared on 3 October 1943.
Giles always felt slightly guilty about leaving Reynolds News for the Sunday Express. "They bribed me", he later explained: "They stuck a cigar in my face and told me what was to be." John Gordon admitted that at first Giles was "thoroughly miserable" at the Sunday Express, until the enthusiastic fan letters showed him the attractions of addressing a vast readership. It was the size of this audience which kept him at the Sunday Express, in spite of its politics. "People ask how I can work for a right-wing paper", Giles once explained: "But as a cartoonist I'm looking for the best stage possible for my work."
By 1947 Giles was also contributing two cartoons a week to the Daily Express, which led Fleet Street with a circulation of 3.9 million copies a day, and was edited by the forceful Arthur Christiansen. "I'd never thought of working for the Express", Giles said later: "But, even though I didn't share its political opinions, that paper was like the Palladium to me and Christiansen was the great ringmaster." Giles had a stormy relationship with Christiansen, as he did with all figures of authority, but the financial benefits of working for Express were increasingly clear. By 1955 Giles was being paid £8,060 a year, with an expense and travelling account of £1,300, a bonus scheme, and "generous royalties on the Giles Annual."