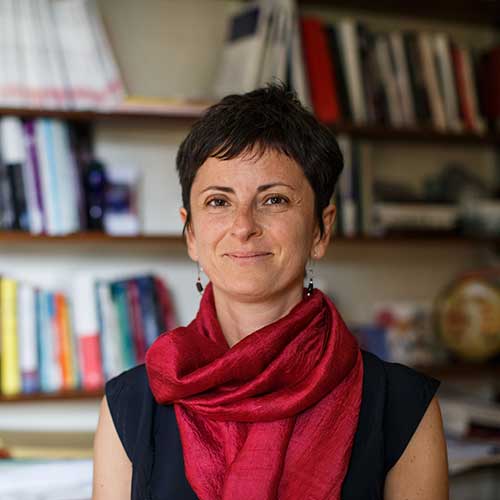 Professor Donatella Alessandrini
Professor of Law
co-director of the Social Critiques of Law (SoCriL) research group
About
Donatella Alessandrini has completed her PhD at Birkbeck, University of London, in 2007. Her earlier work has focused on the political economy of 'development' in multilateral trading relations, with an emphasis on the World Trade Organisation (WTO). She is currently working on two projects. The first aims to provide a sustained analysis of the WTO's contribution to the proliferation of global value chains, and to the unequal distribution of the economic value produced along these chains. It also aims to develop a conceptual framework that can adequately embrace productive and reproductive activities of workers involved in value chain trade. The second project is concerned with exploring contemporary approaches to conceptual and normative understandings of the production of value in today's financialised economies, and with imagining the possibility of institutional arrangements able to affect current value-making processes.  
Research interests
Donatella's research lies at the intersection of law and political economy, with a particular interest in development studies, critical trade and development literature, feminist political economy and political theory. Her earlier work has focused on the political economy of 'development' in multilateral trading relations, with an emphasis on the World Trade Organisation. She is currently working on two projects. With Suhraiya Jivraj, she is looking at the importance that Well Being and Happiness (WBH) initiatives have acquired in intern/national policy making, especially since the 2008 economic crisis; and she has a particular interest in interrogating the normative force and appeal that is increasingly ascribed to WBH discourse in development thinking and policies. The second project is concerned with exploring contemporary approaches to conceptual and normative understandings of the production of value in today's financialised economies, and with imagining the possibility of institutional arrangements able to affect current value-making processes. For more information on her current work on value, click here.

Research Interests:
Law and Political Economy; Development Studies, International Trade Theory and Practice, Critical and Feminist Political Economy

Research Areas: Critical Commercial Law and Business Law and Regulation; Law Politics and Culture; Law and Political Economy; Gender and Sexuality

Stop Press - April 2019:

Professor Donatella Alessandrini awarded £162k for unique analysis of world trade law.
Teaching
Postgraduate

Donatella teaches in the field of WTO law and Practice  

Supervision
Donatella is happy to supervise research projects on Trade and Development, Internationla Economic Law, Financial Capitalism, post-Fordism and Feminist Political Economy.
Professional
Editorial Work
Professional Societies
International Association of Feminist Economics

Society of International Economic Law

Society for the Advancement of Socio-Economics

Publications
Article
Alessandrini, D. (2018). Of Value, Measurement and Social Reproduction. Griffith Law Review.

Alessandrini, D. and Jivraj, S. (2017). Conceptualising the Economy-Society Nexus in Well-Being and Happiness Initiatives: Gross National Happiness in Business in Bhutan and Social Impact Bonds in the United Kingdom. International Critical Thought [Online] 7:526-546. Available at: https://dx.doi.org/10.1080/21598282.2017.1357482.

This article explores how well-being and happiness (WBH) is conceptualised in different geographical contexts, and how this understanding is able to affect policymaking and engender socio-economic and legal change. Whilst WBH initiatives seemingly stem from a critique of gross domestic product as a measure of societal "progress," we show how, in itself, such critique cannot be the basis for understanding WBH as a unitary transnational phenomenon that offers a radical re-thinking of the relationship between economy and society. By focusing on two concrete instances and specific sites, that of the Social Impact Bond in the United Kingdom and the "Gross National Happiness in Business" project in Bhutan, we argue that individual contexts and initiatives must be closely studied, and suggest that conflations between different well-being agendas need to be avoided to pay closer attention to the ways in which well-being can be co-opted or fashioned through policymaking and government initiatives.

Alessandrini, D. and Hunter, R. (2017). Editorial: Why We Still Oppose Gold and Also Oppose Hybrid Open Access. feminists at law [Online]. Available at: http://journals.kent.ac.uk/index.php/feministsatlaw/article/view/350/964.

Alessandrini, D., Jivraj, S. and Zokaityte, A. (2015). Exploring Well-Being and Gross National Happiness in Sustainable Development Policy Making. Indian Journal of International Economic Law [Online] 7:52-88. Available at: https://www.nls.ac.in/resources/ijiel2015.pdf.

Alessandrini, D. (2013). A Social Provisioning Employer of Last Resort: Post-Keynesianism Meets Feminist Economics. World Review of Political Economy [Online] 4:230-254. Available at: http://dx.doi.org/10.13169/worlrevipoliecon.4.2.0230.

This article proposes a collaboration between post-Keynesians and feminist economists with regard to macroeconomic policies aimed at the socialization of investment, in particular the proposal for the government to act at once as the Employer of Last Resort and as a social provider. This is particularly important in the UK because the coalition government's Spending Review and Plan for Growth have dismantled public services and welfare benefits while emphasizing a narrow range of productive activities. This strategy threatens to widen the inequality that has led to low levels of demand and reliance by low- and middle-income households on unsustainable borrowing in order to maintain living standards. The article therefore contributes to current debates about alternative macroeconomic policies: it argues that the current emphasis on austerity needs to be replaced by a social provisioning approach that requires us to first pose the question of what the economy should be for.

Alessandrini, D. (2013). WTO at a Crossroads: the Crisis of Multilateral Trade and the Political Economy of the Flexibility Debate. Trade Law and Development 5.

This article has a two-fold purpose: first, to problematize the WTO's official response to the crisis, particularly its insistence on trade liberalisation as the universally desirable means for stimulating growth; secondly, to reflect on the political economic assumptions underlying calls for greater flexibility to be built in the WTO system. Although the article considers the flexibility debate to be of crucial importance in thinking about the future of the multilateral trading system, it evaluates the stakes in arguing for policy autonomy or 'developmental legal capacity' in the context of international trade relations. In this respect, it shows that flexibility arguments share an understanding of multilateral trade relations as governed by competition. While recognising that the role of competition, as opposed to comparative advantage, is important to challenge the assumption about the universal beneficial role of trade liberalisation, the argument this article makes is that accepting competition as the sole or prevalent modality informing multilateral trade relations is problematic from both a normative and a positive perspective. By reflecting on the limitations of an approach that accepts the need 'to prosper in conditions of global competition' as its necessary starting point, this article emphasizes the importance of rethinking international trade relations, particularly under conditions of global recession characterised by high levels of inequality.

Alessandrini, D. (2013). Multilateral Trade in a time of Crisis. International Law Annual [Online] 2013:38-42. Available at: http://www.spilmumbai.com/uploads/article/pdf/multilateral-trade-in-a-time-of-crisis-18.pdf.

Alessandrini, D. (2012). Immaterial Labour and Alternative Valorisation Processes in Italian Feminist Debates: (re)exploring the 'commons' of re-production. Feminists@Law [Online] 1:1-28. Available at: http://journals.kent.ac.uk/index.php/feministsatlaw/article/view/32.

This article takes its cue from Desai's critique of the new communists of the commons, particularly her claim that their project is built upon a series of misunderstandings about the dynamics of capital accumulation, the production of value in post-Fordism and the concept of the 'commons' itself. Focusing on earlier explorations by Italian feminists of the dynamic interaction between labour and value, the contribution this article makes to the commons debate is three-fold: first, it argues that the most interesting insights emerging from immaterial/cognitive/affective labour theories on which Italian post-workerists rely to put forward a renewed understanding of the commons derive from this feminist body of work. Secondly it shows how, despite being relied upon, the radical potential of this work has been limited by positing a qualitative shift to post-Fordist production that pays little attention to the important connections between labour and value that make up our common world. Finally, the article focuses exactly on this potential, that is, the challenge to capitalist value through the instantiation of other processes of valorisation, in light of the current attack on social reproduction.

Hunter, R., Alessandrini, D. and Williams, T. (2012). Why We Oppose Gold Open Access. feminists@law [Online]. Available at: http://journals.kent.ac.uk/index.php/feministsatlaw/issue/view/6.

Alessandrini, D. (2012). Labour, Value and Precariety in the Age of Austerity: Introduction to the Lecture Series. feminists@law.

Alessandrini, D. (2011). Regulating Financial Derivatives? Risks, contested Values and Uncertain Futures. Social and Legal Studies [Online] 20:1-22. Available at: http://journals2.scholarsportal.info/details.xqy?uri=/09646639/v20i0004/441_rfdrcvauf.xml.

Alessandrini, D. (2010). GMOs and the Crisis of Objectivity: Nature, Science and the Challenge of Uncertainty. Social and Legal Studies [Online] 19:3-23. Available at: http://dx.doi.org/10.1177/0964663909346195.

This article contributes to the current debate on the meaning and regulation of biotechnology by focusing on the role that the concepts of nature and sound science play in framing struggles against agricultural biotechnology in India. It contends that the political work of these concepts consists of limiting democratic deliberation by neatly separating facts from values and scientific certainty from politics. In particular, it aims to show that both the invocation of nature and reliance on sound science are counterproductive for the more interesting challenges opponents are already articulating outside the boundaries drawn by the nature/society, science/politics and facts/ values distinctions. Indeed, the political significance of the collective experimentations going on in India (as elsewhere) is that they signal a shift from a risk mentality, centred on 'hard facts' supposed to settle the debate, to novel approaches to uncertainty that recognize the increasing controversies surrounding GMOs. These approaches, it is argued, provide a more interesting space for thinking about the uncertainty surrounding biotechnological crops and the relations we (might) share with them.

Alessandrini, D. and Leon, I. (2010). Latin America and the Trans/national Debate: A Conversation Piece. Globalizations [Online] 8:179-195. Available at: http://dx.doi.org/10.1080/14747731.2010.493018.

This paper is the result of a conversation, started in 2008, about the significance of the struggles for gender and sexual justice taking place in Latin America and more broadly of the challenges global justice and solidarity movements (GJ&SM) are articulating at various national and international levels. Two themes are explored throughout: the extent to which the current Latin American experiments with diversity, plurality, connectivity and mutuality, starting with the 'plural concept of gender and sexuality', challenge existing divides between gender, sexual, social and economic justice and the extent to which they simultaneously question the North/South divide. We also reflect on the problems and challenges that such approaches might present or encounter.

Este documento es el resultado de una conversación iniciada en el 2008, sobre la importancia de las luchas por la justicia de género y sexualidad, realizadas en Latinoamérica y en términos más amplios, el desafío de la justicia global y los movimientos de solidaridad (GJ&SM, por sus siglas en inglés) articulándolos en los diferentes niveles tanto nacionales como internacionales. Se han explorado dos temas: Por un lado, la medida en que los experimentos actuales latinoamericanos con la diversidad, pluralidad, conectividad y reciprocidad, comenzando con el 'concepto plural del género y la sexualidad', desafían a las divisiones existentes entre la justicia de género, social y económica, y por otro lado, el grado en que estos experimentos cuestionan simultáneamente la división norte/sur. También reflexionamos sobre los problemas y desafíos que tales enfoques pueden presentar o enfrentar.

Alessandrini, D. (2009). Making the WTO 'more supportive of development'? The Doha Round and the Political rationality of the WTO's Development Mission. Law, Social Justice and Global Development Journal:2-17.

This article is concerned with the Doha 'Development' Round of the World Trade Organisation (WTO). Its historic significance seems to lie in the fact that the international community has undertaken the unprecedented effort to deliver the long-standing development promise of the multilateral trade regime. Thus, despite its past failures, the claim is that its successful conclusion is a 'political must' for development. Contrary to this assumption, the paper argues that the 'failure' and 'promise' of development that the multilateral trade regime articulates are inherent in the 'science of development' established at the end of the colonial era. In particular, the paper claims that the General Agreement on Tariffs and Trade (GATT) and the WTO have contributed to the creation, consolidation and transformation of a development apparatus that links forms of knowledge about the so—called Third World with forms of power and intervention. By emphasising the permanence of the 'civilising mission' within the WTO's Doha agenda, it makes the case for challenges to be made not only to its current market-access mindset but also to the three normative assumptions that have provided the ' science of development' with its political rationality.

Alessandrini, D. (2005). Transnational Corporations and the Doctrine of Comparative Advantage: A Critique of Free Trade Normative Assumptions. International Trade Law and Regulations Journal 11:14-23.

Examines the free trade doctrine and considers the arguments which challenge the intellectual validity of free trade by examining its normative assumptions. Examines the major economic arguments against free trade and the market distortion argument put forward by Jagdish Bhagwati. Argues that free trade theory has overlooked the impact of events that have taken place after its formulation and which have affected its major assumptions, in particular, the ascendancy of transnational corporations and the influesnce they export on political and economic processes.

Alessandrini, D. (2005). WTO and Current Trade Debate: An Enquiry into the Intellectual Origins of Free Trade Thought. International Trade Law and Regulations Journal 11:53-60.

Examines the intellectual origins of the free trade doctrine, looking at the extent to which the economic analysis of free trade has excluded other forms of analysis. Considers the classical theory of free trade put forward by Alan Smith and analysis. Considers the classical theory of free trade put forward by Adam Smith and David Ricardo and the objections raised to free trade during the nineteenth and twentieth centuries, based on arguments relating to tariffs, emerging industries, unemployment, wage differentials and market distortion.
Book
Alessandrini, D. (2016). Value Making in International Economic Law and Regulation: Alternative Possibilities. [Online]. London: Routledge. Available at: https://www.routledge.com/products/9781138936744.

This book examines the contemporary production of economic value in today's financial economies. Much of the regulatory response to the global financial crisis has been based on the assumption that curbing the speculative 'excesses' of the financial sphere is a necessary and sufficient condition for restoring a healthy economic system, endowed with real values, as distinct from those produced by financial markets. How, though, can the 'intrinsic' value of goods and services produced in the sphere of the so-called real economy be disentangled from the 'artificial' value engineered within the financial sphere?

Examining current projects of international legal regulation, this book questions the regulation of the financial sphere insofar as its excesses are juxtaposed to some notion of economic normality. Given the problem of neatly distinguishing these domains – and so, more generally, between economy and society – it considers the limits of our current conceptualization of value production and measurement, with specific reference to arrangements in the areas of finance, trade and labour. Drawing on a range of innovative work in the social sciences, it further asks: what alternative arrangements might be able to affect, and indeed alter, the value-making processes that underlie our current international regulatory framework?

Alessandrini, D. (2010). Developing Countries and the Multilateral Trade Regime: The Failure and Promise of the WTO's Development Mission. Hart.

This book explores the way in which 'development' has functioned within the multilateral trade regime since de-colonisation. In particular, it investigates the shift from early approaches to development under the GATT to current approaches to development under the WTO. It argues that a focus on the creation and transformation of a scientific apparatus that links forms of knowledge about the so-called Third World with forms of power and intervention is crucial for understanding the six decades long development enterprise of both the GATT and the WTO. The book is both topical and necessary given the emphasis on the current round of negotiations of the WTO. The Doha 'Development' Round has been premised on two assumptions. Firstly, that the international community has undertaken an unprecedented effort to address the imbalances of the multilateral trading regime with respect to the position of its developing country members. Secondly, that its successful conclusion represents an historic imperative and a political necessity for developing countries. Through a sustained analysis of the interaction between development thinking and trade practices, the book questions both assumptions by showing how development has always occupied a central position within the multilateral trading regime. Thus, rather than asking the question of what needs to be done in order to achieve 'development', the book examines the way in which development has operated and still operates to produce important, and often unacknowledged, power relations.
Book section
Alessandrini, D. (2019). Global Free Trade, Imperialism and International Trade Law. In: Ness, I. and Cope, Z. eds. The Palgrave Encyclopedia of Imperialism and Anti-Imperialism. Palgrave Macmillan. Available at: https://doi.org/10.1007/978-3-319-91206-6_97-1.

Alessandrini, D. (2014). Financial Derivatives and the Challenge of Performation: Where Contingency Meets Contestability. In: Cloatre, E. and Pickersgill, M. eds. Knowledge, Technology and Law: At the Intersection of Socio-Legal and Science and Technology Studies. Routledge.

Alessandrini, D. (2011). The World Trade Organisation and Development: Victory of Rational Choice?. In: Johnson, F., Pahuja, S. and Joyce, R. eds. Events: The Force of International Law. UK: Routledge Cavendish, pp. 207-220.
Edited book
Alessandrini, D., Perry-Kessaris, A., Eslava, L. and Bedford, K. (2020). Law and Development: A Connected Approach. Alessandrini, D., Perry-Kessaris, A., Eslava, L. and Bedford, K. eds. Bloomsbury.
Thesis
Shariff, S. (2018). The Application of the Best Interests of the Child Principle As a Criterion for Fulfilling Malaysia's Convention on the Rights of the Child Obligations: A Comparative Study Between Malaysia's Child Act 2001 and the English Children's Act 1989 Including the Common Law and Shari'ah Law Applications in the Respective Jurisdictions.

The Child Act 2001 (Act 611) was Malaysia's response to incorporate the principles of the Convention on the Rights of the Child (CRC) into Malaysian law. The CRC, like all international human rights instruments, is a rights based convention providing for child rights. This thesis is a study of whether the current standards on the best interests of the child principle is sufficiently applied in Malaysia in order to fulfil her obligations under the CRC. In order to answer this question, a deeper understanding of Malaysia's unique socio-legal complexities and background is needed so as to be able to analyse how far Malaysia has fulfilled her obligations.
The research utilises a doctrinal and black-letter law approach since the data for analysis were documents and articles on the CRC, the Children Act 1989 and the Child Act 2001. The research methodology chosen is a comparative study England and Malaysia because of the strong historical and legal relationships.
The research will use the literature available which is voluminous in England and try to understand the principle as applied in England. This thesis will compare the principle applied in England with that applied in Malaysia. This would include the English and Malaysian civil law (under the relevant Acts), the international law (CRC) and the Islamic Law (Shari`ah). The research will also analyse the principle as applied in England and how it compares to the CRC. This thesis will also show that the best interests of the child principle as envisioned under the CRC is closer to the Shari'ah approach and Malaysia should utilise it as a means to move forward and apply the best interests of the child principle as required under the CRC. Once the application has been done, Malaysia will be able to fulfil her obligations fully under the CRC.

Archer, C. (2017). An Investigation into the Development of Legal Forms for the Delivery of Community Benefit and Community Interest.

Abstract
In considering sociologically that emancipatory alternatives to dominant business institutions and social structures are evolving as a whole, as suggested by Wright, this thesis argues that the available legal form frameworks, which are evolving during the same period, have blurred historical business registers, due to a lack of clear differentiation and branding. It also argues that the legal frameworks fail to provide guidance on how to structure a community enterprise in order to garner and demarcate participation through representation. The essential interconnections between business institutions, communities and community-perceived assets are weak. The necessity to formally allow access to power-sharing and decision-making through organisational structures, and the ability to extend accountabilities on profit and surplus distribution in a way in which the community/stakeholders can participate and be represented, are essential; this can address social disconnections and benefit community outcomes. The work argues for additional guidance and branding to clearly define the legal forms open for use by business institutions, mainly social enterprises. It recommends additional regulatory governance and tests to the pre-existing frameworks, which will rectify the blurring of the registers.

Where is the social in a social enterprise and where are the communities in a community interest company or a community benefit society?

Rahaman, M. (2017). Intellectual Property, Bioeconomy, Multiplicity: An Inquiry into Spatialities of Governance, Power and Subjectivity.

This thesis discusses how law, especially intellectual property and biodiversity laws, mediates the operation of the bioeconomy by 'thinking through' the philosophy of Gilles Deleuze/Felix Guattari. As experimental thinkers, Deleuze/Guattari were committed to bring movement in concepts, that is, to experiment with concepts. Hence, the thesis deploys the concept of 'desiring-machine' to explain the operation of the bioeconomy. In this respect, the thesis focuses on the Bt. brinjal controversy in India - a specific instance of bio-economic production. Techno-scientific and legal discourses in the controversy have highlighted the risk and uncertainty surrounding modern bio-technical science and its regulation. A more interesting narrative, however, is the discourse of biopiracy, which claims that a number of global/local entities appropriated local germplasm illegally to produce the Bt. brinjal. And so, the thesis looks at the controversy as an 'event' in which heterogeneous elements, along with law,co-exist, co-function, form alliances and work in symbiosis. Pointing out the connection and relation between the elements, the thesis suggests that the bioeconomy operates in a connective fashion, through machinic conjunctions. Said otherwise, the bioeconomy is a 'machine' - each element functions in conjunction with others. It follows that the Bt. brinjal controversy is an effect of machinic assemblage. And yet, the question is: what establishes machinic conjunctions between the elements? The thesis observes that the bioeconomy is founded on desire because it is desire that connects, couples, assembles, creates chains and produces intensities. In what follows, the elements of the machine relate to each other through the continuous movement of desire. The argument, then, is that the bioeconomy is a 'desiring-machine'. Its operation, however, is mediated by law.In view of this, the thesis sheds light on a number of issues by unfolding the controversy. In particular, the thesis shows how the desire to propertise, to normalise appropriation, to capture, to contest, to produce transformed subjects and more importantly, to expand the spaces of bio-economic production move and flow through disparate legal mechanisms and practices. To be more specific,the thesis highlights how law mediates the movement of desire, which establishes machinic conjunctions between an array of elements located in dispersed spaces, and by doing so, spatialises materiality, normalisation, power and subjectivity. The Bt. brinjal controversy, from this point of view, has 'multiple dimensions'.

Since the aim of this research is to experiment with concepts, the thesis 'thinks through' the concept of 'multiplicity' to construct the dimensions. As a topological concept, the term 'multiplicity' puts emphasis on constructing the 'multiple' by adding elements successively through conjunctions. In this vein, the thesis thinks rhizomatically - a style of thinking that moves in all directions to connect and link dispersed elements, thereby organises and arranges the relations between the 'many' in semiotic chains. As such, the essence underlying the thesis is deeply topological or spatial because it not only connects the 'many' through conjunctions and actualises their relations in extensive series, but also links up and combines one concept with another. Thus, while Deleuze/Guattari's philosophical thinking remains the enduring thread throughout the thesis, a number of other concepts, specifically from Michel Foucault and Georges Canguilhem, are added successively. To this effect, the thesis combines the concept of de/re-territorialisation with the analytics of 'governmentality' and 'normalisation', brings 'desire' in conversation with 'power', and links up 'becoming' with 'subjectivity' to multiply and expand the dimension of the controversy. The composition, then, itself becomes an articulation of the spatialisation of thought. Consequently, the thesis moves beyond the confines of the case discussed and relates the latter to broader issues concerning the operation of the bioeconomy. In fact, the Bt. brinjal controversy becomes a conduit for a theoretical exploration and explanation of how the bioeconomy operates as a desiring-machine; and how law mediates such operation in a global/postcolonial context. More broadly, the thesis engages with spatiality and spatialisation in a serious manner by focusing on how law spatialises materiality, normalisation, power and subjectivity, and to this end, offers a different way of critiquing law and its relation with the bioeconomy.

Anabo, A. (2016). The Quest for Salient Features of Effective Water Resources Management Systems: Assessing the English and Ethiopian Water Policies and Laws.

The shortage of water as a resource is a threat to which both Ethiopia and England are exposed. This vulnerability of the countries necessitates the question of whether existing management systems for water resources will promote the sustainability of such resources. With growing natural resource insecurity over the last fifty years, the tragedy of the commons and the integrated water resources management (IWRM) approach are at the forefront. This study evaluates the tragedy of the commons and the IWRM approach to identify key features of effective water resource management (WRM) systems. The study also assesses the effectiveness of English and Ethiopian systems by reference to their salient features, to explore the extent to which the major facets of an effective system are reflected within the countries water policies and laws. The evaluation demonstrates that in the case study countries, some such factors have already been reflected within their water policies and laws. From the overall review of each countries' water policies, it may be argued that the contemporary policies that are in place generally accommodate some of the main attributes of an effective management system for water resources if they are accompanied by proper water laws, implementation strategies and institutional remits that are designed to promote water security. However, while some key features of an effective WRM system can already be seen in the case study countries' water laws, the initiatives which have been taken are limited and varied. Particularly, in Ethiopian WRM systems, the progress made to incorporate the main elements into binding law were slow. Even if some features have been reflected within the water laws of both jurisdictions, theirs scope is limited and incomprehensive. Moreover, their implementations are weak and incomplete in both jurisdictions. This study demonstrates that there has not been much deviation from the 'traditional' way of managing water resources.

Natile, S. (2016). Mobile Money and the Limits of Financial Inclusion: A Gender Analysis of M-Pesa in Kenya.

Financial inclusion, as an instrument for sustainable growth and stability while achieving social goals such as poverty reduction and gender equality, is now a core feature of the global development project. The development agenda presents financial inclusion to women as a precondition for securing their own, their families' and their communities' autonomy and future well-being. This research investigates this claim, the assumptions on which it is based, the institutions and narratives that underpin it, and the limits, as well as the potential, of financial inclusion regarding gender equality in the case of mobile money, and in particular of M-Pesa in Kenya. Mobile money refers to payment systems that provide access to formal financial services via mobile phone network infrastructure. M-Pesa (M for mobile, pesa Swahili for money), is a mobile money platform introduced in Kenya in 2007 via a public-private partnership between Vodafone and the UK Department for International Development. Now used by about 70 per cent of the Kenyan population, M-Pesa has captured global imagination as a successful financial inclusion project providing access to formal financial services for the 'financially excluded', including poor and low-income women. The main question this thesis asks is whether and to what extent M-Pesa can be considered a successful financial inclusion project in terms of substantive gender equality.

A framework of analysis drawing on feminist political economy and African and Kenyan feminism(s) is used to explore the context and institutionalisation of M-Pesa, and the regulatory arrangements through which it has facilitated access to formal finance for poor and low-income women. The analysis focuses on two main elements emerging from the empirical and theoretical investigation, social entrepreneurship and the law. It argues that although M-Pesa has increased the number of women accessing formal financial services, it has not advanced substantive gender equality at the lower end of the income distribution, mainly due to the lack of corresponding redistributive measures addressing existing socio-economic inequalities. Funds, partnerships and initiatives developed around mobile money are organised and distributed according to a logic of entrepreneurial opportunity rather than a politics of redistribution.

A logic of opportunity, unlike a politics of redistribution, not only tends to ignore the past and present political, socio-economic and legal dynamics that have contributed to creating and reproducing gender inequality but also risks furthering unequal gender relations by investing poor and low-income women with the responsibility for transforming opportunities into better livelihoods. The centrality of opportunity in M-Pesa, for instance the opportunity for self-employment or to access basic goods and services, is powered by narratives such as philanthrocapitalism that tend to favour providers and financial institutions over poor and low-income people. Mobile money products and services, in fact, reconceptualise access to basic resources as a for-profit enterprise rather than as a public good or entitlement, seeing such basic needs as market opportunities to be accessed via fee-based mobile financial services. In this way, the opportunities created by mobile money ensure a secure source of revenue for mobile money providers and other powerful institutions involved in the mobile money 'social' business.

These dynamics, which are also facilitated by the way in which M-Pesa is regulated, undermine mobile money's potential for contributing to a fundamental transformation towards substantive gender equality. This thesis sees gender inequality as deriving more from a lack of redistributive approaches and measures than from a lack of financial services, and argues for a politics of redistribution to guide financial inclusion projects, policies and regulation. Finance can be organised and regulated according to different interests: expanding access to financial services can further the interests of financial providers and other powerful institutions, reproducing and increasing inequalities; or it can contribute to a fundamental transformation oriented towards universal provisioning and substantive equality through the redistribution of power, resources and responsibilities.

Nanayakkara, G. (2016). Performers' Rights Regime in Sri Lanka: Singers' Melancholia.

The recently institutionalised global Performers' Rights Regime (PRR) aims to improve the economic position of those performers whose work can be audio-recorded and reproduced. This thesis asks whether the PRR achieves this aim. The thesis investigates this question through a case study of Sri Lankan vocalists. Vocalists in Sri Lanka are a significant constituent within the music industry, and they had hoped that the PRR would make their work more economically secure. However, this thesis finds that the PRR, as developed internationally and implemented in Sri Lanka, is predicated on a particular understanding of the role of performers and their relationships with other actors in the music industry; that this understanding of performers' roles and relationships does not reflect established practices and relationships within Sri Lanka's contemporary music industry; and that consequently the PRR fails to deliver the improved economic security that Sri Lankan singers had sought.
Last updated