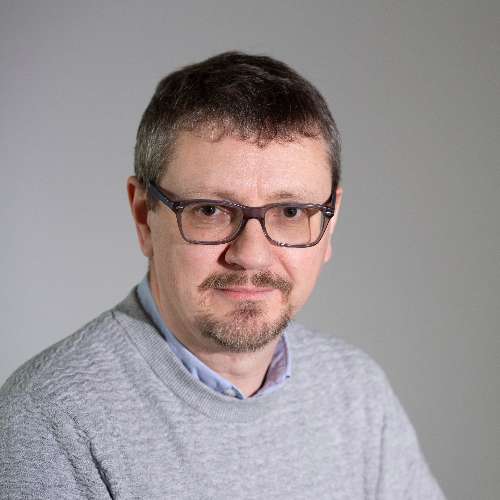 Dr Larry Duffy
Senior Lecturer in French
About
Dr Larry Duffy has a BA in French and Russian and an MA in European Languages and Culture from the University of Manchester, a Licence de Lettres Modernes from the Université de Bourgogne, and a PhD in French from the University of Hull. 

He has taught at universities in Ireland, Britain and Australia, and came to Kent in 2010. He has been Director of Taught Programmes in French since 2015.
Research interests
Larry's research interests lie mainly in the interplay between literary, scientific, and medical discourses in nineteenth-century France. Recent publications include peer-reviewed journal articles on medical themes in the works of Gustave Flaubert, Émile Zola and Joris-Karl Huysmans, and on Michel Houellebecq's twentieth- and twenty-first-century articulation of nineteenth-century preoccupations. 

His monograph Flaubert, Zola and the Incorporation of Disciplinary Knowledge was published by Palgrave Macmillan in 2015. He is a member of the Executive Committee of the Society of Dix-neuviémistes, and co-editor of the nineteenth-century French studies journal Dix-neuf. He is a founder member of the French Studies Medical Humanities network. 

Larry is available to supervise PhD projects in these and similar areas. Recently-supervised PhD theses have been on the following topics: literary representations of women musicians in nineteenth-century France; Science and the Supernatural in the works of J.K. Huysmans; literature, architecture and sexuality at the fin de siècle. 
Teaching
Larry's undergraduate teaching is mostly centred on French literature and culture from the nineteenth century to the present; he also teaches language, grammar and translation. 

His teaching on MA programmes focuses on the interaction between literary and medical discourses in nineteenth-century France, and on theoretical approaches to cultural production.  
Publications
Article
Duffy, L. (2012). Networks of Good and Evil: Michel Houellebecq's Fictional Infrastructures. Australian Journal of French Studies [Online] 49:211-225. Available at: http://dx.doi.org/10.3828/AJFS.2012.17.

A striking feature of Michel Houellebecq's fiction is the pervasive presence of infrastructure, whether consisting of nineteenth-century transport and administrative networks underpinning a national territory, or modern-day electronic networks underpinning those of distribution and exchange in a liberal economy. The former are presented in a largely positive light, and are depicted as creating bonds which connect a cohesive community; the latter, despite their overwhelming presence in all areas of social life, succeed only in disconnecting human beings. The network is thus for Houellebecq a means of establishing the ideological problematics of his work, which critiques the demise of community based on shared moral values, and the rise of an amoral individualism. It represents also a thematic link with other infrastructural networks: those of nineteenth-century fiction. In deconstructing the networks underpinning modern activity, and demonstrating their functioning - and collapse into dysfunction - Houellebecq constructs, like his naturalist predecessors, an epistemological infrastructure of the contemporary world.

Duffy, L. (2012). Des Oiseaux en St-Esprit: A Further Note on Taxidermy in Flaubert. French Studies Bulletin [Online] 33:48-51. Available at: http://dx.doi.org/10.1093/frebul/kts015.

Duffy, L. (2011). Madame Bovary and the Institutional Transformation of Pharmacy. Dix-Neuf [Online] 15:70-82. Available at: http://dx.doi.org/10.1179/147873111X12973011702374.

Discussion of Flaubert's pharmacist Homais has tended to focus on his overbearing personality and representativity of bourgeois values. This essay looks instead at the epistemological and disciplinary substance of his pronouncements on pharmacy for the ways in which they articulate the development of early nineteenth-century pharmacy as a profession. Contextualizing Homais and Charles Bovary as representatives of their respective medical domains in the aftermath of reforms enacted during the Empire, this essay reads the novel alongside texts emblematic of an institutionally reshaped pharmacy. First, it examines material from the influential Bulletin de Pharmacie, which from 1809 to 1814 articulated a new vision of pharmacy — shared by Homais — as 'philosophical' science in the manner of Lavoisier's chemistry. Second, it scrutinizes the 'opuscules scientifiques' by Guillaume Dubuc, a Rouen pharmacist, for the strong correlation between these and numerous pronouncements by Homais. Rather than seek in this correlation a real-life model for Homais, the essay identifies what Foucault refers to as 'les conditions de fonctionnement de pratiques discursives spécifiques', in this case the institutional conditions shaping pharmaceutical and literary discourse.

Duffy, L. (2010). Monomania and Perpetual Motion: Insanity and Amateur Scientific Enthusiasm in Nineteenth-Century Medical, Scientific and Literary Discourse. French Cultural Studies [Online] 21:155-166. Available at: http://dx.doi.org/10.1177/0957155810370381.

This article traces the cultural history of a recurrent association made in nineteenth-century French medical, scientific and literary texts between variants of 'monomania' - a broad term denoting obsessive fixation on a particular object in a subject presumed otherwise sane - and amateur scientific enthusiasm, specifically for perpetual motion, a phenomenon long acknowledged as impossible, and metonymy for similar chimera. A reading of alienist texts in conjunction with literary texts - emblematically, Zola's La Bete humaine, which links human and thermodynamic dysfunctionality - reveals that a specifically homicidal monomania is closely linked with the specific delusion that perpetual motion is possible, at the very moment when monomania is superseded, or considerably modified, by degeneration theories, when the degenerative nature of thermodynamic engines becomes widely accepted, and when disciplinary power - in Foucauldian terms - supersedes sovereignty.

Duffy, L. (2009). Incorporations hypodermiques et épistémologiques chez Zola: Science et littérature. Revue Romane [Online] 44:293-311. Available at: http://benjamins.com/#catalog/journals/rro.44.2.05duf.

This article, starting from an identification of key differences between realism and naturalism, develops an argument premised on the implicit metaphorical relationship between body and text expressed in Le Docteur Pascal, the last novel in Émile Zola's Rougon-Macquart series. It examines aspects of the metaphorical problems surrounding the incorporation of documentary material into nineteenth-century French fiction, arguing that the documentary novel's representation of the human body, and of medical practices concerned with the body's ingestion of substances – specifically, Le Docteur Pascal's representation of hypodermic injections – functions self-referentially as a way of representing the naturalist text and its incorporation of documentary, extraliterary material.

Duffy, L. (2009). Du monstre lombrosien à l'anormal zolien: généalogies pathologiques et discursives de 'La Bête humaine'. Les Cahiers Naturalistes 83:91-104.

Duffy, L. (1999). È pericoloso sporgersi: The Hysteria of Compartmental Narrative in Maupassant's Contes. Excavatio 12:82-91.
Book
Duffy, L. (2014). Flaubert, Zola and the Incorporation of Disciplinary Knowledge. [Online]. Basingstoke, UK: Palgrave Macmillan. Available at: http://dx.doi.org/10.1057/9781137297549.

This book is about how France's two major documentary authors of the nineteenth century – Gustave Flaubert and Émile Zola – incorporate medical knowledge about the body into their works, and in so doing exploit its metaphorical potential of the body to engage in critical reflection about the accumulation and reconfiguration of knowledge

Duffy, L. (2005). Le Grand Transit Moderne: Mobility, Modernity and French Naturalist Fiction. Amsterdam: Rodopi.
Book section
Duffy, L. (2018). Genre Trouble on the Battlefield: Pharmaceutical, Medical, and Literary Accounts of Napoleonic Campaigns. In: Leroy, S. ed. Medicine and Maladies: Representing Affliction in Nineteenth-Century France. Brill. Available at: http://dx.doi.org/10.1163/9789004368019.

Duffy, L. (2018). Textual (In)Digestions in Flaubert, Zola and Huysmans: Accumulation, Extraction, Regulation. In: Manon, M. and Moore, A. eds. Gut Feeling and Digestive Health in Nineteenth-Century Literature, History and Culture. Palgrave Macmillan, pp. 177-204. Available at: https://doi.org/10.1007/978-3-030-01857-3_9.

Duffy, L. (2018). Zola et les humanités médicales. Le(s) cas de Lourdes. In: Barjonet, A. and Macke, J.-S. eds. Lire Zola Au Xxie siècle. Classiques Garnier, pp. 377-389. Available at: http://dx.doi.org/10.15122/isbn.978-2-406-07961-3.

Duffy, L. (2014). Réseaux du bien et du mal: Infrastructures fictives de Michel Houellebecq. In: Van Wesemael, S. ed. L'Unité De l'oeuvre De Michel Houellebecq. Paris: Garnier, pp. 103-114. Available at: http://www.classiques-garnier.com/editions/index.php?page=shop.product_details&flypage=flypage_garnier.tpl&product_id=1433&category_id=10&option=com_virtuemart&Itemid=1&vmcchk=1&Itemid=1.

Duffy, L. (2010). Orthopédie, gymnastique, hypodermie : redresser le corps chez Flaubert. In: Gaillard, J. and Andrieu, B. eds. Vers La Fin Du Handicap? : Pratiques Sportives, Nouveaux Enjeux, Nouveaux Territoires. Nancy, France: Presses Universitaires de Nancy, pp. 395-412.

This chapter examines attempts to 'correct' or 'straighten' the body - implicitly perceived as imperfect - as represented in 'documentary' fictions by three key nineteenth-century French authors: Gustave Flaubert, Guy de Maupassant and Emile Zola. Along with their contemporary 'source' texts, two episodes from Flaubert are discussed: attempts by the eponymous heroes of Bouvard et Pecuchet to perform exercises prescribed by a contemporary gymnastics manual, and Charles Bovary's vain attempt in Madame Bovary to perform corrective surgery on a club foot, informed by a contemporary medical treatise. Maupassant's novel Mont-Oriol is discussed in relation to what was known in late-nineteenth-century Paris as 'Swedish gymnastics', in which patients were strapped into machines in order to simulate vigorous physical activities such as horse-riding and swimming. Finally, attempts to 'correct the body', 'redresser le corps' in the words of the French historian of the body Georges Vigarello, by means of hypodermic injections, are discussed in relation to Zola's novel Le Docteur Pascal, and a medical treatise on this kind of treatment on which Zola drew. The chapter concludes by arguing that the representation of these kinds of treatments is connected to the question of knowledge, and how it should be organised. Works by authors such as Flaubert and Zola in particular are in fact engaging with attempts in the broader culture to organise, to 'redresser' the body of savoir.

Duffy, L. (2008). Critical introduction to Émile Zola. In: The Ladies' Paradise by Emile Zola. London: Alma Classics, p. vii-xxiii.

Duffy, L. (2007). Perdue en traduction: Translation, Betrayal and Death in Mérimée's Carmen. In: Downing, L., Harkness, N., Unwin, T. and Stephens, S. eds. Birth and Death in Ninteenth-Century French Culture. Amsterdam: Rodopi, pp. 49-61.

Duffy, L. (2005). Les mots font leurs besognes: Informe as High-Low Hybridity on Board the Ville-de-Montereau. In: Crowley, P. and Hegarty, P. eds. Formless: Ways in and Out of Form. Bern: Peter Lang, pp. 120-133.
Edited book
Duffy, L. ed. (2007). Translation of Emile Zola's 'Germinal': With a Critical Introduction. London: Wordsworth.

Duffy, L. and Emerson, C. eds. (2000). La Nature dévoilée: French Literary Responses to Science. Hull: Hull University Press.
Review
Duffy, L. and Sainte-Beuve, C. (2018). Ulric Guttinguer et Charles-Augustin Sainte-Beuve, Arthur. Édition critique par Bernard Gendrel. French Studies [Online] 73:127-128. Available at: https://dx.doi.org/10.1093/fs/kny244.
Thesis
Salawu, W. (2019). La Corruption Dans Le Roman Francophone Du XIXème Au XXIème Siècle.

Résumé Cette thèse étudie la manifestation universelle de la corruption économique passive en tant que phénomène social à travers sept romans francophones. Ceci, par l'entremise de l''Événement Interdiscursif' . Il s'agit d'abord de trois romans de la série Les Rougon Macquart d'Émile Zola, La Curée (1871), Nana (1880) et La Bête humaine (1890). Ces romans, à travers un langage corrompu, présentent à la fois une société capitaliste dure où se cultivent le mensonge, la duperie et la gabegie, puis dévoilent les stratégies déshumanisantes de richesses illicites. Ensuite le premier et le dernier roman d'Ahmadou Kourouma, Les Soleils des Indépendances (1970) et Quand on Refuse on Dit Non (2004). Ce sont des romans complémentaires dont la particulière empreinte langagière coupe le cordon ombilical avec le style du colonisateur. Ils montrent comment de la mauvaise gestion de la rencontre des cultures, depuis le colonisateur en passant par la gestion désastreuse de la richesse du pays après les indépendances, on aboutit à une guerre chaotique qui déchire la toile familiale et fraternelle, caractéristique de cette société. Enfin deux romans de Tahar Ben Jelloun, L'Homme Rompu (1994) et Partir (2006), dont les dénonciations de la corruption, à travers un témoignage moulé dans un langage franc et direct, prennent quelques fois la tournure d'une transgression culturelle et sociale. Cette étude permet de mettre en relief, à travers l'analyse des comportements corrompus, les caractéristiques universelles du corrompu qui agit comme un spéculateur face à ses victimes et comme un architecte bâtisseur d'un plan de château à construire, au même titre qu'un guerrier planificateur de plans de guerre, tout comme un romancier au service de sa création littéraire.

Rolland, N. (2016). Bodies in Composition: Women, Music, and the Body in Nineteenth-Century European Literature.

This thesis examines the relations between music and literature through fictional women musicians in nineteenth-century European literature and more particularly through their bodies. The female body appears to be a rich juncture between music and literature, facilitating musical references in literature as well as creating complex musical narrative systems anchored in social, cultural and scientific discourses of the long nineteenth century. All types of women musicians are examined (singers, instrumentalists, composers, and even listeners) along with different discourses on the body (social, philosophical and scientific), shedding a new light on gender and the arts. Our chronological as well as thematic approach strives to highlight a common representation of the body and of female musicians in literature. German Romantic texts thus present women musicians as elusive figures who play a key role in the impossibility to materialise the abstract. Realist and sensation novels are analysed through a clinical perspective on the body and envision female musicians as monomaniacs. On the contrary, fiction written by female authors introduces empowered musicians as priestess of art. Finally, fin-de-siècle novels stage the female body as a degenerate entity of society. The parallel analysis of literary case studies with different perspectives on the body posits the women-music-body triangle as a new approach to gender, music and literature.
Forthcoming
Duffy, L. (2019). Ce traité médical qui n'en est pas un : récits de lutte disciplinaire sous le régime Orfila. In: Tortonese, P. and D'Andrea, P. eds. Le Cas médical Entre Norme Et Exception. Paris, France: Garnier. Available at: https://classiques-garnier.com.

Le traité Considérations médico-légales sur l'avortement (1844) de Charles-Nicolas Halmagrand est en réalité le récit autobiographique et polémique du conflit entre son auteur et le doyen Mathieu Orfila, qui préside un système de règlement médical sous la monarchie de Juillet. Ce chapitre, constatant des similarités rhétoriques entre certains propos de ce récit et de ceux du pharmacien flaubertien Homais, les situe dans un contexte de luttes autour du règlement de la médecine et de la pharmacie.

Charles-Nicolas Halmagrand's 1844 treatise Considérations médico-légales sur l'avortement is an autobiographical polemic recounting its author's conflict with Mathieu Orfila, Dean of medicine in Paris, who oversees a system of medical regulation during the July Monarchy. This chapter, identifying rhetorical similarities between certain pronouncements in this narrative and those of Flaubert's pharmacist Homais, situates them in a context of struggle around the regulation of medicine and pharmacy.
Last updated