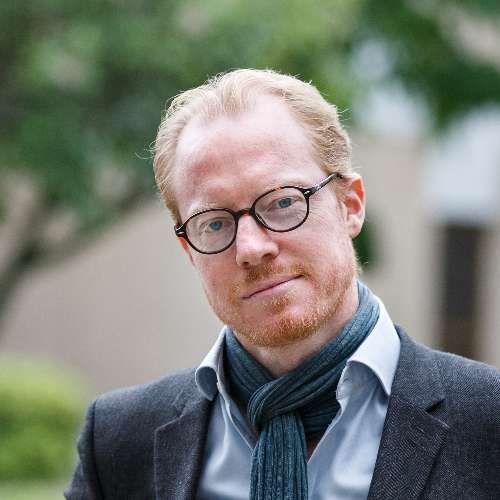 Professor Ben Hutchinson
Professor of European Literature
Academic Director, Paris School of Arts and Culture
About
Ben Hutchinson has been Professor of European Literature at the University of Kent since 2012. His research ranges widely across European - and especially, German - literature; publications in numerous languages include the monographs Rilke's Poetics of Becoming (Legenda, 2006), W.G. Sebald. Die dialektische Imagination (De Gruyter, 2009), Modernism and Style (Palgrave, 2011), Lateness and Modern European Literature (Oxford University Press, 2016), and Comparative Literature: A Very Short Introduction (Oxford University Press, 2018). He is currently writing a book about literature and middle age, provisionally entitled The Midlife Mind.


Ben has lectured at institutions across the world, including at Oxford, Heidelberg, Harvard, Jerusalem, and the ENS Paris. In 2005-7, he was an Alexander von Humboldt Fellow at the Deutsches Literaturarchiv Marbach; in 2011, he was awarded a Philip Leverhulme Prize; in 2012-13, he was a Visiting Professor at Montpellier III; in 2015, a Visiting Fellow at the Forschungsverbund Marbach-Weimar-Wolfenbüttel. He has evaluated research across Europe, most recently in Norway where he served as an international assessor for modern languages and comparative literature, and has undertaken numerous roles as external examiner and programme reviewer. 

Amongst other activities, Ben writes for the Times Literary Supplement, the Observer, and the Literary Review, is a member of the Executive Committee of the British Comparative Literature Association and a Fellow of the Academia Europaea, and is the founder of the UK's first Summer School on comparative literature. 

Ben's lecture on comparative literature, as part of the University's 'Think Kent' series, is available to watch online.  

In September 2019, Ben was appointed Academic Director of the University's Paris School of Arts and Culture.
Teaching
Ben Hutchinson teaches modules on modern German literature and culture.
Publications
Showing 50 of 53 total publications in the Kent Academic Repository. View all publications.
Article
Hutchinson, B. (2017). Late Reading: Erich Auerbach and the Spätboot of Comparative Literature. Comparative Critical Studies [Online] 14:69-85. Available at: https://doi.org/10.3366/ccs.2017.0222.

Focusing in particular on Erich Auerbach's seminal essay 'Philology of World Literature' (1952), this essay proposes to re-examine the conceptualization of comparative literature in the post-WWII period not only from the perspective of its philological, but also from that of its historical self-understanding. Its principal concern will be to consider what it means to view this comparative philology as historical, which is to say in the context of how it emerges from the particular 'historical perspectivism' of the immediate post-war period. The category that best characterizes this philology, it will be argued, is that of late reading, a term that the essay coins as the hermeneutic counterpart to the artistic concept of late style. Characterized by its consciousness of coming at the end of the tradition of European high culture, late reading – at least in Auerbach's understanding of it –makes its very lateness a constituent element of its hermeneutics. Out of this sense of lateness emerges, the essay will argue, a view of comparative literature as defined by its distance from the normative maturity of classical European culture – by what one might term, in Frank Kermode's phrase, its 'sense of an ending'. Auerbach's conception of world philology does not ignore the increasing obsolescence of the Eurocentric perspective, but rather makes this obsolescence the basis of its synoptic purview. As such, it continues to offer a model for how comparative literature may engage with the legacy of high European culture whilst acknowledging the limitations of its perspective.

Hutchinson, B. (2017). Spätstil. Zeitschrift für Ideengeschichte [Online] 15:5-14. Available at: http://www.z-i-g.de/.

Hutchinson, B. (2016). Marinheiro ou camponês? Algumas reflexões sobre as leituras de Sebald do ensaio "O narrador" de Walter Benjamin ("Seaman" or " Peasant"? Some reflections on Sebald's reading of Walter Benjamin's essay "The Narrator"). Cadernos Benjaminianos [Online] 12:85-107. Available at: http://dx.doi.org/10.17851/2179-8478.12.1.85-107.

W.G. Sebald's private library, which is held in part in the Deutsches
Literaturarchiv, contains a copy of Walter Benjamin's Illuminationen. This essay seeks to
establish a theoretical framework for Sebald's narrative technique by investigating his
annotations in the closing essay of the book, "The Narrator". With the help of his underlinings
and marginalia, Sebald's own narrative structures can be interpreted as a means of depicting
"natural history", as an aesthetic response to a philosophical concept. Two principles can be
derived from this perspective: the strategy of "interlocking layers" (Einschachteln), and the
strategy of montage. It is the dialectic between these two principles that drives Sebald's prose
style. The tension in his work between fact and fiction derives ultimately from an uneasy
relationship between his artfully constructed prose-style on the one hand and its quasidocumentary
realism on the other.

Hutchinson, B. (2015). Epigonen or Progonen? Short Prose and Young Germans. German Life and Letters [Online] 68:529-542. Available at: http://dx.doi.org/10.1111/glal.12097.

In his introduction to the 1959 edition of Die verspätete Nation, the sociologist Helmuth Plessner famously suggested that modern Germany is defined as a nation-state by its 'belatedness'. Yet this belatedness, Plessner remarks, is not only to be understood in purely negative terms: it may be 'eine Ungunst des Geschicks', but it is also 'eine schöpferische Möglichkeit'. Much the same ambiguity could be said to apply to German literature of the 1830s, where the sense of arriving too late, of arriving after the golden age of Goethe and Schiller, can be understood as both contingent and conceptual. This essay reflects on this tension by considering two main modes of shorter prose in the 1830s: critique, and the novella. Surveying the Young German critics on the one hand, and Alexander von Ungern-Sternberg's paradigmatic novella Die Zerrissenen on the other, it considers short prose not only as an aesthetic vehicle of this tension, but also as its generic expression, in as much as it reacts against Romantic and Goethean models of genre with a conscious insistence on 'Selbstverkleinerung'. Is Hegel's 'age of prose' in the 1830s more specifically an age of short prose?

Hutchinson, B. (2013). W.G. Sebald et l'école de Francfort. Europe 1009:68-78.

Hutchinson, B. (2013). Anglokatholik, Royalist, Klassizist. T.S. Eliots Brief an den Merkur Lepper, M. and Schlak, S. eds. Zeitschrift für Ideengeschichte 3:44-48.

Hutchinson, B. (2013). Entre littérature et Histoire: la « tardiveté » comme modèle herméneutique. Fabula [Online]. Available at: http://www.fabula.org/colloques/document2090.php.

Hutchinson, B. (2012). Rilkes Widmungsgedichte für Hedwig Bernhard. Blätter der Rilke-Gesellschaft 31.

In the summer of 1913, Rilke spent two weeks in the Black Forest resort of Bad Rippoldsau, where he had an intense, fleeting encounter with a young actress named Hedwig Bernhard. This article undertakes a close reading of the two poems written during this period, placing them within both the narrow, biographical context and the broader, poetological context of Rilke's creative crisis. In particular, the marked increase in dialogic intensity over the two poems – indicated by the transition from 'Sie' to 'du' – suggests a rare moment of renunciation of Orphic narcissism in favour of a genuine emotional vulnerability.

Hutchinson, B. (2011). The Shadow of Resistance. W.G. Sebald and the Frankfurt School. Journal of European Studies [Online] 41:267-284. Available at: http://dx.doi.org/10.1177/0047244111413703.

Sebald's views on history and art were determined early on by his engagement with the leading thinkers of the Frankfurt School, namely Adorno, Horkheimer and Marcuse. From his earliest postgraduate research in the 1960s to his latest prose fiction in 2001, Sebald's work bears signs of their influence at every level. This article traces this influence in three main phases. Initially, it establishes the main tenets underpinning Sebald's interest in their thought. This interest is then followed through his books on Sternheim and Döblin, in order to establish the extent of the impact of the Frankfurt School on his formative years. After this reconstruction of the methodology in his early critical work, the article then assesses the consequences of Sebald's interest in the Frankfurt School for his later prose fiction, highlighting in particular his dialectical syntax, his critique of the Enlightenment idea of progress, and his taste for certain kinds of modernist artists.

Hutchinson, B. (2011). "Moreplovac" ili "Zemljoradnik"? Nekoliko razmisljanja o Zebaldovom citanju eseja "Pripovedac" Valtera Benjamina. Polja 469:265-279.

Weller, S. and Hutchinson, B. (2011). Archive Time. Comparative Critical Studies [Online] 8:133-153. Available at: http://dx.doi.org/10.3366/ccs.2011.0015.

Hutchinson, B. (2011). Une Écriture Blanche? Style and Symbolism in Édouard Dujardin's 'Les Lauriers Sont Coupés'. The Modern Language Review [Online] 106:709-723. Available at: http://dx.doi.org/10.5699/modelangrevi.106.3.0709.

This article reassesses Édouard Dujardin's Les lauriers sont coupés through a close reading of its stylistic technique. Using contemporary stylistic theories, it argues that the psychological 'flux de conscience' in Dujardin's novel is constructed so as to foreground its own self-conscious exploration of literary style. Pace Roland Barthes's notion of 'écriture blanche''—representative of post-war attempts to strip language down to a 'degré zéro', to a supposed absence of style—the term is reapplied as emblematic of an absolute presence of style in Les lauriers sont coupés.

Hutchinson, B. (2010). Dichterin der Rückkehr. Hilde Domin in retrospect. The Modern Language Review [Online] 105:479-486. Available at: http://www.jstor.org/stable/25698705.

Hutchinson, B. (2010). "Der Frosch der Kritik". Interview with Sir Frank Kermode Raulff, U. ed. Zeitschrift für Ideengeschichte 1:47-58.

Hutchinson, B. (2009). "Raw with late wisdom": Geoffrey Hill's A Treatise of Civil Power. Modern Language Review [Online] 104:947-961. Available at: http://www.jstor.org/stable/25655040.

Hutchinson, B. (2009). "Ein Penelopewerk des Vergessens"? W. G. Sebald's Nietzschean Poetics of Forgetting. Forum for Modern Language Studies [Online] 45:325-336. Available at: http://dx.doi.org/10.1093/fmls/cqp106.

W. G. Sebald is generally seen as an exemplary modern writer of "memory". This essay seeks to demonstrate that in fact his understanding of memory is equally dependent on the importance – and paradoxically the impossibility – of forgetting. Based on archival work in his own private library, it explores how Sebald's annotations in his copies of thinkers as diverse as Nietzsche, Walter Benjamin and Sir Thomas Browne consistently interpret memory as a double-edged sword. A particular focus is Sebald's reading of Nietzsche's seminal thoughts on the dialectics of remembering/forgetting in "Vom Nutzen und Nachtheil der Historie für das Leben" and Zur Genealogie der Moral. It is perhaps the ability to forget, Nietzsche suggests, that is the guarantor of peace and sanity; Sebald's notorious melancholy, conversely, can arguably be linked to his inability to forget, for, as Nietzsche writes, "nur was nicht aufhört, weh zu thun, bleibt im Gedächtnis".

Hutchinson, B. (2008). "Ici commence l'indicible". Hans Blumenbergs Überlegungen zur Unmöglichkeit des Beginnens beim späten Rilke. Etudes Germaniques 63:115-129.

This essay investigates the concept of 'beginnings' in Rilke's poetry, through a reading of a number of published and unpublished texts by Hans Blumenberg (held in Marbach). Blumenberg's brief article on an – almost – empty notebook of Rilke's, containing only the words 'Ici commence l'indicible', can be seen as part of a broader aesthetics of negation. The paradox of saying the unsayable can be understood within the context of Blumenberg's concept of 'absolute metaphors': how do Rilke's metaphorical and syntactical techniques for 'saying the unsayable' – for expressing moments of beginning – correspond to Blumenberg's insistence on the impossibility of expressing true beginning?

Hutchinson, B. (2008). "Ich bin Ich im Altern durch meinen Körper und gegen ihn": Jean Amérys Grammatik des Alterns als Dialog mit der französischen Philosophie Roloff, H.-G. ed. Jahrbuch für internationale Germanistik [Online] 28:119-134. Available at: http://dx.doi.org/10.3726/82030_119.

Hutchinson, B. (2007). '"Der Erzähler als Schutzengel?": W.G. Sebald's reading of Giorgio Bassani'. Gegenwartsliteratur:69-91.

Hutchinson, B. (2007). Wozu Denker in dürftiger Zeit?. IASLonline [Online]. Available at: http://www.iaslonline.de/index.php?vorgang_id=1918.

Hutchinson, B. (2006). The Structure of the Double-Bind in W.G. Sebald. Revista de Filología Alemana 14:101-111.
Book
Hutchinson, B. (2018). Comparative Literature: A Very Short Introduction. [Online]. Oxford: Oxford University Press. Available at: https://global.oup.com/academic/product/comparative-literature-a-very-short-introduction-9780198807278?cc=gb&lang=en&.

Comparative Literature is both the past and the future of literary studies. Its history is intimately linked to the political upheavals of modernity: from colonial empire-building in the nineteenth century, via the Jewish diaspora of the twentieth century, to the postcolonial culture wars of the twenty-first century, attempts at 'comparison' have defined the international agenda of literature. But what is comparative literature? This Very Short Introduction tells the story of Comparative Literature as an agent of international relations, from the point of view both of scholarship and of cultural history more generally. Outlining the complex history and competing theories of comparative literature, Ben Hutchinson offers an accessible means of entry into a notoriously slippery subject, and shows how comparative literature can be like a Rorschach test, where people see in it what they want to see. Ultimately, comparative literature emerges at the very heart of literary criticism, for as George Steiner once noted, 'to read is to compare'.

Hutchinson, B. (2016). Lateness and Modern European Literature. [Online]. Oxford University Press. Available at: https://global.oup.com/academic/product/lateness-and-modern-european-literature-9780198767695?cc=gb&lang=en&.

Modern European literature has traditionally been seen as a series of attempts to assert successive styles of writing as 'new'. In this groundbreaking study, Ben Hutchinson argues that literary modernity can in fact be understood not as that which is new, but as that which is 'late'. Exploring the ways in which European literature repeatedly defines itself through a sense of senescence or epigonality, Hutchinson shows that the shifting manifestations of lateness since romanticism express modernity's continuing quest for legitimacy. With reference to a wide range of authors—from Mary Shelley, Chateaubriand, and Immermann, via Baudelaire, Henry James, and Nietzsche, to Valéry, Djuna Barnes, and Adorno— he combines close readings of canonical texts with historical and theoretical comparisons of numerous national contexts. Out of this broad comparative sweep emerges a taxonomy of lateness, of the diverse ways in which modern writers can be understood, in the words of Nietzsche, as 'creatures facing backwards'. Ambitious and original, Lateness and Modern European Literature offers a significant new model for understanding literary modernity.

Hutchinson, B. (2011). Modernism and Style. Basingstoke: Palgrave Macmillan.

Tracing the stylistic self-conceptualization of modernism from Schopenhauer and Flaubert in the 1850s, through Nietzsche and the symbolists in the 1880s, to the high modernists of the 1920s, this book explores the far-reaching implications of Roland Barthes' claim that modern literature is 'saturated with style'. It offers both a broad, comparative survey of European modernism and an inventive re-reading of the major genres of the period, namely poetry, prose, and the manifesto. With reference to a wide range of canonical figures, including Aragon, Baudelaire, Eliot, Rémy de Gourmont, Joyce, Mina Loy, Thomas Mann, Jean Paulhan, Proust, Rilke, Tzara, Valéry, and Virginia Woolf, Hutchinson argues that modernism oscillates between embracing a literature of 'pure' style and rejecting a literature that is 'purely' style. Between these two poles, style emerges, in the words of John Middleton Murry, not as 'an isolable quality of writing, but as writing itself'.

Hutchinson, B. (2009). W.G. Sebald. Die Dialektische Imagination. Vol. 59. Berlin/New York: de Gruyter.

This book uses the annotations in W.G. Sebald's private library (held in the Deutsches Literaturarchiv, Marbach) to develop an interpretation of his prose style as fundamentally dialectical. Alongside his readings of writers as diverse as Benjamin, Bernhard, Bassani, and Lévi-Strauss, it uses in particular Adorno's and Horkheimer's Dialectic of Enlightenment to help develop a close reading of Sebald's syntax and narrative structures. The key concern of Sebald's prose emerges not as the Holocaust (as has often been contended), but rather the dialectical processes of 'progress' and 'regression' inherent in history.

Hutchinson, B. (2006). Rilke's Poetics of Becoming. Oxford/London: Legenda.

Rainer Maria Rilke's early verse is often seen as having little relevance to the great achievement of the middle years, the Neue Gedichte. Yet the very different styles of the juvenilia and this 'new' maturity are united by a preoccupation with processes of motion and growth which governs both his life and work. In this meticulous philological study, Ben Hutchinson reassesses Rilke's early poetry at every level, from its motives and metaphors to its very grammar and syntax. With careful attention to rhythm, resonance and linguistic detail, he illuminates both the hidden patterns of the poetry and the artistic context of the fin de siècle. From its roots in the intellectual climate of the 1890s to the poems inspired by Rodin and published in 1908, Rilke's stylistic development is set against the surprising consistency with which he pursues this poetics of becoming.
Book section
Hutchinson, B. (2016). Afterword in Late Style and its Discontents. In: McMullan, G. and Smiles, S. eds. Late Style and Its Discontents. Oxford University Press, pp. 235-239.

Hutchinson, B. (2016). 'Zerrissen von inneren Widersprüchen' Paradoxien eines Positivisten. In: Weiler, S. and Hofmann, M. eds. Revision in Permanenz: Studien Zu Jean Amérys Politischem Ethos Nach Auschwitz. Berne: Peter Lang, pp. 83-100. Available at: http://doi.org/10.3726/978-3-653-06013-3.

Hutchinson, B. (2015). '"A powerful rough language": Stone, Style, and Sculpture in the Poetry of Geoffrey Hill'. In: Ethics of Alterity, Confrontation and Responsibility in 19th- to 21st-Century British Arts. Presses universitaires de la Mediterranee, pp. 185-204. Available at: http://www.pulm.fr/index.php/ethics-of-alterity-confrontation-and-responsibility.html.

Hutchinson, B. (2012). "Recuperative temperaments"? Hans-Georg Gadamer und Frank Kermode. In: Dutt, C. ed. Gadamers Philosophische Hermeneutik Und Die Literaturwissenschaft. Heidelberg: Universitätsverlag Winter, pp. 151-167.

Hutchinson, B. (2012). Modernism and the Erotics of Style. In: Schaffner, A. K. and Weller, S. eds. Modernist Eroticisms: European Literature After Sexology. Basingstoke: Palgrave Macmillan, pp. 213-231.

Hutchinson, B. (2011). "Ah, diese chronischen Mißverständnisse!" The Hermeneutics of "Understanding" in Hofmannsthal's Der Schwierige. In: Liebscher, M., Fricker, C. and Dassanowsky, R. von eds. The Nameable and the Unnameable: Hofmannsthal's Der Schwierige Revisited. Munich: Iudicium, pp. 80-93.

Hutchinson, B. (2010). Jean Amérys Dialog mit dem französischen Strukturalismus. In: Müller, H.-H. ed. Strukturalismus in Deutschland: Literatur- Und Sprachwissenschaft 1910-1975. Göttingen: Wallstein Verlag, pp. 308-320.

Hutchinson, B. (2010). "Ankunft": spätes Gedicht oder frühes Motiv?. In: Vilain, R. and Karen, L. eds. Nach Duino : Studien Zu Rainer Maria Rilkes Spaeten Gedichten. Göttingen: Wallstein Verlag, pp. 109-122.

Hutchinson, B. (2009). "Seemann" oder "Ackermann"? Überlegungen zu W.G. Sebalds Lektüre von Walter Benjamins Essay "Der Erzähler". In: Fischer, G. ed. W.G. Sebald and Expatriate Writing. Amsterdam: Rodopi, pp. 277-298.

Hutchinson, B. (2008). Jean Améry's Semiotics of Exile. In: Carr, G. and Leahy, C. eds. Fünfzig Jahre Staatsvertrag: Schreiben, Identität Und Das unabhängige Österreich. Munich: Iudicium, pp. 83-93.

Hutchinson, B. (2008). Bausteine 3: Sprachen. In: Bülow, U. von, Gfrereis, H. and Strittmatter, E. eds. Wandernde Schatten: W.G. Sebalds Unterwelt. Marbach am Neckar: Deutsche Schillergesellschaft, pp. 114-127.

Hutchinson, B. (2008). Introduction. In: Hutchinson, B. ed. Rainer Maria Rilke's The Book of Hours: A New Translation With Commentary. New York / Rochester: Camden House Inc, U.S.

Hutchinson, B. (2006). Narrative Status and its Implications. In: Denham, S. and McCulloh, M. eds. W. G. Sebald: History - Memory – Trauma. Berlin, New York: Walter de Gruyter, pp. 171-182.

Hutchinson, B. (2006). "Egg boxes stacked in a crate": Narrative Status and its Implications in W.G. Sebald's prose. In: Denham, S. and McCulloh, M. R. eds. W. G. Sebald: History - Memory - Trauma. Berlin, New York: Walter de Gruyter.
Edited book
Hutchinson, B. (2013). A Literature of Restitution: Critical Essays on W. G. Sebald. Baxter, J., Henitiuk, V. and Hutchinson, B. eds. Manchester: Manchester University Press.

Weller, S. and Hutchinson, B. (2011). Archive, Special Issue of Comparative Critical Studies, 8:2-3 (2011). Weller, S. and Hutchinson, B. eds. Edinburgh: Edinburgh University Press.

Hutchinson, B. and Ranson, S. eds. (2008). Rainer Maria Rilke's The Book of Hours: A New Translation With Commentary. Vol. 19. New York/Rochester: Camden House Inc, U.S.
Internet publication
Hutchinson, B. (2007). 'Wozu Denker in dürftiger Zeit?' Review-Essay on Jean Améry [Online]. Available at: http://iasl.uni-muenchen.de/rezensio/liste/Hutchinson2296011241_1918.html.
Review
Hutchinson, B. (2008). Change and Decay. Times Literary Supplement [Online]:28-28. Available at: https://www.the-tls.co.uk/articles/private/change-and-decay-2/.

Hutchinson, B. (2008). Review of Rainer Maria Rilke, 'Duino Elegies' - Translated by Martyn Crucefix. Modern Language Review 103:283-284.

Hutchinson, B. (2008). Review of Chloe Paver, 'Refractions of the Third Reich in German and Austrian Fiction and Film'. Modern Language Review 103:904-905.
Thesis
Hundehege, S. (2017). Writing the Nazi Movement. The Poetry of Baldur Von Schirach.

This thesis examines the literary output and influence of Baldur von Schirach (1907-1974) and - since he devoted his writing to the service of the party and its leader - his resultant cultural contribution to the establishment and consolidation of the National Socialist dictatorship. To date, Schirach's political role as Reichsjugendfu?hrer has overshadowed his literary work and influence. By demonstrating that his poems were not only supported by the National Socialist regime but also widely read in nationalist and right-wing circles in and before the Nazi party's rise to power, I aim to complement and correct the current perception of Schirach's role in the Third Reich.
A clearer picture of Schirach's cultural persona and ideological development is achieved by considering literary sources as well as historical and biographical data. Based on the analysis of his published and unpublished texts (poems, songbooks, articles, speeches, correspondence, interviews), this study outlines Schirach's position within the National Socialist movement and also situates his writing within the wider context of his times. To this end, it establishes his literary role models and investigates the extent of their influence on Schirach. It explores his literary response to debates around the role of the author in the politicised sphere of the Weimar Republic. Analysis of his poems in comparison with the war writing of the 1920s, in particular with that of Ernst Ju?nger, reveals that there is more ambiguity in Schirach's poetry than scholarly accounts of his poems have previously allowed. I identify central features of his writing that can be found in Communist poetry but also in non-political poetry written during the same period, especially as regards use of intertextuality and the blurring or merging of the literary and political spheres. These commonalities reaffirm the existing impetus in scholarly research made by Helmuth Kiesel, Uwe Hebekus, Walter Delabar, Sebastian Graeb-Ko?nneker and others to rethink our binary understanding of modernist and National Socialist literature. The example of Schirach, this study concludes, reveals not only the contrasts but also continuities between the literature of the Weimar Republic and the Third Reich. It is also possible here for the first time to extend these reflections to the post-1945 period, as unpublished correspondence and poems from Schirach's twenty-year prison sentence, provided by his family, are analysed in the final chapter.
Engagement with Schirach as an author is not an attempt to rehabilitate him, or to rebut his categorisation as a National Socialist writer. Instead, by analysing his literary works and how they relate to other literary and ideological currents of his time, this study contributes to a more nuanced understanding of the role literature played in National Socialism at all stages of the party's development and thus to a broader understanding of the movement as a cultural as well as political phenomenon.

Dilly, M. (2017). Expatriate Writing: Post-Trauma, Postmemory and the Postcolonial.

This thesis describes the relationship between post-Second World War discourses and postcolonialism as observed in a selection of works by expatriate 'postmemory' authors after the Second World War and the Indian Partition. With global consequences which are still felt today, the Holocaust can no longer be understood as a singled-out event. Through their various works, Anita Desai, Amitav Ghosh, Salman Rushdie, and W.G. Sebald offer a range of comparable strategies for further personal engagement with the past - not just in Europe or in South Asia, but in both places together.
The thesis shows that the expatriate writer - defined by his or her temporal and spatial distance from the subject matter - can be understood not only as someone who mediates between there and here, but also between past and present. Thinking of the expatriate writer as someone between two worlds is technically reminiscent of the traumatised person who is unable to negotiate between the two worlds of victims and outsiders. The expatriate writer can make use of rupture, distance, and partial identity, and is therefore in a privileged position when it comes to highlighting incomplete (hi)stories.
The fictional texts examined in this thesis are examples of multidirectional memory in several ways: firstly through the connection to other nations' histories and secondly through reaching out to the reader. The reader's active engagement with the text is fundamental in the process of establishing meaning, which at the same time challenges the status of master narratives. Even if hardly anyone speaks of a traumatic style, this is where I would ultimately situate this research, as to varying degrees these works use narrative strategies that already include and point to another trauma, be that the Second World War or colonialism.

Münüklü, E. (2015). Die Poetik Des Marginalen: Eine Vergleichende Untersuchung Der Werke Von Orhan Pamuk Und W. G. Sebald.

Literature increasingly deals with marginalized individuals, criticizes dominant structures, uncovers hidden traces from a suppressed past and attempts to restitute the voices of marginalized people. Orhan Pamuk and W. G. Sebald engage with what is considered to be marginal in various ways in their prose: marginal spaces (political and geographical peripheries), marginal times (marginalized past), marginalized people and objects (ruins, dilapidated buildings and seemingly dispensable objects) are the main subject matters in their works. The empathic engagement with the marginal constitutes a poetic principle in their narratives, in which the marginal is attributed with a specific significance and as a model of knowledge is given ethic-aesthetical value: a poetics of the marginal.
Last updated