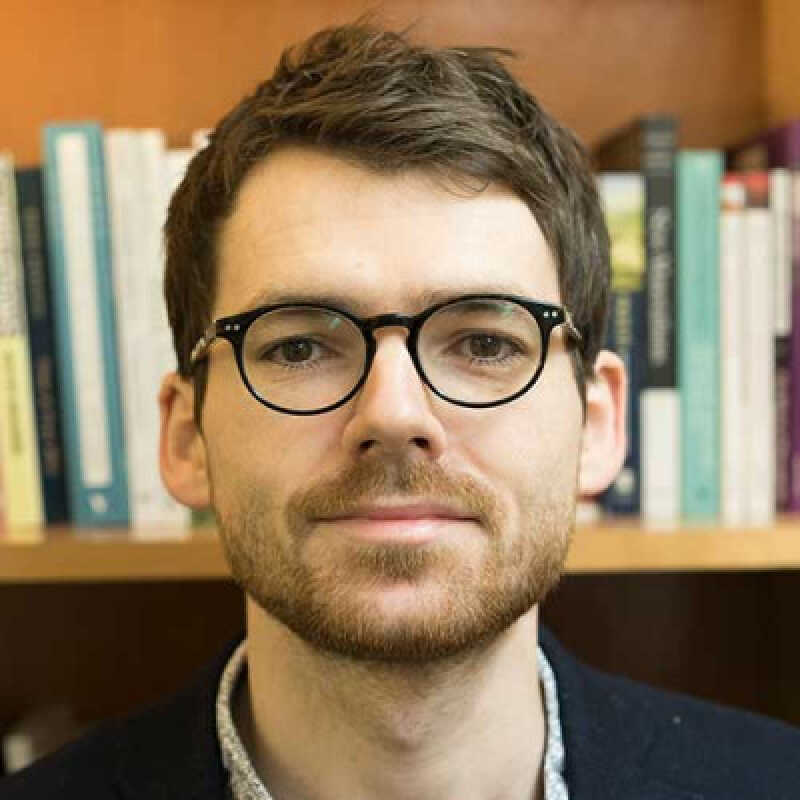 Dr Derek Ryan
Senior Lecturer in Modernist Literature
About
BA (Hons), Strathclyde; MLitt, PhD, Glasgow

Derek Ryan is Senior Lecturer in Modernist Literature. He joined the University of Kent in September 2013, having previously held the post of Lecturer in English Literature at the University of Exeter and worked as a Graduate Teaching Assistant at the University of Glasgow, where he completed his PhD funded by the Arts and Humanities Research Council.  
Research interests
Derek's primary research specialisms are in modernist literature, animal studies and critical theory, and he has published widely in each of these areas. His new monograph, Bloomsbury, Beasts and British Modernist Literature (Cambridge UP, 2022), reveals how the Bloomsbury group's fascination with beasts – from pests to pets, tiny insects to big game – became an integral part of their critique of modernity and conceptualisation of more-than-human worlds. Through a series of close readings, it argues that for Leonard Woolf, David Garnett, Virginia Woolf and E. M. Forster, profound shifts in interspecies relations were intimately connected to questions of imperialism, race, gender, sexuality and technology.

Derek is author of two previous monographs: Animal Theory: A Critical Introduction (Edinburgh UP, 2015; translated into Turkish in 2019) offers a wide-ranging account of theoretical approaches to animality in modern and contemporary thought, with chapters on 'Animals as Humans', 'Animal Ontology', 'Animal Life' and 'Animal Ethics'; Virginia Woolf and the Materiality of Theory: Sex, Animal, Life (Edinburgh UP, 2013) explores the relationship between culture and nature, embodiment and environment, human and nonhuman, life and matter across Woolf's writings, bringing modernism into dialogue with Deleuzian philosophy, posthumanism and new materialism. Ideas relating to these books are developed in various essays and journal articles, as well as in his guest and co-edited special issues of the journals Comparative Critical Studies ('Reading Braidotti/Reading Woolf' 2022), Twentieth-Century Literature ('Modernist Ethics and Posthumanism', 2015), Virginia Woolf Miscellany ('Woolf and Materiality', 2014), and Deleuze Studies ('Deleuze, Virginia Woolf and Modernism', 2013). His work on Katherine Mansfield has been published in Modern Fiction Studies.

A series of co-edited books in recent years develop his interests in reading both modernism and literary animals in broader historical and international contexts. Cross-Channel Modernisms (Edinburgh UP, 2020) charts the rise in modernist aesthetics and cultural exchange between key figures in Britain, France and beyond in the early twentieth century. Virginia Woolf, Europe, and Peace: Aesthetics and Theory (Clemson UP/Liverpool UP, 2020) examines Woolf's response to war in Europe and her efforts to conceptualise peace. Reading Literary Animals: Medieval to Modern (Routledge, 2019) covers a range of questions concerning animals as they appear through literary history, from medieval bestiaries and animals on the early modern stage to eighteenth-century lapdog poems and modern canine biographies. The Handbook to the Bloomsbury Group (Bloomsbury, 2018) showcases contemporary scholarship on Bloomsbury by combining overview essays with detailed case studies covering topics such as feminism, sexuality, empire, philosophy, class, nature, politics and the arts.

Currently, Derek is editing The Cambridge Companion to Literature and Animals and The Cambridge History of the Bloomsbury Group. He is a co-editor of the Cambridge Edition of Virginia Woolf's Flush: A Biography and Series Editor of Virginia Woolf – Variations (Edinburgh UP).   
Supervision
Derek's supervision of PhD projects to date covers topics including modernist literature, the Anthropocene, hypnagogic states, vermin, medical humanities, deforestation, and speculative fiction. He would be keen to supervise doctoral research relating to any of his research interests.  
Professional
Derek has been appointed as external examiner for PhD projects at Aarhus University, Denmark (2018), Durham University (2019), Sorbonne Université, Paris IV (2019), King's College London (2020), Queen's University, Canada (2021), University of Sydney (2022), and University of Pretoria, South Africa (2023).  

Since 2016, he has served on the Editorial Board of Woolf Studies Annual. In October 2017 he was appointed as the Literature Subject Editor for the Routledge Encyclopedia of Modernism. He has acted as a reader for various publishers and journals, including Cambridge University Press, Oxford University Press, Stanford University Press, Edinburgh University Press, Routledge, Bloomsbury, Palgrave, Ohio State University Press, Review of English Studies, Modernism/modernity, Twentieth-Century Literature, LIT: Literature Interpretation Theory, Mosaic, Genre: Forms of Discourse and Culture and Studies in the Novel.

He has co-organised numerous conferences and events relating to his primary research interests, including 'Virginia Woolf, Europe and Peace: the 28th Annual International Conference on Virginia Woolf', which welcomed over 200 delegates to Kent over four days in June 2018. He is a founding member of the Kent Animal Humanities Network, which holds annual events for staff and students at the University. He has received invitations to give keynotes and guest lectures in the UK, France, Sweden, Netherlands, and USA.

He is a current or past member of the Modernist Studies Association, the British Association of Modernist Studies, the Société d'Etudes Modernistes, the International Virginia Woolf Society, Virginia Woolf Society of Great Britain, the Société d'Etudes Woolfiennes, the American Comparative Literature Association and the Katherine Mansfield Society.

His administrative experience at Kent includes the roles of Director of Graduate Studies at the Paris campus (2018-2020), Director of Graduate Studies for MA programmes (2016-18) and Research Seminar Organiser (2014-15), as well as membership of the Policy and Planning Group, School and Faculty Graduate Studies Committees, Faculty Paris Marketing Advisory Board and University Programme Approval and Curriculum Design Project Stakeholder Group.  

Last updated