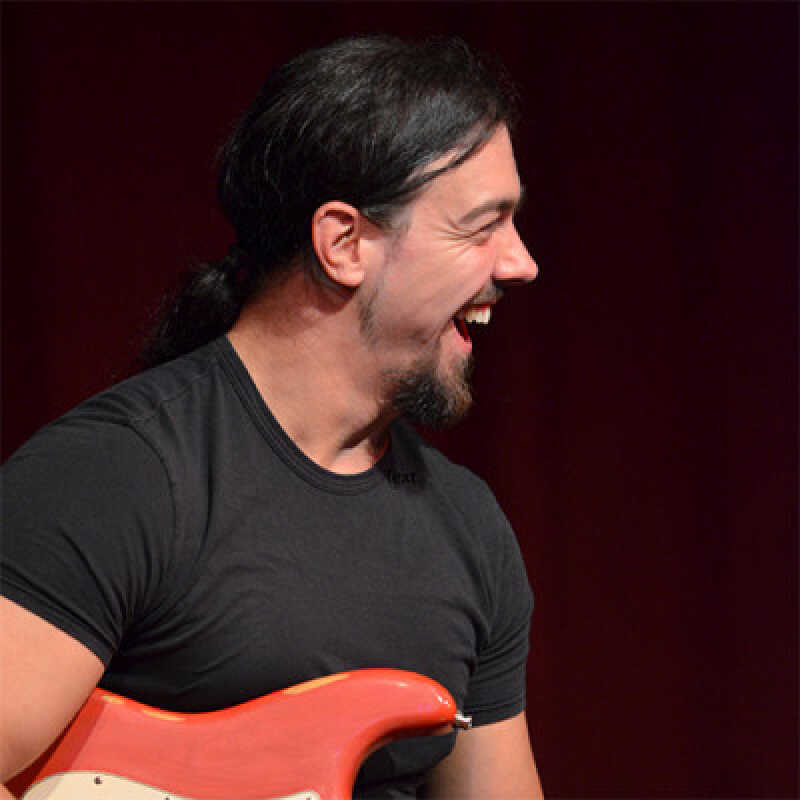 Dr Richard Perks
Senior Lecturer in Music Performance
About
Rich is a guitarist, composer and musicologist. He is one of Europe's leading exponents of the fretless electric guitar, has extensive live, studio and theatre experience in the commercial industry, and has performed all over the world. He continues to be in great demand as a session guitarist, playing much contemporary, experimental, improvised and World music. His debut album Imposition (2009) received critical acclaim and his music has been performed internationally.

Rich completed a PhD at Brunel University in 2013, submitting a portfolio of compositions and an accompanying thesis entitled Combining Musical Identities through Composition and Improvisation; this practice-based research addressed the construction of compositional methodologies for improvising musicians, primarily working with performers from non-congruent musical backgrounds and cultures. Prior to this he was awarded an MMus in Contemporary Music from Brunel University, a first-class BMus in Popular Music Performance from the Guitar Institute (London College of Music) and a first-class BSc in Mathematics from the University of Southampton. Rich has studied guitar with Shaun Baxter and Mike Outram; composition with Christopher Fox, Colin Riley and Peter Weigold; improvisation with Richard Barrett; and songwriting with Ray Davies (The Kinks).

He recorded guitars on Iranian pop-rock artist Ali Azimi's albums Mr. Mean (2013), Till Glory Finds Us (2016) and Of Love and Other Evils (2019), and was a member of the live line-up throughout both the 2014/15 and 2016/17 promotional world-tours. In 2017 he was commissioned by Diaspora Arts Connection to lead Strung Together, an intercultural collaborative performance project in San Francisco (US), which brought together virtuosic musicians from Syria, Iran, Kurdistan, US and UK. In 2019 he was awarded a research scholarship to visit Istanbul Technical University to exchange ideas about microtonal applications in guitar performance with Prof. Dr. Tolgahan Çoǧulu, as well as study privately with fretless guitar master Cenk Erdoǧan.

His improvisation-based group vLookup Trio have performed across the UK and Europe; comprising Andy Hall (trumpet), Tom Atherton (percussion) and Rich (fretless electric guitar), the band explores the sonic possibilities of an otherwise limited instrumentation by incorporating technological solutions (including instrumental augmentation, effects processing and additional live electronics). Rich also plays regularly with the Andrew Linham Jazz Orchestra and a variety of World music ensembles.
Research interests
Rich's current research interests include the extended performance possibilities of the fretless electric guitar, guitar-focused musicology/analysis, the combination of composition with improvisation, and intercultural collaboration. Recent publications have addressed aspects of modern-day electric guitar performance and practical approaches to music-cultural hybridity (see KAR list below).  

His ongoing research project Fretless Architecture explores the potential of the fretless electric guitar as a solo instrument, as well as examining its role within different ensembles. More specifically, this work engages newly commissioned performance repertoire (via international calls for scores), the development of new techniques and original notation specific to the fretless electric guitar, technological augmentation (expressly the use of effects pedals, loops, EBow, laptops, sound-manipulation and so forth), building relationships with composers, improvisation, and intercultural collaborations (through performing modern hybrid-embodiments of musics which utilise microtonal tuning systems). 

He is a member of the artistic peer-review committee for 21st Century Guitar – Unconventional Approaches to Performance, Composition and Research Conference (Universidade NOVA de Lisboa, Portugal, 2021).
Teaching
Rich demonstrates a thorough commitment to teaching and learning. He possesses a Postgraduate Certificate in Higher Education and is a Senior Fellow of the Higher Education Academy.

In 2018 Rich (along with Ruth Herbert) won the University of Kent's Humanities Faculty Teaching Prize (1st) for: The Integration of Peer-Review, Reflective Feedback, and Reflexivity into the Teaching and Assessment of Music Performance.
Professional
Selected Commercial Live Performance and Studio Recording (guitar):
vLookup Trio (2019). Dutch Fretless Guitar Festival VIII – Amsterdam [Concert]
Ali Azimi. Of Love and Other Evils. Recorded and commercially released, 2019 [CD]
Andrew Linham Jazz Orchestra. Weapons of Mass Distraction. Recorded and commercially released, 2017 [CD]
Ali Azimi and The Need (2016/17). Til Glory Finds Us – World Tour [Concert Series]
Ali Azimi and The Need. Til Glory Finds Us. Recorded and commercially released, 2016 [CD]
Andrew Linham Jazz Orchestra (2016). Theme Music of Anarchic Animals – National Tour, UK [Concert Series]
Ali Azimi and The Need (2014/15). Mr. Mean – World Tour [Concert Series]
Ali Azimi and The Need. Mr. Mean. Recorded and commercially released, 2013 [CD]
Ali Azimi and The Need (2013) – Eldfestern, Sweden [Concert]
Dr. Funkenstein's Groove Coalition (2007) – Dunestock, Qatar [Concert]
Twelve Tenors ft. Jonathan Ansell, (2007) – Le Grande Sport, Monte Carlo [Concert Series]
Matti Caspi (2006) – London Metropole, UK [Concert]
Various Artists (2006) – O2 Shepherd's Bush Empire, UK [Concert]
SUJO (2003) – Montreux Jazz Festival, Switzerland [Concert]
SUJO (2002) – North Sea Jazz Festival & National Tour, Netherlands [Concert]
Last updated