This collection was the Library of the Regimental Association of The Queen's Own Buffs, The Royal Kent Regiment. This Regiment was formed in 1961 by an amalgamation of the Buffs (Royal East Kent Regiment) and the Queen's Own Royal West Kent Regiment.

The collection consists of some rare and unique materials including:
regimental association records (such as the Buffs Golfing Society)
army lists and Harts army lists from 1754 to 2006
military books from the 19th to 21st century
privately published diaries
regimental journals: The Dragon (the Buffs) and the Queen's Own Gazette.
Additional information about the Buffs can be found on the Regiment's website here, as well on the Friends of the Buffs website here.
Collection in brief
Contents: books, regimental journals, periodicals
Period: 18th - 21st century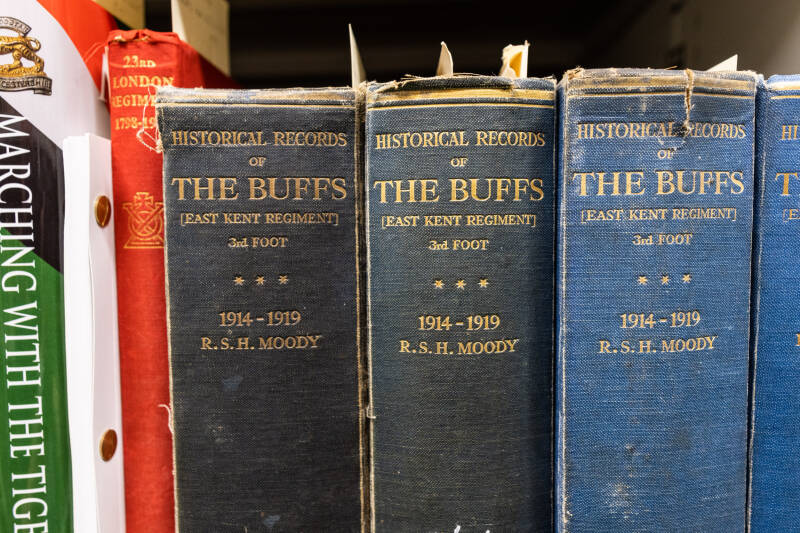 Regimental journals
The regimental journals were published monthly, by the regimental associations, and were paid for by soldiers of the regiment. They provide unique insights into regimental life, not only from a military perspective, but also from a social perspective, and contain letters, cartoons and drawings, photographs, and news on regimental sporting events.

We hold complete or near complete series of The Dragon (1886-1961) and the Queen's Own Gazette (1876--1961).
We also hold records of the regimental journals that proceeded these as well as those journals that were published after; Invicta (1961-1966), The Newsletter (1987-2001) and The Journal (2001-2017).
Collection listings