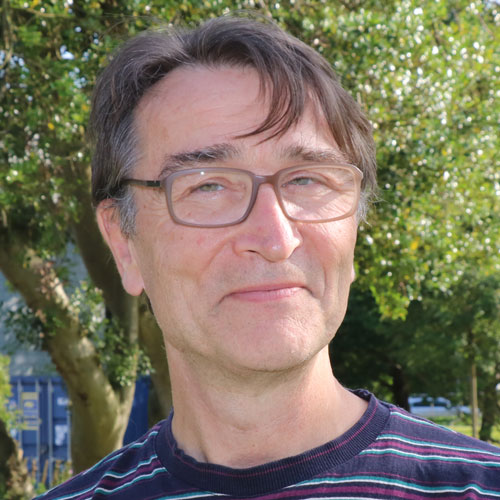 Dr Ian Bride
Senior Lecturer in Biodiversity Management
About
Dr Ian Bride's varied academic background, which includes the natural and social sciences, as well as the creative arts, reflects an interest in understanding the relationship between humans and their environment from a range of perspectives: in particular a strong belief in the value and potential of education and training, both as a general process that builds capacity in individuals and institutions, and as a specialist subject area within conservation. Although the primary areas of his research focus might be categorised as community-based conservation, conservation education and communication, Ian is concerned with the development of interdisciplinary and sustainable solutions to conservation problems, notably through the creation of meaningful livelihoods. 

Here, Dr Bride privileges 'interdisciplinary' over 'multidisciplinary' approaches because the latter often consist of the parallel and largely unconnected application of different disciplines. He takes the view that it is the integration of knowledge and understandings from different fields which best offers fresh insights and new ways of working for biodiversity conservation, and which should provide the central focus of conservation research and education.

Dr Ian Bride is a member of the Durrell Institute of Conservation and Ecology. 
Research interests
Dr Bride is interested in research that cuts across such topics as: conservation education; biodiversity management; PA and visitor management; nature tourism; guiding and interpretation; community-based conservation; and restoration ecology. Together with Professor Douglas MacMillan, he recently completed a Darwin Initiative project entitled Reviving socio-ecological landscapes for biodiversity conservation and climate change adaptation. This was successful in increasing the capacity of targeted local communities in the North-Western Ghats, India, to adapt to climate change and participate in biodiversity conservation through improved management of socio-ecological landscapes. The project drew upon traditional knowledge of natural resource management while building local capacity to undertake alternative, ecologically sound yet financially profitable land-use practices that employ agroforestry, ecological restoration, non-timber forest product certification and product-marketing pilot schemes.

The Durrell Institute of Conservation and Ecology (DICE) and an Indian NGO, the Applied Environmental Research Foundation (AERF), in partnership with the UK-based Pukka Herbs, documented and assessed indigenous knowledge-based natural resource management practices, and conducted feasibility studies for the sustainable harvesting and marketing of the fruit of two tree species native to forest patches within these landscapes. They were able to create a FairWild-certified supply chain for these species (used in Ayurvedic practice), provide value-adding, locally centralised processing facilities, determine other possible candidate species, and design and set up agro-forestry pilot commercial market schemes. Local farmer groups were trained and supported in understanding and adopting these practices, and an action plan for promulgating and scaling up this approach at the regional level is to be developed. Currently, the project is seeking further funding to widen the scope of and scale up this project, which sets human livelihoods at the centre of biodiversity conservation action.

Previous research projects include:
Feb–Nov 2008. Project Officer, 'Social Hubs Research Project'. School of Anthropology and Conservation, University of Kent.

April 2002–March 2007 'Aztecs and Axolotls: integrating tourism and conservation at Xochimilco. Mexico City' (Darwin Initiative project 162/11/018) and extension project 'Flying the flagship: implementing the axolotl species/habitat action plan' (Darwin Initiative extension project EIDPo6/11-018) (both with Professor Richard Griffiths).

June 1995–March 1996. 'Tourism, conservation & sustainable development'. Department for International Development, DfID (with Professor H. Goodwin).

March 1992–Feb 1993. 'The welfare aspects to the UK trade in reptiles and amphibians as pets', RSPCA (with Dr A. Smart).

Teaching
Dr Bride is fully in accord with Paulo Freire's contention that education either functions as an instrument to facilitate integration into the present system and precipitate conformity, or provides the means by which we build critical, intellectual and practical capacities through a process of creative and experiential learning that enable people to deal with reality and discover how to participate in the transformation of their world. In so doing, Ian challenges students to question the value of natural (and social) science-generated knowledge as the only (or certainly, the most valuable and relevant) form for directing the design and implementation of successful conservation strategies. 

Professional
Dr Bride won a competitive place as an Associate Artist at Open School East, Margate for 2018, where professional artist workshops and mentoring sessions, together with his residencies and shows, opened Ian to manifold influences and a host of different creative perspectives. They pushed him to step beyond his  'normal' practice of a more didactic, environmentally-focused narrative, and explore much more personal, though perhaps nevertheless in some way also universal, concepts and processes. 

Dr Bride is always engaged with a number of projects and activities, mainly focused on the University campuses, which seek to integrate outside spaces within both the formal and informal learning and teaching curricula: for instance, habitat maintenance and management (with the student Conservation Society), the development of a woodland crafts site ('Billhook Nook'), where Ian teaches about the relationship between woodland management, ecology and the characteristics of different timbers, plus a number of different practical and traditional craft skills; the restoration of the University's Nature Trail; the Stour Valley Creative Partnership; and studies of, and changes to, the use of social spaces (Canterbury and Medway). 

For his informal and formal learning and teaching activities, Ian was awarded the University's Barbara Morris teaching prize in 2010 and a Social Science Faculty teaching prize in 2016.

Selected external activities and advisory positions
| | |
| --- | --- |
| 2018 | Re-development of the Ethnobotanical Garden, Marlowe Building |
| 2017 - 18 | The Green Room: a roundwood timber-framed classroom/social space, Marlowe Building |
| 2015 - | Member, Stour Valley Creative Partnership |
| 2013 - 15 | Trustee, Stour Valley Arts |
| 2011 - 12 | Creative Producer, Iron Gym project at Medway (£24K Arts Council England) |
| 2005 - 10 | Member, Canterbury Environment Group |
| 2004 - | Member, University of Kent Student Conservation Society |
| 2001 - 18 | Trustee, Mediterranean Association to Save the Sea Turtle (MEDASSET) UK |
| 1998 - 2006 | Member, Management Committee, Canterbury Environmental Education Centre |
| 1998 - 2003 | Member, Kent Biodiversity Action Plan, Urban Action Group |
Publications
Article
Albergoni, A.

et al.

(2016).

How useful are volunteers for visual biodiversity surveys? An evaluation of skill level and group size during a conservation expedition

.

Biodiversity and Conservation

[Online]

25

:133-149

.

Available at

:

http://dx.doi.org/10.1007/s10531-015-1039-9

.

The ability of volunteers to undertake different tasks and accurately collect data is critical for the success of many conservation projects. In this study, a simulated herpetofauna visual encounter survey was used to compare the detection and distance estimation accuracy of volunteers and more experienced observers. Experience had a positive effect on individual detection accuracy. However, lower detection performance of less experienced volunteers was not found in the group data, with larger groups being more successful overall, suggesting that working in groups facilitates detection accuracy of those with less experience. This study supports the idea that by optimizing survey protocols according to the available resources (time and volunteer numbers), the sampling efficiency of monitoring programs can be improved and that non-expert volunteers can provide valuable contributions to visual encounter-based biodiversity surveys. Recommendations are made for the improvement of survey methodology involving non-expert volunteers.

Mejías Balsalobre, C. and Bride, I. (2016).

Assessing the Impacts of Hatcheries on Green Turtle Hatchlings

.

Marine Turtle Newsletter

[Online]

151

:16-21

.

Available at

:

http://www.seaturtle.org.uk/mtn/

.

This study provides experimental evidence from Sri Lanka supporting the importance of releasing hatchlings immediately after emergence. Hatcheries may be somewhat resistant to the idea of adjusting their ecotourism policies to maximize hatchling survival upon release, as this would mean that the collection and release of hatchlings should take place in the dark, which may be less appealing for tourists. However, it is possible to combine tourism and conservation, following best practice guidelines (IUCN 2005), which recommend releasing at least 90% of the hatchlings from each nest immediately after emergence, and holding the remaining hatchlings as a tourist attraction. In this way, Sri Lankan, and turtle hatcheries worldwide, would be able to improve their contribution to sea turtle conservation whilst maintaining much needed tourist revenue.

Hardiman, N.

et al.

(2016).

Pilot testing of a sampling methodology for assessing seed attachment propensity and transport rate in a soil matrix carried on boot soles and bike tires

.

Environmental Management

[Online]

:1-9

.

Available at

:

http://dx.doi.org/10.1007/s00267-016-0773-4

.

Land managers of natural areas are under pressure to balance demands for increased recreation access with protection of the natural resource. Unintended dispersal of seeds by visitors to natural areas has high potential for weedy plant invasions, with initial seed attachment an important step in the dispersal process. Although walking and mountain biking are popular nature-based recreation activities there are few studies quantifying propensity for seed attachment and transport rate on boot soles and none for bike tires. Attachment and transport rate can potentially be affected by a wide range of factors for which field testing can be time-consuming and expensive. We pilot tested a sampling methodology for measuring seed attachment and transport rate in a soil matrix carried on boot soles and bike tires traversing a known quantity and density of a seed analog (beads) over different distances and soil conditions. We found % attachment rate on boot soles was much lower overall than previously reported but that boot soles had a higher propensity for seed attachment than bike tires in almost all conditions. We believe our methodology offers a cost-effective option for researchers seeking to manipulate and test effects of different influencing factors on these two dispersal vectors.

Tunåker, C., Bride, I. and Peluso, D. (2015).

The Social Hubs Project: Exploratory real-world research – students as researchers and experiential learning

.

The Social Hubs Project: Exploratory real-world research – students as researchers and experiential learning

[Online]

8

:1-12

.

Available at

:

http://www.aldinhe.ac.uk/ojs/index.php?journal=jldhe&page=index

.

This case study describes an experiential approach to teaching and learning that has been successfully employed at the University of Kent. It offers a way for engaging students across disciplines in real-world research and in situ learning experiences that allow them to build various skills sets and take on responsibilities whilst making a valuable contribution to their University community. The Social Hubs project, akin to approaches such as Participatory Action Research (PAR) and including 'students as researchers', employed anthropological methods for gaining valuable insights about social space on a university campus while also providing key student learning experience and career-building employment.

Tapley, B., Griffiths, R. and Bride, I. (2011).

Dynamics of the trade in reptiles and amphibians within the United Kingdom over a ten-year period

.

The Herpetological Journal

21

:27-34

.

This study compared the trade in reptiles and amphibians in the United Kingdom between 1992–3 and 2004–5. In particular,
the impacts of captive breeding and colour and pattern morphs on price structures were examined. The number of amphibian
and reptile species in the trade more than doubled over this period, and less than a third of the species traded were common to
both trading periods. More traded species were listed by CITES in 1992–3 than in 2004–5. Taking into account inflation, the
study showed that the price of all groups of reptiles and amphibians recorded increased over the ten-year period, and that some
snake species had done so dramatically when colour and pattern morphs were considered. The price change of chelonians was
probably the result of responses to changes in various trade regulations. Price increases for amphibians seemed to represent
their increased popularity, coupled with the overhead costs of captive breeding on a commercial scale being transferred to the
hobbyist. The increased popularity of captive-bred colour and pattern morphs could alleviate pressure on wild stocks. On the
other hand, as such animals are predominantly being produced outside their countries of origin, no benefits accrue to local
people and trade could undermine sustainable use programmes for wild animals.

Bride, I.

et al.

(2008).

Flying an amphibian flagship: conservation of the Axolotl Ambystoma mexicanum through nature tourism at Lake Xochimilco, Mexico

.

International Zoo Yearbook

[Online]

42

:116-124

.

Available at

:

http://dx.doi.org/10.1111/j.1748-1090.2008.00044.x

.

The effectiveness of flagship species as a conservation tool is controversial, and amphibians are not usually regarded as meeting the strategic criteria that flagships demand. Capitalizing on the historical, cultural and economic importance of the Axolotl Ambystoma mexicanum at Lake Xochimilco, Mexico, a conservation programme for this species and its habitat was developed using the Axolotl as a flagship. The threats to the lake are complex and stem from the unsustainable use of its resources. The needs and livelihoods of local stakeholders must therefore be taken into account before attempting to address the threats. The programme therefore focused on developing nature tourism by training local boatmen (remeros) in environmental interpretation. Surveys showed that the boatmen increased their incomes and job satisfaction after training, and that the environmental interpretation programme improved relevant knowledge and awareness of visitors. Although ongoing threats mean that reintroduction of captive-bred Axolotls is not appropriate, zoos with captive populations of Axolotls supported the programme regionally and internationally by providing publicity, funds, staff expertise, training support and themed educational activities. By raising both funds and awareness for the wider conservation of Lake Xochimilco, the Axolotl is probably the first amphibian flagship to be launched successfully.

Bride, I. (2006).

The Conundrum of Conservation Education and the Conservation Mission

.

Conservation Biology

[Online]

20

:1337-1339

.

Available at

:

http://dx.doi.org/10.1111/j.1523-1739.2006.00544.x

.
Book section
Griffiths, R., Bride, I. and McKay, J. (2008). Conservation Action for the Mexican Axolotl (Ambystoma Mexicanum).

in:

Stuart, S. N. et al. eds.

Threatened Amphibians of the World

.

Lynx Edicions

,

pp.

131-132

.

Available at

:

http://www.amphibians.org/publications/threatened-amphibians-of-the-world/

.

McKay, J., Griffiths, R. and Bride, I. (2008). The Cultural Importance of the Mexican Axolotl (Ambystoma Mexicanum).

in:

Stuart, S. N. et al. eds.

Threatened Amphibians of the World

.

Lynx Edicions

,

p.

.

Available at

:

http://www.amphibians.org/publications/threatened-amphibians-of-the-world/

.