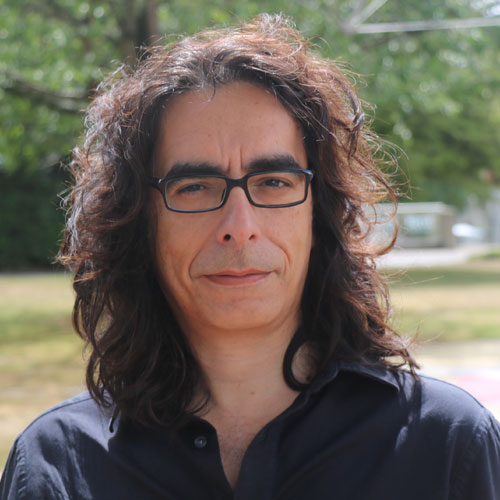 Dr Joseph Tzanopoulos
Reader in Landscape Ecology and Biodiversity Conservation
Academic Head Human Ecology
Deputy Director of Graduate Studies
Co-Director, Kent Interdisciplinary Centre for Spatial Studies
About
Dr Joseph Tzanopoulos is a landscape ecologist working on biodiversity conservation, using a landscape approach that integrates ecological, geographic and socio-economic aspects in order to monitor and assess the impacts of policy scenarios on biodiversity and networks of protected areas. 

Joseph's academic background is interdisciplinary, with a BSc in Agricultural Sciences from the Agricultural University of Athens, a PhD in vegetation ecology from Imperial College London, and more than 15 years of research experience, collaborating with economists, sociologists and rural geographers on major national and European-funded research projects in the field of biodiversity conservation. Prior to his appointment at Kent as a Lecturer in landscape and biodiversity conservation, Joseph worked as research fellow at Wye College, Imperial College London, Aristotle University of Thessaloniki and the Centre for Agri-Environmental Research (CAER) at the University of Reading.

Dr Joseph Tzanopoulos is a member of the Durrell Institute of Conservation and Ecology. 
Research interests
Landscape ecology

Reconciling biodiversity conservation and sustainable development on rural areas

Agricultural landscapes and rural geography

Land-use change, landscape fragmentation and land-use modelling

Geographic Information System (GIS), Remote Sensing and spatial analysis

Interdisciplinary analysis of drivers of change in complex land-use systems

Scenario analysis and Sustainability Appraisal

Nature conservation policy and governance

Vegetation ecology and Agroecology

Research projects
LIFT : Low-Input Farming and Territories - Integrating knowledge for improving ecosystem-based farming (Horizon 2020)

Decision Making Tools for Long-Term Horizon Planning: The Land-Water Nexus (Southern Water)

The Catchment Capabilities Approach: Phase II (Southern Water)

Great Crested Newts Modeling for the South Midlands (Arc-Trust)

Great Crested Newt pilot project modelling for the Midlands (Arc-Trust)

GIS analyses of the distribution of great crested newts in Kent in relation to land use categories and land management opportunities. (Natural England)

The identification of models to improve decision-making processes relating to the impact of developments on Great Crested Newts (DEFRA)

Analysis of the role of the EU's Common Agricultural Policy in creating jobs in UK rural areas. (University of Kent, Faculty Grant)

Surveying and Assessing Oil Palm Use in Chimpanzees in Degraded Landscapes. (Funder: Arcus Foundation.)

Structural and spatial implications of the financial crisis for the agricultural sector of Greece (University of Kent, Faculty Grant)

Reviving socio-ecological landscapes for biodiversity conservation and climate change adaptation, (Darwin Project)

50 years, 50 stories: The dynamics of farms and farming in UKC's backyard, 1965-2015, (University of Kent 50th Anniversary Fund)

SCALES: Securing the Conservation of biodiversity across Administrative Levels and spatial, temporal, and Ecological Scales (7th Framework)

Priority Habitats, Protected Sites and Climate Change: Three Investigations to Inform Policy and Management for Adaptation and Mitigation (DEFRA)

SOILSERVICE: Conflicting demands of land use, soil biodiversity and the sustainable delivery of ecosystem goods and services in Europe (7th Framework)

The potential of the High Weald AONB to supply the food needs of its population under conventional and organic agriculture (Funded by High Weald AONB)

Assessing the effectiveness of the NATURA 2000 network in Greece (Enter04 - project)

RELU nutrition: Implications of a nutrition driven food policy for land use and the rural environment (RELU)

BioScene: Scenarios for reconciling biodiversity conservation with declining agricultural use in the mountains of Europe (5th Framework)

SPIN: Spatial Indicators for Nature Conservation (5th Framework)

Teaching
Undergraduate
Postgraduate
DI849: Principles of Geographic Information Systems (GIS) and Remote Sensing (convenor)
Advanced Training – Kent Graduate School

Geographic Information System (GIS)

Supervision
Current PhD students
Lawrence Ball: The socio-ecological dynamics of overgrazing in the Dhofar Mountains of Oman (main supervisor)
Joana Viana Canelas: Indigenous contribution to ecological modelling for the assessment of ecosystem services (main supervisor)
Abraham Heinemann: Hunting: a multidimensional in-depth comparative study (co-supervisor)
Anthony Knight: (Im)possible cohabitation: Rewilding and pastoralism in contested French mountain 'wilderness' (co-supervisor)
Robin Lines: Assessing landscape connectivity in the Kavango-Zambezi Transfrontier Conservation Area (main supervisor)
Sally Marsh: Conserving natural beauty? AONB designation and landscape change in Kent and Sussex (1950's – present) (main supervisor)
Maria Cifre Sabater: Forest fires, social conflict and environmental management in the Mediterranean Protected Area of Serra De Tramuntana, Mallorca (co-supervisor)
Alumni
Nicola Abram: Designing a conservation corridor in an oil-palm-dominated landscape: applying an integrated, systematic conservation planning approach in Sabah, Borneo (main supervisor)
Dimitrios Bormpoudakis: Green infrastructure and regional connectivity in Southeast England (main supervisor)
Valeria Boron: Conservation of medium-large mammals across agroecosystems in the neotropics (main supervisor)
Veronica Iniguez-Gallardo: Social perspectives on climate change (main supervisor)
Vilma Kuuliala: Stakeholder views on coastal and marine protected areas: wilderness experience and participatory management in coastal Scotland (co-supervisor)
Gloria Bravo Monroy: Ecological and social drivers of coffee pollination in Santander, Colombia (co-supervisor)
Alicia Said: Crossroads at sea: the artisanal fisheries in Malta since EU accession (co-supervisor)
Niki Rust: Using incentives to improve predator-friendly behaviour to benefit rural farmers and carnivores in Namibia (co-supervisor)
Anthony Turner: Soundscape ecology (main supervisor)
Nurulhuda Binti Zaharia: Assessing the status of amphibians in agricultural landscapes (co-supervisor)
Publications
Showing 50 of 53 total publications in the Kent Academic Repository. View all publications.
Article
Boron, V.

et al.

(2019).

Richness, diversity, and factors influencing occupancy of mammal communities across human-modified landscapes in Colombia

.

Biological Conservation

[Online]

232

:108-116

.

Available at

:

https://doi.org/10.1016/j.biocon.2019.01.030

.

As human-modified landscapes are increasing in the tropics, it becomes critical to understand how they affect mammal communities to reconcile conservation and development. We combined land cover information and camera-trapping data to explore the effects of agricultural expansion on mammals in the Magdalena river valley of Colombia. We estimated species diversity, evenness, and dominance across two agricultural landscapes, modified by cattle ranching and oil palm cultivation. We further assessed which variables influence species- and community-level occupancy using multi-species occupancy models. Results highlight that modified landscapes display lower species richness, diversity and evenness, and higher dominance than more pristine sites. Residual forest cover and distance to water had significant effect on community occupancy (positive and negative respectively). Forests were particularly important for pumas, ocelots, lowland pacas, Central American agoutis, and crab-eating raccoons while wetlands had a positive effect on jaguars, the apex predator in the region. The influence of anthropogenic pressure was not clearly evident, though pastures were not valuable habitats for any mammal species, as they had a negative, yet not significant, effect on species and community occupancy. In light of rapidly expanding agriculture across the tropics, our findings highlight species-specific responses to disturbance that can inform land use planning and conservation policies. We stress the conservation value of forest and wetland habitat to mammal occupancy in heterogeneous ecosystems. Moreover, our results demonstrate that oil palm and crop expansion should target existing pastures, which displayed limited conservation value for Neotropical mammals but occupy vast swathes of land across Latin America.

Said, A., Tzanopoulos, J. and MacMillan, D. (2018).

The Contested Commons: The Failure of EU Fisheries Policy and Governance in the Mediterranean and the Crisis Enveloping the Small-Scale Fisheries of Malta

.

Frontiers in Marine Science

[Online]

5

.

Available at

:

https://doi.org/10.3389/fmars.2018.00300

.

This paper highlights how multi-scalar interstitial policy failings of the EU fisheries
policy can directly trigger policy gaps in fisheries management at the expense of
artisanal communities, leading to further expansion opportunities for industrial fishing
and triggering instability and marginalization of traditional fishing communities. In order
to contextualize and demonstrate this complexity, we explore a detailed scenario of the
Maltese waters to show how the development of a national policy portfolio post-EU
accession has destabilized long-existing functional fishing governance mechanisms
and now pose a direct challenge to the sustainable management of the marine
socio-ecological system. Using a mixed-method approach to investigate the partially
obscured social, economic and political dynamics which drive marine policy, we
demonstrate how the coastal fisheries have become subject to multiple-use competition
arising primarily from a burgeoning recreational fishing sector that has benefited from
"access-enabling policies," and is, to a great extent uninhibited by fish conservation
regulations. Our findings demonstrate how a deeper understanding of the sociopolitical
ramifications of policy processes is necessary to improve the governance and
management of contested and congested open-access fisheries.

Boron, V.

et al.

(2018).

Conserving predators across agricultural landscapes in Colombia: habitat use and space partitioning by jaguars, pumas, ocelots, and jaguarundis

.

Oryx

[Online]

.

Available at

:

https://doi.org/10.1017/S0030605318000327

.

Habitat loss and degradation continue to increase across the tropics. Consequently there is an urgent need to understand their effects, as well as species' habitat requirements and distribution within human-modified landscapes, in order to reconcile agricultural expansion with the conservation of endangered and keystone species, like the felids. We combined camera trapping and remote sensing-generated data into occupancy modelling to study the habitat use and space partitioning by four sympatric felids across an agricultural landscape in Colombia. The area includes cattle ranching and oil palm cultivation, an emerging land use in the Neotropics. Strong determinants of species occupancy were wetlands for jaguars (positive effect); water proximity (positive effect) for pumas; and pasture (negative effect) for ocelots and jaguarundis. Felid species except ocelots were never recorded in oil palm areas. Our results suggest that to align development with the conservation of top predators it is key to maintain areas of forest and wetland across agricultural landscapes and targeting agricultural and oil palm expansion to already-modified areas like pastures, which showed limited conservation value in the region. Lastly, as there was no spatial segregation between the studied felid species, conservation strategies to simultaneously benefit this guild seem possible even in modified landscapes

Turner, A., Fischer, M. and Tzanopoulos, J. (2018).

Sound-mapping a coniferous forest—Perspectives for biodiversity monitoring and noise mitigation

.

PLoS ONE

[Online]

13

.

Available at

:

https://doi.org/10.1371/journal.pone.0189843

.

Acoustic diversity indices have been proposed as low-cost biodiversity monitoring tools. The acoustic diversity of a soundscape can be indicative of the richness of an acoustic community and the structural/vegetation characteristics of a habitat. There is a need to apply these methods to landscapes that are ecologically and/or economically important. We investigate the relationship between the acoustic properties of a coniferous forest with stand-age and structure. We sampled a 73 point grid in part of the UK's largest man-made lowland coniferous plantation forest, covering a 320ha mosaic of different aged stands. Forest stands ranged from 0–85 years old providing an age-gradient. Short soundscape recordings were collected from each grid point on multiple mornings (between 6am-11am) to capture the dawn chorus. We repeated the study during July/August in 2014 and again in 2015. Five acoustic indices were calculated for a total of 889 two minute samples. Moderate relationships between acoustic diversity with forest stand-age and vegetation characteristics (canopy height; canopy cover) were observed. Ordinations suggest that as structural complexity and forest age increases, the higher frequency bands (4-10KHz) become more represented in the soundscape. A strong linear relationship was observed between distance to the nearest road and the ratio of anthropogenic noise to biological sounds within the soundscape. Similar acoustic patterns were observed in both years, though acoustic diversity was generally lower in 2014, which was likely due to differences in wind conditions between years. Our results suggest that developing these relatively low-cost acoustic monitoring methods to inform adaptive management of production landscapes, may lead to improved biodiversity monitoring. The methods may also prove useful for modelling road noise, landscape planning and noise mitigation.

Lines, R., Tzanopoulos, J. and MacMillan, D. (2018).

Status of terrestrial mammals at the Kafue-Zambezi Interface: Implications for transboundary connectivity

.

Oryx

[Online]

.

Available at

:

https://doi.org/10.1017/S0030605317001594

.

The Kavango–Zambezi Transfrontier Conservation Area Programme promotes landscape-level connectivity between clusters of wildlife management areas in five neighbouring countries. However, declining regional biodiversity can undermine efforts to maintain, expand and link wildlife populations. Narratives promoting species connectivity should thus be founded on studies of system and state changes in key resources. By integrating and augmenting multiple data sources throughout eight wildlife management areas, covering 1.7 million ha, we report changes during 1978–2015 in the occurrence and distribution of 31 mammal species throughout a landscape linking the Greater Kafue System to adjacent wildlife management areas in Namibia and Botswana. Results indicate species diversity is largely unchanged in Kafue National Park and Mulobezi and Sichifulo Game Management Areas. However, 100% of large carnivore and 64% of prey diversity have been lost in the Simalaha areas, and there is no evidence of migrational behaviour or species recolonization from adjacent wildlife areas. Although temporal sampling scales influence the definition of species occupancy and distribution, and data cannot elucidate population size or trends, our findings indicate an emerging connectivity bottleneck within Simalaha. Evidence suggests that at current disturbance levels the Greater Kafue System, Zambia's majority component in the Kavango–Zambezi Transfrontier Conservation Area, is becoming increasingly isolated at the trophic scale of large mammals. Further investigations of the site-specific, interacting drivers influencing wildlife distribution and occurrence are required to inform appropriate conservation interventions for wildlife recovery in key areas identified to promote transboundary connectivity in the Kavango–Zambezi Transfrontier Conservation Area.

Said, A.

et al.

(2017).

Fishing in a congested sea: What do marine protected areas imply for the future of the Maltese artisanal fleet?

Applied Geography

[Online]

87

:245-255

.

Available at

:

https://doi.org/10.1016/j.apgeog.2017.08.013

.

Inshore artisanal fishing in Malta is under intense spatial competition as the coastal zone is fragmented by multiple uses and designations including maritime transport, infrastructure, industrial fisheries, aquaculture, tourism and recreation. This research, adopting a grounded visualization methodology, explains how the artisanal fishing sector has undergone and been affected by 'spatial squeezing'. Our results show that artisanal fishermen have been forced to give up fishing grounds or co-exist with other uses to the point where the ability to fish is becoming increasingly challenging. These difficulties might escalate with the advent of the marine protected areas (MPAs) which encompass nearly half of the inshore fishing zones. Since there does not seem to be effective MPA consultation mechanisms that elicit the real social, cultural and economic value of artisanal fishing grounds, fishermen feel threatened, alienated and disempowered. This study urges for a more holistic approach to spatial marine planning and accentuates the need of realizing the dependency of the artisanal sector on the inshore zones in the implementation of conservation measures, such that the prolonged existence of the coastal fishing communities is not jeopardized.

Bryson-Morrison, N.

et al.

(2017).

Activity and Habitat Use of Chimpanzees (Pan troglodytes verus) in the Anthropogenic Landscape of Bossou, Guinea, West Africa

.

International Journal of Primatology

[Online]

:1-21

.

Available at

:

http://dx.doi.org/10.1007/s10764-016-9947-4

.

Many primate populations inhabit anthropogenic landscapes. Understanding their long-term ability to persist in such environments and associated real and perceived risks for both primates and people is essential for effective conservation planning. Primates in forest–agricultural mosaics often consume cultivars to supplement their diet, leading to potentially negative encounters with farmers. When crossing roads, primates also face the risk of encounters with people and collision with vehicles. Chimpanzees (Pan troglodytes verus) in Bossou, Guinea, West Africa, face such risks regularly. In this study, we aimed to examine their activity budget across habitat types and the influence of anthropogenic risks associated with cultivated fields, roads, and paths on their foraging behavior in noncultivated habitat. We conducted 6-h morning or afternoon follows daily from April 2012 to March 2013. Chimpanzees preferentially used forest habitat types for traveling and resting and highly disturbed habitat types for socializing. Wild fruit and crop availability influenced seasonal habitat use for foraging. Overall, chimpanzees preferred mature forest for all activities. They showed a significant preference for foraging at >200 m from cultivated fields compared to 0–100 m and 101–200 m, with no effect of habitat type or season, suggesting an influence of associated risk. Nevertheless, the chimpanzees did not actively avoid foraging close to roads and paths. Our study reveals chimpanzee reliance on different habitat types and the influence of human-induced pressures on their activities. Such information is critical for the establishment of effective land use management strategies in anthropogenic landscapes.

Davis, S.

et al.

(2016).

Identifying Where REDD+ Financially Out Competes Oil Palm in Floodplain Landscapes Using a Fine-Scale Approach

.

PLoS ONE

[Online]

:1-23

.

Available at

:

http://dx.doi.org/10.1371/journal.pone.0156481

.

Reducing Emissions from Deforestation and forest Degradation (REDD+) aims to avoid forest conversion to alternative land-uses through financial incentives. Oil-palm has high opportunity costs, which according to current literature questions the financial competitiveness of REDD+ in tropical lowlands. To understand this more, we undertook regional finescale and coarse-scale analyses (through carbon mapping and economic modelling) to assess the financial viability of REDD+ in safeguarding unprotected forest (30,173 ha) in the Lower Kinabatangan floodplain in Malaysian Borneo. Results estimate 4.7 million metric tons of carbon (MgC) in unprotected forest, with 64% allocated for oil-palm cultivations. Through fine-scale mapping and carbon accounting, we demonstrated that REDD+ can outcompete oil-palm in regions with low suitability, with low carbon prices and low carbon stock. In areas with medium oil-palm suitability, REDD+ could outcompete oil palm in areas
with: very high carbon and lower carbon price; medium carbon price and average carbon stock; or, low carbon stock and high carbon price. Areas with high oil palm suitability, REDD + could only outcompete with higher carbon price and higher carbon stock. In the coarse-scale model, oil-palm outcompeted REDD+ in all cases. For the fine-scale models at the landscape level, low carbon offset prices (US $3 MgCO2e) would enable REDD+ to outcompete oil-palm in 55% of the unprotected forests requiring US $27 million to secure these areas for 25 years. Higher carbon offset price (US $30 MgCO2e) would increase the competitiveness of REDD+ within the landscape but would still only capture between 69%-74% of the unprotected forest, requiring US $380–416 million in carbon financing. REDD+ has been identified as a strategy to mitigate climate change by many countries (including Malaysia). Although REDD+ in certain scenarios cannot outcompete oil palm, this research contributes to the global REDD+ debate by: highlighting REDD+ competitiveness in tropical floodplain landscapes; and, providing a robust approach for identifying and targeting limited REDD+ funds.

Boron, V.

et al.

(2016).

Achieving sustainable development in rural areas in Colombia: Future scenarios for biodiversity conservation under land use change

.

Land Use Policy

[Online]

59

:27-37

.

Available at

:

http://dx.doi.org/10.1016/j.landusepol.2016.08.017

.

Agricultural expansion is a complex land use change phenomenon with deep environmental and socio-economic consequences, especially across tropical countries where most of this expansion is occurring. Here we use scenario and network analysis combined with sustainability assessment to understand the drivers of landscape change and their effects on sustainable development in Colombia's rural areas, using the Central Magdalena region as a case study, and ultimately informing strategies to reconcile agricultural expansion with biodiversity conservation and rural development. Using this approach we investigated three environmental and agricultural policy scenarios: the Business as Usual scenario, enforcing a stronger regulatory framework, and adopting incentives. Our analysis show that the Business as Usual scenario is not supported by stakeholders and negatively affects most sustainability objectives with the predominant agricultural sectors in the region (cattle ranching and oil palm) not improving social inequality, and threatening biodiversity, natural resources, and food security. Both alternative scenarios improve overall sustainability, including biodiversity. Therefore to reconcile agricultural expansion, biodiversity and sustainable development, it is important to adopt a stronger regulatory and enforcement framework at different administrative levels, as well as incentive schemes focusing on small holders. Our study also shows that history cannot be ignored when thinking about the future and sustainability especially in areas with legacies of strong inequalities caused by armed conflict. Finally, we suggest that combining scenario analysis, network analysis, and sustainability assessment is a useful methodology for studying land use changes holistically, exploring complex systems at different scales, and informing locally-relevant strategies and recommendations, ultimately enabling science to be proactive.

Boron, V.

et al.

(2016).

Jaguar Densities across Human-Dominated Landscapes in Colombia: The Contribution of Unprotected Areas to Long Term Conservation

.

PLoS ONE

[Online]

11

:e0153973

.

Available at

:

http://dx.doi.org/10.1371/journal.pone.0153973

.

Large carnivores such as jaguars (Panthera onca) are species of conservation concern because they are suffering population declines and are keystone species in their ecosystems. Their large area requirements imply that unprotected and ever-increasing agricultural regions can be important habitats as they allow connectivity and dispersal among core protected areas. Yet information on jaguar densities across unprotected landscapes it is still scarce and crucially needed to assist management and range-wide conservation strategies. Our study provides the first jaguar density estimates of Colombia in agricultural regions which included cattle ranching, the main land use in the country, and oil palm cultivation, an increasing land use across the Neotropics. We used camera trapping across two agricultural landscapes located in the Magdalena River valley and in the Colombian llanos (47–53 stations respectively; >2000 trap nights at both sites) and classic and spatially explicit capture-recapture models with the sex of individuals as a covariate. Density estimates were 2.52±0.46–3.15±1.08 adults/100 km2 in the Magdalena valley, whereas 1.12±0.13–2.19±0.99 adults/100 km2 in the Colombian llanos, depending on analysis used. We suggest that jaguars are able to live across unprotected human-use areas and co-exist with agricultural landscapes including oil-palm plantations if natural areas and riparian habitats persist in the landscape and hunting of both jaguar and prey is limited. In the face of an expanding agriculture across the tropics we recommend land-use planning, adequate incentives, regulations, and good agricultural practices for range-wide jaguar connectivity and survival.

Rust, N.

et al.

(2016).

Why Has Human–Carnivore Conflict Not Been Resolved in Namibia?

Society & Natural Resources

[Online]

29

:1079-1094

.

Available at

:

http://dx.doi.org/10.1080/08941920.2016.1150544

.

Human–wildlife conflict has historically been portrayed as a management problem where solutions lie in technical changes or financial incentives. However, recent research shows many conflicts stem from social, economic, and political drivers. We undertook qualitative data collection on livestock farms to determine whether relationships between farmers and their workers affected frequency of reported livestock depredation in Namibia. We found that the conflict was affected by social and economic inequalities embedded in the previous apartheid regime. Macro- and microlevel socioeconomic problems created an environment where livestock depredation was exacerbated by unmotivated farm workers. Poor treatment of workers by farmers resulted in vengeful behaviors, such as livestock theft and wildlife poaching. Successfully addressing this situation therefore requires recognition and understanding of its complexity, rather than reducing it to its most simplistic parts

Said, A., MacMillan, D. and Tzanopoulos, J. (2016).

Bluefin tuna fishery policy in Malta: The plight of artisanal fishermen caught in the capitalist net

.

Marine Policy

[Online]

73

:27-34

.

Available at

:

http://dx.doi.org/10.1016/j.marpol.2016.07.025

.

The bluefin tuna fishery has undergone a major shift in Malta, moving from an open access artisanal nature to a privatized and industrialized activity dominated by the purse seining fleet and the BFT ranching industry.The shift has been exacerbated by the national implementation of anindividual transferable quota system, which has enabled the concertation of quotas into fewer hands.The main objective of this article is to understand how privatization hasevolved within the sector and the way the Maltese artisanal fishermen are experiencing the shift. This study takes an exploratory mixed-method
approach to quantitatively and qualitatively understand how policy underpinnings interplay with the sustainability dimension of the small-scale fishing sector. Results show that the transition of the bluefin tuna fishery from artisanal to industrial has generated a legitimacy crisis over fishing rights, decreased profitability amongst most of the artisanal fleet, and led to a series of socio-ecological impacts on the artisanal fisheries system at large.It is concluded that the neo-liberal trajectories of industrialization have directly undermined the continued sustainability of artisanal fishing communities.

Lehsten, V.

et al.

(2015).

Disentangling the effects of land use change, climate and CO2

.

Global Ecology and Biogeography

[Online]

24

:653-663

.

Available at

:

http://www.dx.doi.org/10.1111/geb.12291

.

Bravo-Monroy, L., Tzanopoulos, J. and Potts, S. (2015).

Drivers influencing farmer decisions for adopting organic or conventional coffee management practices

.

Food Policy

[Online]

58

:49-61

.

Available at

:

http://dx.doi.org/10.1016/j.foodpol.2015.11.003

.

Colombia is one of the world's most important producers of Arabica coffee (Coffea arabica), whose coffee-growing zone coincides with a biogeographic hotspot of biodiversity. Given that coffee agroecosystems are grown by both organic and conventional schemes of management in Santander, a region which produces coffees with specialist distinctive flavours, this study aims to better understand the factors that influence the adoption of these different schemes of management. A combination of ethnographic techniques and quantitative methods were used to examine the predominant drivers of adoption and revealed farmer perceptions associated with coffee farming, and the complexity of interacting factors, that surround their decision making. The results of qualitative analysis suggests that social identity of coffee growers, the existence of farming spaces (lived, perceived, rationalised), the influence of coffee institutions, attitudes about management practices, and social relations of production, all play an important role in the process of decision making. In quantitative terms, we identified 18 socioeconomic drivers, some with interacting effects that had significant influence on the decision to adopt either organic or conventional practices. In particular, at local scale, important factors were technology availability, the type of landowner, formal education of farmers, the role of institutions, membership of community organisations, farm size, coffee productivity and the number of coffee plots per farm. Likewise, economic drivers, such as crop profitability, determined how farmers are involved in trade and market networks at broad regional, national, and international spatial scales. By adopting a more integrated approach, combining qualitative and quantitative methodologies, we characterised the complexity of factors that influencing adoption of coffee management schemes and show that not only financial factors but also a variety of other social factors drive farmer decision making. Identifying the most influential behavioural drivers provides policy with opportunities to better support farmer livelihoods.

Paloniemi, R.

et al.

(2015).

Public participation and environmental justice in biodiversity governance in Finland, Greece, Poland and the UK

.

Environmental Policy and Governance

[Online]

25

:330-342

.

Available at

:

http://www.dx.doi.org/10.1002/eet.1672

.

The novel articulations between the state, markets and civil society arising from the shift to networked environmental governance highlight the importance of creating equal participation opportunities. Relevant questions from an environmental justice perspective are not only who participates, but also with whom, in what, why and how. In this paper, we explore public participation in biodiversity governance that has emerged after the initial designation of a Natura 2000 network in Finland, Greece, Poland and the UK by focusing on distributive and procedural justice. Our analysis, based on focus groups and document analysis, shows that new participatory arrangements have taken the modes of project-based, market, interest group and e-governance. These arrangements have been marked by problems in power and knowledge sharing, and in the distribution of conservation costs and benefits, reflecting serious deficits regarding environmental justice. Calls for public participation and wider stakeholder engagement in conservation across Europe should be followed by an acknowledgment of the diversity of perspectives, conflicting interests and social positions and their integration into biodiversity governance.

Bravo-Monroy, L., Tzanopoulos, J. and Potts, S. (2015).

Ecological and social drivers of coffee pollination in Santander, Colombia

.

Agriculture, Ecosystems & Environment

[Online]

211

:145-154

.

Available at

:

http://www.dx.doi.org/10.1016/j.agee.2015.06.007

.

Bees and other insects provide pollination services that are key to determining the fruit set on coffee plantations. These pollination services are influenced by local ecology as well as human factors, both social and economic. To better understand these different factors, we assessed their effect on pollinators and coffee pollination services in Santander, Colombia. We quantified the effect of key ecological drivers on pollinator community composition, such as the method of farm management (either conventional or organic) and the surrounding landscape composition, specifically the proximity to forest.

We found that ambient levels of pollination services provided by the local pollinator fauna (open pollination) accounted for a 10.5 ± 2.0% increase in final coffee fruit set, and that the various pollinators are affected differently by the differing factors. For example, our findings indicate that conventional farm management, using synthetic inputs, can promote pollinators, especially if they are in close proximity to natural forest fragments. This is particularly true for stingless bees. Honeybee visitation to coffee is also positively influenced by the conventional management of farms. Factors associated with greater numbers of stingless bees on farms include greater shade cover, lower tree densities, smaller numbers and types of trees in bloom, and younger coffee plantations. A forested landscape close to farms appears to enhance these factors, giving increased stability and resilience to the pollinating bees and insects. However we found that organic farms also support diverse pollinator communities, even if distant from forest fragments.

The contribution of honeybees to pollination value (US$129.6/ha of coffee) is greater than that of stingless bees (US$16.5/ha of coffee). Since the method of farm management has a major impact on the numbers and types of pollinators attracted to farms, we have analysed the statistically significant social factors that influence farmers' decisions on whether to adopt organic or conventional practices. These include the availability of technology, the type of landowner (whether married couples or individual owners), the number of years of farmers' formal education, the role of institutions, membership of community organizations, farm size, coffee productivity and the number of coffee plots per farm. It is hoped that the use of our holistic approach, which combines investigation of the social as well as the ecological drivers of pollination, will help provide evidence to underpin the development of best practices for integrating the management of pollination into sustainable agricultural practices.

Haila, Y.

et al.

(2014).

Confronting and Coping with Uncertainty in Biodiversity Research and Praxis

.

Nature Conservation

[Online]

8

:45-75

.

Available at

:

http://dx.doi.org/10.3897/natureconservation.8.5942

.

This paper summarises discussions in a workshop entitled "exploring uncertainties in biodiversity science, policy and management". It draws together experiences gained by scientists and scholars when encountering and coping with different types of uncertainty in their work in the field of biodiversity protection. The discussion covers all main phases of scientific work: field work and data analysis; methodologies; setting goals for research projects, taking simultaneously into account the agency of scientists conducting the work; developing communication with policy-makers and society at large; and giving arguments for the societal relevance of the issues. The paper concludes with a plea for collaborative learning that would build upon close cooperation among specialists who have developed expertise in different fields in research, management and politics.

Abram, N.

et al.

(2014).

Synergies for Improving Oil Palm Production and Forest Conservation in Floodplain Landscapes

.

PLoS ONE

[Online]

9

:e95388

.

Available at

:

http://dx.doi.org/10.1371/journal.pone.0095388

.

Lowland tropical forests are increasingly threatened with conversion to oil palm as global demand and high profit drives crop expansion throughout the world's tropical regions. Yet, landscapes are not homogeneous and regional constraints dictate land suitability for this crop. We conducted a regional study to investigate spatial and economic components of forest conversion to oil palm within a tropical floodplain in the Lower Kinabatangan, Sabah, Malaysian Borneo. The Kinabatangan ecosystem harbours significant biodiversity with globally threatened species but has suffered forest loss and fragmentation. We mapped the oil palm and forested landscapes (using object-based-image analysis, classification and regression tree analysis and on-screen digitising of high-resolution imagery) and undertook economic modelling. Within the study region (520,269 ha), 250,617 ha is cultivated with oil palm with 77% having high Net-Present-Value (NPV) estimates ($413/ha?yr–$637/ha?yr); but 20.5% is under-producing. In fact 6.3% (15,810 ha) of oil palm is commercially redundant (with negative NPV of $-299/ha?yr-$-65/ha?yr) due to palm mortality from flood inundation. These areas would have been important riparian or flooded forest types. Moreover, 30,173 ha of unprotected forest remain and despite its value for connectivity and biodiversity 64% is allocated for future oil palm. However, we estimate that at minimum 54% of these forests are unsuitable for this crop due to inundation events. If conversion to oil palm occurs, we predict a further 16,207 ha will become commercially redundant. This means that over 32,000 ha of forest within the floodplain would have been converted for little or no financial gain yet with significant cost to the ecosystem. Our findings have globally relevant implications for similar floodplain landscapes undergoing forest transformation to agriculture such as oil palm. Understanding landscape level constraints to this crop, and transferring these into policy and practice, may provide conservation and economic opportunities within these seemingly high opportunity cost landscapes.

Kallimanis, A.

et al.

(2014).

Vegetation coverage change in the EU: patterns inside and outside Natura 2000 protected areas

.

Biodiversity and Conservation

[Online]

24

:579-591

.

Available at

:

http://www.dx.doi.org/10.1007/s10531-014-0837-9

.

EU conservation policy is primarily based on the Natura 2000 network of protected areas (PAs). We analyzed the land-cover changes between 2000 and 2006 inside 25,703 Natura 2000 sites in 24 EU Member States, and compared them with those observed outside the PAs. At the EU level, 'Artificial surfaces' and 'Agricultural areas' exhibit lower rates of transformation within PAs than outside. 'Forests and semi-natural areas' marginally increased inside PAs, while they marginally decreased outside. In States that joined the EU before 2000, landscape transformation rates were low, and inside PAs 'Forest' preservation was accompanied with a shift from intensive agricultural practices 'Permanent arable land' to more diverse 'Agricultural mosaics'. In new Member States (most of them located in Eastern Europe), there was agricultural abandonment, with conversion to 'Artificial surfaces' or 'Natural vegetation', both within and outside PAs. Broad scale EU policies (like the Common Agricultural Policy) and socio-economic drivers (like the transition from planned to market economy) seem to be dominant factors in explaining land-cover transformations, while conservation policies may moderate these trends inside PAs.

Tsiafouli, M.

et al.

(2014).

Intensive agriculture reduces soil biodiversity across Europe

.

Global Change Biology

[Online]

21

:973-985

.

Available at

:

http://www.dx.doi.org/10.1111/gcb.12752

.

Soil biodiversity plays a key role in regulating the processes that underpin the delivery of ecosystem goods and services in terrestrial ecosystems. Agricultural intensification is known to change the diversity of individual groups of soil biota, but less is known about how intensification affects biodiversity of the soil food web as a whole, and whether or not these effects may be generalized across regions. We examined biodiversity in soil food webs from grasslands, extensive, and intensive rotations in four agricultural regions across Europe: in Sweden, the UK, the Czech Republic and Greece. Effects of land-use intensity were quantified based on structure and diversity among functional groups in the soil food web, as well as on community-weighted mean body mass of soil fauna. We also elucidate land-use intensity effects on diversity of taxonomic units within taxonomic groups of soil fauna. We found that between regions soil food web diversity measures were variable, but that increasing land-use intensity caused highly consistent responses. In particular, land-use intensification reduced the complexity in the soil food webs, as well as the community-weighted mean body mass of soil fauna. In all regions across Europe, species richness of earthworms, Collembolans, and oribatid mites was negatively affected by increased land-use intensity. The taxonomic distinctness, which is a measure of taxonomic relatedness of species in a community that is independent of species richness, was also reduced by land-use intensification. We conclude that intensive agriculture reduces soil biodiversity, making soil food webs less diverse and composed of smaller bodied organisms. Land-use intensification results in fewer functional groups of soil biota with fewer and taxonomically more closely related species. We discuss how these changes in soil biodiversity due to land-use intensification may threaten the functioning of soil in agricultural production systems.

Tzanopoulos, J.

et al.

(2013).

Scale sensitivity of drivers of environmental change across Europe

.

Global Environmental Change

[Online]

23

:167-178

.

Available at

:

http://dx.doi.org/10.1016/j.gloenvcha.2012.09.002

.

The development of effective environmental management plans and policies requires a sound understanding of the driving forces involved in shaping and altering the structure and function of ecosystems. However, driving forces, especially anthropogenic ones, are defined and operate at multiple administrative levels, which do not always match ecological scales. This paper presents an innovative methodology of analysing drivers of change by developing a typology of scale sensitivity of drivers that classifies and describes the way they operate across multiple administrative levels. Scale sensitivity varies considerably among drivers, which can be classified into five broad categories depending on the response of 'evenness' and 'intensity change' when moving across administrative levels. Indirect drivers tend to show low scale sensitivity, whereas direct drivers show high scale sensitivity, as they operate in a non-linear way across the administrative scale. Thus policies addressing direct drivers of change, in particular, need to take scale into consideration during their formulation. Moreover, such policies must have a strong spatial focus, which can be achieved either by encouraging local–regional policy making or by introducing high flexibility in (inter)national policies to accommodate increased differentiation at lower administrative levels. High quality data is available for several drivers, however, the availability of consistent data at all levels for non-anthropogenic drivers is a major constraint to mapping and assessing their scale sensitivity. This lack of data may hinder effective policy making for environmental management, since it restricts the ability to fully account for scale sensitivity of natural drivers in policy design.

Tzanopoulos, J., Jones, P. and Mortimer, S. (2012).

The implications of the 2003 Common Agricultural Policy reforms for land-use and landscape quality in England

.

Landscape and Urban Planning

[Online]

108

:39-48

.

Available at

:

http://dx.doi.org/10.1016/j.landurbplan.2012.07.012

.

The assessment of the potential landscape impacts of the latest Common Agricultural Policy reforms constitutes a challenge for policy makers and it requires the development of models that can reliably project the likely spatial distribution of land uses. The aim of this study is to investigate the impact of 2003 CAP reforms to land uses and rural landscapes across England. For this purpose we modified an existing economic model of agriculture, the Land-Use Allocation Model (LUAM) to provide outputs at a scale appropriate for informing a semi-quantitative landscape assessment at the level of 'Joint Character Areas' (JCAs). Overall a decline in the cereal and oilseed production area is projected but intensive arable production will persist in specific locations (East of England, East Midlands and South East), having ongoing negative effects on the character of many JCAs. The impacts of de-coupling will be far more profound on the livestock sector; extensification of production will occur in traditional mixed farming regions (e.g. the South West), a partial displacement of cattle by sheep in the upland regions and an increase in the sheep numbers is expected in the lowlands (South East, Eastern and East Midlands). This extensification process will affect positively those JCAs of mixed farming conditions, but it will have negative impacts on the JCAs of historically low intensity farming (e.g. the uplands of north-west) because they will suffer from under-management and land idling. Our analysis shows that the territorialisation between intensively and extensively agricultural landscapes will continue.

Paloniemi, R.

et al.

(2012).

Biodiversity conservation across scales: lessons from a science–policy dialogue

.

Nature Conservation

[Online]

2

:7-19

.

Available at

:

http://dx.doi.org/10.3897/natureconservation.2.3144

.

One of the core challenges of biodiversity conservation is to better understand the interconnectedness and interactions of scales in ecological and governance processes. These interrelationships constitute not only a complex analytical challenge but they also open up a channel for deliberative discussions and knowledge exchange between and among various societal actors which may themselves be operating at various scales, such as policy makers, land use planners, members of NGOs, and researchers. In this paper, we discuss and integrate the perspectives of various disciplines academics and stakeholders who participated in a workshop on scales of European biodiversity governance organised in Brussels in the autumn of 2010. The 23 participants represented various governmental agencies and NGOs from the European, national, and sub-national levels. The data from the focus group discussions of the workshop were analysed using qualitative content analysis. The core scale-related challenges of biodiversity policy identified by the participants were cross-level and cross-sector limitations as well as ecological, social and social-ecological complexities that potentially lead to a variety of scale-related mismatches. As ways to address these cha- llenges the participants highlighted innovations, and an aim to develop new interdisciplinary approaches to support the processes aiming to solve current scale challenges.

Henle, K.

et al.

(2012).

Nature Conservation – a new dimension in Open Access publishing bridging science and application

.

Nature Conservation

[Online]

1

:1-10

.

Available at

:

http://dx.doi.org/10.3897/natureconservation.1.3081

.

Tzanopoulos, J.

et al.

(2011).

Agricultural decline and sustainable development on mountain areas in Greece: Sustainability assessment of future scenarios

.

LAND USE POLICY

[Online]

28

:585-593

.

Available at

:

http://dx.doi.org/10.1016/j.landusepol.2010.11.007

.

Agricultural decline may pose an important threat to mountain biodiversity but it also constitutes a driving force of socio-economic transformation. The aim of this study is to investigate the implications of alternative agricultural policy scenarios on the sustainable development of Greek mountain areas using a case study approach (Zagori region, Greece). Two agricultural policy scenarios were explored and assessed against a list of sustainability objectives. Causal relationships among drivers of changes and sustainability objectives were explored using Network Analysis. Our analysis has shown that agricultural liberalisation is expected to have devastating effects on the development of the area and it was strongly opposed as an alternative future by the local stakeholders. The analysis of the driver's causal relationship has also revealed that in order to ensure the sustainable development of the area it is necessary to sustain low input extensive farming, to promote mild tourism development and to enhance the operational efficiency of the National Park. Moreover, in order to reconcile agricultural decline, biodiversity and sustainable development, policy-management recommendations must be drawn at multiple administrative levels and complementary policy interventions within and between levels are required. It is thus, important that EU agricultural policies are complemented by national-regional interventions in order to regulate the fragile balance between agriculture and tourism. Finally, this study has shown that the combination of scenario analysis and sustainability assessment can provide an efficient tool to inform management strategies for sustainable development.

Tzanopoulos, J. and Vogiatzakis, I. (2011).

Processes and patterns of landscape change on a small Aegean island: The case of Sifnos, Greece

.

Landscape and Urban Planning

[Online]

99

:58-64

.

Available at

:

http://dx.doi.org/10.1016/j.landurbplan.2010.08.014

.

The Mediterranean island landscape is a mosaic of land-cover types that manifest the historical interaction between physical and anthropogenic processes that have affected significantly landscape composition and spatial configuration. The aim of this study is to investigate the processes and patterns of landscape changes in small Mediterranean islands as exemplified by the Aegean island of Sifnos, Greece. Satellite imagery was used to measure land-cover changes from 1987 to 1999. A suite of landscape metrics was employed to quantify changes in landscape structure. The results show that cropland suffered the highest area loss through conversions to semi-natural vegetation or settlements. The maquis vegetation of Juniperus phoenicea expanded over time with hotspots of expansion mainly located away from settlements. Overall, Sifnos' landscape became less fragmented and more homogeneous. The main drivers of landscape change were agricultural decline and tourism. These processes have resulted in semi-natural vegetation expansion and landscape closure. Landscape polarization of land-use intensity has increased with anthropogenic processes operating only on certain locations close to settlements and large parts of the island loosing their productivist profile. However, tourism should not be considered as the primary cause of land-use polarization but rather as an aggravating factor; agriculture and tourism do not represent competing economic sectors and land-use polarization is mainly the outcome of spatially co-occurring rather than spatially competing processes. Aegean island landscapes' management needs to be pragmatic and as such adaptable to future emerging priorities.

Henle, K.

et al.

(2010).

Securing the Conservation of Biodiversity across Administrative Levels and Spatial, Temporal, and Ecological Scales Research Needs and Approaches of the SCALES Project

.

GAIA-ECOLOGICAL PERSPECTIVES FOR SCIENCE AND SOCIETY

19

:187-193

.

Biodiversity conservation measures and biological processes often do not match in scale The EU funded project SCALES (Securing the Conservation of biodiversity across Administrative Levels and spatial, temporal, and Ecological Scales) is intended to solve this challenge SCALES analyses how selected pressures (climate change, habitat loss, fragmentation, disturbance), their drivers, and their impacts on biodiversity change with spatial and temporal scale The project develops methods for a better understanding of scaling properties of biological processes from the genetic level to populations. communities, and ecosystem functions SCALES also seeks ways to integrate the Issue of scale into policy, decision-making, and biodiversity management, focusing on networks of protected areas, regional connectivity, and biodiversity monitoring

Hampson, D.

et al.

(2010).

Predicting microbial pollution concentrations in UK rivers in response to land use change

.

Water Research

[Online]

44

:4748-4759

.

Available at

:

http://dx.doi.org/10.1016/j.watres.2010.07.062

.

The Water Framework Directive has caused a paradigm shift towards the integrated management of recreational water quality through the development of drainage basin-wide programmes of measures. This has increased the need for a cost-effective diagnostic tool capable of accurately predicting riverine faecal indicator organism (FIG) concentrations. This paper outlines the application of models developed to fulfil this need, which represent the first transferrable generic FIO models to be developed for the UK to incorporate direct measures of key FIG sources (namely human and livestock population data) as predictor variables.
We apply a recently developed transfer methodology, which enables the quantification of geometric mean presumptive faecal coliforms and presumptive intestinal enterococci concentrations for base- and high-flow during the summer bathing season in unmonitored UK watercourses, to predict FIG concentrations in the Humber river basin district. Because the FIG models incorporate explanatory variables which allow the effects of policy measures which influence livestock stocking rates to be assessed, we carry out empirical analysis of the differential effects of seven land use management and policy instruments (fiscal constraint, production constraint, cost intervention, area intervention, demand-side constraint, input constraint, and micro-level land use management) all of which can be used to reduce riverine FIO concentrations.
This research provides insights into FIG source apportionment, explores a selection of pollution remediation strategies and the spatial differentiation of land use policies which could be implemented to deliver river quality improvements. All of the policy tools we model reduce FIG concentrations in rivers but our research suggests that the installation of streamside fencing in intensive milk producing areas may be the single most effective land management strategy to reduce riverine microbial pollution. (C) 2010 Elsevier Ltd. All rights reserved.

Mazaris, A.

et al.

(2010).

Can we predict the number of plant species from the richness of a few common genera, families or orders?

Journal of Applied Ecology

[Online]

47

:662-670

.

Available at

:

http://dx.doi.org/10.1111/j.1365-2664.2010.0181

.

1. Halting biodiversity loss, a major environmental challenge, relies on the understanding of species richness patterns. The assessment of species richness is often hampered by limited taxonomic knowledge and the general dearth of trained systematists. Research has shown that we can predict the number of species in a community by the number of higher order taxonomic units present. Here, we test whether we need to know all the genera, families or orders in order to do so. Further, the number of common species in a region is a good predictor of total richness and we test if this predictability translates to using higher taxa.
2. We used data from 240 sites from the Natura 2000 network of protected areas in Greece, including 5148 plant species and subspecies, which are grouped in 1113 genera 174 families and 56 orders. We correlated species richness with the number of common genera, families or orders present. The analysis was repeated using the number of the most speciose higher orders instead of the most common.
3. We found that we do not need to know all higher order taxa present, in order to predict species richness. If we know how many out of the 30 most common orders are present, we can reliably predict the number of species. Similar results were obtained if we know how many of the 60 most common families or 200 most common genera are present.
4. Equally good results were obtained using the same numbers of the most speciose higher orders.
5. Synthesis and applications. Our analysis demonstrates that species richness can be predicted from the number of common or more speciose genera, families and orders present. These predictions hold without complete sampling of these higher taxa. The implication is that we need only limited systematic knowledge, resources and effort in order to predict species richness. Assuming these findings hold in other taxonomic groups and in other regions, we argue that the uncertainty introduced by limited knowledge of the systematics of less studied taxa should not be used as an excuse to avoid making conservation decisions.

Arnoult, M.

et al.

(2010).

Modelling the likely impact of healthy eating guidelines on agricultural production and land use in England and Wales

.

LAND USE POLICY

[Online]

27

:1046-1055

.

Available at

:

http://dx.doi.org/10.1016/j.landusepol.2010.02.001

.

Quadratic programming techniques were applied to household food consumption data in England and Wales to estimate likely changes in diet under healthy eating guidelines, and the consequences this would have on agriculture and land use in England and Wales. The first step entailed imposing nutrient restrictions on food consumption following dietary recommendations suggested by the UK Department of Health. The resulting diet was used, in a second step as a proxy for demand in agricultural commodities, to test the impact of such a scenario on food production and land use in England and Wales and the impacts of this on agricultural landscapes. Results of the diet optimisation indicated a large drop in consumption of foods rich in saturated fats and sugar, essentially cheese and sugar-based products, along with lesser cuts of fat and meat products. Conversely, consumption of fruit and vegetables, cereals, and flour would increase to meet dietary fibre recommendations. Such a shift in demand would dramatically affect production patterns: the financial net margin of England and Wales agriculture would rise, due to increased production of high market value and high economic margin crops. Some regions would, however, be negatively affected, mostly those dependent on beef cattle and sheep production that could not benefit from an increased demand for cereals and horticultural crops. The effects of these changes would also be felt in upstream industries, such as animal feed suppliers. While arable dominated landscapes would be little affected, pastoral landscapes would suffer through loss of grazing management and, possibly, land abandonment, especially in upland areas. (C) 2010 Elsevier Ltd. All rights reserved.

Mazaris, A.

et al.

(2009).

Sea surface temperature variations in core foraging grounds drive nesting trends and phenology of loggerhead turtles in the Mediterranean Sea

.

JOURNAL OF EXPERIMENTAL MARINE BIOLOGY AND ECOLOGY

[Online]

379

:23-27

.

Available at

:

http://dx.doi.org/10.1016/j.jembe.2009.07.026

.

The sea surface temperature (SST) in loggerhead turtle breeding areas affects the species reproductive biology. Less is known about the effects of changes in SST in the species foraging grounds. We used nesting data for the Mediterranean loggerhead turtle population breeding on the Greek island of Zakynthos to study the effect of SST in the population foraging grounds upon the initiation of nesting and the number of clutches laid. We found that the climatic conditions (SST) in the foraging grounds affected the population nesting phenology in the short term (i.e. within the same year); warmer years triggered an earlier onset of nesting. However, the effect of foraging grounds SST upon nesting is comparatively less important than the local conditions at the nesting ground. Although nesting phenology seems to depend on current's year foraging grounds SST the number of nests in our study rookery were negatively correlated with SSTs recorded 2 years prior nesting, with higher SST leading to fewer nests. From this point of view, climate change at the foraging grounds may influence the reproductive phenology of loggerheads. (C) 2009 Elsevier B.V. All rights reserved

Mazaris, A.

et al.

(2009).

Assessing the relative importance of conservation measures applied on sea turtles: comparison of measures focusing on nesting success and hatching recruitment success

.

Amphibia-Reptilia

[Online]

30

:221-231

.

Available at

:

http://dx.doi.org/10.1163/156853809788201180

.

Conservation measures applied to sea turtle nesting sites have a beneficial effect on population trends and dynamics. Such measures aim to protect nesting females, increase nesting success (proportion of female emergences resulting in nests) and/or to improve hatching and hatchling emergence success. However, taking into account financial and time constrains it is important to identify those measures that have the most positive impact on the sea turtle population. The aim of this paper is to assess and compare the relative importance of the different factors that may influence the efficiency of conservation actions and to investigate which factors, those associated with decreased nesting success, or others leading to higher embryonic and hatchling mortality have a higher impact on overall hatchling recruitment. We developed a model that simulates the nesting activity of sea turtles. For model parameterization, we used data collected from nesting sites of the loggerhead sea turtles (Caretta caretta) in the Eastern Mediterranean. We conducted a series of simulations by simultaneously changing model input parameters. The results of the model illustrate that an increase in hatchling recruitment success (i.e., hatching and hatchling emergence success) would have a more positive effect on overall hatchling production than a similar in nesting success. Our analysis further suggests that changes in hatchling recruitment success even at a single site, could have an important impact on overall hatchling production of the rookery.

Kallimanis, A.

et al.

(2009).

Do plant-pollinator interaction networks result from stochastic processes?

Ecological Modelling

[Online]

220

:684-693

.

Available at

:

http://dx.doi.org/10.1016/j.ecolmodel.2008.11.008

.

Plant-pollinator interaction networks are characterized by several features that cannot be obtained from a totally random network (e.g. nestedness, power law distribution of degree specialization, temporal turnover). One reason is that both plants and pollinators are active for only a part of the year, and so a plant species flowering in spring cannot interact with a pollinator species that is active only in autumn. In this paper we build a stochastic model to simulate the plant-pollinator interaction network, taking into account the duration of activity of each species. To build the model we used an empirical plant-pollinator network from a Mediterranean scrub community surveyed over four years. In our simulated annual cycle we know which plant and pollinator species are active, and thus available to interact. We can obtain simulated plant-pollinator interaction networks with properties similar to the real ones in two different ways: (i) by assuming that the frequency distribution of both plant and pollinator duration of activity follow an exponential function, and that interaction among temporally coexisting species are totally random, and (ii) by assuming more realistic frequency distributions (exponential for pollinators, lognormal for plants) and that the interaction among coexisting species is occurring on a per capita basis. In the latter case we assume that there is a positive relationship between abundance and duration of activity. In our model the starting date of the species activity had little influence on the network structure. We conclude that the observed plant-pollinator network properties can be produced stochastically, and the mechanism shaping the network is not necessarily related to size constraints. Under such conditions co-evolutionary explanations should be given with caution. (C) 2008 Elsevier B.V. All rights reserved.

Mazaris, A.

et al.

(2008).

The contribution of common and rare species to plant species richness patterns: the effect of habitat type and size of sampling unit

.

Biodiversity and Conservation

[Online]

17

:3567-3577

.

Available at

:

http://dx.doi.org/ 10.1007/s10531-008-9480-7

.

Understanding how overall patterns of spatial variation in species richness are affected by distributional patterns of species has been an area of growing concern. In the present study, we investigated the relative importance of common and rare species as contributors in overall plant species richness. We further examined if the effects of common or rare species in richness patterns are affected by the size of the sampling units and if the observed patterns hold at different habitats. We used a dataset of 5,148 higher plant species distributed across 16,114 sampling plots located in 240 sites of the NATURA 2000 network of Greece. We ranked all species based on the number of sites they occupied and we developed a common to rare and a rare to common sequence. We correlated those sequences with cumulative species distributions. We performed this analysis in nine different sizes of sampling units and in three different datasets referring to (a) all habitat types together, (b) coniferous habitats only and (c) alpine habitats only. Our analysis showed that despite the proportionally higher numbers of restricted species, widespread species make a greater contribution to overall richness patterns and that this observed pattern does not depend on the size of the sampling units. Moreover, the observed pattern stands for different habitat types. Our findings support the generality of this pattern and highlight the importance of widespread species as adequate indicators of biodiversity patterns at various habitat types.

Jiao, J.

et al.

(2008).

Factors affecting distribution of vegetation types on abandoned cropland in the hilly-gullied Loess Plateau region of China

.

PEDOSPHERE

[Online]

18

:24-33

.

Available at

:

http://dx.doi.org/10.1016/S1002-0160(07)60099-X

.

A study was conducted in the forest-steppe region of the Loess Plateau to provide insight into the factors affecting the process of vegetation establishment, and to provide recommendations for the selection of indigenous species in order to speed up the succession process and to allow the establishment of vegetation more resistant to soil erosion. Four distinctive vegetation types were identified, and their distribution was affected not only by the time since abandonment but also by other environmental factors, mainly soil water and total P in the upper soil layers. One of the vegetation types, dominated by Artemisia scoparia, formed the early successional stage after abandonment while the other three types formed later successional stages with their distribution determined by the soil water content and total P. It can be concluded that the selection of appropriate species for introduction to accelerate succession should be determined by the local conditions and especially the total P concentration and soil water content.

Zomeni, M., Tzanopoulos, J. and Pantis, J. (2008).

Historical analysis of landscape change using remote sensing techniques: An explanatory tool for agricultural transformation in Greek rural areas

.

LANDSCAPE AND URBAN PLANNING

[Online]

86

:38-46

.

Available at

:

http://dx.doi.org/10.1016/j.landurbplan.2007.12.006

.

The role of agricultural change in transforming Greek rural landscapes is analysed within the broader context and theory of agricultural transition from traditional to productivist and post-productivist regimes. The analysis is based on remote sensing data following a case study approach in two study sites - Tymfi and Konitsa - located in the Epirus mountain area. Vegetation maps were created for 1945, 1969 and 1995 via 'object oriented image analysis' of a series of air-photographs. A number of landscape metrics was then calculated for each map and the interpreted spatial analysis illustrates that the observed landscape changes are linked to agricultural restructure. During the post war period when agriculture in Western Europe had entered a productivist phase, agricultural change was marked by trends of agricultural abandonment predominantly evident in the upland areas. In contrast, farming persisted at the lowlands and the gradual aggregation of crop fields in few large patches, indicates the existence of productivist agriculture. This landscape transformation suggests that productivist agriculture and land abandonment can coexist in a spatially differentiated pattern. Although since the mid-1980s, the rationale of agricultural policy priorities shifted towards post-productivism, the findings of this study do not support the existence of such a transition. The results are further discussed within the broader context of agricultural change in Europe providing an additional dimension to the discussions regarding the spatio-temporal properties of agricultural transition. Understanding the process of agricultural change could enhance the role of agricultural policy as a tool for landscape management and regional planning. (c) 2008 Elsevier B.V. All rights reserved.

Kallimanis, A.

et al.

(2008).

How does habitat diversity affect the species-area relationship?

Global Ecology and Biogeography

[Online]

17

:532-538

.

Available at

:

http://dx.doi.org/10.1111/j.1466-8238.2008.00393.x

.

Aim To examine the way in which 'area' and 'habitat diversity' interact in shaping species richness and to find a simple and valid way to express this interaction.
Location The Natura 2000 network of terrestrial protected areas in Greece, covering approximately 16% of the national territory.
Methods We used the Natura 2000 framework, which provides a classification scheme for natural habitat types, to quantify habitat heterogeneity. We analysed data for the plant species composition in 16,143 quadrats in which 5044 species and subspecies of higher plants were recorded. We built a simple mathematical model that incorporates the effect of habitat diversity on the species-area relationship (SAR).
Results Our analysis showed that habitat diversity was correlated with area. However, keeping habitat diversity constant, species richness was related to area; while keeping area constant, species richness was related to habitat diversity. Comparing the SAR of the 237 sites we found that the slope of the species-area curve was related to habitat diversity.
Conclusions Discussion of the causes of the SAR has often focused on the primacy of area per se versus habitat heterogeneity, even though the two mechanisms are not mutually exclusive and should be considered jointly. We find that increasing habitat diversity affects the SAR in different ways, but the dominant effect is to increase the slope of the SAR. While a full model fit typically includes a variety of terms involving both area and habitat richness, we find that the effect of habitat diversity can be reduced to a linear perturbation of the slope of the species accumulation curve.

Petanidou, T.

et al.

(2008).

Long-term observation of a pollination network: fluctuation in species and interactions, relative invariance of network structure and implications for estimates of specialization

.

Ecology Letters

[Online]

11

:564-575

.

Available at

:

http://dx.doi.org/10.1111/j.1461-0248.2008.01170.x

.

We analysed the dynamics of a plant-pollinator interaction network of a scrub community surveyed over four consecutive years. Species composition within the annual networks showed high temporal variation. Temporal dynamics were also evident in the topology of the network, as interactions among plants and pollinators did not remain constant through time. This change involved both the number and the identity of interacting partners. Strikingly, few species and interactions were consistently present in all four annual plant-pollinator networks (53% of the plant species, 21% of the pollinator species and 4.9% of the interactions). The high turnover in species-to-species interactions was mainly the effect of species turnover (c. 70% in pairwise comparisons among years), and less the effect of species flexibility to interact with new partners (c. 30%). We conclude that specialization in plant-pollinator interactions might be highly overestimated when measured over short periods of time. This is because many plant or pollinator species appear as specialists in 1 year, but tend to be generalists or to interact with different partner species when observed in other years. The high temporal plasticity in species composition and interaction identity coupled with the low variation in network structure properties (e.g. degree centralization, connectance, nestedness, average distance and network diameter) imply (i) that tight and specialized coevolution might not be as important as previously suggested and (ii) that plant-pollinator interaction networks might be less prone to detrimental effects of disturbance than previously thought. We suggest that this may be due to the opportunistic nature of plant and animal species regarding the available partner resources they depend upon at any particular time.

Jiao, J.

et al.

(2007).

Can the study of natural vegetation succession assist in the control of soil erosion on abandoned croplands on the Loess Plateau, China?

Restoration Ecology

[Online]

15

:391-399

.

Available at

:

http://dx.doi.org/10.1111/j.1526-100X.2007.00235.x

.

In the Loess Plateau, China, arable cultivation of slope lands is common and associated with serious soil erosion. Planting trees or grass may control erosion, but planted species may consume more soil water and can threaten long-term ecosystem sustainability. Natural vegetation succession is an alternative ecological solution to restore degraded land, but there is a time cost, given that the establishment of natural vegetation, adequate to prevent soil erosion, is a longer process than planting. The aims of this study were to identify the environmental factors controlling the type of vegetation established on abandoned cropland and to identify candidate species that might be sown soon after abandonment to accelerate vegetation succession and establishment of natural vegetation to prevent soil erosion. A field survey of thirty-three 2 x 2-m plots was carried out in July 2003, recording age since abandonment, vegetation cover, and frequency of species together with major environmental and soil variables. Data were analyzed using correspondence analysis, classification tree analysis, and species response curves. Four vegetation types were identified and the data analysis confirmed the importance of time since abandonment, total P, and soil water in controlling the type of vegetation established. Among the dominant species in the three late-successional vegetation types, the most appropriate candidates for accelerating and directing vegetation succession were King Ranch bluestem (Bothriochloa ischaemum) and Lespedeza davurica (Leguminosae). These species possess combinations of the following characteristics: tolerance of low water and nutrient availability, fibrous root system and strong lateral vegetative spread, and a persistent seed bank.

Jongepierova, I., Mitchley, J. and Tzanopoulos, J. (2007).

A field experiment to recreate species rich hay meadows using regional seed mixtures

.

Biological Conservation

[Online]

139

:297-305

.

Available at

:

http://dx.doi.org/10.1016/j.biocon.2007.07.026

.

Species rich semi-natural grasslands are an important but threatened habitat throughout Europe and much of the former area has been lost since the 1950s. However, in some countries large areas have been preserved and the demand for meadow recreation by sowing seed mixtures is increasing. In the White Carpathians Protected Landscape Area (Czech Republic) the use of commercial seed mixtures is undesirable and the use of regional mixtures has been investigated. The costs for seeding large areas are high and lower cost techniques are needed. In 1999 a field experiment was set up to investigate the establishment of hay meadow vegetation comparing sowing a regional mixture all over a plot with sowing narrow 2.5 In strips of regional seed mixtures into a matrix of a commercial grass mixture or into natural regeneration. The results after five seasons showed good establishment of the sown species in the meadow treatment. Spread of sown species from the sown strips into the surrounding matrix occurred but the cover of species was lower in the commercial grass matrix compared with the natural regeneration matrix. Colonisation of some plots by unsown desirable grassland species from adjacent grassland habitats also occurred, but more species colonised the natural regeneration matrix than the commercial grasses or the sown meadow matrix itself. Overall, the results indicate that, in appropriate situations, sown strips can provide a lower cost but slower and longer-term alternative to field scale sowing of regional seed mixtures for recreation of hay meadow vegetation.

Tzanopoulos, J., Mitchley, J. and Pantis, J. (2007).

Vegetation dynamics in abandoned crop fields on a Mediterranean island: Development of succession model and estimation of disturbance thresholds

.

Agriculture, Ecosystems & Environment

[Online]

120

:370-376

.

Available at

:

http://dx.doi.org/10.1016/j.agee.2006.10.011

.

This case study on the Sifnos island, Greece, assesses the main factors controlling vegetation succession following crop abandonment and describes the vegetation dynamics of maquis and phrygana formations in relation to alternative theories of secondary succession. Field survey data were collected and analysed at community as well as species level. The results show that vegetation succession on abandoned crop fields is determined by the combined effects of grazing intensity, soil and geological characteristics and time. The analysis determines the quantitative grazing thresholds that modify the successional pathway. Light grazing leads to dominance by maquis vegetation while overgrazing leads to phryganic vegetation. The proposed model shows that vegetation succession following crop abandonment is a complex multi-factor process where the final or the stable stage of the process is not predefined but depends on the factors affecting succession. An example of the use of succession models and disturbance thresholds as a policy assessment tool is presented by evaluating the likely vegetation impacts of the recent reform of the Common Agricultural Policy on Sifnos island over a 20-30-year time horizon.
Book section
Henle, K.

et al.

(2019). Scaling Sensitivity of Drivers.

in:

Schröter, M. et al. eds.

Atlas of Ecosystem Services

.

Springer

,

pp.

39-50

.

Available at

:

https://doi.org/10.1007/978-3-319-96229-0_8

.

Understanding drivers of change, their impacts on biodiversity and ecosystem services, as well as their relationships to decision- making, constitutes a major challenge for scientists and policy makers.

Tzanopoulos, J.

et al.

(2014). Scaling of drivers of change across administrative levels.

in:

Henle, K. et al. eds.

Scaling in Ecology and Biodiversity Conservation

.

Pensfot

.

Available at

:

http://dx.doi.org/10.3897/ab.e1169

.

Primmer, E.

et al.

(2014). An approach to analysing scale-sensitivity and scale-effectiveness of governance in biodiversity conservation.

in:

Padt, F. J. G. et al. eds.

Scale-Sensitive Governance of the Environment

.

Oxford

:

John Wiley & Sons

.

Available at

:

http://dx.doi.org/10.1002/9781118567135.ch15

.

The governance of global environmental challenges has been conceptualized comprehensively and often accurately, but it is often difficult to design institutions that provide incentives for conservation and, at the same time, control for reaching the targets across scales, utilizing available knowledge and satisfying multiple interests. This chapter analyses four governance mechanisms in biodiversity conservation: (i) command and control; (ii) planning and management: (iii) market-oriented mechanisms and economic instruments; and (iv) collaborative and participatory. It discusses the ways in which these mechanisms emphasize control and adaptiveness. The analysis utilizes governance literature and secondary material on illustrative biodiversity governance examples in different areas in Europe. The chapter draws conclusions for scale-sensitive and scale-effective analysis and policy

Marty, P.

et al.

(2014). Conceptual framework and typology of drivers.

in:

Henle, K. et al. eds.

Scaling in Ecology and Biodiversity Conservation

.

Pensoft

.

Available at

:

http://dx.doi.org/10.3897/ab.e1169

.

Scott, A.

et al.

(2014). Fragmentation across spatial scales.

in:

Henle, K. et al. eds.

Scaling in Ecology and Biodiversity Conservation

.

Pensoft

.

Available at

:

http://dx.doi.org/10.3897/ab.e1169

.

Tzanopoulos, J.

et al.

(2011). Scenario analysis and Sustainability Assessment as tools for the development of management strategies for the protected areas.

in:

Dimopoulos, P. et al. eds.

Sustainable management of protected areas.

Pappas Editions

.

Mitchley, J., Tzanopoulos, J. and Xofis, P. (2008). Scenarios research: a tool for participatory landscape planning in Europe's mountain regions.

in:

Boltiziar, M. ed.

Implementation of Landscape Ecology in New and Changing Conditions

.

Institute of Landscape Ecology, Slovak Academy of Sciences

.

Mitchley, J., Tzanopoulos, J. and Cooper, T. (2007). Reconciling the Conservation of Biodiversity with Declining Agricultural Use in the Mountains of Europe: The Challenge of Interdisciplinary Research.

in:

Price, M. F. ed.

Mountain Research and Management: Integrated Approaches

.

Earthscan

.
Monograph
Bormpoudakis, D.

et al.

(2016).

Developing models to estimate the occurrence in the English countryside of Great Crested Newts, a protected species under the Habitats Directive

.

Defra

.

Available at

:

http://randd.defra.gov.uk/Default.aspx?Menu=Menu&Module=More&Location=None&ProjectID=19272&FromSearch=Y&Publisher=1&SearchText=WC1108&SortString=ProjectCode&SortOrder=Asc&Paging=10

.

The great crested newt is a European Protected Species (EPS) with a widespread distribution within Great Britain. This results in the species frequently coming into conflict with development. Consequently, decision-makers in local government and licensing authorities face complex issues when it comes to reconciling development and conservation. New approaches are therefore needed to ensure that conservation decisions are based upon the best available science. The project set out to evaluate new potential approaches to these issues using three work packages: (1) Develop, test and compare species distribution models (SDMs) for great crested newts; (2) Building on these models, develop a methodology for assessing the impact of a plan or project on the local conservation status of great crested newts; and (3) End-user testing to assess model applications and fitness for purpose. Defra commissioned the project with additional funding from Natural Resources Wales, and together with Natural England and JNCC, also provided guidance.
GLM models developed using eDNA presence-absence data for a small area of Kent provided a good prediction of the county-wide distribution of the species. GLM models developed for Cheshire and Lincolnshire using eDNA data yielded weaker models. Equally, the Kent model did not reliably fit Cheshire and Lancashire, suggesting that the predictor variables vary geographically.
Maxent and ensemble models yielded good fits to county-wide distributions but poor fits to the localised eDNA data in all three counties. These models may have utility at a broad scale, but cannot account for absences at a local scale. Equally, some important variables at a local scale cannot be obtained through GIS layers and need to be obtained through field surveys. Constructing models for different scales therefore requires different modelling tools and different types of predictor variables.
Maxent models of the national distribution of great crested newts in England gave predictions that were broadly consistent with current knowledge and can be used to calculate potential areas of occupancy.
A framework for assigning and measuring Favourable Reference Values (FRVs) for great crested newts at different scales was developed using both an 'equilibrium' (='no net change') approach and FRVs set using baseline data according to other criteria. These principles were combined with SDMs and connectivity analysis of five case studies. The case studies combine both real and hypothetical data, and illustrate how a modelling approach can be used to identify important areas of newt habitat, identify connectivity between ponds, predict potential impacts of development, and design and evaluate mitigation measures.
Three end-user consultation exercises showed that there was considerable interest and enthusiasm for the development and application of SDMs across a range of applications and stakeholders. Concerns were expressed over the quality and quantity of data available for modelling using current data-flow systems; the predictive power of models; and the potential for model outputs to be misused. Challenges that need to be addressed include training, expertise and building capacity, enhancing the regulatory framework for protected species, and the improvement and centralisation of data management systems.
Species Distribution Models (SDMs) provide an objective and evidence-based tool for use within decision-making processes involving great crested newts. They have the potential to identify priority areas for conservation, target survey effort, assess the impacts of development, and assign Favourable Reference Values for the species. However, great crested newt records and habitat data are currently dispersed across multiple recording systems and vary in quality and quantity. A well-integrated data management system is required if SDMs are to make the best use of available information.
Last updated