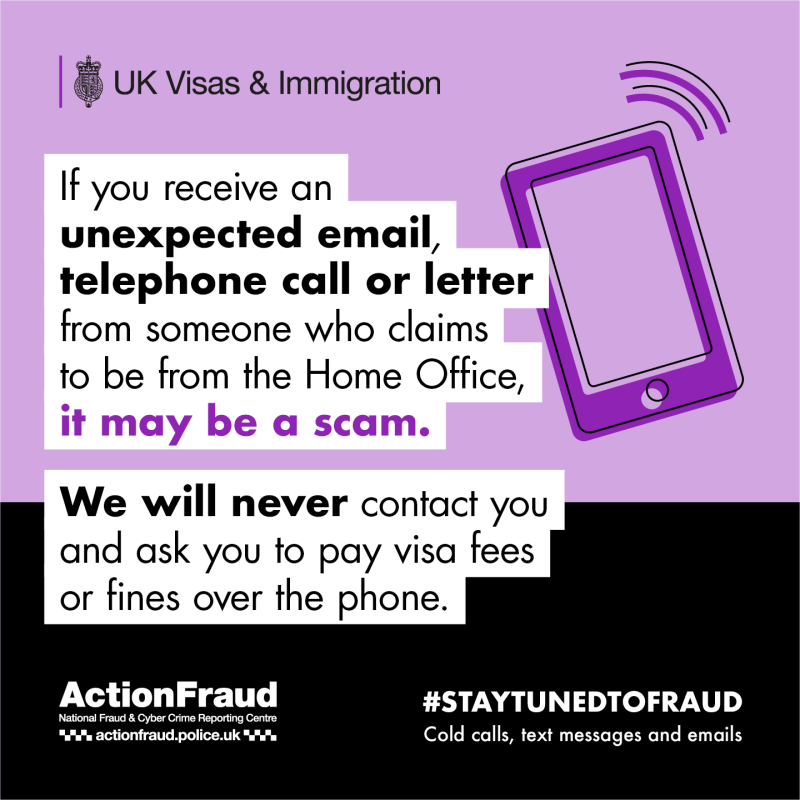 Every year, UK Visas and Immigration (UKVI) receives hundreds of Student visa applications from individuals who want to study at our University. Whilst this is something we are very proud of, it has sadly come to our attention that international students are being targeted by fraudsters once they reach UK soil. Perpetrators are calling our students, claiming to be from the Home Office and demanding money for non existent visas fee and fines, sometimes in the way of gift cards or iTunes vouchers.
In a bid to warn students against these scammers, UKVI has teamed up with Action Fraud to create guidance which offers key messages and assets that can inform you against fraudulent activity and prevent you from falling for such scams. If you are worried about your immigration status, contact the Student Immigration Compliance Team or Kent Union Advice Centre.
How to spot and prevent fraud
Legitimate Home Officials will never contact you and ask you to pay visa fees over the phone. If you receive an unexpected call from someone who claims to be from the Home Office, it may be a scam.
Home Office or UKVI officials will never ask you to pay visa fees or fines using iTunes gift cards, cryptocurrency or money transfers services. Never provide numbers on the back of iTunes gift cards to someone you don't know.
Always question unexpected requests for your personal or financial information in case it's a scam. Even if someone knows your basic details, it doesn't mean they are genuine.
Trusted organisations won't pressure you to make a financial transaction on the spot. If something feels wrong, question it.
Who can I contact about possible fraud?