Create text and documents that meet accessibility standards. It makes your content easier for everyone to access, it's the right thing to do, and it's the law.
Essential practices for all documents and presentations
Design and layout
Left-align text
Number the pages
Make sure there is good contrast between text and background. If your software, such as Word, has a built-in accessibility checker, it will highlight contrast issues.
Fonts
Minimum font size 12 (bigger for presentations)
Use non-serif fonts (such as Arial or Helvetica)
Text needs to be selectable
This will make sure it's accessible by screen reader software. To check, see if you can select, copy and paste your text into another location.
Accessible images
Any visual content should be explained in alternative text (Alt text) for those who cannot see it.
Images and logos
To add 'Alt text' to an image (for most software) right-click on the image to view the options.
What should my Alt text say?
Writing good useful alt text is subjective, but there are some pointers that will help you get it right.
Decorative images
Images can sometimes be marked as decorative if they are purely cosmetic; if they don't convey key information on their own.
Example: it's unnecessary to describe a campus image on the front cover of a handout about learning resources; it adds no value if you can't see it.
If your software won't let you mark cosmetic images as decorative, please use them sparingly and consider removing them.
Don't use auto-generated Alt text
Automatically generated alternative text will be very inaccurate.
Don't embed text in images
If you have to share a resource that contains images with text embedded, the text content must be provided in another format that can be selected.
How to add alt text
Use heading styles
Headings make text stand out and help people scan your document. The simplest way to add headings is with heading styles.
Using heading styles means you can quickly build a table of contents, reorganise your document, and reformat its design without having to manually change each heading's text. They also make it much easier for a people to navigate.
Don't design headings cosmetically with bold or bigger text. Instead use the heading styles offered by the software.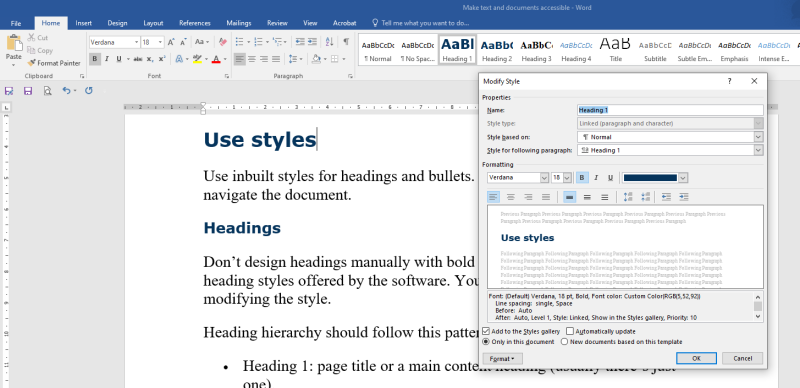 Heading hierarchy
Heading hierarchy should follow this pattern:
Heading 1: page title or a main content heading (usually there's just one).

Heading 2: major section heading.

Heading 3: sub-section of Heading 2.

Heading 4 sub-section of Heading 3, and so on.
Use bullets and numbered lists

Write meaningful link text
Your link text (e.g. a link to a website) needs to describe its destination and make sense out of context.

Don't write "Click here to visit the University of Kent home page for more advice."
Write: "Visit the University of Kent home page for more advice."
Link text should also be unique on the page unless the links go to the same destination. Don't have multiple "Contact us" links on one page that go to the contact details for different teams.
Imagine a screen reader reading out all the links in the document out of context from their surrounding text. Do they make sense?
Presentations
Most standard PowerPoint templates should be accessible, so can be a good starting point.
Check the following
Minimum point size of 24 for all slide text
Keep the layout simple and clear
Give each slide a unique title
Explain all your spoken points in the Notes Field. Use it to expand on important points or summarise the key points of visual materials
Avoid 'crowding' slides with too much information. If lots of information is needed, split it across slides, or use the Notes field to provide extra detail
How to do all this and more in PowerPoint
Automated captioning is enabled by default in KentPlayer recordings
Table structure matters
The table needs to be read sensibly by a screen reader, top to bottom and left to right. Tables with no headings or with complex structures are hard to interpret for screen readers.
Keep the structure simple
Make sure tables don't contain split cells, merged cells, or nested tables.
Create a header row
Select the top row
Right-click and choose table properties
In the Row section choose Repeat as header row at the top of each page
Deselect Allow row to break across pages.
Setting header rows in Google Drive and setting header rows in LibreOffice.
Portable Document Formats (PDF)
Make the source document accessible
The easiest way to make sure a PDF is accessible is to make the source document accessible before converting it to PDF.
Turn it into a web page
If you can't edit the source document, it may be easier, if you have the option, to turn the PDF content into an accessible web page. Web pages are easier to access on all devices.
How to convert a word processing file to a web page
Open the Save As menu and select Web Page (.htm). The resulting HTML file can be opened with any web browser such as Firefox or Chrome.
Google Drive users
Saving a tagged PDF in Libre Office
Google Drive is not able to create tagged PDFs. Instead download the Google Document to open with Microsoft Word (.docx) or Libre Office (.odt file) which can export as tagged PDFs.
Spreadsheets: Excel
Request an accessible email (Outlook web)
Let a sender know that you prefer to receive accessible content:

In Outlook on the web

In the Settings menu (cog icon)
Select All Outlook Settings
In left hand column click General
Select Accessibility settings
Select Ask senders to send content that's accessible checkbox.
All staff: check files in Moodle
Required checks for all shared documents and presentations
If you share a document or presentation with students or colleagues (within your team, department, or the wider University) you're required to check the resource's accessibility.
The accessibility checker function in Moodle (provided by Blackboard Ally) tells you:
what (if any) issues it finds, and
how to fix them using common software such as Word, PowerPoint etc.
Blackboard Ally is already enabled in all current Moodle modules for teaching. The Staff: check documents for accessibility guide tells you how to create your own Moodle module for testing non-Moodle content.
Microsoft guides: more in-depth accessibility advice