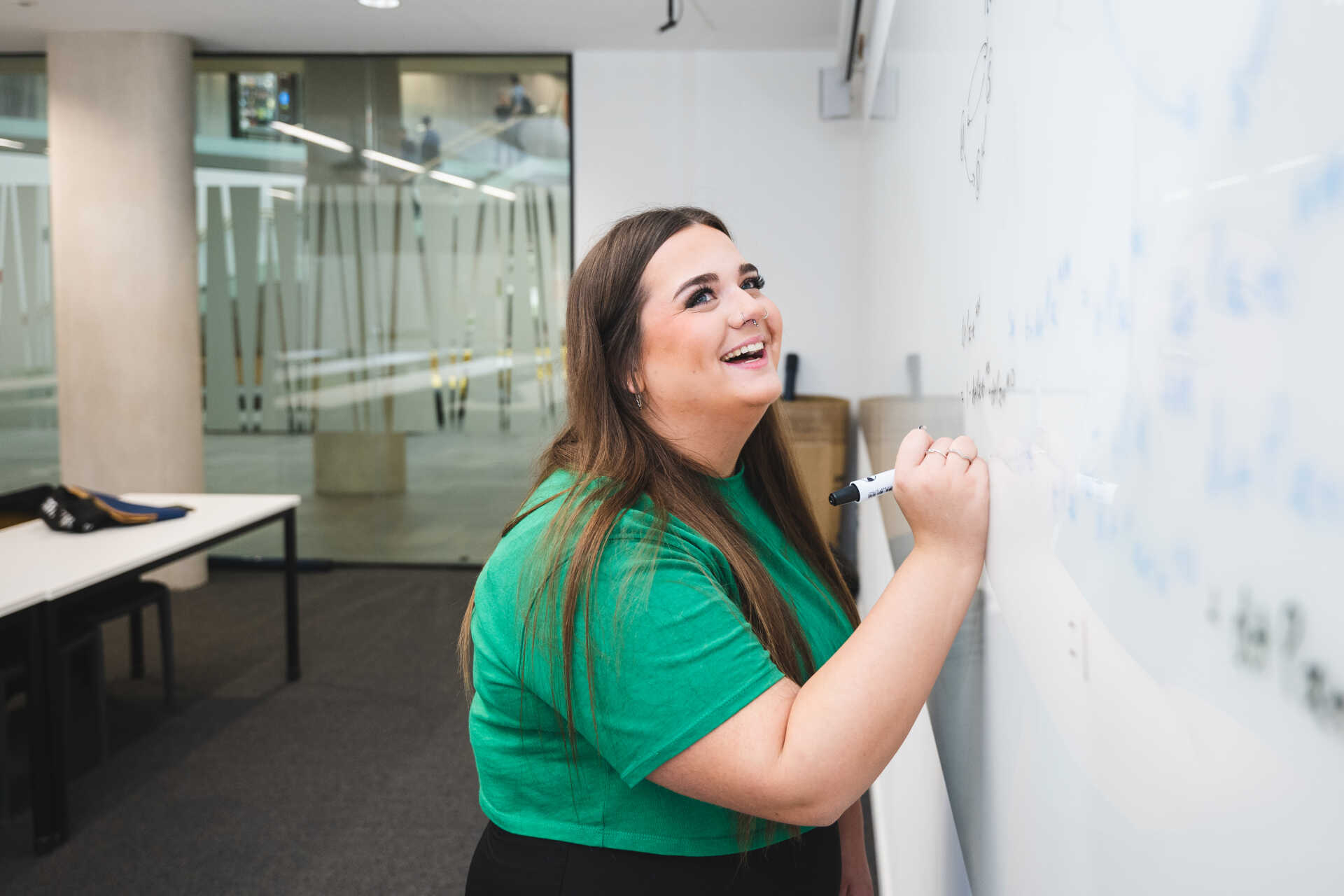 Undergraduate BSc (Hons)
Actuarial Science
Take a giant step towards a well-paid and fulfilling career in financial risk management.
Course overview
Actuaries evaluate and manage financial risks, particularly in the financial services industry. Our specialist programmes are taught by professionally qualified actuaries and internationally renowned statisticians to make sure you're fully prepared for your career.
Accreditation
We're fully accredited by the Institute and Faculty of Actuaries, which means that you can achieve up to six exemptions from the 13 professional examinations required to become a qualified actuary.
Accreditation
Why study Actuarial Science at Kent?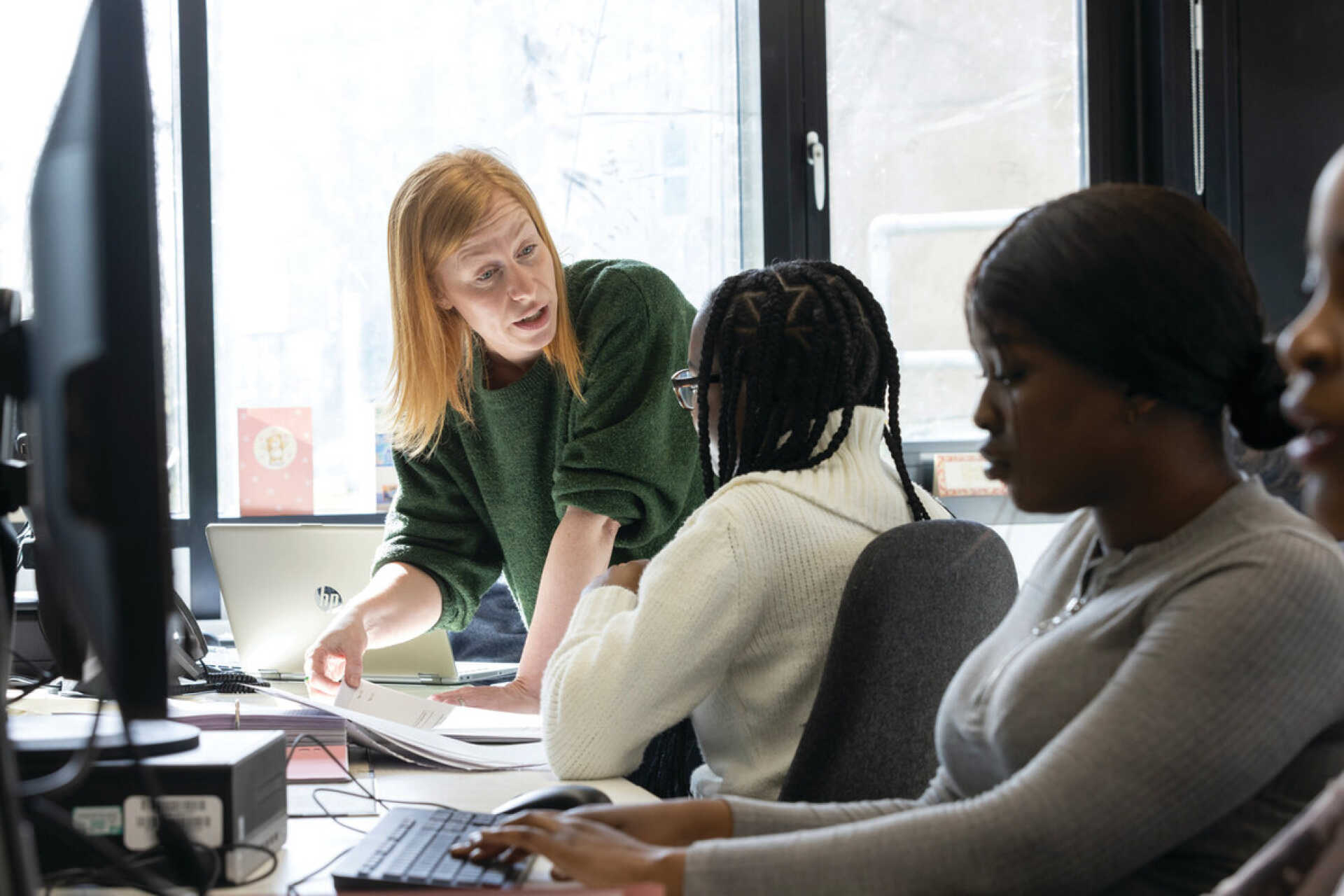 Been there, done that.
You'll benefit from the extensive industrial experience of the qualified Actuaries who teach on the course.
We're accredited.
Fully accredited by the Institute and Faculty of Actuaries (IFoA).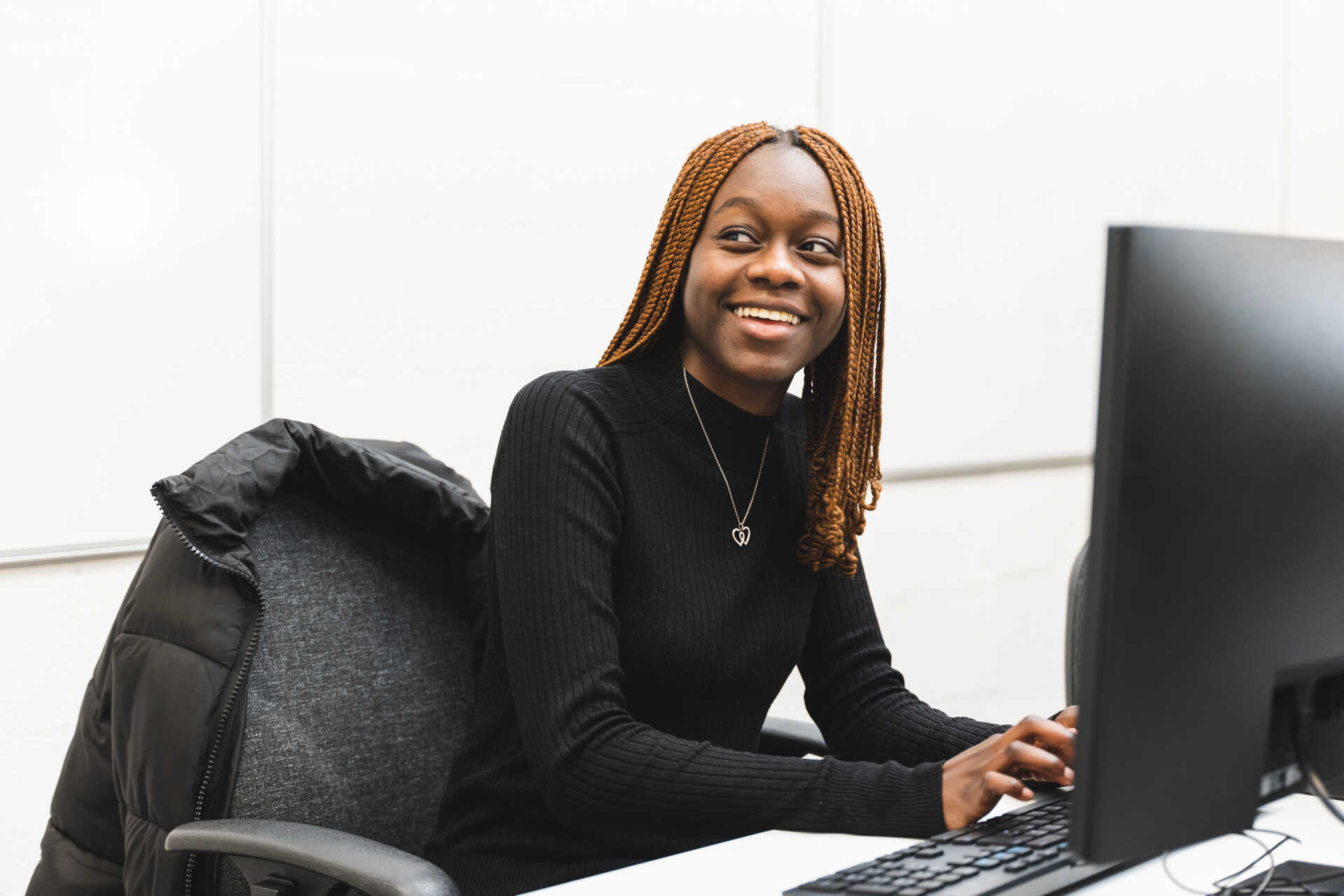 Develop your skills.
Learn industry standard software like PROPHET, R and Python.
Get ahead.
Take a placement year to boost your professional skills and get paid to do it.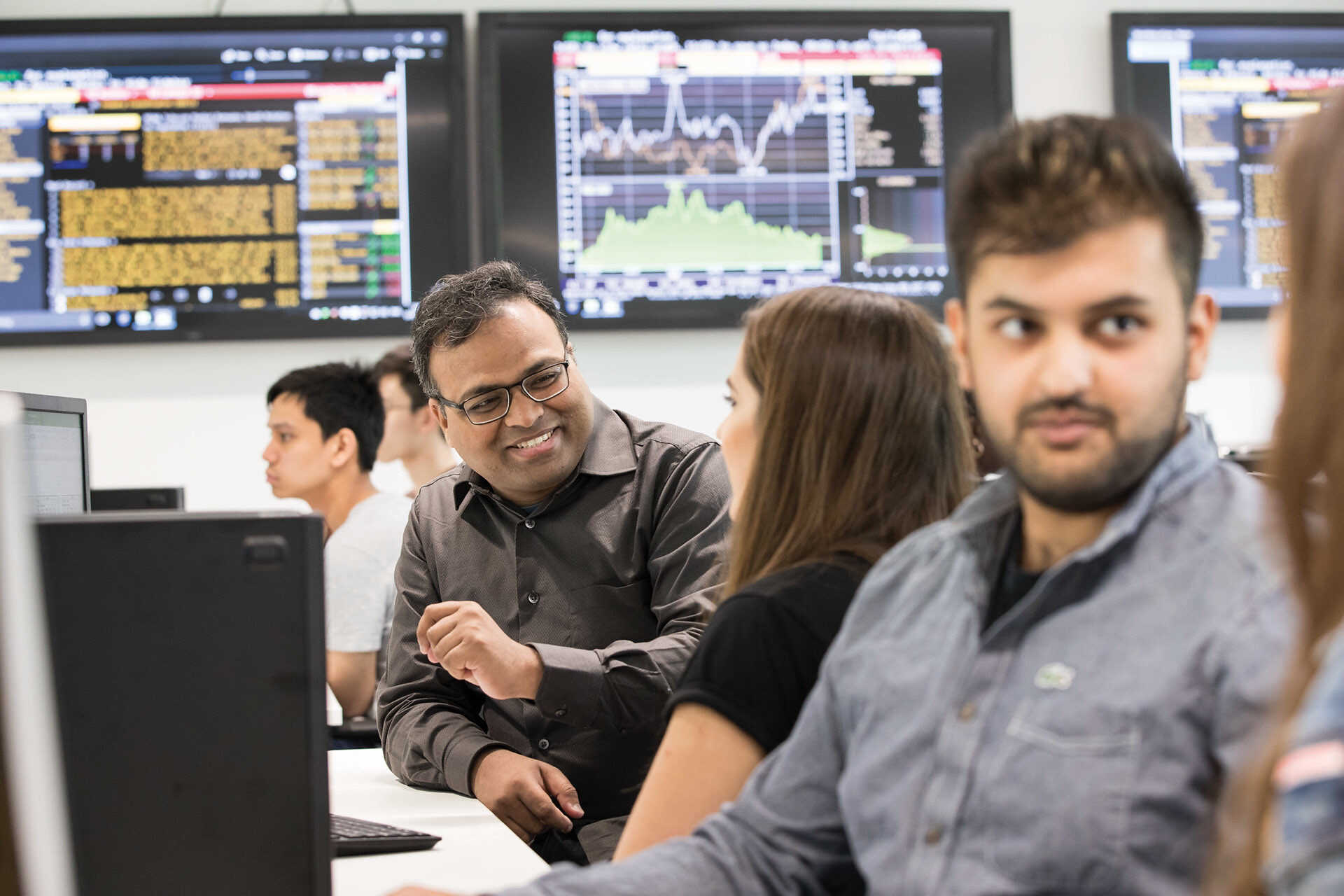 Your network.
You'll benefit from free membership of the Kent Maths Society and Invicta Actuarial Society.
Everything you need to know about our Actuarial Science course
Entry requirements
Typical A level offer
Applications are individually considered
The University will consider applications from students offering a wide range of qualifications. Click below to find out more.
Course structure
Over three years, you develop the skills in mathematics, statistics, finance and economics that you need to qualify as an actuary.
How you'll study
We know that people learn in a variety of ways, so most modules consist of a mix of lectures, example classes, practical sessions and independent study.
×
Entry requirements
Your application journey
Typical A level offer
Applications are individually considered
Typical BTEC offer
Applications are individually considered.
Typical IB offer
Applications are indivdually considered.
Additional requirements
AAB including Maths at A but excluding Use of Maths.
If taking both A level Mathematics and A level Further Mathematics:
ABB including Maths at A and Further Maths at B but excluding Use of Maths.
The University will consider applicants holding BTEC National Diploma and Extended National Diploma Qualifications (QCF; NQF; OCR) on a case-by-case basis. Please contact us for further advice on your individual circumstances.
30 points overall or 15 points at HL including Mathematics or Mathematics: Analysis and Approaches 6 at HL
Other qualifications
The University will consider applicants holding T level qualifications in subjects closely aligned to the course.
The University welcomes applications from Access to Higher Education Diploma candidates for consideration. A typical offer may require you to obtain a proportion of Level 3 credits in relevant subjects at merit grade or above.
×
What you'll study
Your degree your way. Discover the wide range of modules available to you.
The following modules are offered to our current students. This listing is based on the current curriculum and may change year to year in response to new curriculum developments and innovation.
Stage 1
Compulsory modules currently include the following
The aim of this module is to introduce students to core economic principles and how these could be used in a business environment to understand economic behaviour and aid decision making, and to provide a coherent coverage of economic concepts and principles. Indicative topics covered by the module include the working of competitive markets, market price and output determination, decisions made by consumers on allocating their budget and by producers on price and output, and different types of market structures and the implication of each for social welfare, the working of the economic system, governments' macroeconomic objectives, unemployment, inflation, economic growth, international trade and financial systems and financial crises.
This module will cover a number of syllabus items set out in Subject CB2 – Business Economics published by the Institute and Faculty of Actuaries.
The aim of this module is to provide a grounding in the principles of modelling as applied to financial mathematics – focusing particularly on deterministic models which can be used to model and value known cashflows. Indicative topics covered by the module include data and basics of modelling, theory of interest rates, equation of value and its applications. This module will cover a number of syllabus items set out in Subject CM1 – Actuarial Mathematics published by the Institute and Faculty of Actuaries.
The aim of the module is to give students an understanding of the types of work undertaken within the actuarial profession, and a basic grounding in the core skills required by actuaries.
Indicative topics covered by the module include an overview of the actuarial profession, an introduction to Microsoft Excel, an introduction to interest rates and cash flow models. This module will cover a number of syllabus items set out in Subject CM1 – Actuarial Mathematics published by the Institute and Faculty of Actuaries.
This module serves as an introduction to algebraic methods and linear algebra methods. These are central in modern mathematics, having found applications in many other sciences and also in our everyday life.
Indicative module content:
Basic set theory, Functions and Relations, Systems of linear equations and Gaussian elimination, Matrices and Determinants, Vector spaces and Linear Transformations, Diagonalisation, Orthogonality.
Introduction to Probability. Concepts of events and sample space. Set theoretic description of probability, axioms of probability, interpretations of probability (objective and subjective probability).
Theory for unstructured sample spaces. Addition law for mutually exclusive events. Conditional probability. Independence. Law of total probability. Bayes' theorem. Permutations and combinations. Inclusion-Exclusion formula.
Discrete random variables. Concept of random variable (r.v.) and their distribution. Discrete r.v.: Probability function (p.f.). (Cumulative) distribution function (c.d.f.). Mean and variance of a discrete r.v. Examples: Binomial, Poisson, Geometric.
Continuous random variables. Probability density function; mean and variance; exponential, uniform and normal distributions; normal approximations: standardisation of the normal and use of tables. Transformation of a single r.v.
Joint distributions. Discrete r.v.'s; independent random variables; expectation and its application.
Generating functions. Idea of generating functions. Probability generating functions (pgfs) and moment generating functions (mgfs). Finding moments from pgfs and mgfs. Sums of independent random variables.
Laws of Large Numbers. Weak law of large numbers. Central Limit Theorem.
Introduction to R and investigating data sets. Basic use of R (Input and manipulation of data). Graphical representations of data. Numerical summaries of data.
Sampling and sampling distributions. ?² distribution. t-distribution. F-distribution. Definition of sampling distribution. Standard error. Sampling distribution of sample mean (for arbitrary distributions) and sample variance (for normal distribution) .
Point estimation. Principles. Unbiased estimators. Bias, Likelihood estimation for samples of discrete r.v.s
Interval estimation. Concept. One-sided/two-sided confidence intervals. Examples for population mean, population variance (with normal data) and proportion.
Hypothesis testing. Concept. Type I and II errors, size, p-values and power function. One-sample test, two sample test and paired sample test. Examples for population mean and population variance for normal data. Testing hypotheses for a proportion with large n. Link between hypothesis test and confidence interval. Goodness-of-fit testing.
Association between variables. Product moment and rank correlation coefficients. Two-way contingency tables. ?² test of independence.
Stage 2
Compulsory modules currently include the following
Optional modules may include the following
Stage 3
Compulsory modules currently include the following
×
How you'll study
Teaching and assessment
Most of the teaching is by lectures and examples classes. At Stage 1, you can go to regular supervised classes where you can get help and advice on the way you approach problems. Modules that include programming or working with computer software packages usually involve practical sessions.
Each year, there are a number of special lectures by visiting actuaries from external organisations, to which all students are invited. These lectures help to bridge the gap between actuarial theory and its practical applications.
The course provides practical experience of working with PROPHET, a market-leading actuarial software package used by commercial companies worldwide for profit testing, valuation and model office work.
Modules are assessed by end-of-year examinations, or by a combination of coursework and examinations.
Contact hours
For a student studying full time, each academic year of the programme will comprise 1200 learning hours which include both direct contact hours and private study hours. The precise breakdown of hours will be subject dependent and will vary according to modules. Please refer to the individual module details under Course Structure.
Methods of assessment will vary according to subject specialism and individual modules. Please refer to the individual module details under Course Structure.
Programme aims
We aim to help students develop:
skills and knowledge appropriate to graduates in mathematical subjects
the ability to use rigorous reasoning and precise expression
the capabilities to formulate and solve problems
an appreciation of recent actuarial developments, and the links between the theory and its practical application in industry
the ability to formulate a logical, mathematical approach to solving problems
an enhanced capacity for independent thought and work
competence in the use of IT and the relevant software
opportunities to study advanced topics, engage in research and develop communication and personal skills
eligibility for up to six exemptions from examinations of the Institute and Faculty of Actuaries.
Learning outcomes
Knowledge and understanding
You gain knowledge and understanding of:
the principles of specific actuarial mathematics techniques including calculus, algebra, mathematical methods, discrete mathematics, analysis and linear algebra
probability and inference and time series modelling, plus specialist statistics applications in insurance
IT skills relevant to actuaries
methods and techniques appropriate to the mathematics of finance, finance and financial reporting, and financial economics
the principles of economics as relevant to actuaries
methods and techniques appropriate to survival models
the core areas of actuarial practice.
Intellectual skills
You gain the following intellectual abilities:
a reasonable understanding of the programme's main body of knowledge
skills in calculation and manipulation of the material in the programme
the ability to apply a range of concepts and principles in various contexts
how to present a logical argument
solving problems using various appropriate methods
IT skills
research, presentation and report-writing skills
an aptitude to work independently with relatively little guidance.
Subject-specific skills
You gain actuarial science skills in the following:
specific mathematical and statistical techniques and their application to solving actuarial problems
use of industry-specific IT skills and software
an understanding of the practical applications of the subject material in insurance
the ability to develop simple actuarial computer models to solve actuarial problems and to interpret and communicate the results.
Transferable skills
You gain transferable skills in the following:
problem-solving in relation to qualitative and quantitative information
written and oral communication skills
numeracy and computation
information retrieval, in relation to primary and secondary information sources, including online computer searches
word-processing and other IT skills, including spreadsheets and internet communication
interpersonal skills such as the ability to interact with other people and to engage in team-working
time-management and organisation, and the ability to plan and implement efficient and effective modes of working
study skills required for continuing professional development.
Your future
Our Actuarial Science programme gives you exemptions from the professional exams set by the UK actuarial profession, so you'll have a head start when looking to qualify as an actuary. It's also an excellent foundation for careers in many other areas of finance and risk.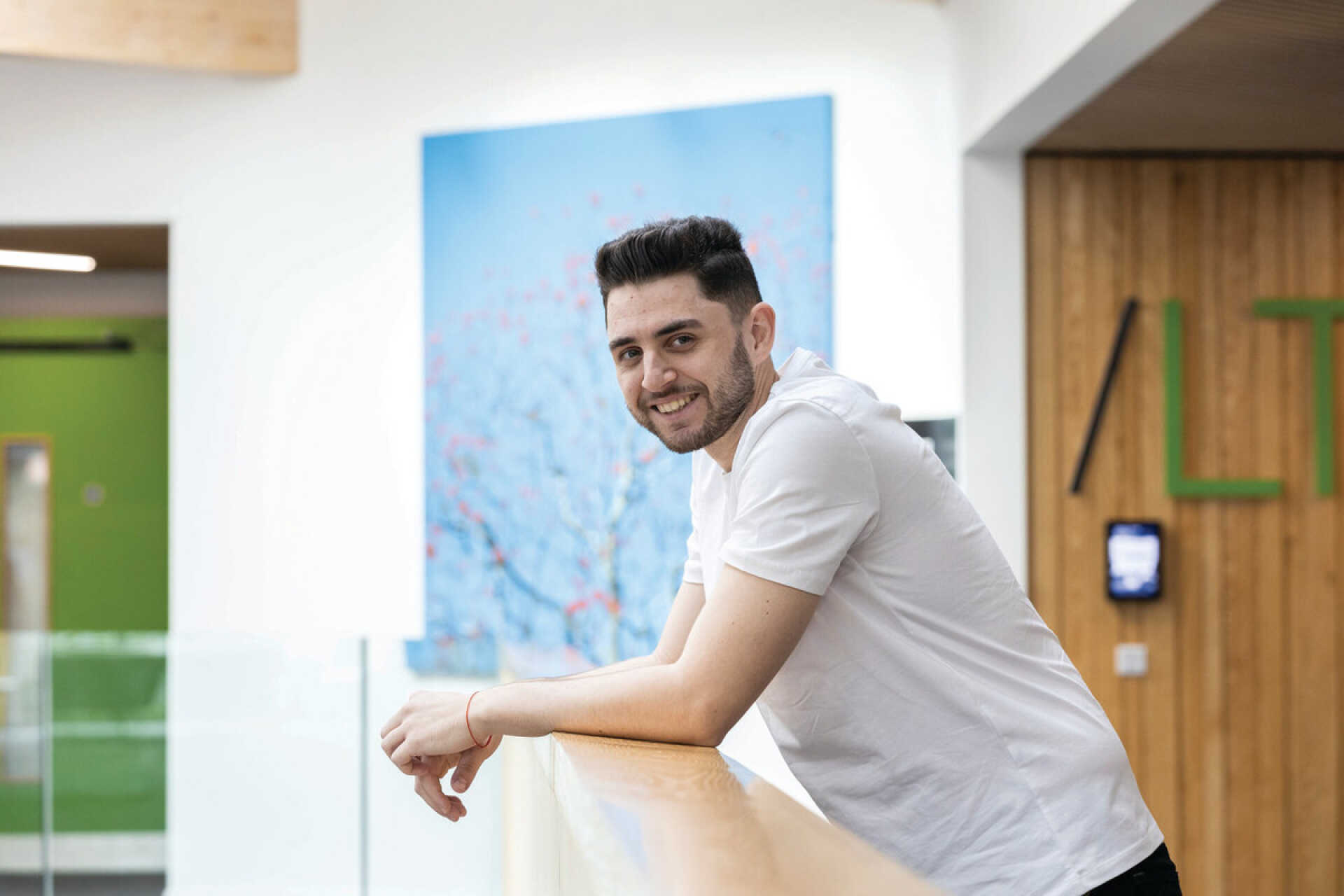 UK Actuarial Science graduate salaries
Very high
£33,929
Average base pay (37 salaries)
Hear from Georgia
The biggest change was my confidence.
Georgia's year in industry at Sainsbury's wasn't just a fantastic learning experience, she's also been offered a job when she graduates.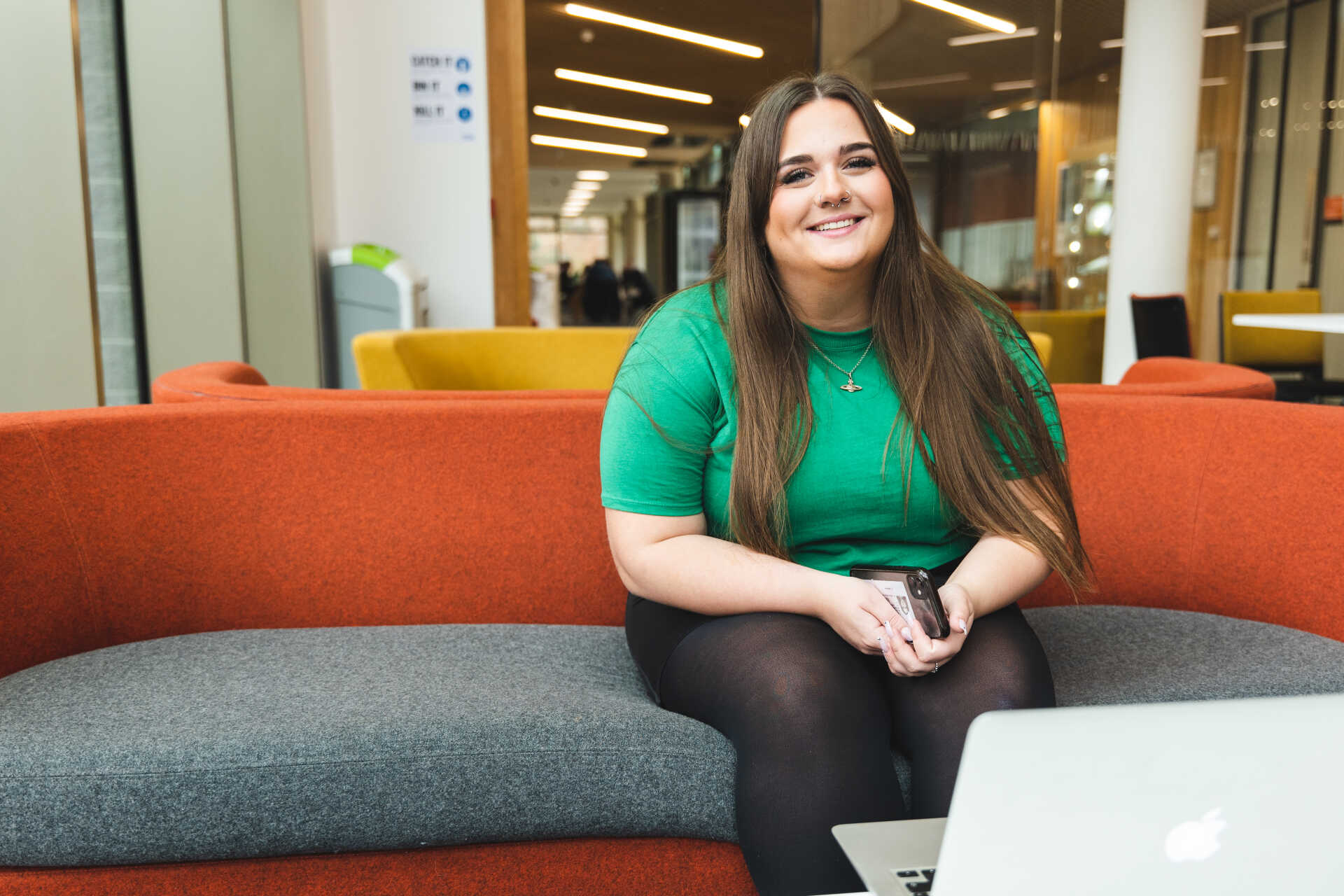 Fees and funding
Tuition fees for 2024 entry
Full-time
UK

£9,250

EU

£13,500

International

£18,000
For details of when and how to pay fees and charges, please see our Student Finance Guide.
For students continuing on this programme, fees will increase year on year by no more than RPI + 3% in each academic year of study except where regulated.*
Your fee status
The University will assess your fee status as part of the application process. If you are uncertain about your fee status you may wish to seek advice from UKCISA before applying.
Kent offers generous financial support schemes to assist eligible undergraduate students during their studies. See our funding page for more details.
The Kent Scholarship for Academic Excellence
At Kent we recognise, encourage and reward excellence. We have created the Kent Scholarship for Academic Excellence.
The scholarship will be awarded to any applicant who achieves a minimum of A*AA over three A levels, or the equivalent qualifications (including BTEC and IB) as specified on our scholarships pages.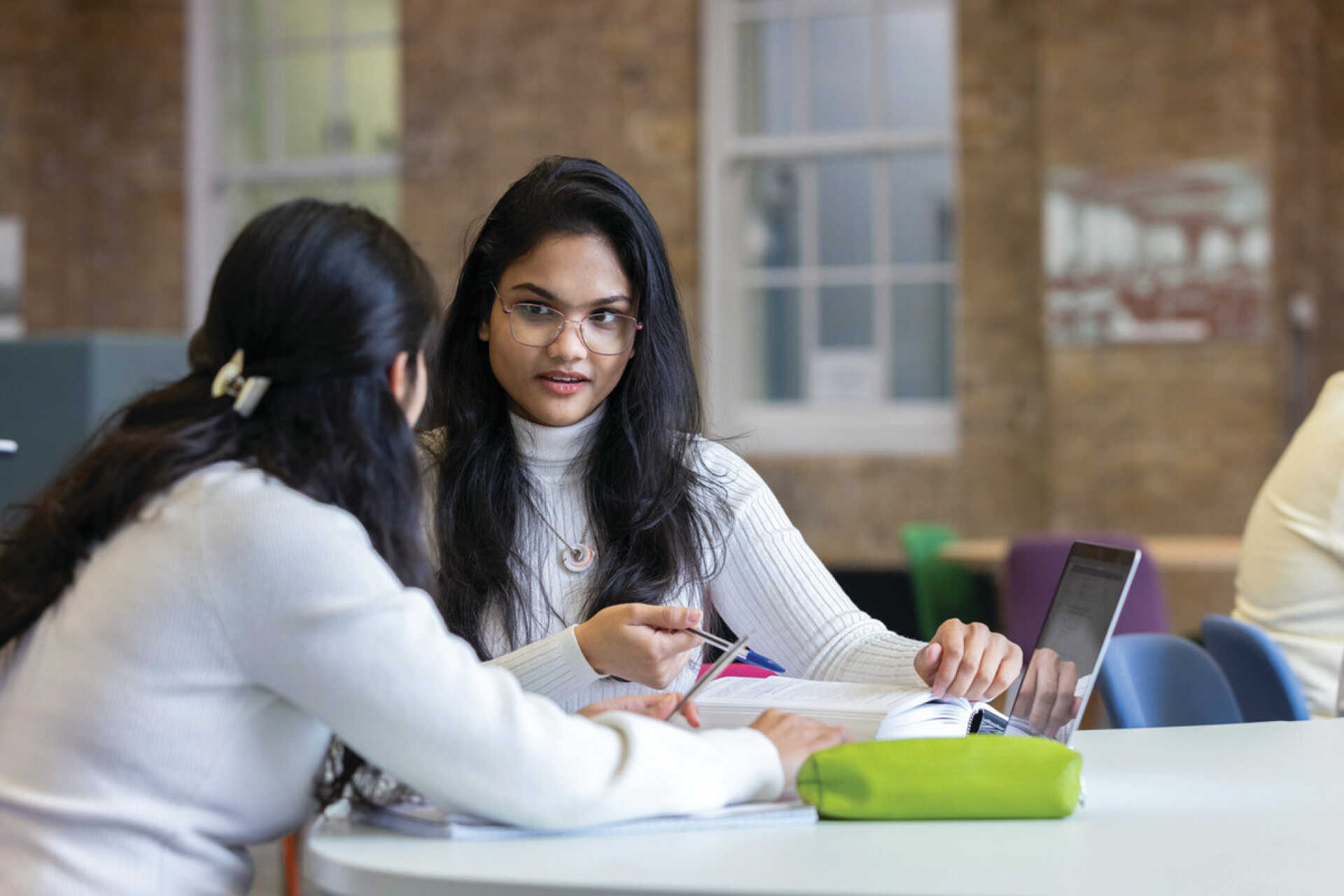 Scholarships
We have a range of subject-specific awards and scholarships for academic, sporting and musical achievement.
Search scholarships
Our beautiful city
Canterbury might just be the place you fall in love with. Tread your own path and make your mark.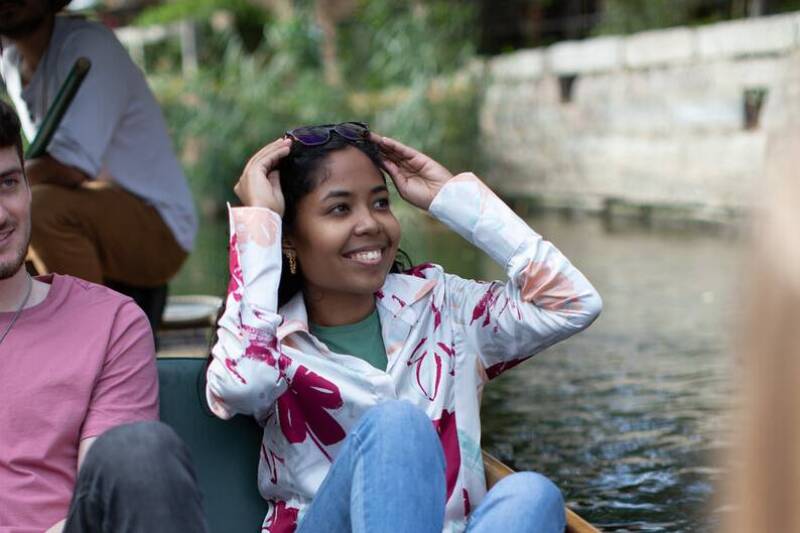 Your home from home is waiting to be explored.
Canterbury is so charming with its cobbled streets, cosy coffee shops, highstreet, countryside walks and buzzing nightlife.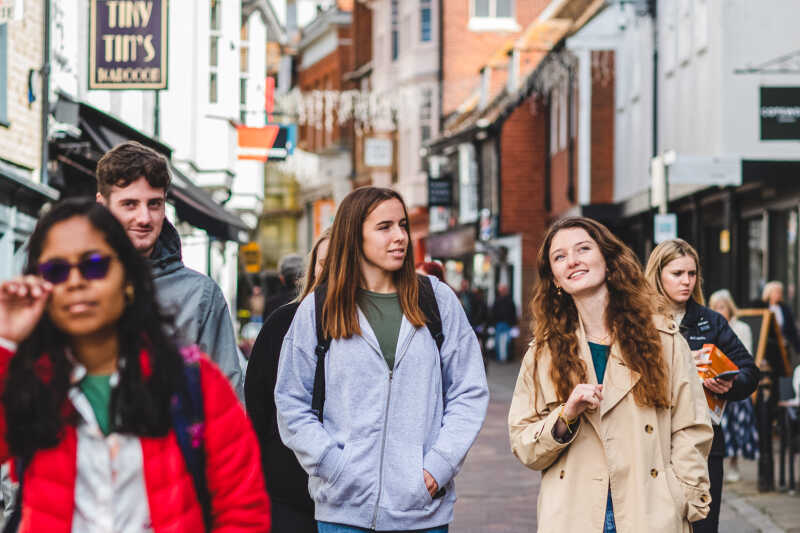 Heritage, culture, architecture and a diverse social scene – Canterbury has it all.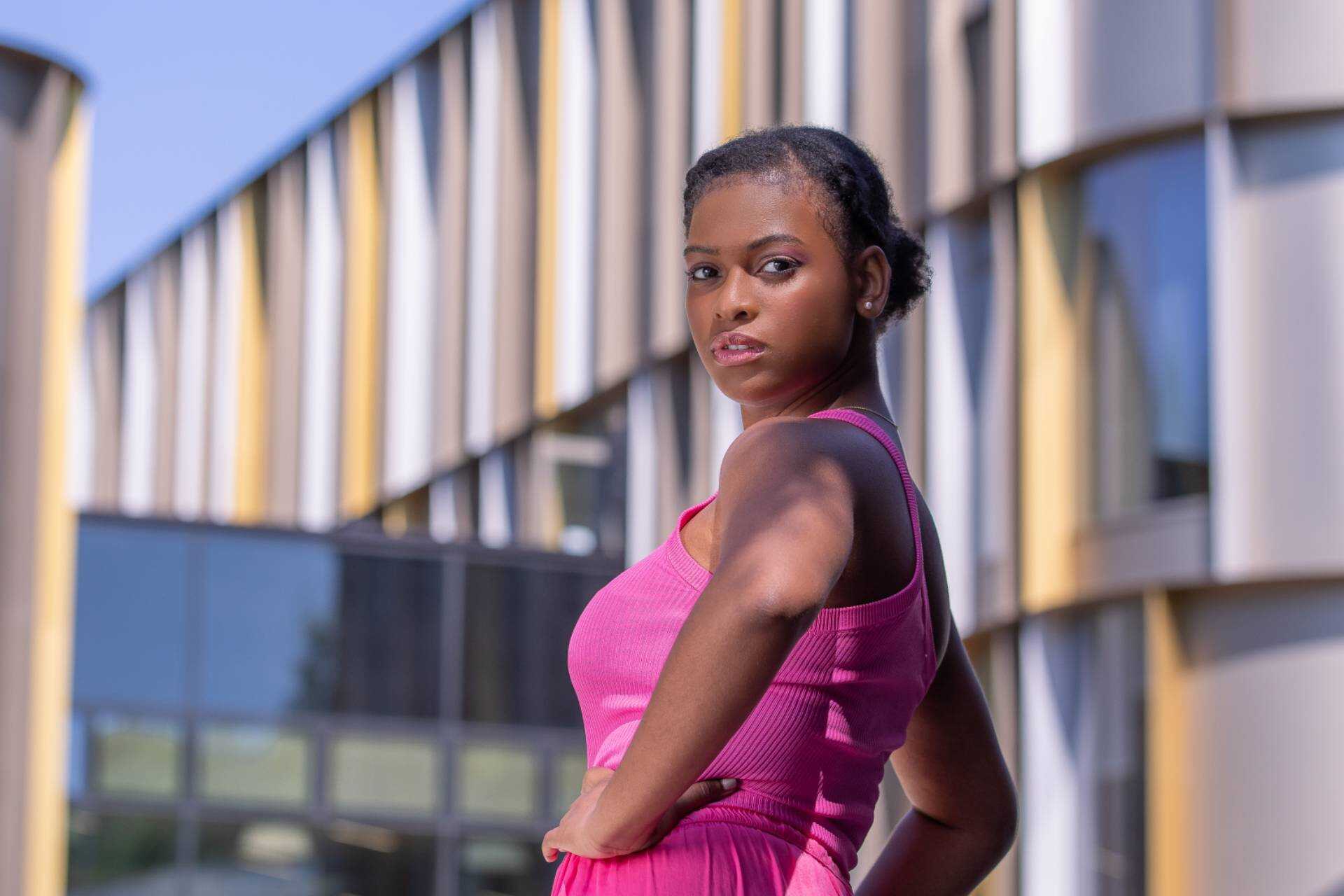 Next steps
Ready to apply?
Undergraduate applications open for 2024 entry on 16 May 2023. You can still apply for courses starting in 2023 via the UCAS website.
Our Open Days are a great way to discover more about the courses and get a feel for where you'll be studying. Along with campus tours, online chats and virtual events there are lots of other ways to visit us.

Sign up to receive all the latest news and events from Kent.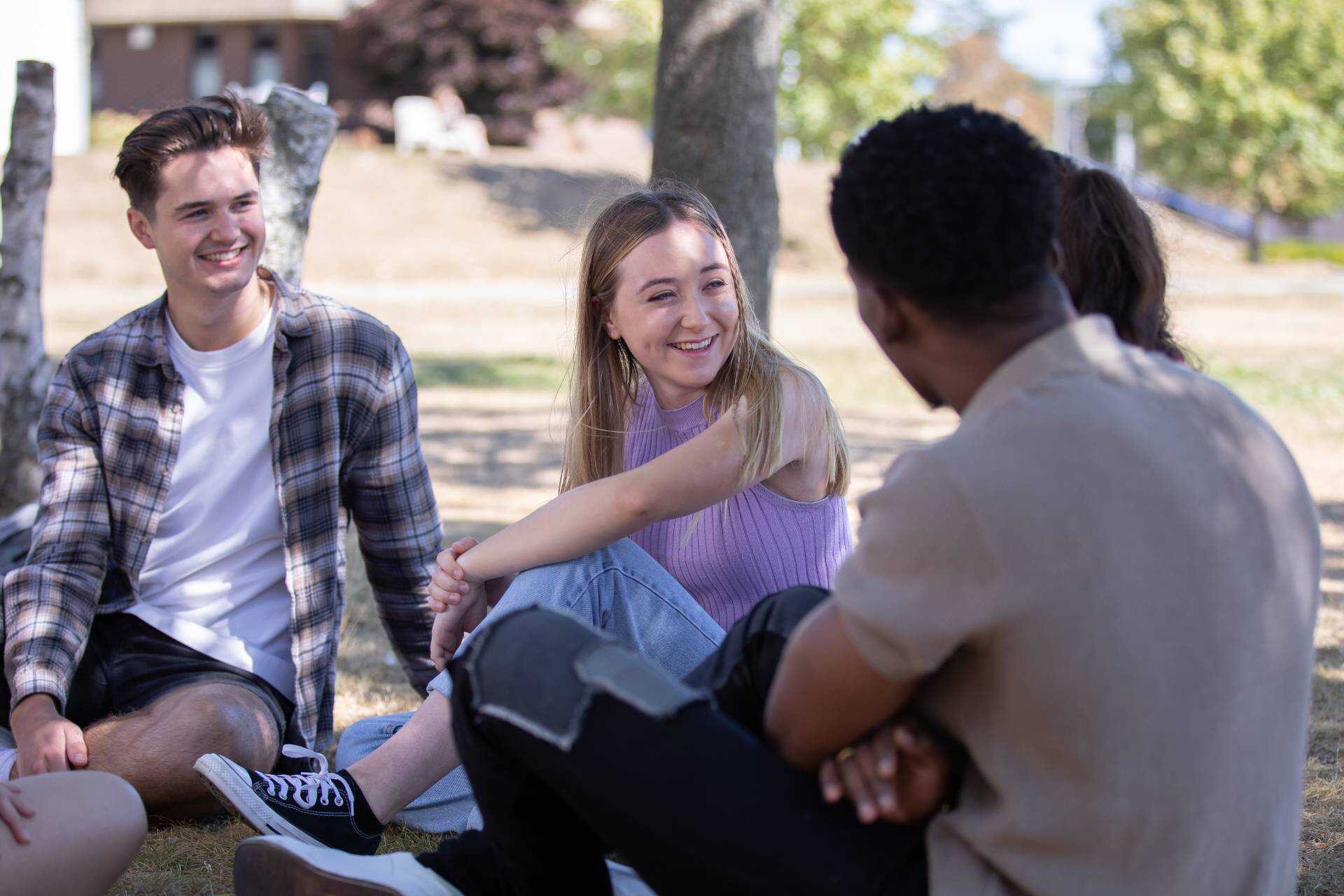 Join our community
Sign up and join our community.
Kent focus
Student Life
Discover student life at Kent.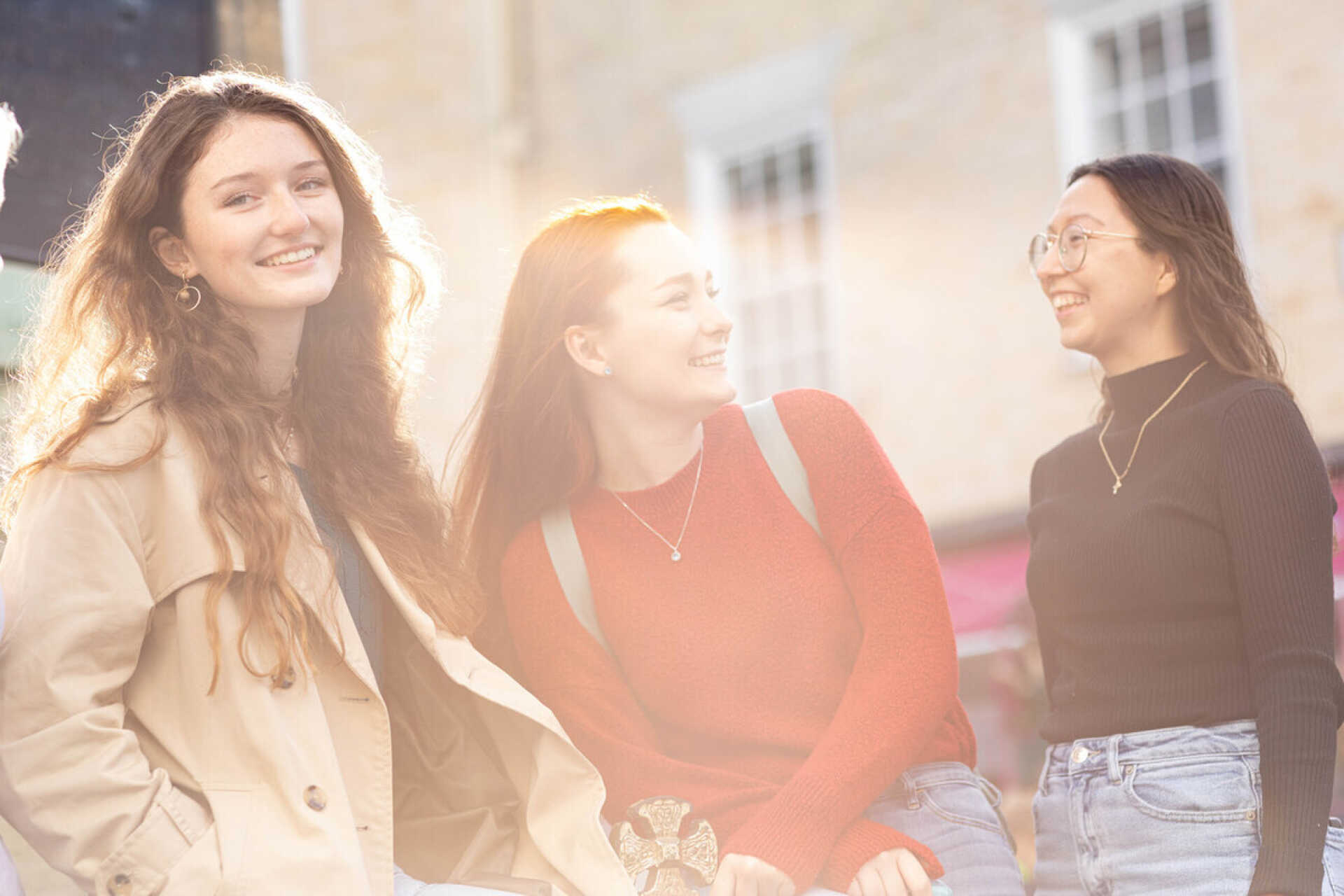 Top 50
Kent ranked top 50 in The Complete University Guide 2023 and The Times Good University Guide 2023.
Kent Sport
Free membership for undergraduates living on campus in 2024.
Research excellence
Kent has risen 11 places in THE's REF 2021 ranking, confirming us as a leading research university.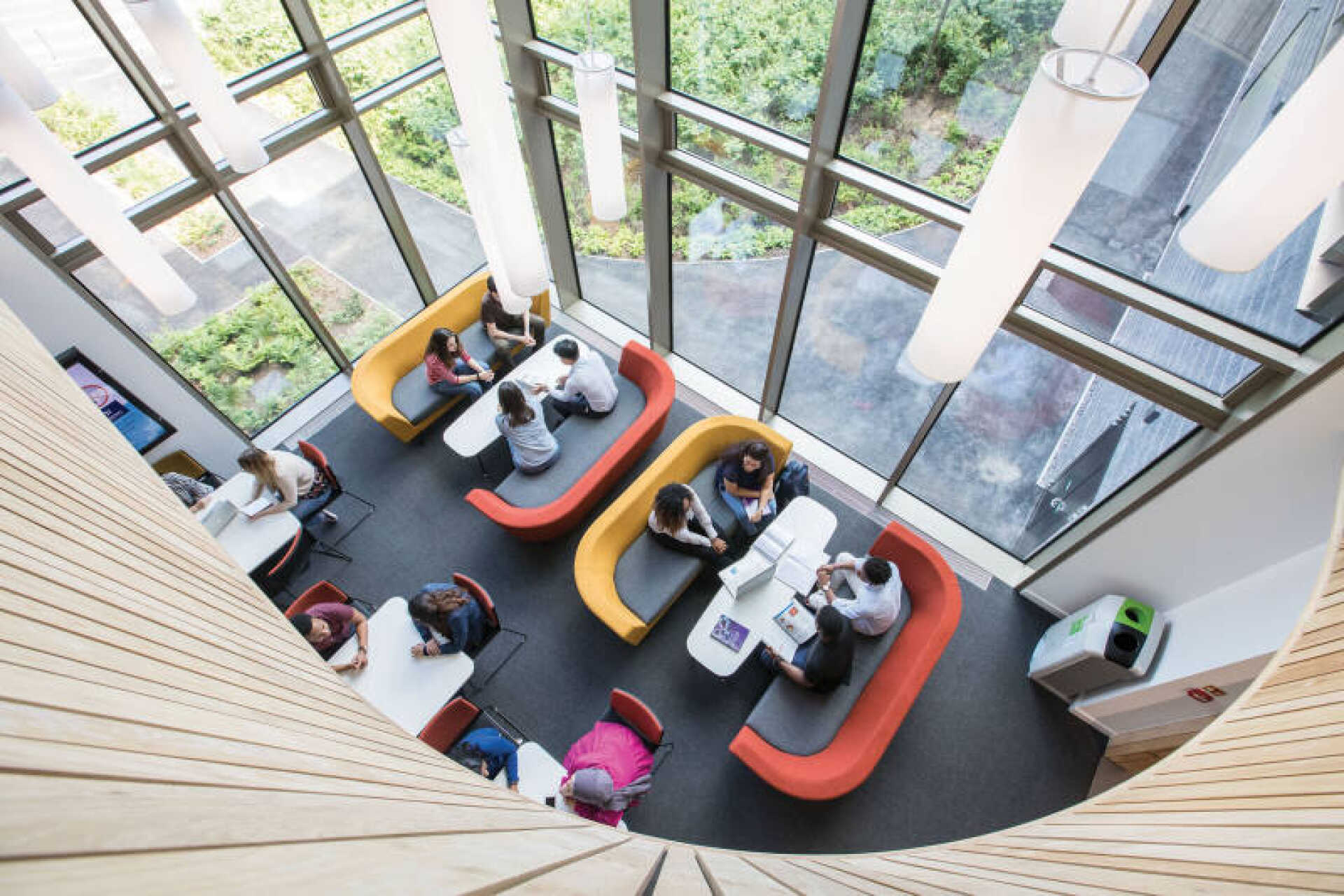 Accommodation
An unmissable part of your student experience.
Key information about this course