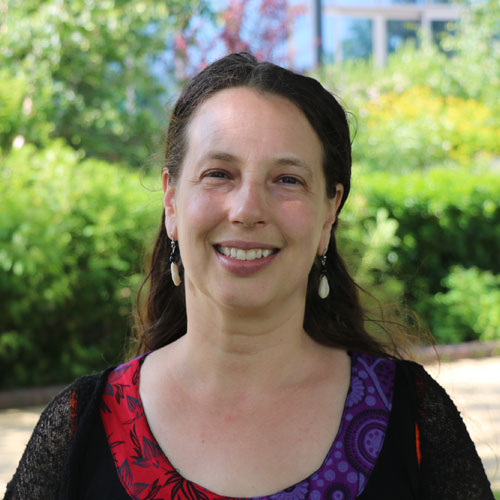 Dr Anna Waldstein
Senior Lecturer in Medical Anthropology and Ethnobotany
About
Dr Anna Waldstein has a PhD in Ecological and Environmental Anthropology from the University of Georgia and a BA in Medical Anthropology from Hampshire College. Her doctoral work focused on women's popular medical knowledge and self-care practices in both indigenous and mestizo communities in Mexico, and among Mexican migrants in the southeastern United States.

Since moving to Kent in 2005, Anna has been doing ethnographic fieldwork in the south of England with Rastafari (and other) migrants from the Caribbean. This work has looked more closely at political and spiritual dimensions of medicinal plant-use, and the historical relationship between medicine and social control, as well as issues related to embodiment, intersubjectivity and spirituality. Anna also likes to explore the nature of human (and plant) consciousness in her teaching and research.    
Research interests
Dr Waldstein's first monograph (2017. Living Well in Los Duplex: Critical Reflections on Medicalization, Migration and Health Sovereignty. Durham, NC: Carolina Academic Press) was based on her doctoral thesis. Thirty years of public health research in the United States suggests that Mexican migrants are healthier than most American citizens. Anna's work in 'Los Duplex', a Mexican migrant neighbourhood in Athens, Georgia, shows that the 'health sovereignty' of migrants helps explain why they have better health profiles than American citizens whose lives are more medicalised. While most Americans rely on medical authorities to manage their health through the consumption of pharmaceuticals and surgical procedures, Mexicans cultivate their own holistic healing alternatives as they build communities in the United States. 

Anna is currently doing research for her second monograph, which will focus on health sovereignty and Rastafari healing in the United Kingdom's 'hostile environment for immigrants.' This book will weave together three overlapping strands of research: 

Research on consciousness and the Rastafari 'spiritual body,' conducted between 2011 and 2016. This work shows that, while bodily rituals do not define a person as Rastafari, they are important for achieving spiritual and political aims of the movement (Waldstein, A. 2016. Studying the Body in Rastafari Rituals: Spirituality, Embodiment and Ethnographic Knowledge. Journal for the Study of Religious Experience, 2(1): 71-86). A recent publication on smoking and/as communication in Rastafari also suggests that consciousness is a collective, rather than (just) an individual experience (Waldstein, A. 2019. Smoking as Communication in Rastafari: Reasonings with 'Professional' Smokers and 'Plant Teachers'. Ethnos: Journal of Anthropology [Online].)
Ongoing ethnobotanical work with Jason Irving (ESRC-funded PhD student) and Dennis Francis (research partner), which began in 2016, on Jamaican 'roots tonics' (decoctions of Smilax sp. and a variety of other roots, barks and leaves) and other 'bush medicines' in London. This research (funded by small grants from the School of Anthropology and Conservation and the Faculty of Social Science at the University of Kent) is exploring a growing industry of Rastafari herbalists and roots tonic producers/distributors in the UK and their importance to migrants from the Caribbean.
Research on the embodiment of, and resistance to, the threat of deportation among Rastafari (and other Jamaican) migrants. Fieldwork for this project was done with the assistance of Dennis Francis and was funded by a British Academy small grant in 2017, and public engagement/impact awards from the School of Anthropology and Conservation and the Public Engagement with Research Fund at the University of Kent in 2018. This work shows that in the current 'hostile environment,' use of alternative medicine (rather than, or even in addition to, use of the National Health Service) can make it more difficult for migrants from the Caribbean to challenge deportation and/or register for citizenship (Waldstein, A. 2019. Legitimacy and Citizenships. Urbanities, 9 (S2): 52-60). 
Teaching
By offering modules in her specialist areas - ethnobiology and medical anthropology - Dr Waldstein is able to engage in research-led teaching at all levels (Stage 1, Stage 2+ and postgraduate). This allows students to hear about some of the latest research in their field of study, as it unfolds. Anna has also had positive experiences with 'teaching-led research'. After teaching several modules on 'drugs and culture' and 'medicinal plants', she was convinced by one of her undergraduate students to help organise the first Breaking Convention: Multidisciplinary Conference on Psychedelic Consciousness. Anna hosted a workshop on cannabis for both conference delegates and students from the School of Anthropology and Conservation, which included two Rastafari speakers. This teaching event was the beginning of Dr Waldstein's research on the UK Rastafari movement.

Undergraduate
Postgraduate
SE880: Holism, Health and Healing
Supervision
Dr Waldstein welcomes applications from prospective candidates who wish to do a PhD in either (social) Anthropology or Ethnobiolgy, on topics related to medical anthropology and/or spiritual ecology, especially among migrant populations. Anna accepts students who would like to carry out ethnographic fieldwork in a range of geographical locations, especially the UK and the Caribbean. PhD applicants will need to have a previous degree in social or cultural anthropology, or a previous interdisciplinary, social science degree that includes anthropology. In addition, Anna regularly supervises students accepted onto the MSc Ethnobotany course (and in some years supervises MA Social Anthropology students). 

Current PhD students
Andy Dean: Making sense of non-sense: An ethnobiological study into the ethnometaphysics of ayahuasca cosmology episodes
Rachel Gefferie: 'Krioro libi': Exploring continued social identity in the life of the Creole of Suriname through the embodiment of food traditions
Nathan Glace: Contemporary lifestyle rituals among Rastafari groups in the UK
Jason Irving: The sale and use of Jamaican roots tonics: Health sovereignty in the Black Atlantic
Ashley Glenn: Tastes like home: migrating Bosnian foodways
Anna Piestrzynska: The relationship between language shift and the domain of traditional environmental knowledge
Mayra Sumter: Medical pluralism and reproductive healthcare in Suriname
Alumni
Gareth Davey: Identity and Quality of Life Among Badagas in South India With Reference to Rural-to-Urban Migration and New Media
Laura Montesi: When the Blood Sweetens: Diabetes and Vulnerability Among the Ikojts of Oaxaca (co-supervised with Dr Mike Poltorak)
Seema Solanki: Siddhi Dawa and Dua in Gujarat, India: A Study of Medical Pluralism and Healing in the African Diaspora
Professional
Dr Waldstein is 'Council Member At Large' for The Society for Economic Botany (2019-2022). She is also one of the original co-founders of Breaking Convention: A Multidisciplinary Conference on Psychedelic Consciousness, and was on the organising committee of the 2011 and 2013 conferences. The first Breaking Convention took place at the University of Kent in April 2011. The event was attended by 600 delegates from 30 countries and included a programme of over 70 academic presentations, short films and art installations. Although it is now based at the University of Greenwich, three School of Anthropology and Conservation alumni are currently serving as Executive Directors of Breaking Convention. 

Anna has provided expertise on drugs and altered states of consciousness for the National Geographic 'Taboo' series and also featured on several episodes of the Dopecast, Shroom With a View and Psychedelic Salon podcasts. She has written for The Conversation and Somatosphere.

Dr Anna Waldstein is available to provide comments or in-depth discussion on the anthropology of consciousness (in humans and plants), alternative medicine, migrant health, the UK Rastafari movement and cannabis reform. 

Videos of public lectures: 
Publications
Article
Waldstein, A. (2019). Smoking as Communication in Rastafari: Reasonings with 'Professional" Smokers and 'Plant Teachers'. Ethnos: Journal of Anthropology [Online]. Available at: https://doi.org/10.1080/00141844.2019.1627385.

In Rastafari smoking herbs (cannabis) and tobacco is central to spiritual practices, including grounding (the process of initiation into Rastafari) and reasoning (ritual discussions). This paper presents ethnographic research with Rastafari smokers in England. It shows that smoking is considered a 'professional' activity that communicates dedication to the movement, aids in learning different dialects, and facilitates experiences of communication with herbs 'herself'. Through rituals that 'professional' smokers engage in herbs becomes a 'plant teacher', which Tupper [2008. The Globalization of Ayahuasca: Harm Reduction or Benefit Maximization? International Journal of Drug Policy, 19:300] defines as 'a natural divinatory mechanism that can provide esoteric knowledge to adepts skilled in negotiating its remarkable effects'. Appreciation of smoking as a form of multispecies communication between 'professional' smokers and 'plant teachers' recasts the role of agency in anthropological studies of smoking and contributes to our understanding of consciousness and intentionality in both humans and plants.

Waldstein, A. (2019). Legitimacy and Citizenships. Urbanities [Online] 9:52-60. Available at: http://www.anthrojournal-urbanities.com/wp-content/uploads/2019/04/10-Waldstein.pdf.

This essay focuses on legitimacy in relation to three anthropological conceptualizations of citizenship: biological citizenship, cultural citizenship and spiritual citizenship. It takes inspiration from various chapters in Pardo and Prato (2019) and other related literature on citizenship, and draws on some of my own ethnographic work with Jamaican migrants in the United Kingdom. I consider the legitimacy of the different citizenships that migrants enact in a hostile environment created by unlawful government policies. Windrush generation migrants have forced the Home Office to recognise their legitimacy as British residents and citizens. Likewise, in asserting their Divine rights as spiritual citizens and resisting deportation, Rastafari migrants have succeeded in settling lawfully in the UK and starting on the path to British citizenship. Thus, work in the anthropology of legitimacy gives us hope that citizens of all sorts will ultimately retract the legitimacy of governments that act unlawfully.

Waldstein, A. (2016). Studying the Body in Rastafari Rituals: Spirituality, Embodiment and Ethnographic Knowledge. Journal for the Study of Religious Experience [Online] 2:71-86. Available at: http://rerc-journal.tsd.ac.uk/index.php/religiousexp/article/view/17.

Rastafari spirituality is a nonsecular science that considers how various energies and powers influence socio-ecological systems. Rastafari people follow a number of spiritual prescriptions related to the body, including smoking, meditating, growing matted hair, eating an Afrocentric vegan diet and drumming/chanting. However, a person does not have to follow all of these practices to be Rastafari, rather they are means to achieve specific spiritual objectives. While anthropology is generally a secular discipline, by participating in various rituals, the body becomes an ethnographic tool that can lead to an awareness of how spiritual and material worlds interconnect. While I have collected data through conventional ethnographic methods, the most important insights have come through my own personal, bodily engagement in many Rastafari practices. Anthropological work on the 'spiritual body' provides a theoretical framework for making sense of experiences of embodied intersubjectivity that arise out of participation in various bodily rituals.

Volpato, G. and Waldstein, A. (2014). Eghindi Among Sahrawi Refugees of Western Sahara. Medical Anthropology [Online] 33:160-177. Available at: http://dx.doi.org/10.1080/01459740.2013.844129.

Eghindi is an illness built around a set of pathological states experienced by Sahrawi in the desert environment of Western Sahara. Its core symptoms are caused by osmotic imbalances related to salt consumption. In 1975, many Sahrawi were exiled into refugee camps, and they have since experienced radical socio cultural changes, which are reflected in changing explanatory models of eghindi. Older and conservative refugees, attached to traditional Sahrawi culture, have expanded its conceptualization to include new pathogenic factors, while younger and progressive refugees, acculturated with Western culture, began challenging its existence. Eghindi became embodied within a broader process of negotiation of Sahrawi cultural identity. Our findings provide a framework for thinking about the evolution of illness in response to displacement, and highlight that when explanatory models evolve, intra-cultural tensions can arise within a population.

Giovannini, P., Reyes-Garcia, V., Waldstein, A. and Heinrich, M. (2011). Do pharmaceuticals displace local knowledge and use of medicinal plants? Estimates from a cross-sectional study in a rural indigenous community, Mexico. Social Science and Medicine [Online] 72:928-936. Available at: http://dx.doi.org/10.1016/j.socscimed.2011.01.007.

Researchers examining the relationships between traditional medicine and biomedicine have observed two conflicting tendencies. Some suggest that the use of biomedicine and biomedical concepts displaces the use of traditional medicine and medical beliefs. Other scholars have found that traditional medicine and biomedicine can co-exist, complement, and blend with each other.

In this paper we use an econometric model and quantitative data to test the association between individual knowledge of pharmaceuticals and individual knowledge of medicinal plants. We use data from a survey among 136 household heads living in a rural indigenous community in Oaxaca, Mexico. Data were collected as a part of long term fieldwork conducted between April 2005 and August 2006 and between December 2006 and April 2007. We found a significant positive association between an individual's knowledge of medicinal plants and the same individual's knowledge of pharmaceuticals, as well as between her use of medicinal plants and her use of pharmaceuticals. We also found a negative association between the use of medicinal plants and schooling. Our results suggest that, in the study site, individual knowledge of medicinal plants and individual knowledge of pharmaceuticals co-exist in a way which might be interpreted as complementary. We conclude that social organization involved in the use of medicines from both traditional medicine and biomedicine is of particular significance, as our findings suggest that the use of pharmaceuticals alone is not associated with a decline in knowledge/use of medicinal plants.

Waldstein, A. (2010). Menace or medicine? Anthropological perspectives on the self administration of high potency cannabis in the UK. Drugs and Alcohol Today [Online] 10:37-43. Available at: http://dx.doi.org/10.5042/daat.2010.0469.

Domestically produced, high potency cannabis (often referred to as "skunk" in mainstream British media) has become increasingly widespread in the UK. This paper considers whether this trend reflects increased awareness of and desire for medical marijuana. Determining whether cannabis is a drug or a medicine depends on its objective physiological effects, which may vary from one individual to another, as well as how and why those effects are experienced. Medicinal and mind-altering effects of cannabis are not easily separable for many cannabis users. The medicinal use of cannabis in Britain has waxed and waned since the early 19th century. Currently the UK is on the cutting edge of the development of cannabis-based pharmaceuticals, but criminalizes people who choose to self-medicate with herbal cannabis. We are living in time of political, social and economic uncertainty, which threatens the stability of national healthcare systems. The broad ranging effects of cannabis on the human body and mind, combined with its relatively easy cultivation, make it a sustainable and effective alternative medicine. Research is needed, especially on the experiences of people who use cannabis to benefit, enrich and even prolong their lives.

Waldstein, A. (2010). Popular Medicine and Self-Care in a Mexican Migrant Community: Toward an Explanation of an Epidemiological Paradox. Medical Anthropology [Online] 29:71-101. Available at: http://dx.doi.org/10.1080/01459740903517386.

While Hispanics are among the most economically disadvantaged groups in the United States, immigrants from Latin America have health profiles equal to or better than Americans of European descent. Research on this epidemiological paradox suggests that aspects of Hispanic culture prevent negative health outcomes associated with poverty, poor education and barriers to professional care. However, little attention has been given to the ethnomedical beliefs and practices of any Hispanic subgroup. Here I present an ethnographic study of women's popular medicine in a Mexican migrant community in Athens, Georgia. Migrant women promote healthy behaviors, diagnose sick family members, and prescribe home remedies. These practices stem from long traditions of self-medication and family care, which have experienced less disruption by the biomedical profession than have other North American popular medical systems. Examining Mexican popular medicine within the context of scientific literature suggests that these self-care practices protect health and should be considered by investigators of the 'Hispanic health paradox.' The study also suggests that directing more attention to self-care will be fruitful for medical anthropology.

Waldstein, A. (2008). Diaspora and Health? Traditional Medicine and Culture in a Mexican Migrant Community. International Migration [Online] 46:95-117. Available at: http://dx.doi.org/10.1111/j.1468-2435.2008.00490.x.

As members of the Mexican diaspora acculturate/assimilate to life in the United States they gain skills that should help them improve their socioeconomic status and overcome barriers to the mainstream American healthcare system. Thus, we might expect better health among more acculturated Mexicans. However, most of the research conducted during the past 20 years shows that the health of Mexicans living in the United States deteriorates as acculturation increases. This suggests that certain health promoting aspects of Mexican culture are lost as migrants adapt to and adopt American ways of life. This paper is the first step in testing the hypothesis that declining health among acculturated people of Mexican descent is related to a loss of traditional medical knowledge.
During an ethnographic study of women's medical knowledge in a, unacculturated Mexican migrant community in Athens, Georgia, USA, I observed many ways low-income, undocumented migrants maintain good health. Migrant women encourage members of their families to engage in health promoting behaviors and treat sick family members with a variety of home remedies. The efficacy of the herbal medicines that women bring from Mexico to the United States is well documented in the chemical and pharmacological literature. Additionally, migrant women in Athens learn how to navigate the American medical and social service systems. The barriers to professional healthcare are overcome through social networks that provide information needed to access these services. Nevertheless, migrant women often prefer to treat sick family at home and indicated a preference for Mexican folk medicines over professional medical care in most situations.
This case study suggests that migration and diaspora need not always lead to disease. The maintenance of a Mexican culture that is distinct from the rest of American society helps ensure that traditional medical knowledge is not lost, while the social networks that link Mexicans to each other and to their homeland help minimize threats to health, which are usually associated with migration. The results of this study suggest that increased access to professional medical care may not improve the health of migrants if it comes with the loss of traditional medical knowledge. Future research is needed to determine how well traditional medical knowledge is preserved in more acculturated Mexican communities and whether an abandonment of traditional medical practices is indeed associated with poorer health.

Waldstein, A. (2006). Mexican Migrant Ethnopharmacology: Pharmacopoeia, Classification of Medicines and Explanations of Efficacy. Journal of Ethnopharmacology [Online] 108:299-310. Available at: https://doi.org/10.1016/j.jep.2006.07.011.

This paper describes the ethnopharmacological knowledge of women in an urban Mexican migrant community in Athens, GA, USA. Data were collected using free-list, pile-sort and semi-structured interviews. The pharmacopoeia of this community includes herbal remedies, over-the-counter medications such as non-steroidal anti-inflammatory drugs (NSAIDs) and prescription medicines. Multi-dimensional scaling analysis of pile-sort data revealed that Mexican women living in Athens classify medicines into four categories: herbal remedies, salves, pastillas (pills-both prescription and non-prescription) and other commercial preparations. Herbal remedies are viewed as natural and safe while pastillas are thought to be dangerous and potentially addictive. Comparisons of Mexican explanations for the actions of five medicines (Matricaria recutita L. [Asteraceae], Mentha spp. L. [Lamiaceae], Ruta spp. L. [Rutaceae], Ocimum basilicum L. [Lamiaceae] and paracetemol) with the pharmacological literature show several similarities and confirm that migrant women use these medicines effectively. Mexican migrant women use medicinal plants in combination with commercially produced medicines, but most have a strong preference for the herbal remedies that they make themselves, over drugs prescribed by physicians. Some of their descriptions of the actions of medicines are supported by the pharmacological literature, but ethnopharmacologists have not fully investigated all of the attributes that migrant women ascribe to them.

Waldstein, A. and Adams, C. (2006). The Interface Between Medical Anthropology and Medical Ethnobiology. Journal of the Royal Anthropological Institute 12:95-118.

Medical anthropology is concerned with both the causes and consequences of human sickness, and its various theoretical orientations can be grouped into four major approaches: medical ecology, critical medical anthropology, interpretative medical anthropology, and ethnomedicine. While medical anthropologists of all theoretical persuasions have examined why people get sick, the analysis and understanding of patterns of treatment has been largely confined to ethnomedicine. Historically, more emphasis has been placed on the personalistic or supernatural aspects of ethnomedical systems than on naturalistic or empirical components. While this focus has produced valuable insights into the role of ritual and belief in healing, it has led to the impression that traditional medicine is primarily symbolic. Moreover, it ignores the theoretical bases of traditional healing strategies and the practical means by which most of the world heals itself, namely plants. Recently there has been more interest in the empirical character of ethnomedical systems, and in this paper we consider the role that medical ethnobiology has played in this shift of focus. We begin with a brief history of medical anthropology to illuminate why naturalistic medicine was neglected for so long. We then review exemplary research in two areas of medical ethnobiology - ethnophysiology and medical ethnobotany - that address the study of naturalistic aspects of medical systems. We conclude with suggestions for future research at the interface between medical ethnobiology and medical anthropology that will contribute to both fields.

Waldstein, A. (2003). On Choosing a Fieldsite for Health Related Research. Journal of Ecological Anthropology 7:73-76.
Book
Waldstein, A. (2017). Living Well in Los Duplex: Critical Reflections on Medicalization, Migration and Health Sovereignty. [Online]. Durham, North Carolina, USA: Carolina Academic Press. Available at: http://www.cap-press.com/books/isbn/9781531000431/Living-Well-in-Los-Duplex.

Thirty years of public health research in the United States suggests that Mexican migrants are healthier than most American citizens. This ethnography of "Los Duplex," a Mexican migrant neighborhood in Athens, Georgia, shows that the health sovereignty of migrants helps explain why they have better health profiles than American citizens whose lives are more medicalized. While most Americans rely on medical authorities to manage their health through the consumption of pharmaceuticals and surgical procedures, Mexicans cultivate their own holistic healing alternatives as they build communities in the United States. In the strong social networks of Los Duplex, eating traditional Mexican foods, using home remedies, gardening and performing other physical activities, and keeping control over their emotions all help keep migrants healthy. This book, therefore, raises the following question: Are the relatively positive health profiles of Mexican migrants because (rather than in spite) of their limited access to professional medical care?
Book section
Waldstein, A. (2014). How Can Ethnobotany Contribute to the History of Western Herbal Medicine? A Mesoamerican Answer. In: Francia, S. and Stobart, A. eds. Critical Approaches to the History of Western Herbal Medicine. Bloomsbury. Available at: http://www.bloomsbury.com/uk/critical-approaches-to-the-history-of-western-herbal-medicine-9781441184184/.

Congo-Nyah, B., Komaromi, R., Murray, K. and Waldstein, A. (2013). Communications From the Herbs: A Step by Step Guide to InI Consciousness. In: Adams, C., Waldstein, A., Sessa, B., King, D. and Luke, D. eds. Breaking Convention: Essays on Psychedelic Consciousness. London: Strange Attractor Press, pp. 265-278.

Waldstein, A. (2010). Undocumented Mexican Migrants in a Deep South City. In: Anderson, O. ed. Illegal Immigration: Causes, Methods and Effects. New York: Nova Science, pp. 1-30. Available at: https://www.novapublishers.com/catalog/product_info.php?products_id=11189.

Since 1986, Georgia has become an important destination for Mexican migrants making an initial move to the United States. Georgia cities have a high demand for labor in poultry processing and other factories, while the rural areas of the state are magnets for agricultural workers. These physically challenging, low-paying jobs attract large numbers of Latin Americans, the majority of which are undocumented migrants from Mexico. The Southeast is a relatively new destination undocumented immigrants and little is known about why and how they move to there, what happens to them once they get there and what effects their presence has on the region. This chapter is based on a review of socio-cultural, historical and political-economic literature on Mexican migration to the United States, as well as an ethnographic case study of an undocumented Mexican migrant neighborhood in Athens, GA that I conducted from April 2002 to June 2003. It describes why Mexican migrants choose Athens, how they make the journey from Mexico to Georgia without passports and get jobs without work permits, what their lives are like in Athens and how they interact with local populations. Fieldwork took place in "Los Duplex," a subdivision located 6 miles from the center of Athens and focused on popular medical knowledge, beliefs and practices of Mexican migrant women. At the time of the study nearly three quarters of the 131 residences in Los Duplex were occupied by Mexican tenants and the neighborhood was well-known for having a primarily undocumented population. Research methods included a neighborhood census, a structured survey of women in 28 households, participant observation and informal interviews. Research participants and their partners talked openly about obtaining forged legal documents and working under other people's names and a few shared their border crossing stories. Research participants and their families patronized public and private health care facilities in Athens and some applied for public assistance (though usually unsuccessfully). Some single men and unsupervised teenagers who lived in the neighborhood were involved in criminal activities ranging from vandalism to public intoxication to manslaughter. However, undocumented Mexican families were remarkably self-sufficient, respectable and supportive of one another. Encouraging the migration of women and children may help minimize both criminal activity and use of public resources in some cases.
Edited book
Waldstein, A. (2013). Breaking Convention: Essays on Psychedelic Consciousness. [Online]. Adams, C., Luke, D., Waldstein, A., Sessa, B. and King, D. eds. Strange Attractor Press. Available at: http://strangeattractor.co.uk/shoppe/breaking-convention/.
Thesis
Davey, G. (2017). Identity and Quality of Life Among Badagas in South India With Reference to Rural-to-Urban Migration and New Media.

The thesis is about the experiences of Badagas living in contemporary India as they navigate a society in flux, the extent to which change permeates and influences understandings of self and life. Badagas, like others in India, have been experiencing profound changes as new ideas, products, and ways of living have become widespread. An increasing number of people are migrating to cities in search of education and employment, and technologies such as new media now influence communication and interaction. To understand these new circumstances, the primary concern of the thesis is an investigation of the identities and life quality of Badagas in South India with reference to rural-to-urban migration and new media, an important case study of the impact of India's social and economic transformation on its people, and a timely update of the antiquated picture of Badagas in the literature. At an empirical level, the thesis unpacks how Badagas understand themselves and their lives in today's India. However, it is also about changing the ways they have been understood and represented in the literature. At a theoretical level, therefore, the thesis deconstructs and redefines the meaning of 'Badaga' portrayed in the academic literature, and rebalances inequalities of representation. The thesis, then, is an empirical and theoretical investigation of the meaning of being Badaga, a critical appraisal of previous writings combined with empirical research to advance new ideas.
To set the scene of the thesis, the first chapter introduces the Nilgiri and its peoples and their general depiction in the literature, and teases out some of the themes and styles which characterise writings. It also endeavours to identify what is already known about Badagas, and gaps in knowledge, to make a case for the empirical research in subsequent chapters. Chapter one highlights the numerous markers which have been used to differentiate Badagas based on the assumption in the literature that they are a distinct social group sharing a common history and culture. It also reveals the limitations of their portrayal based on the style and trends of social science in the first and latter halves of the twentieth century which reify a simple Badaga identity, an artefact which has since become a staple of the literature. Building on this introduction, chapter two reviews in further detail the diverse ways identity has been deployed in social science generally and the Nilgiri specifically, and the varied, loose, and contradictory ways the identities of Badagas have been documented. Similarly, chapter two also explores the varied meanings of quality of life and previous studies concerning Badagas. The chapter shows the majority of writings align with classical essentialist conceptualisations of fixity and rigidity, and 'the Badagas' as a category of difference has been framed in terms of homogeneity as a bounded group, isolation in a unique region, and speculations of identity change which mirror old-fashioned views of bounded undifferentiated cultures coming into contact, namely a minority group adopting the culture of the majority, as if change among Badagas is a product of the colonial experience. Similarly, regarding their quality of life, the majority of writings are concerned with imperial history and Western culture to speak for Badagas, which positions the changed way of life in the Nilgiri after the arrival of the British as important and superior to the past. Collectively, chapters one and two show previous representation of Badagas, although a rigorous and meticulous attempt at documenting their rich culture and history, is unsatisfactory in both theoretical and practical terms when it comes to understanding identity and life quality, a failure to offer terms with which to understand their complexity and diversity.
The methodology of the monograph, outlined in chapter three, provides a contemporary social constructionist approach to iron out the epistemological problems discussed above. It begins with an overview of the multi-site approach of the research, designed to overcome the limitations of previous studies which regard Badagas and the Nilgiri as local and bounded in an isolated region, essentially the removal of geographical barriers to appreciate Badagas as dynamic and mobile and to capture new forms of identities in flux in multiple situations, namely rural-to-urban migration and new media, that transcend bounded spaces. The next section of the chapter introduces the thesis's theoretical orientation, symbolic interactionism, employed to examine the shared subjective experiences, meanings, and lived experiences of Badagas in contemporary India with emphasis on agency, social process, and subjective experience, a deliberate move away from previous macro-level deterministic and functionalist trends in the literature. The remaining sections of chapter three describe the operationalization of identity in the thesis, data collection from forum posts and face-to-face interviews, data analysis involving coding and thematic analysis, and ethical considerations. The thesis's methodology, then, is an interpretative group of complementary methods-multisite ethnography, symbolic interactionism, thematic analysis, and reflexivity-focused on analytically disclosing the subjective knowledge and meaning-making of Badagas, and thus providing greater flexibility in understanding their identities and quality of life.
Grounded on this methodology, chapters four and five empirically investigate the identities and life quality of Badagas in two connected locations in a multi-site approach, the first online with Internet forum users, and the second in the real world with rural-to-urban migrants in Bangalore. Specifically, chapter four examines online portrayals and understandings of identity and life among Badagas in a virtual forum community, an online website with discussions in the form of posted messages, and the nature of the new type of community. It begins with a discussion of the paucity of media and visual studies of the Nilgiri and its peoples, the need for further research, and the role of media as a prime information source and facilitator of cultural change. Next is an analysis of the content of the virtual forum, a source of information about the goings-on of Badagas including their past and current circumstances which contain new material hitherto undocumented in the literature. As the first study of new media usage among Badagas, it shows they now have an online presence, a new type of Badaga social collective connected by online social interaction and notions of culture. Regarding identity, a strong sense of being Badaga was revealed in forum dialogues, as the study analysed how forum members articulated and expressed different understandings of their caste, reasserted perceptions of distinctiveness, and deployed identity strategically in activism when they constructed images of Badagas as victims of marginalization. While the findings seem to support, at least from the perspective of forum members, the reification of an overarching Badaga identity as something tangible, the forum discussions also revealed their abstractness and diversity, a heterogeneity of Badaga identities, particularly in lively debates and discussions in which images were contested, defended, and negotiated. Regarding quality of life, a negative depiction was a salient theme in forum discussions which centred on the demise and low profitability of agriculture, and there were also concerns about education and healthcare provision.
Next, chapter five is about rural-to-urban migration. It begins with a brief review of the literature about migration and the Nilgiri and Badagas, and then analyses empirical evidence using interviews with rural-to-urban migrants in Bangalore to understand more about their experiences of leaving their villages in the Nilgiri and living in the city, personal meanings of being Badaga. A key finding was changing notions of what it meant to be a member of their caste as they engaged the city, as being Badaga was malleable and in a state of flux. It revealed a new identity and collective, City Badaga, characterized by shared experiences of living in the city as Badagas, a phenomenon unique to their caste and not reported in the literature on migration in other parts of India or elsewhere. The study also uncovered the ways by which Badagas constructed distinctions between themselves and others, the specific processes and contextual determinants of identity construction and change. A negative depiction of life in the Nilgiri continued to be a salient theme, although the migrants painted a picture of contentment with life in Bangalore, particularly with employment, income, convenient-living, and access to education, grounded on notions of social mobility and personal growth. There was no evidence of any interference with their social and economic activities in the city or limits to their opportunities. In summary, the findings from the two studies show Badagas do not conform to the model of a closed and bounded tribal society in the Nilgiri with customary cultural prescriptions, the simplified view in the literature which ignores the complex lived realities of people with a Badaga heritage who have diverse experiences shaped by a range of circumstances. Instead, the findings reveal complicated, flexible, and pluralistic notions of identities and living circumstances which are thoroughly in flux and negotiated and contested across multiple spaces, characterised by openness and variation. Also, whereas the literature emphasised objective aspects of life quality, notably economy and standard of living, the thesis reveals subjective quality of life?their own perspectives of life and circumstances, and attention to subjective processes and meanings?an approach hitherto neglected in the literature.
The ?nal chapter concludes the thesis with a summary of the key findings followed by a consideration of their limitations as well as directions for future research. It discusses further the alternative conceptualisation of Badagas in the thesis as dynamic, fluid, and multi-site, much messier than conveyed in the literature. Also, as the thesis is about the lives of Badagas, it shows the research in Bangalore and the Internet forum revealed a rich array of information, a timely update as previous in-depth research was completed in the 1990s. The approach of the research means that the changes taking place in India and among Badagas are considered a cultural and personal process involving people and their understandings envisaged within their local settings and resources, and not simply about social and economic standards as often assumed in writings. There is no doubt Badagas are living in truly momentous times. Migration to urban areas and overseas, and the dramatic rise of technologies such as new media, grounded on broader transformation of Indian society, have shaped multifaceted changes in people's lives. The evolving local and global realities of the twenty-first century elicit fundamental changes in the meaning and expression of being Badaga, not only ways of living and social mobility but alternative notions of becoming and self-understanding.

Montesi, L. (2016). When the Blood Sweetens: Diabetes and Vulnerability Among the Ikojts of Oaxaca.

This thesis explores the Ikojts' social representations and lived experiences of type 2 diabetes (henceforth diabetes) in Southern Mexico. Despite the prevalent urban impact of the diabetes epidemic, diabetes is increasingly affecting rural and, disproportionately, indigenous communities. This epidemiological profile has prompted the reading of diabetes in terms of an ethnoracial disease (Montoya 2011), with the consequence of downplaying the social, environmental and political-economic factors behind it. A central issue is how indigenous peoples themselves make sense of diabetes as the institutions of science and the state scrutinise and turn their focus to their bodies.
Drawing on one year of fieldwork in the Ikojts community of San Dionisio del Mar, in Oaxaca, this thesis examines the multiple, sometimes contradictory ways in which the Ikojts live, narrate, make sense of and cope with diabetes. Adopting a critical phenomenologically inspired
approach, this thesis focuses on the body as the prime site where experience is arrayed and where greater forces -- history, political economy, culture -- inscribe themselves. I argue that the Ikojts conceive diabetes as an idiom of and for vulnerability. In fact, diabetes is simultaneously the embodied manifestation of structural and ordinary violence and the bodily metaphor through which the Ikojts express emotional distress, compelling concerns, and duress, which characterise much of their daily lives. In this 'other' light, diabetes is not connected so
much to genetics as it is to the experience of vulnerability.
Through the exploration of a wide range of local experiences -- from domestic tensions, to witchcraft accusations, to breaks in moral order, changes in foodways, the fearful anticipation of disease, and the distrust in biomedical practitioners -- I analyse the manifold nature of vulnerability: its ontological character, subjective dimension, and structural organisation. Fully aware of the perils of superimposing categories such as 'vulnerable' or 'marginal' to human groups, this thesis presents an experience-near conceptualisation of vulnerability which sheds light on the complexities of living with diabetes in a hostile place and which goes beyond dominant understandings of diabetes as the result of populations' vulnerability to risky genetics or 'unhealthy' lifestyles.

Waldstein, A. (2004). How to Stay Healthy in a Mexican Immigrant Community: The Role of Women's Knowledge.
Last updated