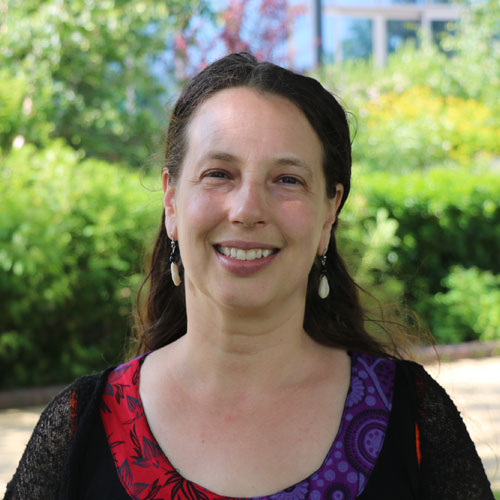 Dr Anna Waldstein
Senior Lecturer in Medical Anthropology and Ethnobotany
About
Dr Anna Waldstein has a PhD in Ecological and Environmental Anthropology from the University of Georgia and a BA in Medical Anthropology from Hampshire College. Her doctoral work focused on women's popular medical knowledge and self-care practices in both indigenous and mestizo communities in Mexico and among Mexican migrants in the southeastern United States.

Recently, Dr Waldstein has begun looking more closely at political dimensions of medicinal plant-use and the historical relationship between medicine and social control. Citizenship in many contemporary nations is based on the acceptance of both biomedical models of health/disease and professional advice/prescribed treatment. However, Anna's work suggests that alternative and even illicit models of health and healing may be more sustainable, especially for migrant/diaspora populations.  
Research interests
In spring 2012, Dr Anna Waldstein was a Residential Scholar at the School of Anthropology, University of Arizona. During this time she drafted a book manuscript about health sovereignty among Mexican migrants (2017, Carolina Academic Press), based on her doctoral research. Thirty years of public health research in the United States suggests that Mexican migrants are healthier than most American citizens. Anna's work in 'Los Duplex', a Mexican migrant neighbourhood in Athens, Georgia, shows that the health sovereignty of migrants helps explain why they have better health profiles than American citizens whose lives are more medicalised. While most Americans rely on medical authorities to manage their health through the consumption of pharmaceuticals and surgical procedures, Mexicans cultivate their own holistic healing alternatives as they build communities in the United States.

Between 2012 and 2014, Anna explored a variety of issues related to identity, lifestyle and embodiment within the UK Rastafari community. Rastafari is a spiritual, political and environmental movement that is working toward reparations for the transatlantic slave trade through various processes of decolonisation and ecological restoration. It is firmly established in many UK cities (particularly London, Bristol, Bath and Birmingham) and is comprised of a mix of people from all over the world, especially Jamaica, Ghana, Ethiopia and the UK itself. Anna's research on the Rastafari 'spiritual body' (currently in review) shows that while bodily rituals do not define a person as Rastafari (or not), they are important for achieving the spiritual and, ultimately, political aims of the movement.

In 2016, Anna began a new project on Jamaican 'roots tonics' and other 'bush medicines' in London. Roots tonics are deep decoctions of Smilax sp. and a variety of other roots, barks and leaves that may be sweetened with sugar/molasses and/or fermented. They have a history of use as general strengtheners and purgatives but are now often marketed as aphrodisiacs to boost male sexual potency. Preliminary research has explored a growing industry of roots tonic producers and distributors in the UK. Anna is currently planning a field trip to Jamaica to trace the ethnobotanical commodity chains that link the UK and Jamaica through the use of medicinal plant products.

Anna has also recently begun to do research for her second monograph about the embodiment of deportability and the impacts of structural violence on the health and well-being of Jamaican migrants in the UK.
Teaching



Undergraduate
Postgraduate
SE880: Holism, Health and Healing
Supervision
Dr Waldstein is interested in supervising PhD students in the fields of medical anthropology, ethnobiology and spiritual ecology, especially among migrant populations.

Current PhD students
Rachel Gefferie: 'Krioro libi': Exploring continued social identity in the life of the Creole of Suriname through the embodiment of food traditions
Nathan Glace: Contemporary lifestyle rituals among Rastafari groups in the UK
Jason Irving: The sale and use of Jamaican roots tonics: Health sovereignty in the Black Atlantic
Ashley Glenn: Tastes like home: migrating Bosnian foodways
Anna Piestrzynska: The relationship between language shift and the domain of traditional environmental knowledge
Alumni
Gareth Davey: The Badagas of the Blue Mountains: migration, cultural change and quality of life
Seema Solanki: Tracing the evolution of folk medicine of Afro-Indians, the Siddis of Gujarat, India through a comparative analysis of medical ethnobotany of Siddis and tribes of Ethiopia
Professional
Dr Waldstein is a co-founder of Breaking Convention: A Multidisciplinary Conference on Psychedelic Consciousness and was on the organising committee of the 2011 and 2013 conferences. The first Breaking Convention took place at the University of Kent in April 2011. The event was attended by 600 delegates from 30 countries and included a programme of over 70 academic presentations, short films and art installations.

Dr Waldstein has also provided expertise on drugs and altered states of consciousness for the National Geographic 'Taboo' series and also features on several episodes of the Dopecast, Shroom With a View and Psychedelic Salon podcasts. Anna is available to provide comments or in-depth discussion on drug use, popular medicine, migrant health and the UK Rastafari movement.

Videos of recent lectures:
Publications
Article
Waldstein, A. (2019).

Legitimacy and Citizenships

.

Urbanities

[Online]

9

:52-60

.

Available at

:

http://www.anthrojournal-urbanities.com/wp-content/uploads/2019/04/10-Waldstein.pdf

.

This essay focuses on legitimacy in relation to three anthropological conceptualizations of citizenship: biological citizenship, cultural citizenship and spiritual citizenship. It takes inspiration from various chapters in Pardo and Prato (2019) and other related literature on citizenship, and draws on some of my own ethnographic work with Jamaican migrants in the United Kingdom. I consider the legitimacy of the different citizenships that migrants enact in a hostile environment created by unlawful government policies. Windrush generation migrants have forced the Home Office to recognise their legitimacy as British residents and citizens. Likewise, in asserting their Divine rights as spiritual citizens and resisting deportation, Rastafari migrants have succeeded in settling lawfully in the UK and starting on the path to British citizenship. Thus, work in the anthropology of legitimacy gives us hope that citizens of all sorts will ultimately retract the legitimacy of governments that act unlawfully.

Waldstein, A. (2019).

Smoking as Communication in Rastafari: Reasonings with 'Professional" Smokers and 'Plant Teachers'

.

Ethnos: Journal of Anthropology

[Online]

.

Available at

:

https://doi.org/10.1080/00141844.2019.1627385

.

In Rastafari smoking herbs (cannabis) and tobacco is central to spiritual practices, including grounding (the process of initiation into Rastafari) and reasoning (ritual discussions). This paper presents ethnographic research with Rastafari smokers in England. It shows that smoking is considered a 'professional' activity that communicates dedication to the movement, aids in learning different dialects, and facilitates experiences of communication with herbs 'herself'. Through rituals that 'professional' smokers engage in herbs becomes a 'plant teacher', which Tupper [2008. The Globalization of Ayahuasca: Harm Reduction or Benefit Maximization? International Journal of Drug Policy, 19:300] defines as 'a natural divinatory mechanism that can provide esoteric knowledge to adepts skilled in negotiating its remarkable effects'. Appreciation of smoking as a form of multispecies communication between 'professional' smokers and 'plant teachers' recasts the role of agency in anthropological studies of smoking and contributes to our understanding of consciousness and intentionality in both humans and plants.

Waldstein, A. (2016).

Studying the Body in Rastafari Rituals: Spirituality, Embodiment and Ethnographic Knowledge

.

Journal for the Study of Religious Experience

[Online]

2

:71-86

.

Available at

:

http://rerc-journal.tsd.ac.uk/index.php/religiousexp/article/view/17

.

Rastafari spirituality is a nonsecular science that considers how various energies and powers influence socio-ecological systems. Rastafari people follow a number of spiritual prescriptions related to the body, including smoking, meditating, growing matted hair, eating an Afrocentric vegan diet and drumming/chanting. However, a person does not have to follow all of these practices to be Rastafari, rather they are means to achieve specific spiritual objectives. While anthropology is generally a secular discipline, by participating in various rituals, the body becomes an ethnographic tool that can lead to an awareness of how spiritual and material worlds interconnect. While I have collected data through conventional ethnographic methods, the most important insights have come through my own personal, bodily engagement in many Rastafari practices. Anthropological work on the 'spiritual body' provides a theoretical framework for making sense of experiences of embodied intersubjectivity that arise out of participation in various bodily rituals.

Volpato, G. and Waldstein, A. (2014).

Eghindi Among Sahrawi Refugees of Western Sahara

.

Medical Anthropology

[Online]

33

:160-177

.

Available at

:

http://dx.doi.org/10.1080/01459740.2013.844129

.

Eghindi is an illness built around a set of pathological states experienced by Sahrawi in the desert environment of Western Sahara. Its core symptoms are caused by osmotic imbalances related to salt consumption. In 1975, many Sahrawi were exiled into refugee camps, and they have since experienced radical socio cultural changes, which are reflected in changing explanatory models of eghindi. Older and conservative refugees, attached to traditional Sahrawi culture, have expanded its conceptualization to include new pathogenic factors, while younger and progressive refugees, acculturated with Western culture, began challenging its existence. Eghindi became embodied within a broader process of negotiation of Sahrawi cultural identity. Our findings provide a framework for thinking about the evolution of illness in response to displacement, and highlight that when explanatory models evolve, intra-cultural tensions can arise within a population.

Giovannini, P.

et al.

(2011).

Do pharmaceuticals displace local knowledge and use of medicinal plants? Estimates from a cross-sectional study in a rural indigenous community, Mexico

.

Social Science and Medicine

[Online]

72

:928-936

.

Available at

:

http://dx.doi.org/10.1016/j.socscimed.2011.01.007

.

Researchers examining the relationships between traditional medicine and biomedicine have observed two conflicting tendencies. Some suggest that the use of biomedicine and biomedical concepts displaces the use of traditional medicine and medical beliefs. Other scholars have found that traditional medicine and biomedicine can co-exist, complement, and blend with each other.

In this paper we use an econometric model and quantitative data to test the association between individual knowledge of pharmaceuticals and individual knowledge of medicinal plants. We use data from a survey among 136 household heads living in a rural indigenous community in Oaxaca, Mexico. Data were collected as a part of long term fieldwork conducted between April 2005 and August 2006 and between December 2006 and April 2007. We found a significant positive association between an individual's knowledge of medicinal plants and the same individual's knowledge of pharmaceuticals, as well as between her use of medicinal plants and her use of pharmaceuticals. We also found a negative association between the use of medicinal plants and schooling. Our results suggest that, in the study site, individual knowledge of medicinal plants and individual knowledge of pharmaceuticals co-exist in a way which might be interpreted as complementary. We conclude that social organization involved in the use of medicines from both traditional medicine and biomedicine is of particular significance, as our findings suggest that the use of pharmaceuticals alone is not associated with a decline in knowledge/use of medicinal plants.

Waldstein, A. (2010).

Menace or medicine? Anthropological perspectives on the self administration of high potency cannabis in the UK

.

Drugs and Alcohol Today

[Online]

10

:37-43

.

Available at

:

http://dx.doi.org/10.5042/daat.2010.0469

.

Domestically produced, high potency cannabis (often referred to as "skunk" in mainstream British media) has become increasingly widespread in the UK. This paper considers whether this trend reflects increased awareness of and desire for medical marijuana. Determining whether cannabis is a drug or a medicine depends on its objective physiological effects, which may vary from one individual to another, as well as how and why those effects are experienced. Medicinal and mind-altering effects of cannabis are not easily separable for many cannabis users. The medicinal use of cannabis in Britain has waxed and waned since the early 19th century. Currently the UK is on the cutting edge of the development of cannabis-based pharmaceuticals, but criminalizes people who choose to self-medicate with herbal cannabis. We are living in time of political, social and economic uncertainty, which threatens the stability of national healthcare systems. The broad ranging effects of cannabis on the human body and mind, combined with its relatively easy cultivation, make it a sustainable and effective alternative medicine. Research is needed, especially on the experiences of people who use cannabis to benefit, enrich and even prolong their lives.

Waldstein, A. (2010).

Popular Medicine and Self-Care in a Mexican Migrant Community: Toward an Explanation of an Epidemiological Paradox

.

Medical Anthropology

[Online]

29

:71-101

.

Available at

:

http://dx.doi.org/10.1080/01459740903517386

.

While Hispanics are among the most economically disadvantaged groups in the United States, immigrants from Latin America have health profiles equal to or better than Americans of European descent. Research on this epidemiological paradox suggests that aspects of Hispanic culture prevent negative health outcomes associated with poverty, poor education and barriers to professional care. However, little attention has been given to the ethnomedical beliefs and practices of any Hispanic subgroup. Here I present an ethnographic study of women's popular medicine in a Mexican migrant community in Athens, Georgia. Migrant women promote healthy behaviors, diagnose sick family members, and prescribe home remedies. These practices stem from long traditions of self-medication and family care, which have experienced less disruption by the biomedical profession than have other North American popular medical systems. Examining Mexican popular medicine within the context of scientific literature suggests that these self-care practices protect health and should be considered by investigators of the 'Hispanic health paradox.' The study also suggests that directing more attention to self-care will be fruitful for medical anthropology.

Waldstein, A. (2008).

Diaspora and Health? Traditional Medicine and Culture in a Mexican Migrant Community

.

International Migration

[Online]

46

:95-117

.

Available at

:

http://dx.doi.org/10.1111/j.1468-2435.2008.00490.x

.

As members of the Mexican diaspora acculturate/assimilate to life in the United States they gain skills that should help them improve their socioeconomic status and overcome barriers to the mainstream American healthcare system. Thus, we might expect better health among more acculturated Mexicans. However, most of the research conducted during the past 20 years shows that the health of Mexicans living in the United States deteriorates as acculturation increases. This suggests that certain health promoting aspects of Mexican culture are lost as migrants adapt to and adopt American ways of life. This paper is the first step in testing the hypothesis that declining health among acculturated people of Mexican descent is related to a loss of traditional medical knowledge.
During an ethnographic study of women's medical knowledge in a, unacculturated Mexican migrant community in Athens, Georgia, USA, I observed many ways low-income, undocumented migrants maintain good health. Migrant women encourage members of their families to engage in health promoting behaviors and treat sick family members with a variety of home remedies. The efficacy of the herbal medicines that women bring from Mexico to the United States is well documented in the chemical and pharmacological literature. Additionally, migrant women in Athens learn how to navigate the American medical and social service systems. The barriers to professional healthcare are overcome through social networks that provide information needed to access these services. Nevertheless, migrant women often prefer to treat sick family at home and indicated a preference for Mexican folk medicines over professional medical care in most situations.
This case study suggests that migration and diaspora need not always lead to disease. The maintenance of a Mexican culture that is distinct from the rest of American society helps ensure that traditional medical knowledge is not lost, while the social networks that link Mexicans to each other and to their homeland help minimize threats to health, which are usually associated with migration. The results of this study suggest that increased access to professional medical care may not improve the health of migrants if it comes with the loss of traditional medical knowledge. Future research is needed to determine how well traditional medical knowledge is preserved in more acculturated Mexican communities and whether an abandonment of traditional medical practices is indeed associated with poorer health.

Waldstein, A. (2006).

Mexican Migrant Ethnopharmacology: Pharmacopoeia, Classification of Medicines and Explanations of Efficacy

.

Journal of Ethnopharmacology

[Online]

108

:299-310

.

Available at

:

https://doi.org/10.1016/j.jep.2006.07.011

.

This paper describes the ethnopharmacological knowledge of women in an urban Mexican migrant community in Athens, GA, USA. Data were collected using free-list, pile-sort and semi-structured interviews. The pharmacopoeia of this community includes herbal remedies, over-the-counter medications such as non-steroidal anti-inflammatory drugs (NSAIDs) and prescription medicines. Multi-dimensional scaling analysis of pile-sort data revealed that Mexican women living in Athens classify medicines into four categories: herbal remedies, salves, pastillas (pills-both prescription and non-prescription) and other commercial preparations. Herbal remedies are viewed as natural and safe while pastillas are thought to be dangerous and potentially addictive. Comparisons of Mexican explanations for the actions of five medicines (Matricaria recutita L. [Asteraceae], Mentha spp. L. [Lamiaceae], Ruta spp. L. [Rutaceae], Ocimum basilicum L. [Lamiaceae] and paracetemol) with the pharmacological literature show several similarities and confirm that migrant women use these medicines effectively. Mexican migrant women use medicinal plants in combination with commercially produced medicines, but most have a strong preference for the herbal remedies that they make themselves, over drugs prescribed by physicians. Some of their descriptions of the actions of medicines are supported by the pharmacological literature, but ethnopharmacologists have not fully investigated all of the attributes that migrant women ascribe to them.

Waldstein, A. and Adams, C. (2006).

The Interface Between Medical Anthropology and Medical Ethnobiology

.

Journal of the Royal Anthropological Institute

12

:95-118

.

Medical anthropology is concerned with both the causes and consequences of human sickness, and its various theoretical orientations can be grouped into four major approaches: medical ecology, critical medical anthropology, interpretative medical anthropology, and ethnomedicine. While medical anthropologists of all theoretical persuasions have examined why people get sick, the analysis and understanding of patterns of treatment has been largely confined to ethnomedicine. Historically, more emphasis has been placed on the personalistic or supernatural aspects of ethnomedical systems than on naturalistic or empirical components. While this focus has produced valuable insights into the role of ritual and belief in healing, it has led to the impression that traditional medicine is primarily symbolic. Moreover, it ignores the theoretical bases of traditional healing strategies and the practical means by which most of the world heals itself, namely plants. Recently there has been more interest in the empirical character of ethnomedical systems, and in this paper we consider the role that medical ethnobiology has played in this shift of focus. We begin with a brief history of medical anthropology to illuminate why naturalistic medicine was neglected for so long. We then review exemplary research in two areas of medical ethnobiology - ethnophysiology and medical ethnobotany - that address the study of naturalistic aspects of medical systems. We conclude with suggestions for future research at the interface between medical ethnobiology and medical anthropology that will contribute to both fields.

Waldstein, A. (2003).

On Choosing a Fieldsite for Health Related Research

.

Journal of Ecological Anthropology

7

:73-76

.
Book
Waldstein, A. (2017).

Living Well in Los Duplex: Critical Reflections on Medicalization, Migration and Health Sovereignty

.

[Online]

.

Durham, North Carolina, USA

:

Carolina Academic Press

.

Available at

:

http://www.cap-press.com/books/isbn/9781531000431/Living-Well-in-Los-Duplex

.

Thirty years of public health research in the United States suggests that Mexican migrants are healthier than most American citizens. This ethnography of "Los Duplex," a Mexican migrant neighborhood in Athens, Georgia, shows that the health sovereignty of migrants helps explain why they have better health profiles than American citizens whose lives are more medicalized. While most Americans rely on medical authorities to manage their health through the consumption of pharmaceuticals and surgical procedures, Mexicans cultivate their own holistic healing alternatives as they build communities in the United States. In the strong social networks of Los Duplex, eating traditional Mexican foods, using home remedies, gardening and performing other physical activities, and keeping control over their emotions all help keep migrants healthy. This book, therefore, raises the following question: Are the relatively positive health profiles of Mexican migrants because (rather than in spite) of their limited access to professional medical care?
Book section
Waldstein, A. (2014). How Can Ethnobotany Contribute to the History of Western Herbal Medicine? A Mesoamerican Answer.

in:

Francia, S. and Stobart, A. eds.

Critical Approaches to the History of Western Herbal Medicine

.

Bloomsbury

.

Available at

:

http://www.bloomsbury.com/uk/critical-approaches-to-the-history-of-western-herbal-medicine-9781441184184/

.

Congo-Nyah, B.

et al.

(2013). Communications From the Herbs: A Step by Step Guide to InI Consciousness.

in:

Adams, C. et al. eds.

Breaking Convention: Essays on Psychedelic Consciousness

.

London

:

Strange Attractor Press

,

pp.

265-278

.

Waldstein, A. (2010). Undocumented Mexican Migrants in a Deep South City.

in:

Anderson, O. ed.

Illegal Immigration: Causes, Methods and Effects

.

New York

:

Nova Science

,

pp.

1-30

.

Available at

:

https://www.novapublishers.com/catalog/product_info.php?products_id=11189

.

Since 1986, Georgia has become an important destination for Mexican migrants making an initial move to the United States. Georgia cities have a high demand for labor in poultry processing and other factories, while the rural areas of the state are magnets for agricultural workers. These physically challenging, low-paying jobs attract large numbers of Latin Americans, the majority of which are undocumented migrants from Mexico. The Southeast is a relatively new destination undocumented immigrants and little is known about why and how they move to there, what happens to them once they get there and what effects their presence has on the region. This chapter is based on a review of socio-cultural, historical and political-economic literature on Mexican migration to the United States, as well as an ethnographic case study of an undocumented Mexican migrant neighborhood in Athens, GA that I conducted from April 2002 to June 2003. It describes why Mexican migrants choose Athens, how they make the journey from Mexico to Georgia without passports and get jobs without work permits, what their lives are like in Athens and how they interact with local populations. Fieldwork took place in "Los Duplex," a subdivision located 6 miles from the center of Athens and focused on popular medical knowledge, beliefs and practices of Mexican migrant women. At the time of the study nearly three quarters of the 131 residences in Los Duplex were occupied by Mexican tenants and the neighborhood was well-known for having a primarily undocumented population. Research methods included a neighborhood census, a structured survey of women in 28 households, participant observation and informal interviews. Research participants and their partners talked openly about obtaining forged legal documents and working under other people's names and a few shared their border crossing stories. Research participants and their families patronized public and private health care facilities in Athens and some applied for public assistance (though usually unsuccessfully). Some single men and unsupervised teenagers who lived in the neighborhood were involved in criminal activities ranging from vandalism to public intoxication to manslaughter. However, undocumented Mexican families were remarkably self-sufficient, respectable and supportive of one another. Encouraging the migration of women and children may help minimize both criminal activity and use of public resources in some cases.
Edited book
Adams, C.

et al.

eds. (2013).

Breaking Convention: Essays on Psychedelic Consciousness

.

[Online]

.

Strange Attractor Press

.

Available at

:

http://strangeattractor.co.uk/shoppe/breaking-convention/

.
Thesis
Waldstein, A. (2004).

How to Stay Healthy in a Mexican Immigrant Community: The Role of Women's Knowledge

.
Last updated