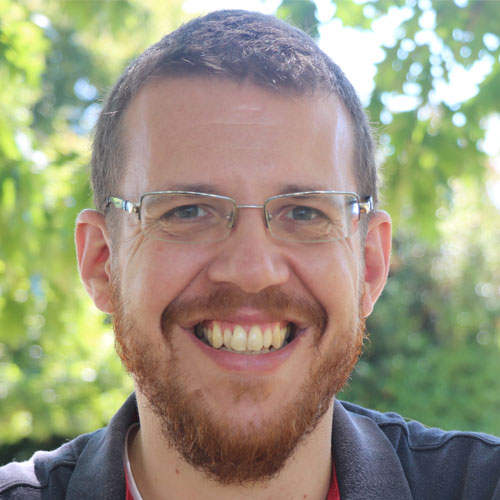 Dr David Roberts
Reader in Biodiversity Conservation
Deputy Head of School
Academic Head Conservation Biology
Programme Convenor for BSc Wildlife Conservation
Programme Convenor for MSc Conservation and International Wildlife Trade
About
2013 MA in Higher Education (Kent)

2001 PhD 'Reproductive biology and conservation of the orchids of Mauritius' (Aberdeen)

1997 MPhil 'Analysis of genetic structure in oak woodlands of west Wales' (Aberystwyth)

1996 BSc (Hons) Botany 2.1 (Aberystwyth)

Prior to moving to the University of Kent in 2010, Dr David Roberts spent over eight years at the Royal Botanic Gardens, Kew as a senior scientist in the orchid section. During this time, he conducted extensive fieldwork in Africa, Madagascar and the Western Indian Ocean islands. Much of his initial work focused on taxonomy and the uses of museum specimens in relation to conservation, including modelling extinction, phenological responses to climate change and conservation status. During this time, he also held the Hrdy Fellowship in Conservation Biology at Harvard University.
Since moving to the University of Kent, David has continued within these areas of research, as well as moving into areas investigating the wildlife trade and the psychology of species identification.
Currently, his main areas of research are:
wildlife trade (both legal and illegal but especially illegal online trade)
extinct and rediscovered species
the psychology of species identification.
Dr David Roberts is a member of the Durrell Institute of Conservation and Ecology.
Research interests
Wildlife trade

From Dr Roberts' work on orchids, he has become interested in the wildlife trade, in particular: (a) identifying attributes that relate to demand and thus develop a tradeability index; (b) research surrounding illegal trade particularly over the internet; (c) developing technologies to tackle the illegal wildlife trade; and (d) how the wildlife trade relates to livelihoods along the supply chain. While David's initial research was on orchids, he now works on a variety of species and their products including ivory, reptiles, amphibians and other plant species.

Active research: Developing software to detect illegal online trade; the extent and nature of the online trade in elephant ivory in the UK and Europe; characterising the structure, actors and attributes in demand in the wildlife supply chain for orchids and other taxa; sustainable development of a legal trade in cycads and other horticultural species.

Extinct and rediscovered species

Knowing if a species exists is important for conservation, whether it is a species at the edge of extinction or an invasive species. Much of Dr Roberts' work has been on developing methods for determining if a species is present, particularly species only known from a handful of sightings. In other words, if a species has not been seen for 20 years, is it extinct? As species approach extinction, sightings become rare. As a result, what is the uncertainty surrounding the identify of individual sightings?

Active research: Developing methods for inferring extinction; incorporating sighting uncertainty; inference of other extinction processes such as functional extinction.

Psychology of species identification

Much of our understanding of the natural world is based on the correct identification of species. This leads to a series of questions: 

How are species identified?
To what extent do misidentifications occur
What extent of errors are required to change conservation outcomes?

Active research: Identification issues in CITES lookalike species; level of misidentification required to change the IUCN Red List category of a species based on Area of Occupancy (AOO) and Extent of Occurrence (EOO); morphological factors that drive misidentification.
Teaching
Undergraduate
Postgraduate
Supervision
Current students (MSc-R and PhD)
Robbie Blackhall-Miles: Plant hunting for commercial horticulture, access and benefit sharing: are they compatible?
Vince Chaipanich: Ecology and ex situ conservation of Vanilla siamensis Rolfe ex Downie
Holly Harris: Wild Harvesting in Kent – human-nature interactions along the Kent coastline

Hermenegildo Matimele: Testing the effectiveness of different site-based biodiversity and conservation prioritisation approaches in Mozambique
Trang Nguyen: The impact of traditional Chinese medicine on African wildlife: the role of East Asian immigrants

Helen Pheasey: Methods of, and motives for, laundering a wildlife commodity beyond captive farms
Laura Thomas-Walters: Social marketing and behaviour change for demand reduction in wildlife trade
Ruth Thompson: Identification of internet-based illegal wildlife trade through machine learning
PhD (completed)
Tristan Pett: The benefits of biodiversity: understanding human-wildlife interactions in urban environments
Gail Austen-Price: Eyeing-up biodiversity: how we identify species
Janine Robinson: Captive-farming in the exotic pet trade
Amy Hinsley: Characterising the formation and structure of international wildlife trade networks in the age of online communication
Hiro Shimai: Taxonomy, evolution & ecology of the genus Pinguicula
Sarah Stow: Bryophytes as environmental indicators of habitat quality: a new toolset for conservation assessment
Lydia Yeo: Application of mark-recapture models in assessing wildlife trade
Last updated