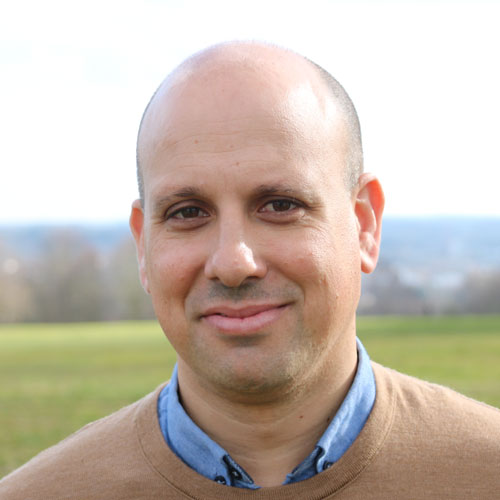 Dr Jonathan Rock Rokem
Lecturer in Human Geography
Deputy Director of Recruitment and Admissions (Geography and Human Ecology)
Co-Director, Kent Interdisciplinary Centre for Spatial Studies (KISS)
About
Dr Jonathan Rock Rokem is a human geographer with research interests in political geography and urban studies. He has particular specialism in social and spatial analysis, interdisciplinary methods, urban violence and inequality from a geopolitical perspective, with a specific interest in Europe and the Middle East. 

Dr Rock Rokem's work is inspired by over a decade of researching ethnic minorities in contested cities. His overarching research agenda is committed to conceptualising a socio-spatial ontology that brings a new comparative perspective to human geography and urban studies. He also investigates the deferential role of transport and mobility infrastructures as tools to govern social life in highly uneven and unequal settings. 

Dr Rock Rokem publishes in international, peer-reviewed, multi-disciplinary scientific journals within the disciplines of geography and urban studies, such as Political Geography, International Journal of Urban and Regional Research, CITY and Urban Studies. 

Prior to joining the School in 2019, Jonathan taught at the Department of Geography, University College London (UCL) and held a Marie Curie Research Fellowship at the Bartlett School of Architecture, Space Syntax Laboratory, UCL. 

Previous to this, Dr Rock Rokem held a Visiting Postdoctoral Research Fellowship at the Department of Human Geography, Lund University, Sweden. His PhD was awarded in 2015 from the Department of Politics and Government at Ben Gurion University, Israel. Jonathan also holds a Master's degree in Human Geography from the Department of Geography at the London School of Economics and Political Science. 

Research interests
Dr Rock Rokem's research addresses some of the societal challenges of the 21st century: 

(i)	Rapid urbanisation and rising global inequalities 

(ii)	Geopolitics and international migration 

(iii)	Barriers to urban mobility and diversity 

(iv)	Cities, climate change and conservation 

Jonathan's overarching research objectives are threefold: firstly, from a theoretical perspective to advance the cross-disciplinary field of urban geopolitics, bringing geopolitics into the mainstream of human geography and urban studies; secondly, to construct a multidisciplinary comparative research method to re-frame urban inequality and segregation as a dynamic and mobile process; and, thirdly, to create a modelling tool to enhance immigrant communities' access to transport and public spaces in cities.

Dr Rock Rokem's research has informed public policy decision-making and contributed to novel spatial and social approaches in the development of public transport infrastructures in Jerusalem and Stockholm. 

Recent Projects Include: 
Contested Urbanism: Marie Skłodowska-Curie Grant, European Commission, Horizon 2020, University College London, UK. PI - €195,000.

Contested Spaces in Swedish Cities: EMAIL II - Erasmus Mundus Research Grant, Lund University, Sweden. PI - €18,000.

Contrasting Jerusalem: Bettencourt Schueller and French Research Center Jerusalem Research Grant (CRFJ-CNRS), France. PI - €12,000.

Teaching
Dr Rock Rokem has extensive teaching experience of both undergraduate and postgraduate modules including development, mentoring and assessment. Jonathan teaches on the Human Geography BSc and convenes the modules People and Place and Geographical Patterns and Process. He also contributes to several other modules across the School.
Supervision
Dr Rock Rokem is interested in supervising PhD students in the fields of human, urban and political geography with a specific interest in contested space, migration, mobility and inequality, and a particular focus on cities in the Middle East and Europe.
Professional
Dr Rock Rokem is available to provide in-depth analysis and discussion of topics related to urban inequality, urban migration and ethnic relations, with expertise in the Middle East and Scandinavia, particularly Sweden and Israel-Palestine where he has conducted extensive fieldwork.
Publications
Article
Rokem, J. and Vaughan, L. (2018). Segregation, mobility and encounters in Jerusalem: The role of public transport infrastructure in connecting the 'divided city'. Urban Studies [Online] 55:3454-3473. Available at: https://doi.org/10.1177/0042098017691465.

This paper assesses ways in which urban segregation is shaped and transformed by Jerusalem's public transport network, enhancing mobility and potential group encounters. We suggest that segregation should be understood as an issue of mobility and co-presence in public space, rather than the static residential-based segregation that continues to be a central focus of debate in urban studies. We explore public transport infrastructures, considering how their implementation reflects the variety of ways that transport can have impact: segmenting populations, linking populations and/or creating spaces for interaction or conflict between the city's Jewish Israeli and Arab Palestinian populations. Space syntax network analysis suggests that in the case of Jerusalem, access to public transport is multi-dimensional: as well as providing access to resources, it shapes opportunities for spatial mobility that may either overcome or reinforce area-based housing segregation. We discuss these opportunities in the light of Jerusalem's on-going ethno-national division in an increasingly fractured urban reality.

Rokem, J. and Vaughan, L. (2018). Geographies of ethnic segregation in Stockholm: The role of mobility and co-presence in shaping the diverse city. Urban Studies [paper]. Available at: https://doi.org/10.1177/0042098018795561.

This article assesses how urban segregation and ethnic diversity in Stockholm have been shaped by spatial policy and migration trajectories over time. Much of the urban studies and planning literature defines segregation as a measure of residential mixing. In contrast, our research suggests that segregation could be understood as a lack of opportunities for interaction in public space. In the case of Stockholm, space syntax network analysis and the establishment of ethnicity as a statistical category suggest that despite the social infrastructure provided by the Swedish state, the city's specific spatial configuration alongside its policies of housing allocation have resulted in severe constraints on the potential for co-presence between new immigrants and the native Swedish population. Spatial analysis suggests that the city's public transport infrastructure is a contributory factor in maintaining separation between foreign-born and ethnic Swedes. Coupled with a high level of social deprivation amongst new immigrants, the result is a multi-dimensional spatial segregation process that persists amongst the second immigrant generation, reinforcing ethnic and socio-economic area-based housing segregation. We conclude that despite Swedens long-standing political vision of social integration, its capital is suffering from increasing ethnic spatial differentiation, which will most likely persist unless a greater consideration of spatial connectivity and an introduction of ethnic and racial equality data in policy and practice are brought to bear.

Rokem, J., Weiss, C. and Miodownik, D. (2018). Geographies of violence in Jerusalem: The spatial logic of urban intergroup conflict. Political Geography [Online] 66:88-97. Available at: https://doi.org/10.1016/j.polgeo.2018.08.008.

This paper assesses how spatial configurations shape and transform individual and collective forms of urban violence, suggesting that geographies of urban violence should be understood as an issue of mobility. We document and map violent events in Jerusalem, assessing the possible impact of street patterns: segmenting populations, linking populations, and creating spaces for conflict between the city's Jewish and Palestinian populations. Using space syntax network analysis, we demonstrate that, in the case of Jerusalem, street connectivity is positively associated with individual violence yet negatively associated with collective violence. Our findings suggest that understanding the logic of urban intergroup violence requires us to pay close attention to local urban morphology and its impact on intergroup relations in ethnically divided and heterogeneous environments.

Rokem, J., Fregonese, S., Ramadan, A., Pascucci, E., Rosen, G., Charney, I., Paasche, T. and Sidaway, J. (2017). Interventions in urban geopolitics. Political Geography [Online] 61:253-262. Available at: https://doi.org/10.1016/j.polgeo.2017.04.004.

Rokem, J. and Allegra, M. (2016). Planning in Turbulent Times: Exploring Planners' Agency in Jerusalem. International Journal of Urban and Regional Research [Online] 40:640-657. Available at: https://doi.org/10.1111/1468-2427.12379.

This article explores the role of planning in the deeply divided and politically polarized context of Jerusalem. The overall argument developed throughout the article is that the relation between planning and politics is a non-hierarchical set of interactions, negotiated within specific historical, geographical, legal and cultural contexts in other words, orders don't come down from the politicians to be slavishly followed by planners. In this respect our findings, based on in-depth interviews with Israeli planners, suggest that the case of Jerusalem represents a particularly dramatic illustration of the fact that the function of planning expertise can only be understood in relation to the surrounding socio-political environment. Furthermore, contrary to conventional wisdom, planners in Jerusalem are not destined to either complicity or irrelevance in the face of political imperatives; planners' agency, however, does not simply reflect their mastery of specific professional knowledge and tools, but also their ability to act strategically in relation to the context in which they operate. © 2016 Urban Research Publications Limited

Rokem, J. (2016). Beyond incommensurability: Jerusalem and Stockholm from an ordinary cities perspective. CITY analysis of urban trends, culture, theory, policy, action [Online] 20:472-482. Available at: https://doi.org/10.1080/13604813.2016.1166698.

This paper's core argument is that we should start creating theories that encompass different cities and include them in a more flexible and relational comparative framework. This must include a new urban terminology which does not continue the all-too-fashionable labelling of cities on a continuum between first world and third world, global North-West and South-East or as I emphasize below, including what have been labelled extremely contested cities in a more flexible and relational ordinary cities framework. To introduce such a comparative approach, I will examine Jerusalem and Stockholm via three contrastive and relational patterns: institutional segregation; urban violence; and non-governmental organization involvement in planning. In so doing, I point towards the necessity to open up research on extreme urban conflicts, suggesting that when assessing specific contextual patterns, those labelled as extremely contested cities (such as Jerusalem) share more similarities with other more ordinary cities (represented by Stockholm) than was previously perceived, often stemming from ethnic, racial and class conflicts revolving around issues of politics, culture and identity, among others.

Rokem, J. (2016). Learning from Jerusalem: Rethinking urban conflicts in the 21st century Introduction. City: analysis of urban trends, culture, theory, policy, action [Online] 20:407-411. Available at: https://doi.org/10.1080/13604813.2016.1166699.

Jerusalem - its past, present and future - will serve as the foundation of our understanding of the geographies of cities within contemporary urban theory and practice in the 21st century. The underlying theoretical supposition in this special feature1 is that what have been labelled con- tested cities have growing similarities to less polarized cities similarities found in the expansion of ethnic, racial and class conflicts that revolve around issues of housing, infrastructure, participation and identity. In this sense, Jerusalem represents a rather exceptional case study and demonstrates a powerful spatio-political urban pattern in the field of urban studies. The examination of Jerusalem can advance our understanding of the relationship between planning conflicts and urban geopolitics in a growing number of cities worldwide.

Allegra, M., Bono, I., Rokem, J., Casaglia, A., Marzorati, R. and Yacobi, H. (2013). Rethinking Cities in Contentious Times: The Mobilisation of Urban Dissent in the 'Arab Spring'. Urban Studies [Online] 50:1675-1688. Available at: https://doi.org/10.1177/0042098013482841.

Throughout history, cities have been the theatre of social and spatial struggles. The issue of urban protests, however, has not yet been investigated in detail in the light of the growing concern of the need to rethink urban studies, from theoretical and epistemic assumptions, to methodological issues. It is argued that the mobilisation of urban dissent in the so-called Arab Spring offers a good opportunity to develop a critical approach based on the observation of the nexus between an event (a punctual expression of dissent) and a site (the urban environment in which the former takes place). The goal is to avoid theoretical rigidities inherent to the assumptions about the intrinsic qualities of cities or social movements. The paper also aims at connecting different academic and disciplinary traditions across linguistic divides and especially the Anglophone urban studies with the Francophone stream of city-focused political science and political sociology

Allegra, M., Casaglia, A. and Rokem, J. (2012). The Political Geographies of Urban Polarization: A Critical Review of Research on Divided Cities. Geography Compass [Online] 6:560-574. Available at: https://doi.org/10.1111/j.1749-8198.2012.00506.x.

This article aims at providing a review of various streams of literature dealing with the spatial fragmentation of cities. In the last two decades many different contributions emphasized the growing fragmentation of the urban environment; the idea of "divided city" covers a multiplicity of approaches, methodologies and field of research. Still, the "divided city" literature tends to elevate a small number of cities to paradigmatic examples and to focus on abstract categories based on single factor explanations of urban fragmentation. The article, while accepting the hypothesis that the urban context is increasingly fragmented, argues that systems of coordinates – more than a taxonomy or a hierarchy – is needed to make sense of this phenomenon and draw significan comparison between cities. The article also maintains that a significant angle to look at urban polarization relates to the configuration of urban governance and political power. The article therefore considers three main areas connected to the distinction between polity, politics, and policy – and the three corresponding ideal?types of partitioned, contested and discrete city – where the conflict focuses respectively on the jurisdictional shape of governance, the degrees and venues of access to decision?making, and frame and contents of public policies.
Book section
Rokem, J. and Laura, V. (2019). Jerusalem. In: Orum, A., Judd, D., Cabeza, M. G., Choon-Piew, P. and Roberts, B. eds. The Wiley Blackwell Encyclopedia of Urban and Regional Studies. John Wiley & Sons Ltd. Available at: https://doi.org/10.1002/9781118568446.eurs0518.

Jerusalem represents a rather exceptional urban case study because of its unique position as the global center of the three largest monotheistic religions since biblical times. Jerusalem is both a symbolic and tangible focal point in the Israeli Palestinian conflict and competing religious and political narratives have affected the city's development. In this brief text we attempt to capture some of the main themes in Jerusalem's planning history over the past century, navigating through the city towards its contemporary urban reality.
Edited book
Rokem, J. and Boano, C. (2017). Urban Geopolitics: Rethinking Planning in Contested Cities. [Online]. Rokem, J. and Boano, C. eds. London, UK: Taylor and Francis. Available at: https://doi.org/10.4324/9781315659275.

In the last decade a new wave of urban research has emerged, putting comparative perspectives back on the urban studies agenda. However, this research is frequently based on similar case studies on a few selected cities in America and Europe and all too often focus on the abstract city level with marginal attention given to particular local contexts. Moving away from loosely defined urban theories and contexts, this book argues it is time to start learning from and compare across different 'contested cities'. It questions the long-standing Euro-centric academic knowledge production that is prevalent in urban studies and planning research. This book brings together a diverse range of international case studies from Latin America, South and South East Asia, Eastern Europe, Africa and the Middle East to offer an in-depth understanding of the worldwide contested nature of cities in a wide range of local contexts. It suggests an urban ontology that moves beyond the urban 'West' and 'North' as well as adding a comparative-relational understanding of the contested nature that 'Southern' cities are developing. This timely contribution is essential reading for those working in the fields of human geography, urban studies, planning, politics, area studies and sociology. © 2018 selection and editorial matter, Jonathan Rokem and Camillo Boano; individual chapters, the contributors. All rights reserved.
Review
Rokem, J. (2018). Contrasting Jerusalem: Contested Urbanism at the Crossroads. City: Analysis of Urban Trends, Culture, Theory, Policy, Action [Online] 22:50-67. Available at: https://doi.org/10.1080/13604813.2018.1427370.

As far as the relation between planning and politics is concerned, Jerusalem represents an exceptional urban case to study. Jerusalem is a symbolic and tangible focal point in the Israeli Palestinian conflict, earning its position in urban studies and planning literature as one of the most ethno-nationally divided, polarized and contested cities (Bollens 2000; Klien 2001; Dumper 2014; Shlay and Rosen 2015). Competing religious and political narratives have affected Jerusalem's development and over the past half-century Israeli ethno-national principles have held a significant role in forming the contemporary city. For anyone contemplating about what our urban world can become under forces of extreme nationalism and exclusionary planning policy, Jeruaslem is an important lesson and cautionary warning for a growing number of contested cities. It is with these developments that Shaping Jerusalem engages with in further rigour and detail.
Last updated