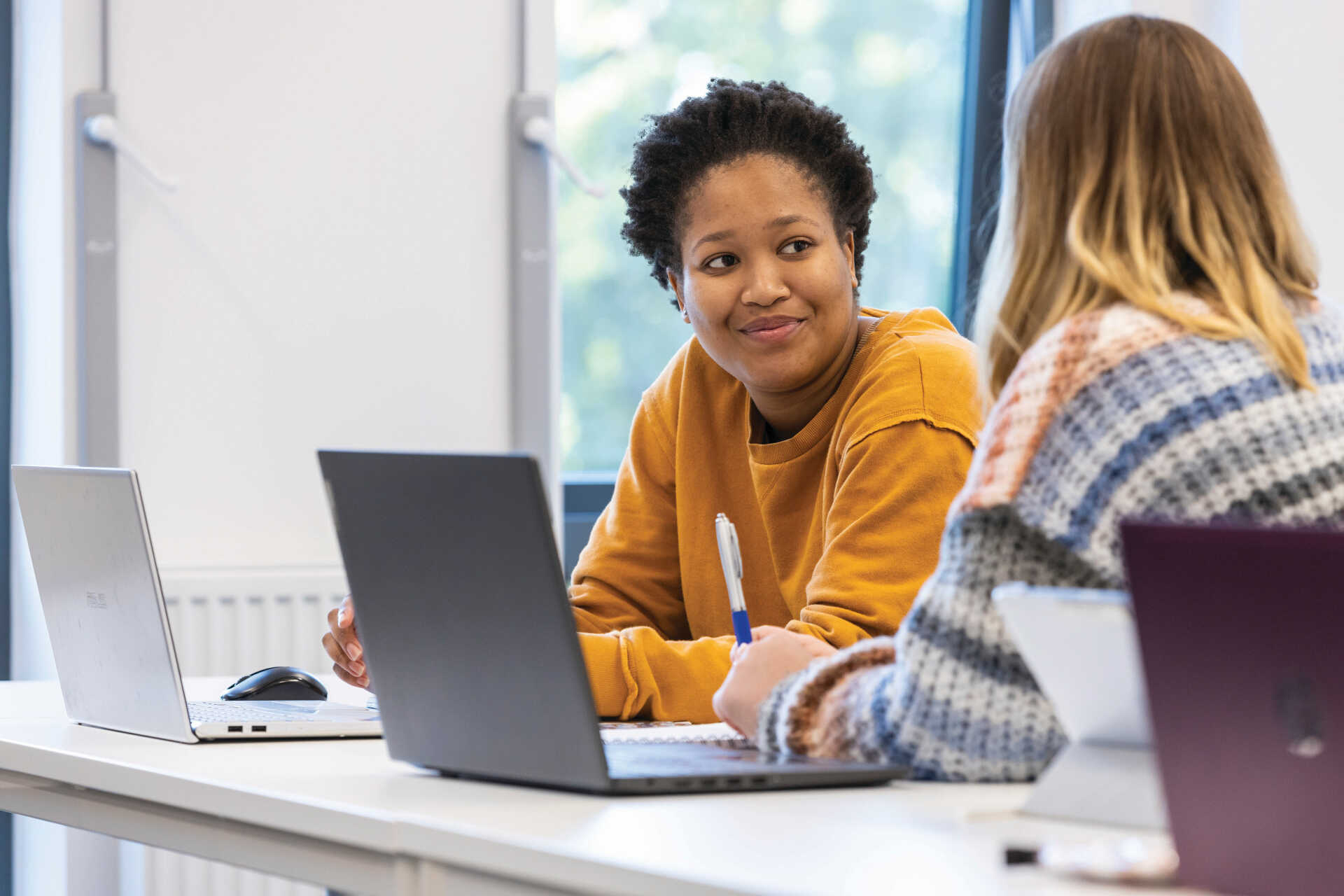 Everyone adjusts to university life differently and from time to time, you may feel you need some additional help. Here's an overview of the academic and personal support services available to you.
Academic support
The Student Learning Advisory Service (SLAS)
SLAS provides a huge range of academic advice and guidance, which is available to you at any stage of your studies (from Access to PhD):
Online Bitesize skills development workshops and numeracy and statistics workshops
One-to-one appointments on all aspects of academic study e.g. study skills, assignment development, presentations, revision and exam techniques
Maths, financial maths and stats clinics
Wide range of online study guides (webpages and videos)
Student reps

You can contact your Student Rep regarding any issues relating to your course or studies.
Connect with your mentor
Peer Assisted Learning (PAL) partners current students with new students to help support their learning. Mentors give advice on good study strategies, course content, practical tips for student life and anything in between! PAL operates in participating schools and is co-ordinated by the Student Learning Advisory Service (SLAS)
Your Academic Adviser

You'll be assigned an Academic Adviser who can provide personalised one-to-one academic advice and guidance throughout your studies. They can advise on module choices, signpost you to the different learning support services, and help you review your progress. You can find out who your adviser is by checking your details page in KentVision.
Academic office hours
All academic staff have regular office hours where you can either drop in or make an appointment to discuss topics raised in lectures/seminars, your progress, or any concerns you may have. Times will be made available by your academic school.
Support for mental health, neurodiversity, chronic conditions and disabilities
It's important to let us know about any conditions you have, even if you feel you don't need any help just yet. The earlier you register with the Student Support and Wellbeing service, the quicker we can get support in place now, or when you need it in the future.
Boost your mental health
It's ok to feel out of place, especially in a different environment with people you've never met before, in very unusual circumstances. You might feel homesick or lonely at first, but these feelings are likely to pass as you adjust to university life and start establishing a routine.
At Kent there are lots of opportunities to enhance your wellbeing throughout the year, and you can follow @UniKentSSW on Instagram for wellbeing tips, events and and resources. You can also get support from the students' union Advice Service.
If you are finding things tough, you might find it helpful to talk things through with someone from our mental health team, which includes counsellors, advisers and mentors. Seeking help will never be viewed as a weakness, and we have experienced and specially trained advisers who understand the pressures of student life and have helped many people to thrive at university.

IT and Library support
Find help and advice for using library services, setting up your devices and accessing IT facilities and software: our IT and Library for students page has all you need to know. Our extensive digital library is there to support you, so you don't always need to visit the Library building to access the resources you need.
Get in touch
Contact our IT and Library Support Desk:
As you get into your studies, our subject librarian team can help you navigate and make the most of the huge range of library resources on offer.
Student Advice Service
Kent Union and The Hub run independent Advice Services for students, offering free, confidential advice on a range of issues, finance, housing, visas as well as academic advice. Drop-in sessions and appointments are available every day with highly qualified and experienced advisors.
Not happy with your room?
There can be a number of reasons why you may want to change rooms after settling in, from financial to personal reasons.
We want our students living on campus to enjoy their experience as much as possible, and while many of you will be happy with the room you're living in there will be some of you who are not. This is why we facilitate a room move or room swap programme from November onwards.
All room moves or swaps must be authorised through the Accommodation Office, and if you're thinking of applying, make sure you've read our guidance first.
Reasons for moving that involve disputes or complaints with neighbours should first of all be directed to the College Life Officers.
Reasons for changing that involve housekeeping or maintenance problems must be directed to the Housekeeping department in the first instance.
Living on campus
Your accommodation team is on hand to help with everything from housekeeping to lost fobs. Contact the team direct, or check out the Living on Campus pages for more details:
Buddy Scheme
Excited about starting at Kent but wish you had someone to show you the ropes? Kent Unions' Buddy Scheme could be just what you need, and is available virtually too. It matches you with a current student, based on your preferences such as your course, interests, hobbies and language.
Your buddy can help you connect with others, is someone to talk about student life at Kent and can help recommend things to get involved in. The more you share about your likes and dislikes, the better Buddy match we can find you