Facilities - Music and Audio Technology at Kent
Music and Audio Technology at Kent gives you the opportunity to develop your skills and knowledge using industry-standard facilities and software.
Studios and recording equipment
Our ongoing investment in state-of-the-art facilities include a spatial audio studio, a Foley studio, ensemble rehearsal spaces, practice rooms, an SSL studio and a flagship Neve recording studio.
Our studios are equipped with technology from leading manufacturers including AMS Neve, Solid State Logic, Avid and Universal Audio.
Most importantly it means you gain experience in using the latest equipment, which prepares you for work in the music industry or further study.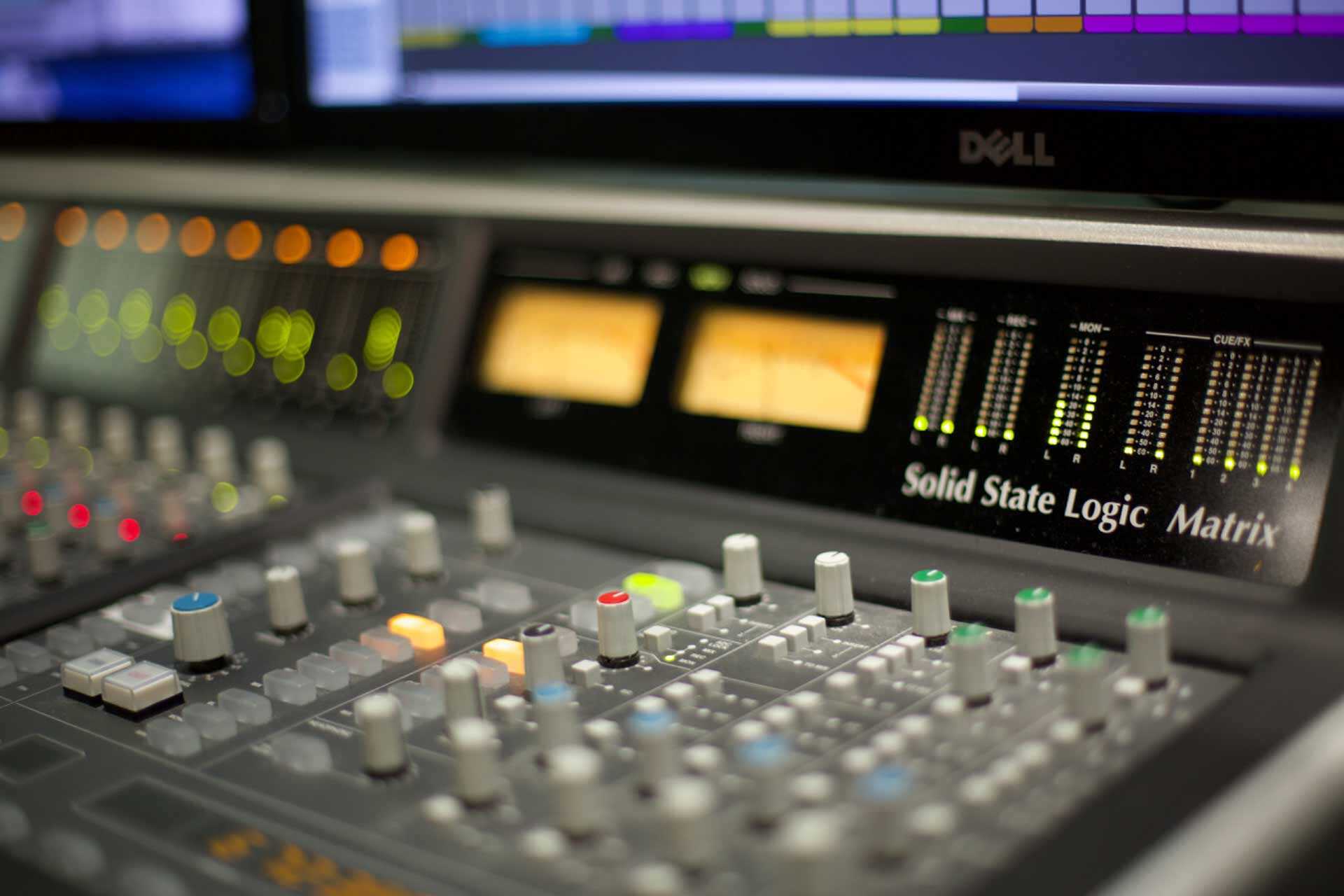 Take a look around
Explore our industry-standard facilities
Key links and information
The Drilling Shed
The Drilling Shed is home to our flagship studio. The Neve studio integrates a new Neve Genesys Black G48 recording and mixing console with our Genelec 5.1 surround system. The studio has a large live room and a separate vocal booth.
The Fire Station
The Fire Station provides four professional recording studios including an SSL recording studio containing a 5.1 speaker control room and a live room. It also has an audio post-production studio, a Foley studio and a multi-speaker studio.
The Smitheries
The Smitheries offers seven sound-proofed practice rooms. There's also an iMac suite with 15 Apple iMacs, 15 M-Audio Keystation Keyboards and extensive sound recording and production software including Avid Pro Tools, Logic Pro X and Ableton Live.
Music and Audio Arts Sound Theatre (MAAST)
Our impressive Music and Audio Arts Sound Theatre (MAAST) is a portable and flexible sound diffusion system designed for the performance of electroacoustic music and research in spatial sound.
One of the best systems in the UK, it comprises a custom-made 32-channel Gluion console and an array of Genelec loudspeakers which include sixteen bi-amplified 8020s, twenty 8040s, four tri-amplified 1038s, and 7060B and 7070A subwoofers. The console controls the sound diffusion through OSC and Max/MSP.
The set-up allows for diffusion of stereo and multichannel works in two overlapping circles of loudspeakers that surround the audience and an on-stage arrangement for an extended panoramic sound image.
For further information, collaboration, or rental, please contact the Director of MAAST Aki Pasoulas or visit our MAAST blog.
Performance spaces and practice rooms
The award-winning Colyer-Fergusson Music Building, located on the University's Canterbury campus, is a purpose-built, flexible performance space with adjustable acoustics and retractable seating. At full capacity the hall can accommodate up to 600 audience members and performers combined. There are also four practice rooms and a sound-proofed rehearsal room.
The Gulbenkian is adjacent to the Colyer-Fergusson Building and hosts an array of music events ranging from classical and jazz to pop, world and folk and is home to a 340-seat performance space.
There are also opportunities to perform in other venues, including the spectacular surroundings of Canterbury Cathedral and other historic and exciting spaces around the region.
Image gallery