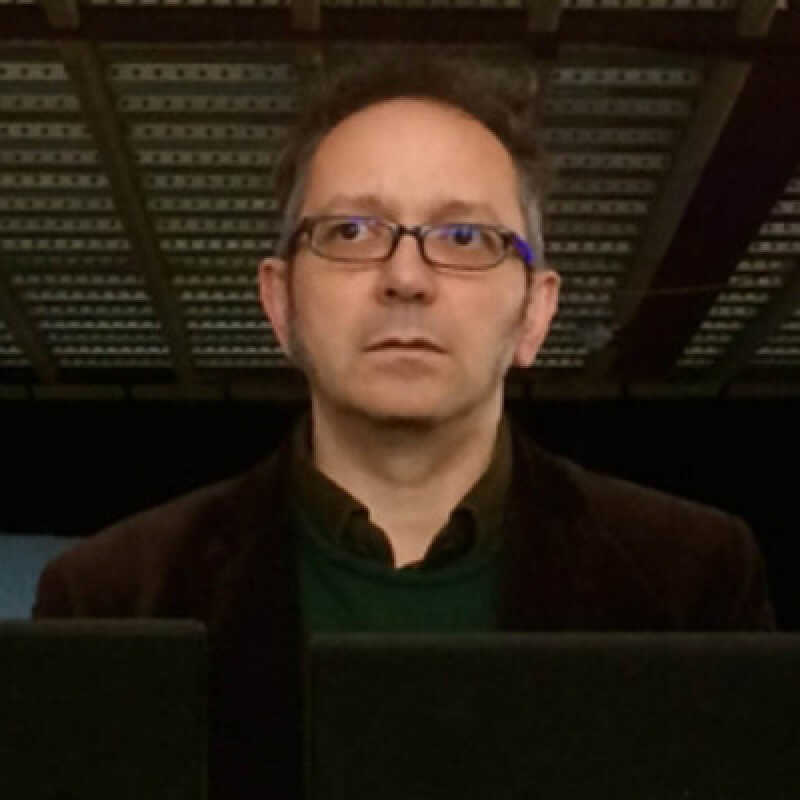 Dr Aki Pasoulas
Reader in Music and Audio Technology
Director of Education (Music and Audio Technology)
Director of MAAST
About
Dr Aki Pasoulas is an electroacoustic composer, whose works are continually performed worldwide. He has taught at universities in London including City, Middlesex and the University of the Arts, and he holds a PhD on timescale perception in electroacoustic music. His doctoral research at City University London was supervised by Prof Denis Smalley, funded by the AHRC, and gained an outright pass with no corrections. Aki holds a Distinction for his MMus in Composition and a First Class Honours for his BMus Music degree at Goldsmiths University. 

He has written for instruments, found objects, voice, recorded and electronic sound, composed music for the theatre and for short animation films, and organised and performed with many ensembles. His scholarly and music works are published through EMI/KPM, ICMA, Sonos Localia, HELMCA, Pinpoint Scotland, Cambridge and Oxford University Press.

Aki's commercial sound design work has been used in numerous TV programmes, documentaries and films in many channels around the world such as Animal Planet, Australian Films, BBC Radio 4, BBC Nordic & S. Africa, BBC2 Network Primetime, Canadian Films, Danish Films, Czech Republic Films, Discovery Primetime & World, 102.2 & 102.8 FM Commercials, French Films,  Japanese Films, Japanese Online, Italian Broadcasting, Netherlands Films, Norwegian Films, Russian Broadcasting, USA Television & Cable etc.

Aki was a shortlisted composer for the Society for the Promotion of New Music (SPNM), from 2008 to 2011. During that period, his acousmatic works were promoted by the organisation and played at many venues worldwide. In 2009, he was one of only three composers selected to represent Great Britain at the International Society for Contemporary Music (ISCM) World New Music Days international festival in Sydney, Australia. His compositions have received honorable mentions and have been shortlisted at international composition competitions.
Research interests
Aki is currently the Principal Investigator on the AHRC-funded project 'Sonic Palimpsest: Revisiting Chatham Historic Dockyards', which explores the role of sound in influencing our experience of spaces and places, focusing on heritage sites and recreation of past soundscapes.

Research interests include acousmatic music, time perception in relation to listening, psychoacoustics and sound perception, spatial sound, acoustic communication, and soundscape ecology especially in relation to listening psychology.

Aki organised and chaired major events and conferences, incl. the Sound of Memory conference (2017), Denis Smalley 70th Birthday Celebration (2016), Acousmatic Transcendence-A Feast of Diffusion festival (2015) and Symposium on Acoustic Ecology (2013). He participated, as Director of MAAST, in major public events including the Speed of Sound - Aerodynamics and Experimental Acoustics at the Wind Tunnels in Farnborough, and The Music of Bernard Parmegiani at Britannia House, London.

Performances at key peer-reviewed events include: ICMC conferences in Montreal, New York, Huddersfield, Ljubljana and Shanghai; SMC in Porto and Limassol; international Festival Synthèse in Bourges; Sonoimágenes multimedia festival in Buenos Aires; San Francisco Tape Music Festival; Convergence conference in Leicester; SAW electroacoustic symposium in Cardiff; ISCM World New Music Days festival in Sydney; Festival Futura in Crest, France; WFAE conference on acoustic ecology in Corfu; International Exhibition at the BYTE Gallery in Lexington USA; ISSTA conference in Ireland; CIME/ICEM General Assembly in Beijing; and EMUFest electroacoustic music festival in Rome.

A major composition was selected for the ICMC 2010 CD published by ICMA, and concerts dedicated to Aki's music took place in Vienna in 2010 and 2013. In 2012, he was a featured artist in Musicacoustica in Beijing China, at the International Confederation of Electroacoustic Music (ICEM/CIME) assembly. His music is housed in the Phonothèque and Mnémothèque of the Institut International de Musique Electroacoustique de Bourges (IMEB) in the National Library of France.

Aki reviewed music works and papers for conferences (incl. ICMC, Sound+Environment, Acoustic Ecology, Convergence) and articles for the Organised Sound and Leonardo music journals.

His research on timescales and psychological time developed the innovative idea of using parallel temporal forms in composition, and analysed factors that affect our perception of time and thus our interpretation of a musical work. This is directly related to musicology of electroacoustic music and creative practice, and is applied to interactive music encouraging further development and interdisciplinary research among the areas of music perception, time perception and electroacoustic performance practice.

He is a Fellow of the Higher Education Academy, Deputy Director of the Sound-Image-Space Research Centre (SISRC), member of the Steering Committee at Kent's Interdisciplinary Centre for Spatial Studies (KISS), Board member of the UK and Ireland Soundscape Community (UKISC), and member of PRS for Music, International Computer Music Association (ICMA), World Forum for Acoustic Ecology (WFAE), Electronic Music Foundation (EMF), British Electroacoustic Network, Hellenic Electroacoustic Music Composers Association (HELMCA), and Live Algorithms for Music (LAM) research network. 

Teaching
Aki Pasoulas is a Fellow of the Higher Education Academy, and teaches topics related to composition, electroacoustic music, sonic art, spatial sound, soundscape, psychoacoustics and music technology. As Director of Education since 2016, he is directly involved in the development of the curriculum.

He designed and developed modules at both undergraduate and postgraduate levels related to composition, sonic art and creative practice. He supervised a large number of innovative works at undergraduate, Master's and PhD levels related to electroacoustic music, sound design and music for animations, music therapy, live improvisation, public intervention, unconventional scores, field recordings, sound poetry, and multichannel and interactive sound installations. He has continuously been working with students to find appropriate routes to present their works in public, with venues ranging from art galleries and concert halls, to unconventional spaces such as elevators, squash courts and the London Underground.

As Director of the Music and Audio Arts Sound Theatre (MAAST) he organises concerts and events where students perform their music with the 40-loudspeaker MAAST system.
Supervision
Aki is interested in supervising research students wishing to explore any areas of electroacoustic music and sonic art. He is particularly interested in acousmatic composition, time perception and music, sound and space, soundscape and listening.

Current PhD supervision includes the following topics: 
"Dramaturgy in Electroacoustic Music: An Investigation of Sexual Harassment in Nairobi Bus Routes" 
"Terpsichore: A Software Music Interface for People with Mental Disabilities on the Autism Spectrum." 
"Conversations with the Void: Breath, Materiality and Immateriality in Experimental Composition." 
"The Brightness of Things: Compositional Considerations of the Parameterisation of Audio Features with Emphasis in the Spectral Centroid and Inharmonicity." 
Last updated