• 85% of research submitted to the Research Excellence Framework 21 was rated as world-leading or internationally excellent.
• The Kent Sport Clinic is the largest in the South East and offers support to staff, students and members of the public.

Our vision
We aspire to be recognised for delivering world-class research and teaching excellence in the natural sciences, transforming our society through our innovative and interdisciplinary research, and educating our students to enhance and improve the local and global community.
At Kent, academics, researchers and students are all part of the same close-knit scientific community. We welcome staff and students from all over the world and have a strong commitment to equality and diversity within everything we do. Together we create success.
Professional accreditation
Employability
We are committed to helping you to make the best possible start in your career.
All our undergraduate programmes (except Therapy and Rehab) offer the opportunity to spend a year on a work placement (sandwich year), which is a great way to boost your employability prospects by putting your learning into practice and making contacts in industry.

The subjects have a specialist employability and placements team who help you with valuable internship and training opportunities.

The School also benefits from having close working relationships with Science in Sport and Team Sky. As well as organisations such as: the NHS, RFU (governing English rugby), English Institute of Sport, British Cycling, UK Sport, World Anti-Doping Agency, UEFA, UK Sport and the Ministry of Defence.
They (the lecturers) are very supportive, giving advice on where I should direct my learning. They're always there when I need them.
Inspirational teaching
Our world-leading research feeds directly into our teaching; our courses provide cutting-edge content and you learn about the latest breakthroughs in scientific research. We use a range of teaching methods, from traditional lectures and laboratory classes to hands-on work.
We use a range of teaching methods from traditional lectures and laboratory classes to clinic work. Our innovative approach includes professional placements and problem-based learning which, with support and encouragement from staff, allow you to assess real-life situations and devise your own solutions.
The School has achieved national and international recognition for providing high-quality teaching and all our degrees are accredited by the relevant professional bodies, ensuring you have excellent job prospects.
Research excellence
Our lecturers are some of the most influential thinkers in the field, involved in exciting research projects with organisations such as UEFA, the World Anti-Doping Agency, the Ministry of Defence and the NHS. Their research is embedded within all our degree programmes, meaning you learn first-hand from those who are extending the boundaries of sports science and sport management.
Our research group has a number of threads with expertise brought in from all academic staff.

Our research benefits all our students and we offer many opportunities to take part, for instance, in the student-led clinics.
State-of-the-art facilities
At Kent, you have access to the most up-to-date resources and can gain hands-on experience in our laboratories and sports clinics.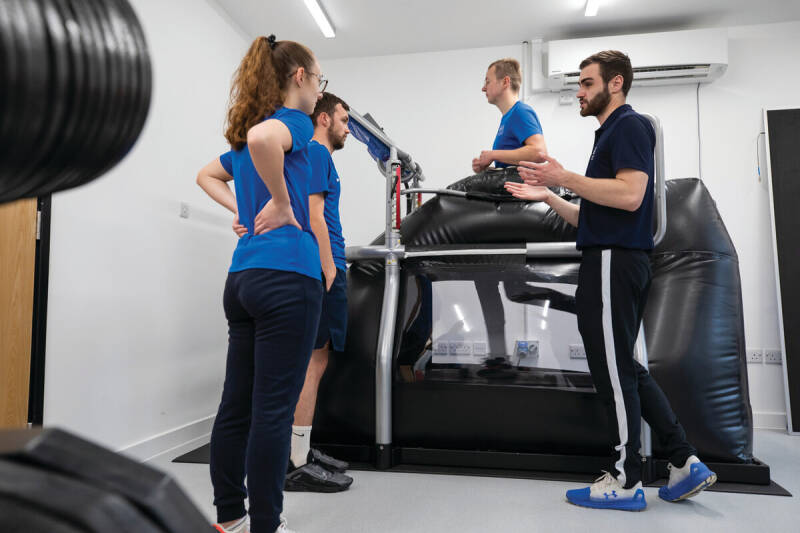 Student-led sports clinics
Our clinics provide a fantastic opportunity for you to put what you have learnt into practice. Under supervision, you use the latest methods and equipment to help clients recover health and fitness. You gain invaluable practical experience and confidence in your ability to work with clients at all levels of fitness.

The clinic is helpful as it gets me assessing real world problems and injures that people suffer and gets me ready for the real world. It's a great environment to work in whilst still remaining professional and giving advice to clients.
Support for equality and diversity
In Sport and Exercise Sciences, we are working hard to create a welcoming, supportive and diverse community for all our staff and students. We are committed to supporting all staff and students to develop their skills and realise their potential more effectively, to the benefit of everyone.

You can find more information on the University Equality, Diversity and Inclusivity homepage.
Great location
Sport and Exercise Sciences are based on our Canterbury campus with its first-class academic and leisure facilities. We are equipped with the latest resources and our beautiful setting offers plenty of tranquil spaces to study and relax.
Everything you need on campus is within walking distance, including a general store, a bookshop, bank, cinema, theatre, a medical centre and a pharmacy. You can go off campus to explore the city's medieval buildings, historic pubs and an array of shops; visit the seaside towns of Whitstable, Margate or Broadstairs with their beautiful beaches, or head to London, just an hour away by high-speed train.